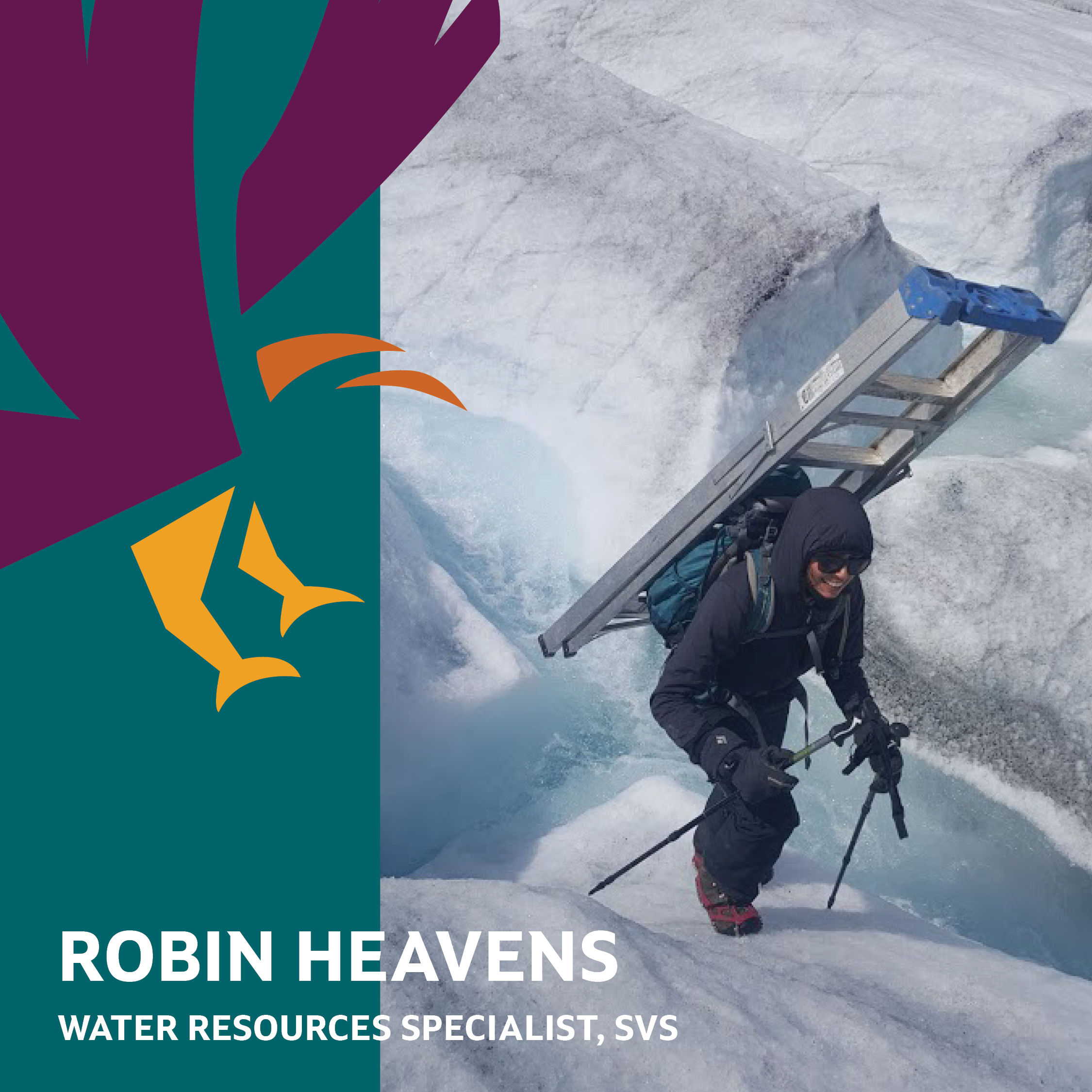 Welcome to our series that celebrates Indigenous professionals with careers in STEAM! SVS is committed to supporting Indigenous youth who are pursuing careers in STEAM through our scholarship program (with Indspire), but also through the mentorship and inspiration of our staff members.
IndigeSTEAM's website defines STEAM like this:
"STEM = Science, Technology, Engineering, and Mathematics. When we want to talk about the connections of STEM to social enterprise, humanities, arts, innovation, entrepreneurship and more, we put an 'A' into STEM to get STEAM. The A can reflect Arts, Architecture and Agriculture – all areas that Indigenous peoples have been innovators in for thousands of years. Indigenous Ways of Knowing and Western Science represent two different ways of looking at the world around us."
Over the next while we will be sharing the personal essays of our talented team members about their very individual journeys to their current careers. First up is Robin Heavens. Enjoy!
Meet
Robin Heavens, M.Eng.
Water Resources Specialist, Shared Value Solutions
"When I was a child, my Mother and I would spend hours together making regalia. I grew up dancing at powwows in the fancy dancer's regalia we made together. She instilled on me from a young age that water is living and traditionally spoken for by women. I have always felt a deep responsibility to protect our water and ancestral lands.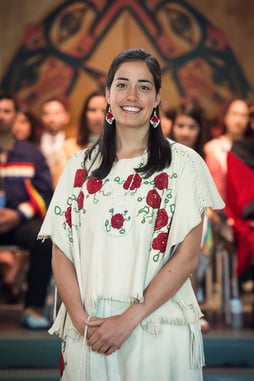 Throughout middle school and high school, I started to take notice of how much I enjoyed my math, science, and technical design classes. In high school, I was incredibly lucky to have the option of taking two technical drawing classes and a cabinetry class. I was awarded the highest mark in all of three classes. This felt strange in a way. I was always one of the only girls in these classes and was used to hearing how men possessed a natural aptitude for solving technical problems. My technical drawing teacher used to be an engineer and encouraged me to think about pursuing a career in engineering myself.
My math teacher also used to be an engineer. She encouraged me to work hard for my future and to apply for engineering programs. In my final year of high school, I was accepted into a handful of engineering programs and chose to enroll in a civil-environmental engineering program.
Starting an engineering program right out of high school was both challenging and satisfying. I spent the summers working outdoors as a treeplanter, initial attack forest fire fighter and mineral exploration technician. There was a huge contrast between my studies and my time spent on the land working physical jobs. I loved it.
I would not say I had a typical university experience. I stayed in studying while I watched my friends go out. I spent a lot of time alone with my homework. There were times when I got tired of feeling isolated and hearing offhanded comments questioning whether or not I belonged there. Like how I must be dating the professor because there could be no other reason why (certainly not hard work) I scored the highest on a midterm.
Librarians would gawk and exclaim "YOU are in engineering?!?" when I would try to check out one of my textbooks. Over time I began to feel more confident about taking up space in my classrooms and the conversations that took place in them.
During my last year of my undergraduate program, I got to take five specialized technical electives. I choose all hydrology and water pollution classes.
After graduation, I briefly worked for an Indigenous environmental watchdog NGO in Yellowknife. I enjoyed it but did not find it technically challenging enough. I knew I wanted to work in water resources. I saw it as a way to honor my traditional responsibility as a water keeper and protect our waters for future generations.
I started applying to water resources engineering jobs and masters degree programs. I got into both masters degree programs I applied to but was having a hard finding a job in water resources. I volunteered at the Canadian Water Resources Association's annual conference to try networking and to learn more about the field. At the conference I spoke with a lot of young professionals. Most of them had completed one of the masters program I was accepted into. It was in that moment I sighed and said well, I guess I am going to get my masters.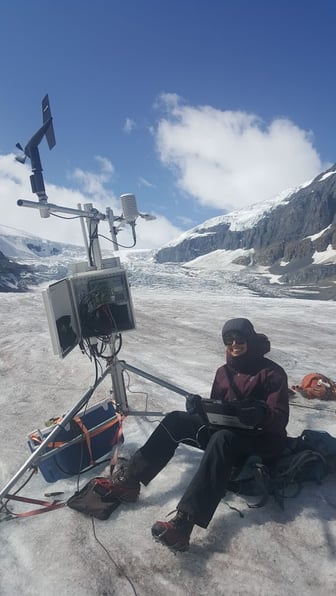 Since graduating from the environmental fluid mechanics Master of Engineering from UBC four years ago, I have worked as a Junior Hydrologist at a small consulting firm and a Research Technician at a large hydrologic climate change research institute. I have participated in and lead hydrologic studies, glaciology research and contamination projects.
This January, I got in touch with the team at Shared Value Solutions, who were looking for a Water Resources Specialist. I was so excited by the prospect of working with Indigenous clients on projects with real world impacts. I was graciously offered a position that I happily accepted. I love consulting for its fast-paced work environment and variety of projects. It has been an extremely rewarding journey. I feel so grateful and humbled to be playing a role in protecting our water."
Robin is a Water Resources Specialist with a background in hydrological climate change monitoring, contaminant hydrology and water resources engineering. She is passionate about protecting the health of our waters for generations to come. Robin's maternal grandmother is from Fisher River Cree Nation in Manitoba. Her pursuit of a career in water resources is how she honours her traditional responsibility as a water keeper.
Robin graduated from Concordia University's Civil and Environmental Engineering program in 2014 and the University of British Columbia's Master of Engineering program specializing in Environmental Fluid Mechanics in 2017. She is a registered engineer-in-training with Engineers and Geoscientist British Columbia and the Association of Professional Engineers and Geoscientists of Alberta. She is working towards becoming a professional engineer.
Robin volunteers with IndigeSTEAM, an Alberta organization that provides programming to support a better future for Indigenous youth in sciences, technology, engineering and mathematics. She is also a mentor with their Global Association for Indigeneering Alliance.
Robin has a long-standing passion for outdoor recreation and fieldwork. She has spent over a decade working on the land in many different roles including hydrological research technician, tree planter, forest fire fighter and canoe trip leader. In her spare time, she loves hiking, backcountry skiing, mountain biking and canoeing. She also loves making regalia, knitting and gardening.
Like what you're reading? Get the latest blog posts, Indigenous funding announcements and stories of resilience from across Turtle Island in your inbox every two weeks in our newsletter, the Talon!
We are an Canadian B Corp, and we assist Indigenous communities with support throughout regulatory processes surrounding major development projects like mines, hydroelectric facilities, transmission lines, highway expansions, oil and gas pipelines, natural resource transport applications and nuclear power.
We have deep context and experience behind the recommendations we provide, having worked for our clients on almost every major project in Canada over the last 10 years. For us, it's all about building long-term relationships with our clients. We want to get to know you and what you want to do so we can help you move your plans forward.
Impact Benefit Agreement Negotiation Support

Technical Reviews and Regulatory Process Support

Community and Economic Development Planning

Indigenous Knowledge and Land Use Studies

Environmental Monitoring

Guardians Program Development

Climate Change Readiness

GIS and Mapping