Is Your Community Ready?
TransCanada's proposed Energy East Pipeline Project is the largest proposed energy infrastructure project to happen in Canada since the building of the Canadian Pacific Railway system. At the same time as TransCanada moves forward with regulatory approval processes for Energy East, the company is proposing the Eastern Mainline Project – a brand new natural gas pipeline in Ontario (see our post on TransCanada's Energy East Project: Navigating the Regulatory Process, our sister post, TransCanada's Energy East Project: Mapping Aboriginal Interests, an our post on Aboriginal Rights and Interests: Current Ontario Regulatory Direction for Pipeline Projects).
These two multi-billion dollar major new pipeline projects, on top of a range of other new oil and gas pipeline projects in Ontario, present significant project review, consultation and accommodation challenges for First Nation and Métis communities.
Municipalities, such as North Bay which recently allocated up to $250,000 for impact assessment studies and regulatory engagement, are getting ready to be official Intervenors. Ontario is getting ready to be an Intervenor and has already conducted one round of community discussions, including Aboriginal discussions across Ontario. Some First Nation and Métis communities are gearing up to be Intervenors. First Nation environmental assessments of the proposal are key to building project understanding. Is YOUR community ready to make sense of local impacts from the largest energy infrastructure project in Canadian history?
We're Getting Ready
As we get ready for TransCanada's main project regulatory filing with the National Energy Board, we are preparing work plans with clients on environmental, socio-economic, traditional land use studies, archaeological, cultural heritage and traditional land use and occupancy mapping. We're also working to help community members build capacity for environment fieldwork and site assessments, and assess emergency response and spill clean-up capabilities. And were helping some communities make sense of unique economic development opportunities that may become realities if the projects are approved for construction and operation.
Communities need to be prepared for a massive set of technical documents and lengthy and detailed regulatory proceedings. In this post, we hope to help set the stage for understanding the range of potential impacts coming down the pipes. If you need help, don't hesitate to call us – 226-706-8888 and ask for Don Richardson or Emily Ferguson, or email: Don.Richardson@sharedvaluesolutions.com or Emily.Ferguson@sharedvaluesolutions.com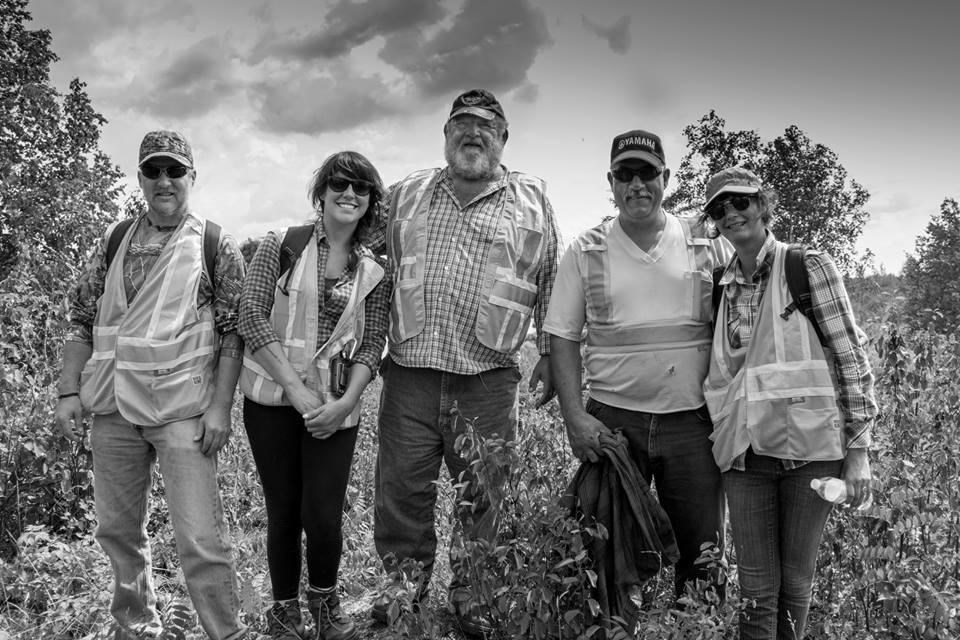 Shared Value Solutions Team Members Kathleen "Kat" Ryan M.S. (Ecologist & Human Environment Consultant) and Trieneke Gastmeier M.A. (Archaeologist) conducting harvesting & cultural heritage assessment fieldwork with Aboriginal knowledge holders Mike Morrin, Wade Nelson and Kelvin Caul. Walking a transmission line corridor that may eentually help service the TransCanada Energy East pipeline, near Emo, Ontario.
"One of the most difficult things to do is to take the long view… to plan for seven generations… and sadly governments and industry don't do that. How much do short-term economic issues really matter? The impact on our territory is paramount: if the environment is ruined, we are ruined." ~ (Ontario Energy Board Community Discussion Participant, Kanata)
Two TransCanada Pipelnes:
One Major Shift in Energy Infrastructure
Energy East and the Eastern Mainline Project are tied at the hip. According to its regulatory filings with the National Energy Board, the Eastern Mainline Project "is needed to enable TransCanada to continue to meet its commercial obligations following the proposed transfer of certain Canadian Mainline facilities to Energy East Pipeline Ltd. (Energy East) and the subsequent conversion of those facilities to crude oil from natural gas service."
Several of our clients are seeking information on the potential impacts of these intertwined proposed projects. TransCanada will be submitting its project applications to the National Energy Board in the very near future. The two separate, but linked, application documents will be dense and packed with detailed technical information. Making sense of the projects from a community point-of-view will not be a simple matter. The futures of TransCanada Energy East and First Nations along the proposed pipeline will be intertwined for many years.
The Energy East project:
According to TransCanada, if approved, the Energy East Pipeline, would be a 4,600-kilometre pipeline carrying 1.1-million barrels of crude oil per day from Alberta and Saskatchewan to points in Eastern Canada. TransCanada's website says that currently, the project has the following major components:
Converting an existing natural gas pipeline to an oil transportation pipeline

Constructing new pipelines in Alberta, Saskatchewan, Manitoba, Eastern Ontario, Québec and New Brunswick to link up with the converted pipe

Constructing the associated facilities, pump stations and tank terminals required to move crude oil from Alberta to Québec and New Brunswick, including marine facilities that enable access to other markets by ship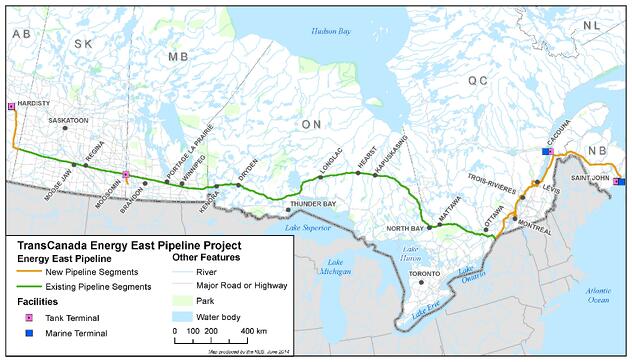 The Eastern Mainline project:
Up to approximately 250 kilometres of new natural gas pipeline proposed to extend from the city of Markham to the community of Iroquois in the Township of South Dundas in southern Ontario. The proposed pipeline is 36 inches in diameter and will primarily follow the existing route where TransCanada currently operates two natural gas pipelines. TransCanada says that where possible, the new right-of-way will be located adjacent to the existing corridor, however, a number of deviations from the existing corridor are under consideration. The project is proposed to include nine new 11 MW compressor stations. See more at www.easternmainline.com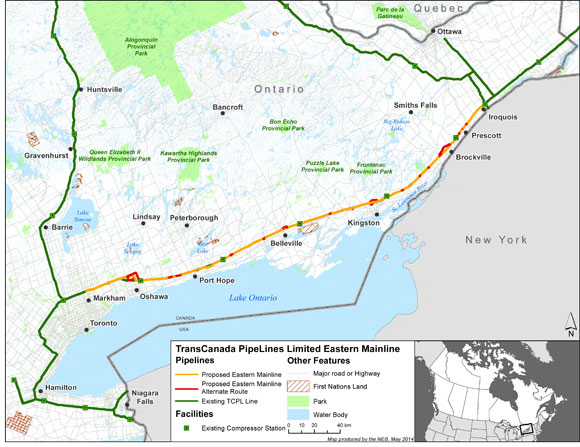 The Power Projects Behind the Pipeline Projects - Power for Pumps and Compressors:
In Ontario alone, TransCanada is proposing to construct approximately new 30 pump stations and 9 new compressor stations. At about 25 MW and 11 MW respectively, this equates to about 850 MW of new electricity requirements across Ontario together with additional transmission line infrastructure. This is almost equivalent to the new 900 MW natural gas-fired generating station that Ontario has approved for construction and operation by TransCanada Energy near Napanee Ontario, or one of the Bruce A nuclear reactors. With these electricity needs, TransCanada's two proposed pipelines will make TransCanada one of the largest electricity purchasers in Ontario.
"While the National Energy Board is the approval agency for the physical pipeline, Ontario Crown agencies, agencies that have the duty to consult and accommodate these First Nations, will have approval responsibilities for the power and transmission facilities required to supply the pumps with the energy required to move the oil in the proposed pipeline.… without Ontario approvals, the oil in the pipeline cannot flow through the province." (Aroland, Constance Lake and Ginoogaming First Nations written submission to the Ontario Energy Board)
Communities Getting Prepared - Aboriginal Interests
Many communities are preparing to participate in the regulatory process and develop community-based understandings of the potential impacts. We are aware of several Aboriginal communities undertaking traditional knowledge studies and environmental and socio-economic impact reviews. For interested communities, it is critically important to develop an understanding of existing local environmental and socio-economic conditions so that the potential project impacts, both positive and negative can be better understood:
archaeological and cultural heritage resources;

historic, current and future Aboriginal land uses – hunting, fishing, harvesting, recreation, education, spiritual, sacred sites;

economic activities – current and future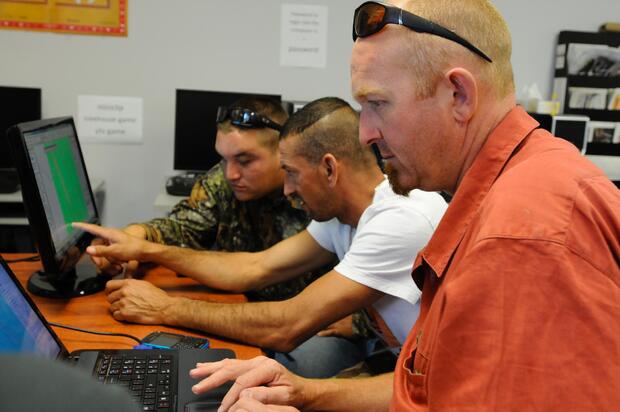 Shared Value Solutions Team Members Jeremy Shute M.A. RPP (Managing Partner, Professional Planner and Cartographer) training First Nations community land use planners, Magnetawan First Nation
Potential impacts – Construction & Pipeline Conversion
New pipeline construction is planned for the Eastern Mainline new gas pipeline project and for the Energy East from near Cornwall Ontario to the Quebec border, and through Quebec and New Brunswick. For Energy East west of Cornwall, "integrity dig" locations and sites where compressor stations will be built or deactivated, dismantled and remediated may create site-specific impacts. Across Energy East, new oil pipeline pump stations and associated electrical generation and transmission infrastructure to power the pumps may create additional sites-specific impacts. Traditional knowledge matters to protect and enhance aboriginal community wellbeing, aboriginal interests and aboriginal economic development: traditional ecological knowledge (TEK), traditional land use studies, combining scientific and traditional knowledge, having aboriginal environmental monitors and BEAHR training, traditional ecological knowledge and environmental change, aboriginal land use planning, and integration of aboriginal traditional knowledge in environmental assessments.
Impacts from construction and pipeline conversion:
Impacts from construction and pipeline conversion may include varying forms of disruption, disturbance, alteration and changes to:
traditional land and resource use activities (e.g., hunting, plant harvesting, sacred sites);

archaeological and cultural heritage resources, sites and artifacts;

changes to community access to areas that are normally accessible - project locations and construction sites

blockage of local waterways used for travel, transportation, fishing and recreation

wildlife habitat and wildlife;

surface water quality – including local streams, ponds, lakes, rivers;

groundwater quality;

wetland quality and function;

drinking water sources;

recreational waterways, beaches and swimming areas;

fish habitat and fish;

native vegetation;

soil – lowering of topsoil productivity, soil degradation, soil erosion;

weed or crop disease conditions (introduction or spread), including spread of invasive species;

local quality of life with respect to the sensory environment – visual impacts, noise, vibration

cultural landscapes and viewsheds
In addition, pipeline construction and conversion impacts may include:
spills of hazardous materials that can alter or contaminate the local environment and result in effects on the environment and human health

damage to adjacent infrastructure, including existing pipelines with the risk of product release

air emissions from construction activities – vehicles and equipment

an influx of temporary construction workers with related impacts on availability local accommodation, disturbance of local way-of-life, increased vehicle traffic and increased use of local hunting, fishing and harvesting areas by non-residents

increases in demands for policing, emergency response and community services
Regulators and communities will have expectations that TransCanada will apply environmental protection measures to mitigate or compensate for environmental and socio-economic impacts to avoid, limit or reduce potential adverse effects which may result from construction activities.
During pipeline operation, impacts may include:
many of the above impacts associated with on-going integrity digs, and excavation, emergency response and site restoration work to deal with any leaks, spills, accidents and malfunctions

impacts on existing emergency response services and spill clean-up resources

leaks and spills due to a pipeline failure from:
a variety of ways that people and human activities can damage pipelines such as vehicle accidents, firearm discharge during hunting, intentional damage

natural disasters – floods, erosion, falling trees

internal pipe corrosion

effects on fish and wildlife, and fish and wildlife habitat; and

effects on human health, traditional foods and other community resource uses.
Stay in Touch
Keep watching our blog posts on TransCanada Energy East. We'll continue to post about key Aboriginal interests, including traditional land use studies, indigenous knowledge, traditional ecological knowledge, aboriginal economic development, traditional land use and occupancy mapping, environmental assessment peer review, aboriginal and industry partnerships, and other topics related to oil and gas pipeline projects: follow us on Twitter at @SharedValueCA, follow us on Facebook at www.facebook.com/SharedValueSolutions and follow us on LinkedIN - https://www.linkedin.com/company/shared-value-solutions-ltd-
About Shared Value Solutions Ltd.
Shared Value Solutions Ltd. is one of the first 100 B Corporations in Canada. We bring the best environmental peer review, strategic advice, community engagement and traditional knowledge, land use, and socio-economic research expertise to address your challenges and opportunities. Working with leading companies, civil society, Aboriginal communities and government organizations, we drive shared value solutions.