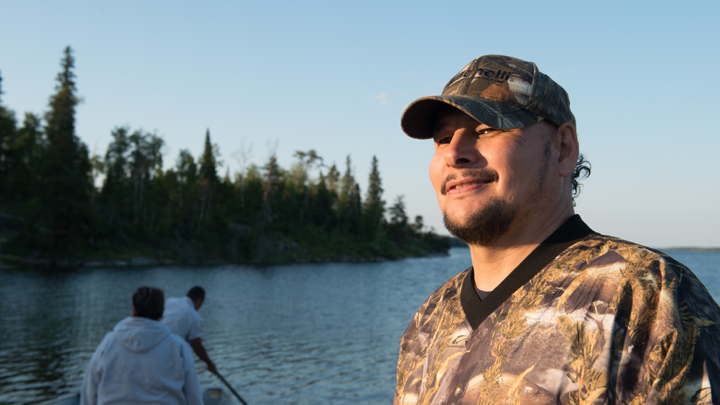 Central to most conversations about building Indigenous Guardians programs is the question of long-term funding. "If there's one thing we're used to," a First Nations leader recently told us, "it's uncertainty. But you can't pay people on promises, or fill positions that might not be there next year."
Photo above: Pimicikamak First Nation land and water steward Darrell Settee (Credit: Laura Taylor)
So where is the long-term funding for Indigenous Guardians Programs?
In some ways this seems the least urgent time to explore this issue. Between last February's "sunny" federal budget commitment of $1.3 billion to protect land and water in Canada over the next five years – including millions in "seed funding" to create a National Indigenous Guardians Network – and last July's announcement of up to $900,000 in funding to support the Qikiqtani Inuit Association's (QIA) pilot Guardian program to manage the new Tallurutiup Imanga National Marine Conservation Area, it seems a time of abundance.
But as every land user knows, now is the time to prepare for what may be a long winter, especially in an election year. The question also remains: will we see the announced funding really flow in this final year of the current federal government's mandate?
Federal government funding, funding via IBAs with industry, or a bit of both?
If you are considering establishing an Indigenous Guardians Program, you already know the wisdom of diversifying your funding streams. Many programs have used vehicles such as trust funds and impact benefit agreements (IBAs) with industry partners to support all or parts of their programs. And perhaps, with the fickle winds of Crown politics forever blowing, that is the wisest course of action. Nevertheless, to bolster your business case, here are three compelling examples of program evaluations whose data and results make sustained funding a "no-brainer" for Crown governments.
Three "No-Brainer" Business Case Examples for Sustained Funding
#1: Australia's Indigenous Protected Areas (IPAs) and "Working on Country" program
Australia's hugely successful "Working on Country" program consists of a network of 109 Indigenous Ranger groups managing 177 million hectares of land and sea, including 75 Indigenous Protected Areas. In 2016, the Australian Crown government commissioned Social Ventures Australia to conduct a cost-benefit analysis of the social return on investment in five Indigenous Protected Areas (IPAs). The report found that between 2009 and 2015, a $35.2M Crown government and third-party investment generated $96.5m worth of social, economic, cultural and environmental outcomes. According to the analysis, IPAs and ranger programs were "effectively overcoming barriers to addressing Indigenous disadvantage and engaging Indigenous Australians on country in meaningful employment to achieve large-scale conservation outcomes."
While community members gained the value of increased employment and qualifications, social benefits, stronger communities and a reduction in violence, the greatest value was created for government: low-cost land management, an increase in income taxes and a decrease in welfare payments. Overall social return on investment: every $1 invested generates $3.50 in value.
#2: Analysis of the Current and Future Value of Indigenous Guardian Work in Canada's Northwest Territories: Dehcho First Nations and Lutsel K'e Dene First Nation's programs
Established in 2008 but built on a decade of prior community monitoring activities, the Ni Hat'ni Dene ("watchers of the land") and caribou monitoring programs in Lutsel K'e employ Indigenous Guardians on the ground to watch over and protect their traditional land and water. The DFN's program, called Dehcho K'ehodi, was established in 2014, and has a strong focus on language and cultural revitalization. This program has since expanded to include Indigenous Pipeline Guardians to watch over and protect the mighty Mackenzie River in relation to existing oil pipeline operations, and funded through industry agreements.
A report, also by Social Ventures Australia, evaluating social return found that while the programs are younger than their Australian cousins, they were, in 2016, already delivering significant social, economic, and environmental benefits. "With more time and sustained funding," the report concludes, "the Lutsel K'e and Dehcho guardians could deliver even more benefits, similar in scale to those achieved by more mature guardian programs in Australia."
According to the findings, the initial investment of $4.5M had, in 2016, generated $11.1M in social, economic, cultural and environmental value. Overall social return on investment: "Additional funding for year-round, full-time work complemented by training to enhance the quality of monitoring activities" can increase the amount of value generated from $2.5 to $3.7 for every $1 of investment.
#3: Valuing Coastal Guardian Watchmen Programs: A Business Case
The Coastal First Nations along British Columbia's North Coast, Central Coast and Haida Gwaii have some of Canada's most long-running, established and heralded Guardian Watchmen programs, but even they struggle to secure financial support. To that end, they commissioned a report to investigate the programs' value proposition. The findings of the EcoPlan report focus on the significant value generated for the First Nation communities with Watchmen programs.
Unique to this report are the values identified by the participating First Nations as key, including "taking care of territory, nurturing cultural wellbeing, improving general health and community wellbeing, advancing governance authority, increasing community capacity, opening and promoting economic opportunities in both Indigenous and conservation economies, and providing much needed financial capital inflow into the community."
Overall return on investment: "When net value generation is calculated across affected Nation-held values, 4 Coastal Guardian Watchmen programs achieve, at the low end, a 10 to 1 annual return on investment for the Nations that have the programs," according to the report. "In other words, for each dollar invested in a Guardian Watchmen program on an annual basis, the respective First Nation benefits at least 10 times that amount. On the high end, some Nations experience a 20 to 1 return on investment each year."
17% of the Land and 10% of Oceans by 2020?
Protecting the Tallurutiup Imanga National Marine Conservation Area will help Canada meet its target to protect 17 per cent of land and 10 per cent of oceans by 2020 under the United Nations Convention on Biological Diversity. Someone has to protect those protected areas, and it's clear the QIA is ready and willing to play the central role. But how will the QIA, and other Indigenous Guardian programs, secure the funding to continue such roles to support Canada's targets, in perpetuity?
With all the data in, perhaps we should stop calling contributions to this vital guardian role "funding," and start calling it what it is: an investment that makes sense.
We are a Canadian B Corp, and we assist Indigenous communities with support throughout regulatory processes surrounding major development projects like mines, hydroelectric facilities, transmission lines, highway expansions, oil and gas pipelines, natural resource transport applications and nuclear power.
We have deep context and experience behind the recommendations we provide, having worked for our clients on almost every major project in Canada over the last 10 years. For us, it's all about building long-term relationships with our clients. We want to get to know you and what you want to do so we can help you move your plans forward.