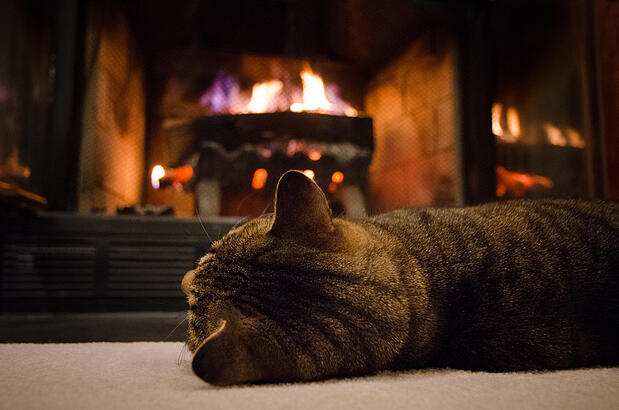 [This photo of a comfy cat in front of a gas fireplace - it was too hard to resist posting in a piece about natural gas...]
Natural gas has an important role to play powering Ontario's economy - that was the message delivered by Greg Ebel, the Canadian born CEO of Spectra Energy – parent company of Union Gas – to the Economic Club of Toronto on June 24th. This includes powering Ontario's north. Ebel outlined five recommendations:


Treat natural gas as a strategic asset to attract industry
Utilize natural gas to reduce the cost and environmental impact of transportation fleets
Expand natural gas access to rural Ontario families and businesses
Improve energy efficiency and sustainability by deploying more combined heat and power (CHP) opportunities in Ontario
Find ways and means of using natural gas to develop the vast mineral wealth of Northwestern Ontario's 'Ring of Fire'

Ebel also recommended that Ontario policymakers "diversify their energy discussion" and "learn from the world" by adopting best practices in energy policy and avoiding pitfalls.
Given the transformation Ontario is experiencing with natural gas, the growing role of Aboriginal economic development in Ontario's energy businesses, and so many new emerging energy technologies, Ebel's ideas for the Ring of Fire - and, I suggest, for developments in other parts of Ontario where Aboriginal communities are leading initiatives - have strong merit.
This will require a lot of people to roll up their sleeves and enter creatively and openly into new partnerships with Aboriginal communities, as discussed in my recent post "Get Engaged with the New Canada and its Aboriginal Communities". It will also require Ontario to put a strong effort behind the six principles espoused by Ontario's Minister of Energy, Bob Chiarelli for assessing pipeline proposals (discussed in the post I co-authored with Emily Ferguson in February - "Aboriginal Rights and Interests: Current Ontario Regulatory Direction for Pipeline Projects").
Read more about Ebel's in the Union Gas white paper: "Ontario's Economic Renaissance Fueled by Natural Gas", and keep an eye out for a forthcoming post where Emily Ferguson and I tie these ideas together with thoughts on energy, environmental stewardship, and Aboriginal economic development across Ontario.
Photo by Don Richardson: Attawapiskat Lake, Neskantaga First Nation