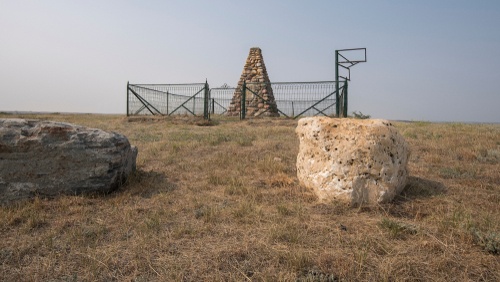 Indigenous Guardians Protect and Enhance Jurisdiction, Stewardship, and Prosperity. Concern about threats to lands and waters is the main reason Indigenous communities decide to participate in Crown regulatory processes, such as environmental assessments associated with major development projects. But what, if any, benefit is there to participating beyond this primary and protective Indigenous Guardian role?
Let's say you hear about a big new project and regulatory process coming your way - like the massive Alberta natural gas project described below - that, if approved, would cross your traditional territory. But, after looking into it, you're not overly concerned by the risks (or you are so swamped with other community issues that it doesn't make your top ten list). Are there always benefits to getting in on Crown regulatory process?
Here are nine reasons to get in on Crown regulatory process every time you have the chance:
In a word, Jurisdiction: When you participate, you are clearly signaling, and exercising, your nation's jurisdiction.
Rights and Interests: Commenting on proposed projects in your territory that are before a regulator helps uphold your rights and interests.
Impact Benefit Agreements (IBAs): Demonstrating that a project will have impacts to your rights and interests can lead to IBAs with project proponents. Documenting concerns with a project on the record can help create leverage for IBA negotiations or legal challenges. IBAs are binding agreements for environmental monitoring, guardian-style oversight programs, revenue sharing, employment and contracting benefits, and your nation's requirements for project design and operation.
Impact project design: Your comments can have a real impact on many aspects of the project, including its design and its potential impacts to the lands and waters.
Silence implies consent: Avoid the danger that silence implies consent – you don't want regulators or proponents assuming they know what matters to you.
Access participant funding: Participant funding, when available from the Crown and/or project proponents, supports your ability to comment on development projects from a technical as well as a community perspective, and to push forward mitigation and accommodation strategies that protect people and the environment.
Advance your governance goals: For example, often communities have a larger goal in mind, such as a territory-wide Indigenous Knowledge Study, which funding from participant funding programs can contribute to, piece by piece until your studies cover your whole territory.
Your Indigenous Government IS a regulator with jurisdiction: The Environmental Assessment (EA) process allows your community to identify the most important environmental and socio-economic issues for your community members, and ensure those issues are dealt with properly and monitored adequately throughout the project lifecycle: planning/design, construction, operation and closure.
And finally, the regulatory process can also be used to help stop a project if that is the desire of your community, or open doors to ownership (equity) participation or significant revenue sharing if it's a project that your community wants to support.
You don't have to go at it alone
After reading all of these reasons for getting in on Crown regulatory processes, you might well still feel overwhelmed by the thought of the strain that participating may put on you or your staff. The good news is that it is possible to get support from environmental and negotiation specialists to complete this work – including help with the funding application and proposal processes. Once you have secured participant funding from the regulator or project proponent, you'll have the resources for your own community experts, knowledge holders and elders to participate. You can also have the resources to incorporate a training component so that the next time a proponent comes knocking you have built more capacity to respond, and strengthen your Indigenous government's regulatory powers.
A current example of a major Crown regulatory process unfolding is the NOVA Gas Transmission Ltd. – 2021 NGTL System Expansion Project across Alberta: 350 kilometres of new 48 inch pipeline in in northwestern Alberta, plus three large 30 to 40 megawatt compressor stations in west-central Alberta. The "Preliminary List of Potentially Affected Aboriginal Groups" includes First Nations from Treaty 4, Treaty 6, Treaty 7, and Treaty 8, five non-treaty First Nations, and ten Métis Organizations, Settlements, and Locals (See our recent Eagle Eye Digest article "Stewardship: Massive Natural Gas Pipeline Expansion Proposed in Alberta"). Participating in a project like this involves following technically complex National Energy Board AND Canadian Environmental Assessment Agency processes for years, but managing the impacts and realizing the benefits may well be worth the effort, especially if you can get help.
Is there a Crown regulatory process for a major project in your territory right now? Do you need support in participating? We can help. Give us a call and we can talk about a path forward - you can reach:
Blog photo: Treaty No. 7 Signing Site National Historic Site of Canada is located at Blackfoot Crossing, Alberta: Site tells of the agreement made between the five Blackfoot Confederacy Tribes, the Blackfoot, Bloods, Peigan, Stoney (now Nakoda) and the Sarcee (Tsuu T'ina), and the Crown.
We are an Canadian B Corp, and we assist Indigenous communities with support throughout regulatory processes surrounding major development projects like mines, hydroelectric facilities, transmission lines, highway expansions, oil and gas pipelines, natural resource transport applications and nuclear power.

We have deep context and experience behind the recommendations we provide, having worked for our clients on almost every major project in Canada over the last 10 years. For us, it's all about building long-term relationships with our clients. We want to get to know you and what you want to do so we can help you move your plans forward.