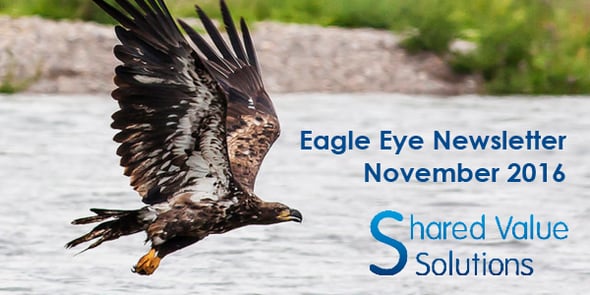 The Eagle Eye newsletter will keep you in the loop on changes we're seeing unfold across Canada and what they may mean for you and the communities with which you work. We've also got our sights set on a number of funding deadlines in the coming months that could be of interest to our client community.
Read on to learn more about:
What's up with Energy East?

Funding for Stewardship Warriors

Magnetawan First Nation embarks on Environmental Management Planning

Moose Cree and OPG Impact Benefit Agreement Video

Indigenous Knowledge Study makes a difference in Northern Manitoba

Upcoming funding opportunities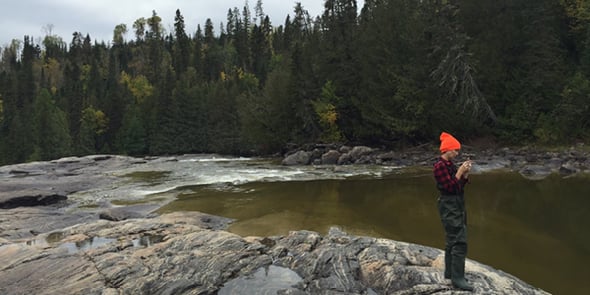 What's up with Energy East?
As of September 9, 2016 the NEB panel assessing the Energy East project stepped down and the hearing process was adjourned until further notice. On October 20, 2016 4 temporary members were appointed and an additional 4 individuals were appointed to do additional community and Indigenous engagement on Energy East.

At this point in time a new Energy East panel has yet to be selected and hearing activities between now and January 2017 are postponed until further notice. At SVS we are working with several of our clients to support their engagement in the NEB regulatory process through conducting technical reviews, and assisting in gathering perspectives on the project and its potential impacts to Indigenous rights, interests, and way-of-life.

Keep an eye on our blog for further updates.

Photo above: At the beginning of October, we travelled to Biigtigong Nishnaabeg at the mouth of the Pic River to do an aquatic watershed baseline and monitoring program, the results of which will be used to detect the extent to which the Energy East pipeline may affect Biigtigong NIshnaabeg interests in territorial stewardship, environmental protection and community development.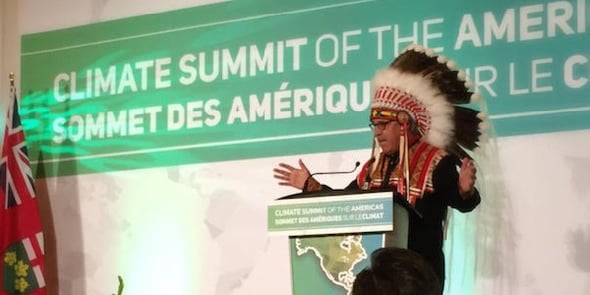 Are you an Indigenous Stewardship Warrior?
Need some money to make things happen?
Anwaatin

is donating $1 for every one tonne carbon offset they sell to Indigenous organizations who are "

Stewardship Warriors

" or who enable stewardship warriors. Indigenous charities and non-profits

can apply here

with a submission of writing, film, photography, radio, poetry or art.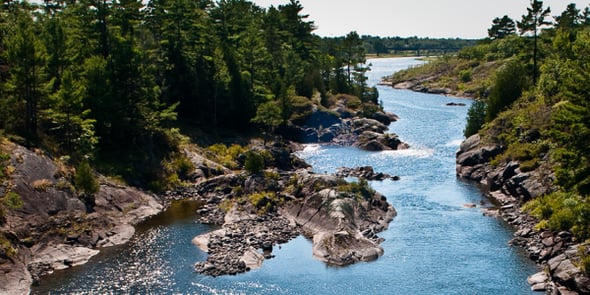 Magnetawan First Nation Embarks on
Environmental Management Planning
Are you on the road to becoming a land code community?

Our team is working with Magnetawan First Nation, an operational land code community in Central Ontario, to develop an Environmental Management Plan. Our work will include an assessment and prioritization of environmental challenges, community engagement and the development of practical solutions that fulfill the requirements of the First Nations Land Management Act.
Learn more about our Environmental Management Planning Services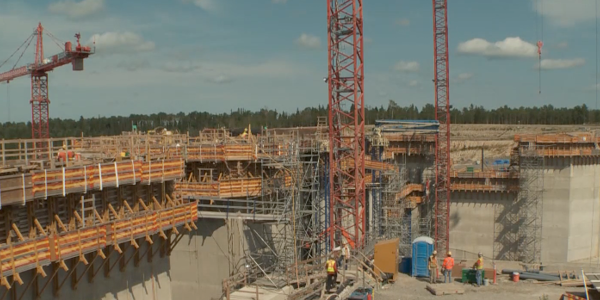 Watch this Video:

Moose Cree and OPG IBA
SVS Environmental and Community Development Intern, Jonathan Rickard, shared this very useful video - helpful to any First Nation looking into the future of an impact benefit agreement and what it takes to make it work.

Watch our blog for the next application deadline for our Internship Program.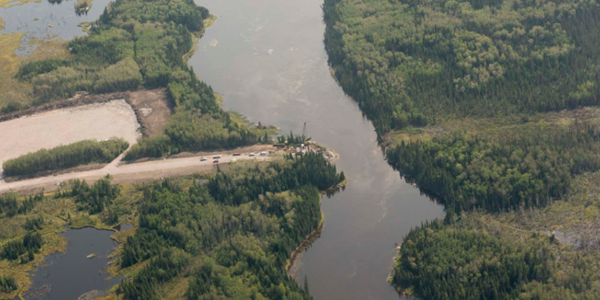 Indigenous Knowledge Study
makes a difference in Manitoba
Our Indigenous Knowledge study work for the Manitoba Metis Federation was highlighted in a recent Winnipeg Free Press Article: Province failing to consult indigenous people on $3-B road, Métis leader says.

"The Manitoba Metis Federation is prepared to seek an injunction blocking the ongoing construction of a $3-billion all-season road in northeast Manitoba. [...] A June report prepared for the federation by Guelph, Ont.,-based consulting firm Shared Value Solutions found within the geographical area where the all-season road will be built, there were 41 locations of cultural importance to the Métis, 318 hunting spots, and 122 fishing locations, as well as several Métis homes.

It concluded there was a 'failure to appropriately consider and include Métis people and effects on Métis rights and interests' by the now-dissolved road-authority in the upcoming construction phase."

Working on or planning an Indigenous Knowledge Study or Land Use and Occupancy Study? We can help.
Upcoming Funding Opportunities
Deadlines for open funding streams are fast approaching. We can help to develop a project concept and submit an application free of charge, just give us a call.
November 16, 2016 - Ontario Trillium Foundation Community Grants Program "Grow" Grants - Ontario ($50,000 - $200,000)
November 25, 2016 - Aboriginal Economic Development Fund Regional Partnership Grant - Ministry of Northern Development and Mines - Ontario ($10,000 - $100,000)
December 9, 2016 - Recreational Fisheries Conservation Partnerships Program - Canada ($250,000)
December 9, 2016 - The Aboriginal Fund for Species at Risk - Canada ($40,000 - $100,000)
Want to receive these updates
directly to your inbox?
Businesses and organizations are made up of people. So are communities. Imagine a world where people in industry and government, and people from towns of all sizes, get together to make amazing things happen – things they couldn't have dreamed up alone. A world where people from corporations get together with people in government or NGOs to explore innovative ways to do business while enhancing the natural and social environment.
At Shared Value Solutions, we speak your language. And we know that the impossible is possible – with the right people in the circle.
We are an Ontario B Corp and we bring the best engineering, design, environment, architecture and other technical discipline expertise to address your challenges and opportunities:
Oral History, Traditional Knowledge, Land Use and Occupancy Studies

Strategic Regulatory and Environmental Assessment Process Support

Multimedia Storytelling

Community Consultation and Engagement

Indigenous Private Sector Business Partnerships
Shared Value Solutions ® is a trademark registered by Shared Value Solutions Ltd.