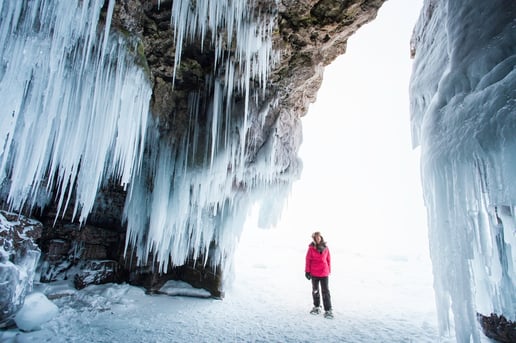 Exploring the Grotto at Bruce Peninsula National Park, a sea cave carved out of the Niagara Escarpment:
According to Ontario's Environmental Commissioner, climate change will have enormous impacts on Ontario's natural environment. Increased air and water temperatures, along with changes to rain and snow patterns, will reshape the ecology of the province with "profound repercussions on our communities and economy... Climate change adaptation and biodiversity conservation must be considered a two-pronged and interrelated approach to how the Ontario government plans and manages our land and water, fish and wildlife, and communities and economy."
Ontario's Aboriginal Communities: Key Dialogue Partners for Developing Cap and Trade
Climate change adds to the many challenges for sustaining healthy biodiversity in Ontario. Habitat loss and fragmentation, pollution, and invasive alien species threaten Ontario's native species and ecosystems, and climate change compounds these existing problems. For Aboriginal communities across Ontario, climate change presents profound impacts to livelihoods, ways of life and future generations. And, as primary ecosystem stewards, Aboriginal communities are on the front lines of fighting climate change.
As Ontario moves forward with plans for Ontario climate action that include a Cap and Trade mechanism, Ontario's Aboriginal communities will be key dialogue partners. As Canada's Ecofiscal Commission notes, Ontario Cap and Trade can work effectively to meaningfully and cost-effectively reduce greenhouse gas emissions, but only if government gets the details of policy right. Ontario has made important commitments to fighting climate change and is demonstrating strong leadership across the Americas (e.g. the Climate Change Summit of the Americas with speakers including Al Gore, California Governor Jerry Brown, Dr. Dean Jacobs, and Felipe Calderón), with other sub-national governments (notably California and Quebec), and with a long-term and short-term goals to combat climate change at home.

We've previously written about how Canada's First Nation, Inuit and Métis peoples are key to climate change action. and the critical importance of traditional ecological knowledge (TEK) in the face of climate change. We've also written about Premier Kathleen Wynne's commitments for Ontario climate change action and her mandates to her Ministers around Aboriginal community well-being. We understand that Ontario is both very serious about combatting climate change and serious about making sure that Aboriginal communities share in the benefits of natural resources, are engaged in natural resource management, engaged in resource-related economic development, engaged in the energy sector, and engaged in dialogue with Ontario for revitalized treaty relationships that help promote improved socio-economic outcomes.

Combating climate change in Ontario will most likely involve collaborative climate change action with many players. Dialogue will translate into various agreements, including ecosystem based management or stewardship agreements: all built with meaningful dialogue with Aboriginal communities to meet Ontario's long-term and short-term goals. Ontario makes it clear in its Climate Change Discussion Paper that it plans to "engage First Nations and Métis communities across Ontario in a focused conversation to work together to address climate impacts and climate change."
Ontario's Climate Change Discussion Paper 2015: For more on Cap and Trade, read David McLaughlin's article on Ontario's approach to Cap and Trade via the University of Waterloo - McLaughlin is strategic advisor on sustainability in the Faculty of Environment at the University of Waterloo and the former president and CEO of the National Round Table on the Environment and the Economy (NRTEE)
Ontario's Aboriginal Communities: On the Frontlines of the Fight Against Climate Change
Ontario's Aboriginal communities are on the frontlines of the fight against climate change. These communities have:
existing rights and interests in Ontario's Boreal Forest and other major forest systems and ecological regions,

existing ownership and stewardship positions in hydroelectric, wind, solar, biomass and natural gas power generation where carbon offsets play key roles, and

rights and interests in long-term stewardship and enhancement of key protected and managed natural ecosystems, watersheds, river systems, lakes, parks and greenbelts.
Aboriginal communities in Ontario that fully engage in developing Cap and Trade will be better placed to marry their many land, water and ecosystem stewardship roles with appropriate carbon management and offset strategies, and with approaches to managing the very real impacts of climate change in Ontario. Aboriginal communities will have the opportunity to combine revenue generation from the sale of carbon offsets with Cap and Trade compensation for fulfilling important biodiversity stewardship roles. This presents a compelling picture, especially considering that Aboriginal communities are particularly vulnerable to climate change impacts.
Five Reasons Indigenous Communities are Vulnerable to the Impacts of Climate Change
It's generally acknowledged that Indigenous communities are very vulnerable to the impacts of climate change, for five key reasons:
1) Location - Marginal Lands: Indigenous communities are often located in close proximity to wetlands and low coastal areas prone to flooding and impacts of rising water levels; on marginally agriculturally productive lands, and/or; on lands deemed of poor quality by government agents (many First Nation reserves were placed on lands not valued by settler governments),
2) Location - Poor Infrastructure: Indigenous communities are often located in remote areas where infrastructure support services are minimal, and access to emergency management services are strained
3) Food security: Indigenous communities are strongly tied to regional ecosystems for food supplies, and when those ecosystems change, food supplies are no longer secure. Changes in species composition, impacts on fisheries, changes in the flow rates of river systems, damage or destruction of wetlands, climatic changes hospitable to invasive species, changes in animal migratory patterns and changes in ecosystem food chains are among the changes that come with climate change that impact the food systems on which Indigenous communities depend for livelihoods
4) Water security: Indigenous communities are vulnerable to changes in water supply quantities and qualities, sometimes due to the circumstances of community location, but also due to lack of financial resources for planning and implementation of sustainable water treatment and wastewater treatment systems and community drainage systems.
5) Natural Resource Based Economies: Indigenous communities are often reliant on resource based economic inputs - fishing, agriculture, forestry, and eco-tourism - that are very vulnerable to short-term and long-term climate change impacts.
Those same challenges and vulnerabilities represent ecosystem management opportunities that can translate into revenue generating carbon offsets and long-term stewardship activities to sustain and enhance key vulnerable ecosystems. As historic, current and future ecosystem stewards of vast quantities of biomass, and as current and future operators of low carbon energy generating assets (wind, solar, biomass, hydroelectric, natural gas), Indigenous communities can realize benefits from the circumstances of community location, and roles managing natural resource economies on behalf of their own communities and the people of Ontario.

Seven Key Dialogue Challenges for Ontario and Aboriginal Communities to Address
Pope Francis recently released his encyclical on climate change, placing indigenous peoples front and centre:
"...it is essential to show special care for indigenous communities and their cultural traditions. They are not merely one minority among others, but should be the principal dialogue partners, especially when large projects affecting their land are proposed. For them, land is not a commodity but rather a gift from God and from their ancestors who rest there, a sacred space with which they need to interact if they are to maintain their identity and values. When they remain on their land, they themselves care for it best. Nevertheless, in various parts of the world, pressure is being put on them to abandon their homelands to make room for agricultural or mining projects which are undertaken without regard for the degradation of nature and culture."
Cap and Trade comes with the promise of resources and financial support to help Indigenous communities deal with some of the impacts of climate change. But Cap and Trade also comes with key dialogue challenges:
1) Cap and Trade may come with higher heating costs and transportation fuel costs, for Indigenous peoples already overburdened with high household heating costs and transportation costs representing a significant portion of household expenditures.
2) Indigenous communities are asserting "carbon rights" to carbon sinks (forests, peat bogs, plant rich ecosystems, agricultural systems, etc.). Cap and Trade mechanisms must be designed to be compatible with these historic, current and future rights, and this may present challenges to getting agreements in place. Carbon rights are different from other resource rights, as they represent the carbon content of biomass that can be maintained or enhanced to sequester carbon and/or rights to low carbon power generation natural resources, including wind, solar, hydro, biomass and even low carbon natural gas within traditional territories.
3) The time and resources necessary for Indigenous communities to effectively negotiate carbon rights within their territories must be available. The development of carbon offset markets brings Indigenous communities the opportunity to gain economic benefits from current and future ecosystem stewardship - protection and enhancement of biodiversity, forest management, watershed and riparian corridor management, agro-ecosystem management, etc. Developing such markets also creates knowledge management opportunities for approaches and tools such as GIS-based carbon models with remotely sensed data to assess the carbon sequestration potential of a given managed forest, watershed, park, greenbelt or ecosystem in order to calculate carbon offsets and support ecosystem based management decision making processes.
4) The challenges of obtaining political commitments, especially commitments to working out the details of bilateral agreements between communities and Ontario - along the lines of the Atmospheric Benefit Agreements signed between First Nations and the Government of British Columbia. The B.C. agreements set the bar for clarifying Aboriginal ownership and the right to sell carbon offsets in local or international carbon markets and realize the revenues and other benefits related to increased carbon sequestration through resource planning and biodiversity enhancement as well as through other forms of greenhouse gas reductions.
5) Commitments to rolling up sleeves to work out the details of parallel bilateral agreements for adaptive ecosystem based management to ensure the coexistence of healthy, fully functioning ecosystems and human communities within traditional territories. Ecosystem based management plans can include commitments to managing forest harvest rotations and reducing harvest volumes, expanded bio-regional land assets, protecting old growth forests and other biodiverse natural areas, and protecting of wildlife habitat to balance natural resource harvest revenues with the benefits of tourism, cultural and spiritual considerations, recreation, and biodiversity. At the same time ecosystem based management may remove or set aside land with traditional territories for carbon offsets that might sterilize or otherwise impact other economic activities like mining, aggregate resource development, or transportation services.
6) Combining scientific and traditional knowledge can be challenging, but is important for designing climate change adaptation strategies and carbon offset approaches so that they are scientifically sound and truly connected to local value systems, needs and priorities.
7) The challenge of fully integrating traditional ecological knowledge (TEK) for environmental change adaptation, and Cap and Trade strategies. When TEK systems erode and bodies of TEK are lost, the world loses options to respond to challenges and global environmental change. TEK systems represent bio-cultural "refugia" of traditional knowledge – "arks" of important ecological knowledge that have significant value in the face of worldwide TEK erosion. TEK, local understandings and ways of documenting and responding to climate change must be considered by governments, institutions, NGOs and indigenous communities when designing and implementing climate change adaptation strategies. All parties must recognize that TEK resilience requires the local ability, and the tools – both traditional and modern multi-media - to generate, transform, transmit, and apply TEK.
Global Climate Agreements and Indigenous Peoples
According to Victoria Tauli-Corpuz, the UN Special Rapporteur on the Rights of Indigenous Peoples in a recent article,
"...indigenous people offer invaluable lessons to a world seeking a sustainable future that eschews what [the Pope] calls the "plunder" of nature. It's time for leaders, CEOs and investors who say they care about the environment to finally acknowledge that indigenous people are a major part of the solution to global warming. And governments, on their part, should grant indigenous people strong, unambiguous rights over the land where they live... The international community should take notice, too: The upcoming climate talks in Paris will fall short of reaching a comprehensive solution if negotiators do not acknowledge this link between indigenous rights and the health of the world's natural resources."
About Us - Shared Value Solutions Ltd.:
Businesses and organizations are made up of people. So are communities. Imagine a world where people in industry and government, and people from towns of all sizes, get together to make amazing things happen – things they couldn't have dreamed up alone. A world where people from corporations get together with people in government or NGOs to explore innovative ways to do business while enhancing the natural and social environment. Join us in Creating Shared Value!
At Shared Value Solutions, we speak your language. And we know that the impossible is possible – with the right people in the circle.
We are an Ontario B Corp and we bring the best engineering, design, environment, architecture and other technical discipline expertise to address your challenges and opportunities:
Strategic Environmental Assessment guidance, coordination and support

Collaborative land and resource use planning and management- process design and delivery

Traditional Ecological Knowledge Studies & Traditional Knowledge Studies

Traditional Land Use Studies (TLUS)/ Traditional Land Use and Occupancy Mapping

Design and delivery of programs promoting/supporting positive behaviour change- environmental stewardship, community-based social marketing, health/environmental health promotion

Contributing human environment considerations to technical assessments and management plans in sectors such as water resources, remediation, land use, mining, oil & gas, linear corridor development, forestry, renewable energy, nuclear waste, contaminated sites, brownfield redevelopment, watershed planning, drought planning, water use planning, waste management and waste diversion

Aboriginal and Industry Partnerships working with First Nation, Inuit and Métis communities

Value Engineering & Value Analysis: we facilitate project teams to optimize a project by understanding functions, objectives, costs and social, cultural and environmental considerations.