---
GUELPH INNOVATES ONTARIO CLIMATE ACTION:
The City of Guelph is building North America's first city-wide district energy network and leading Ontario climate action. Guelph is the first community in North America to establish a plan for an interconnected thermal grid to serve industrial, commercial and residential buildings across an entire city.
Starting with low-cost, clean energy, natural gas fuel - but branching to renewables over time - an underground network of pipes installed alongside water, electricity, and other utilities will allow multiple buildings to share energy for heating, cooling, and hot water. Building operators benefit from lower fuel and equipment costs, reduced space requirements, lower building and maintenance costs and reduced greenhouse gas emissions.
The system is owned and operated by Envida Community Energy Inc., a subsidiary of Guelph Hydro Inc. Guelph's goal is to use its district energy network to supply at least 50 per cent of the community's heating needs in the next 30 years. Energy efficiency is a big part of this initiative - Guelph will soon be launching GEERS – Guelph Energy Efficiency Retrofit Services – to help retrofit existing buildings for energy efficiency.
Guelph has also partnered with Project Neutral to help local residents address climate change at the household level. Launched on October 1st, 2014, Project Neutral, in collaboration with the the local not-for-profit organization eMerge, the project is a web-based platform that allows homeowners to calculate their household carbon footprint based on food, water, waste, energy and transportation. Once residents discover the size of their own footprint, they can set personal goals to bring it even lower, or just brag about it to their neighbours. Karen Nasmith, co-founder and director of Project Neutral, said the program "takes a new slant on keeping up with the Joneses."
---
ONTARIO CLIMATE ACTION - IN ACTION:
Downtown district energy system first of many in Guelph's municipal energy plan for building North America's first City-wide District Energy Network - image courtesy of Envida Community Energy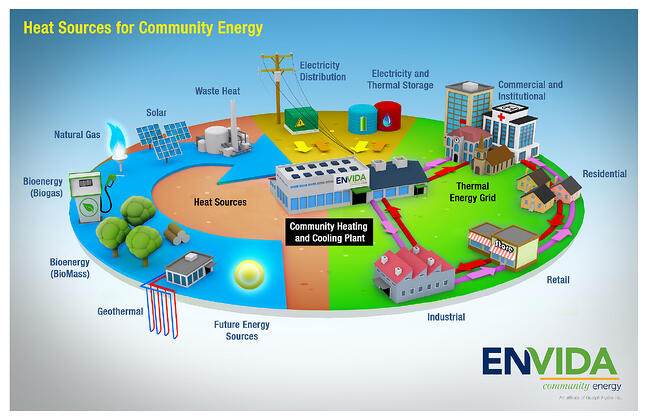 Starting with low cost natural gas (see our post on how low cost natural gas has an important role to play powering Ontario's economy), but moving to a variety of renewable energy sources, Guelph is leading the charge for Ontario Climate Action. Please share so that others can learn from this innovative approach.
---

CONCLUSION:
At Shared Value Solutions Ltd., we're proud to support Project Neutral with office space and administrative support - and some fair trade, B Corporation coffee :-) As one of the first B Corporations in Ontario (an Ontario B Corp - how about that!) this type of support is in our corporate DNA. We're big on local commitments, especially where we can support efforts around climate change and going carbon neutral. Climate change & Ontario interests are real. We look forward to future endeavours in Guelph and across Ontario to support Ontario Climate Action! Stay tuned for more on Ontario ClimateAction!
Stay tuned as we embark on several new projects and ventures to support Ontario Climate Action. Sign-up for our newsletter for more!
---