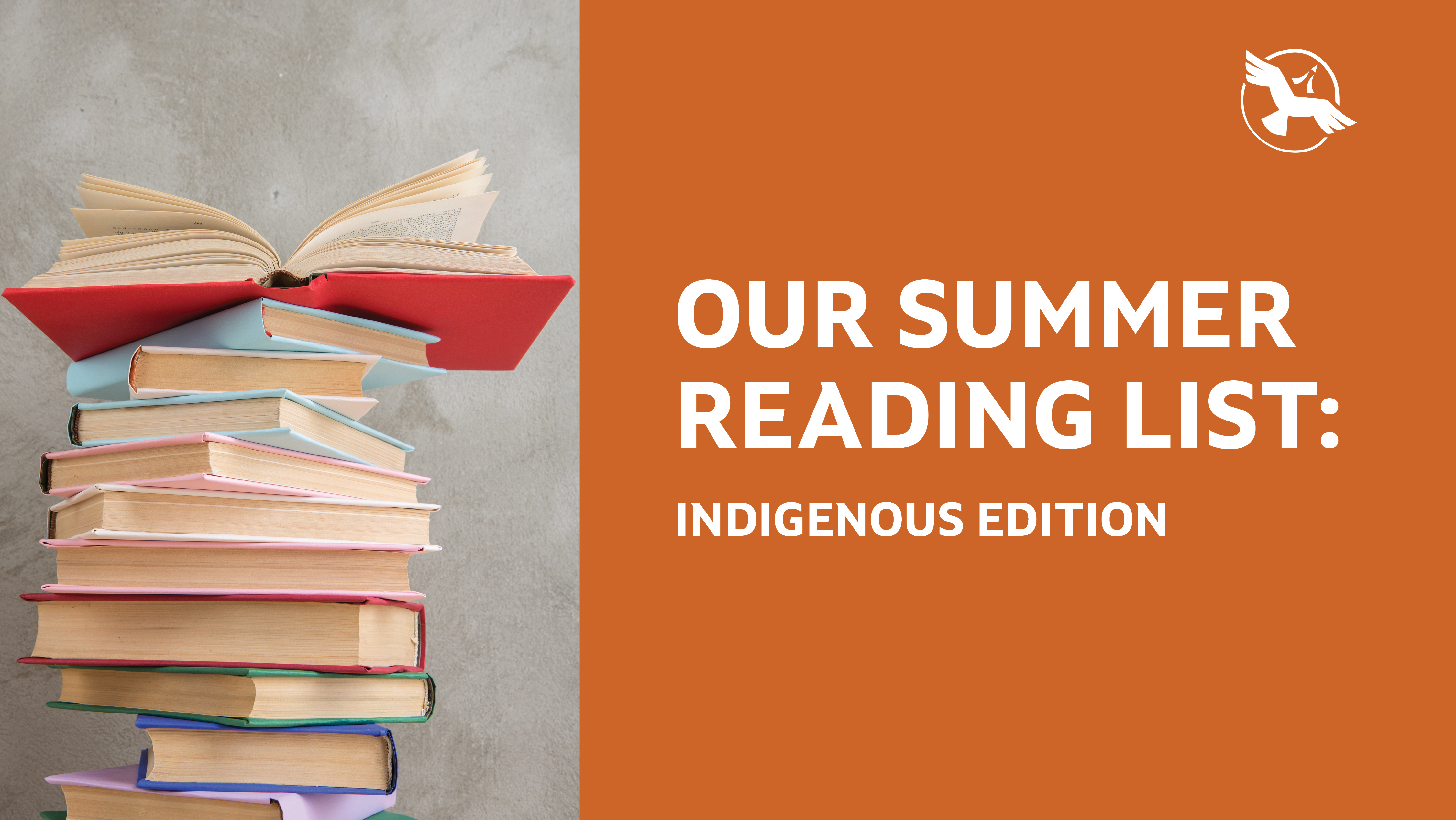 Reading - whether it's curled up under a cozy blanket by the fire, warm beverage in hand, as winter rages outside or, as is the case now, sitting outside with a cold beverage, enjoying the heat of summer, there is always a place for losing yourself in a good book.
And what better time than summer!
Summer is a time to slow down and refresh your mind and body. And what better way than a good summer read while the sun warms your skin and the breeze ruffles the pages. Not to mention sipping on an equally refreshing cold beverage - the writing of this list was accompanied by a deliciously chilly iced coffee!
At SVS, we are continually expanding our minds by reading and expanding our libraries by sharing our book recommendations with each other. As part of our commitment to Reconciliation, we strive to support and highlight the work of Indigenous authors. The below list of books are suggestions from our team members, some that we've read and some that are on our personal reading lists. Check them out!
Books
Peace and Good Order by Harold Johnson

Moon of the Crusted Snow by Waubgeshig Rice

One Native Life by Richard Wagamese

One Drum by Richard Wagamese

Unsettling Canada: A National Wake-Up Call by Art Manual

Call Me Indian: From the Trauma of Residential School to Becoming the NHL's First Treaty Indigenous Player by Fred Sasakamoose

Firekeeper's Daughter by Angeline Boulley

Halfbreed by Mario Campell (re-released edition)

Plants Have So Much to Tell Us: Anishnaabeg Botanical Teachings. By Mary Siisip Geniusz

From the Ashes by Jesse Thistle

Indians on Vacation by Thomas King

Seven Fallen Feathers by Tanya Talaga

The Inconvenient Indian Tomas King

Braiding Sweetgrass by Robin Wall Kimmerer

A Mind Spread Out on the Ground by Alicia Elliott

Clifford: A Memoir, A Fiction, A Fantasy, A Thought Experiment by Harold R. Johnson

The Unexpected Cop by Ernie Loutitt

Hope Matters by Lee Maracle, Columpa Bobb, and Tania Carter

Mamaskatch: A Cree Coming of Age by Darrell McLeod

Legacy: Trauma, Story, and Indigenous Healing by Suzanne Methot

Indian Horse by Richard Wagamese

Split Tooth by Tanya Tagaq

Disintegrate/Dissociate by Arielle Twist

Moccasin Square Gardens by Richard Van Camp

River woman by Katherena Vermette

Son of a Trickster by Eden Robinson

Five Little Indians by Michelle Good

In Search of April Raintree by Beatrice Mosionier

Empire of Wild by Cherie Dimaline

Keeper'n Me by Richard Wagamese

One Story, One Song by Richard Wagamese

The Marrow Thieves by Cherie Dimaline

There There" by Tommy Orange
Podcasts
If you prefer podcasts, here is what we are listening to:
Warrior Life Podcast by Pam Palmater
Storykeepers Podcast with Waub Rice and Jennifer David
Nation to Nation Podcast by ATPN News
Seven Truths Podcast by Tanya Talaga
Secret Life of Canada Podcast
Unreserved Podcast

Missing & Murdered - CBC Media Centre

Telling Our Twisted Histories - CBC Listen

All My Relations
Whether you visit your local library, borrow from friends, browse your local independent bookstore, or hit "Add to cart" at an online retailer, there is no shortage of joy and relaxation from reading. Check out one of the many titles above for a summer read, or a cozy winter read if you prefer, and you won't be disappointed.
Are you reading something that isn't on our list? Leave a comment below and let us know! We are always looking for the next great book to add to our list!
---
We are an Canadian B Corp, and we assist Indigenous communities with support throughout regulatory processes surrounding major development projects like mines, hydroelectric facilities, transmission lines, highway expansions, oil and gas pipelines, natural resource transport applications and nuclear power.
We have deep context and experience behind the recommendations we provide, having worked for our clients on almost every major project in Canada over the last 10 years. For us, it's all about building long-term relationships with our clients. We want to get to know you and what you want to do so we can help you move your plans forward.
Impact Benefit Agreement Negotiation Support

Technical Reviews and Regulatory Process Support

Community and Economic Development Planning

Indigenous Knowledge and Land Use Studies

Environmental Monitoring

Guardians Program Development

Climate Change Readiness

GIS and Mapping
And so much more:

www.sharedvaluesolutions.com