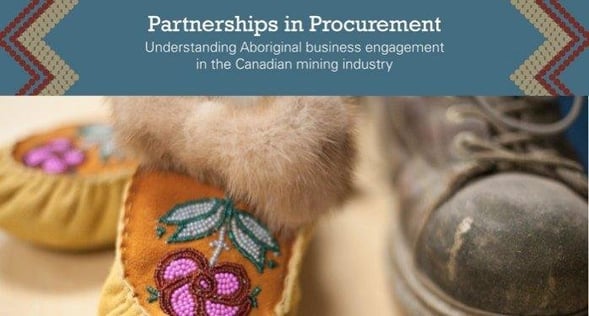 At SVS, we found Mining Shared Value's Partnerships in Procurement report to be tremendously valuable in providing a snapshot of the realities surrounding Indigenous procurement and Indigenous and industry partnerships. We are particularly excited by the recommendations (highlighted below) that the report puts forward.
Six Key Partnerships in Procurement Recommendations:
Create a national strategy that aligns federal, provincial and industry
priorities to guide training and inclusion. The focus should on connecting education
opportunities and local business needs with the goal of ending the confusing
patchwork of programs.
Database of Indigenous Businesses and Workers As the Native Women's Association of Canada recently recommended, government(s) should launch a national or regional database of Indigenous
businesses and workers and focus more coordination, training and planning to
match opportunity with skilled people.This strategy should support, strengthen, and
resource current regional databases so as not to duplicate the efforts of existing
service providers.
Supplier Inclusion Goals: Mining companies should set realistic targets for Aboriginal supplier inclusion, commit to them publicly, and measure outcomes. Mining companies should be encouraged to measure and report their actual spend on Aboriginal supplier services rather than overall or total contract value as it can mask the real benefit received by Aboriginal business people Industry association guidelines, such as the Mining Association of Canada's (MAC) Towards Sustaiinable Mining (TSM) should incorporate Aboriginal procurement into their sustainability systems
Score Cards for Major Contractors Supporting Aboriginal Suppliers. Major contractors including Engineering, Procurement and Construction Management (ECPM) contractors should be encouraged to leverage opportunities to increase Aboriginal supplier involvement through contract evaluation and score card metrics. Governments should commit to increased sources of funding for Aboriginal
business development
Financial Institutions Engaged: In line with the Truth and Reconciliation Commission (TRC) recommendations, the financial services industry should develop training and awareness programs to educate staff about the challenges faced by Aboriginal businesses and the value of their contributions to the Canadian economy
Early and Transparent Engagement. Mining companies should strive for early, transparent and engaged communications with Aboriginal suppliers. This includes following up with unsuccessful bidders
to identify areas for improvement and provide insight into how to navigate opportunities within their supply chain
At Shared Value Solutions we are committed to supporting Indigenous communities to fostering collaborations and partnerships that furthers Aboriginal rights and interests through Impact Benefit Agreements, Long-term Relationship Agreements, Joint-Ventures, training, and capacity building. If you or community needs support in making a partnership a reality please don't hesitate to contact us (info@sharedvaluesolutions.com; 226-706-8888) or sign up for our newsletter!
Related Posts:
Businesses and organizations are made up of people. So are communities. Imagine a world where people in industry and government, and people from towns of all sizes, get together to make amazing things happen – things they couldn't have dreamed up alone. A world where people from corporations get together with people in government or NGOs to explore innovative ways to do business while enhancing the natural and social environment.
At Shared Value Solutions, we speak your language. And we know that the impossible is possible – with the right people in the circle.
We are an Ontario B Corp and we bring the best engineering, design, environment, architecture and other technical discipline expertise to address your challenges and opportunities:
Oral History, Traditional Knowledge, Traditional Land Use and Occupancy Study Support

Strategic Regulatory and Environmental Assessment Process Support

Multimedia Storytelling

Community Consultation and Engagement

Indigenous Private Sector Business Partnerships
Shared Value Solutions ® is a trademark registered by Shared Value Solutions Ltd.