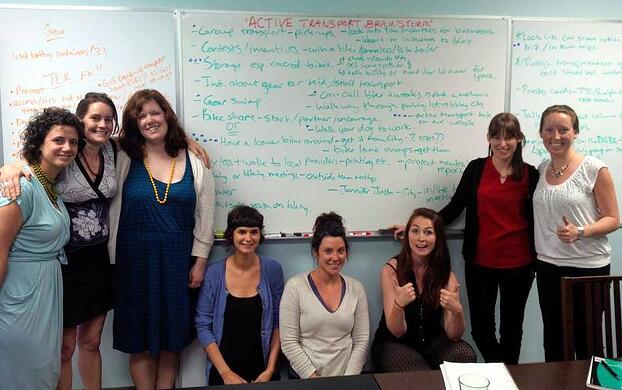 Shared Value Solutions team members celebrate a successful "active transportation" brainstorming session - a B Corporation in action
On September 25th, 2014, Ontario Premier Kathleen Wynne released 30 mandate letters she has written her ministers – these letters provide priorities and action items that Premier Wynne expects each minister to work on during their tenure. Since the early 1990s, Ontario premiers have used such mandate letters, but this is the first time a premier has released the letters publicly. While distributing the letters, Premier Wynne said:
"I want people to know their government is working for them, but I also want people to know what their government is doing... I want people to know that the plan we ran on [in the spring 2014 election] is reflected in the missions I've now given to our ministers."
We took some time to review the mandate letters in relation to some of the key interest areas of our clients – businesses, Aboriginal communities, municipalities with interests in (click on the links for summaries from the mandate letters for each topic):
Premier Wynne's mandate letters demonstrate a strong commitment to many B Corporation interests, especially the progress focus on the environment and climate change, and on clean energy and cleantech. As we progress with a new carbon offset initiative and related commercial biogas research, we're intrigued by the opportunities that may emerge.
Given that we have a strategic focus on Aboriginal interests and the Ring of Fire, we are especially interested in the significant attention the Premier gives to these topics. We're also impressed by the focus on natural gas - an important, low-cost energy resource for Ontario that is coming to the province in increasing quantities from shale gas resources in nearby Pennsylvania and Ohio. And as a business member of Communitech supporting innovation in the Guelph-Waterloo Region area, we're hopeful that commitments to improved rail services will stimulate further creative innovation as part of a regional Innovation Supercluster.
Finally, as a B Corporation, we are pleased to see the Premier highlight social entrepreneurship and make a commitment to create a strong social enterprise market in Ontario.
About Shared Value Solutions Ltd.
Shared Value Solutions Ltd. is one of the first 100 B Corporations in Canada. We bring the best environmental peer review, strategic advice, community engagement and traditional knowledge, land use, and socio-economic research expertise to address your challenges and opportunities. Working with leading companies, civil society, Aboriginal communities and government organizations, we drive shared value solutions.