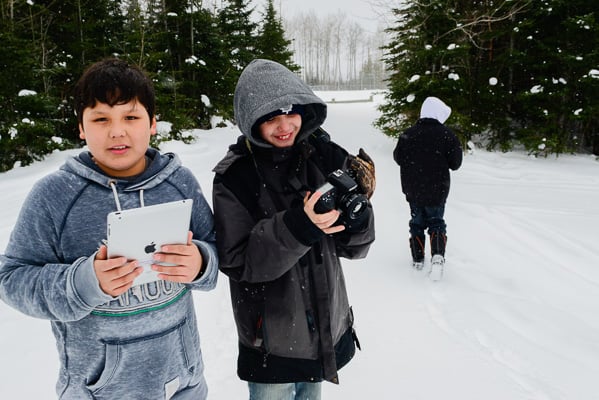 Constance Lake First Nation students learning traditional ecological knowledge documentation skills during a Shared Value Solutions audio-visual training workshop on the topic of "What Water Means to Me"
On September 25th, 2014, Ontario Premier Kathleen Wynne released 30 mandate letters she has written her ministers – these letters provide priorities and action items that Premier Wynne expects each minister to work on during their tenure.
We took some time to review the mandate letters in relation to some of the key interest areas of our clients (see our summary assessment post) – businesses, Aboriginal communities, municipalities with interests in (click on the links for summaries from the mandate letters for each topic):
In this post we focus on Aboriginal community wellbeing and social & economic development - one of the most comprehensive and cross-ministry set of action items to come out of the mandate letters. Through her focus on Aboriginal interests, Premier Wynne is sending a strong signal to staff across all ministries that Aboriginal community wellbeing is a top priority for her government.
The wide range of mandate items include:
Ministry of Aboriginal Affairs
Improving opportunities for meaningful employment and business development. You will do this by creating the Aboriginal Economic Development Fund for Aboriginal communities and businesses.
Improving socio-economic outcomes for Aboriginal peoples living in urban communities by creating the Urban Aboriginal Action Plan.
Supporting the Minister of Education's work to improve educational outcomes, closing achievement gaps and significantly increasing graduation rates for Aboriginal learners.
Continuing to work with the Ontario Women's Directorate to develop a long-term strategy to end violence against Aboriginal women and girls.
Working with the Minister of Energy and the federal government to ensure that remote First Nation communities are positioned to benefit from remote transmission projects by creating the Remote Electrification Readiness Program.
Continuing to work across government to ensure that Aboriginal peoples share in the benefits of natural resources and are engaged in resource-related economic development. You will do this by advancing the province's local/sectoral approach to resource benefits sharing.
Working with the Minister of Northern Development and Mines and with First Nation communities on the next phase of negotiations under the Ring of Fire Framework Agreement our government signed earlier this year. Your goal is to ensure benefits sharing and a regional approach that respects community-based planning.
Continuing to resolve land claims in a timely manner, concluding the Agreement-in-Principle on the Algonquin land claim, developing a draft Algonquin treaty for public consultation and continuing to encourage the federal government to make progress on outstanding land issues.
Moving forward with a new Treaty Strategy that will promote constructive engagement with First Nation communities, revitalize treaty relationships and promote improved socio-economic outcomes for Aboriginal peoples. You will also develop an education and awareness campaign to increase public awareness, understanding and recognition of treaties and treaty rights.
Working with ministers to ensure that Ontario continues to meet its duty to consult and, where appropriate, accommodate Aboriginal communities.
Improving drinking water on reserves, with a focus on remote communities. You will work with the Minister of the Environment and Climate Change, the Minister of Intergovernmental Affairs and the federal government to make substantive progress in providing First Nation reserves with access to safe drinking water. The ministers will work toward developing measurable, achievable targets to monitor progress.
Engaging in dialogue with the federal government on key priorities and issues for Aboriginal peoples. This will include advocating for more sustainable funding for education, taking further action to address socio-economic disparities for First Nation, Métis and Inuit communities — and addressing the funding implications of increasing Aboriginal control in program and service delivery.
Supporting the National Aboriginal Organizations' call to the federal government to hold a national public inquiry on murdered and missing Aboriginal women and girls. Work with the Assembly of First Nations and Native Women's Association of Canada towards a national roundtable discussion with federal and provincial ministers on murdered and missing Aboriginal women and girls.
Ministry of Agriculture, Food and Rural Affairs
[With respect to Aboriginal community needs in terms of rural and remote locations]

Supporting the work of the Minister of Economic Development, Employment and Infrastructure and the Minister of Energy to establish and implement natural gas initiatives. The programs will be funded under our $130-billion infrastructure plan and will give consumers in underserved communities more energy choices, make commercial transportation more affordable, attract new industry to Ontario, and benefit our agricultural producers. Your goal is to help ensure that Ontario residents and industries are able to share in affordable supplies of natural gas.
Ministry of the Attorney General
Continuing efforts to strengthen the relationship between Aboriginal Peoples and the justice system.
Working with partner ministries and organizations, including the Ministry of Aboriginal Affairs, and with First Nations to continue to implement the recommendations of the Iacobucci report, First Nations Representation on Ontario Juries.
Working with the Jury Review Implementation Committee and the Advisory Group to achieve significant progress in capacity-building and education, making the jury system more accessible and improving the prospective pool of jurors.
Working with other ministries to ensure continued consultation with First Nation representatives about increasing positive participation in, and access to, the court system. You will also continue to support innovative initiatives to address self-represented litigants.
Ministry of Children and Youth Services
Ensuring that First Nation, Métis, Inuit and Urban Aboriginal perspectives and cultures are considered as you develop programs and policies for children and youth.
Continuing to build stronger relationships and work with our First Nation, Inuit, Métis and Urban Aboriginal partners to improve opportunities and outcomes for children, youth and their families living in these communities.
Leading the launch and implementation of an Aboriginal Children and Youth Strategy to build community-driven, integrated and culturally appropriate services — including mental health and wellness, suicide prevention and life promotion, child welfare, early childhood supports, specialized services, rehabilitation services and youth justice services.
Ministry of Community Safety and Correctional Services
Working with the federal government and First Nation communities to address the sustainability of First Nation policing.
Ministry of Education
Building on the successful implementation of full-day kindergarten, which will be fully implemented this year. As outlined below, you will continue to work with school boards, municipalities, First Nations, child care operators and parents to modernize, stabilize and strengthen the child care system and improve oversight.
Supporting educators in learning so they will be recognized as among the best in the world. You will lead efforts to modernize and expand teacher education into a two-year program, starting in September 2015. The modernized program will include mandatory content that will better prepare teachers for the classrooms of today and tomorrow. That content would include topics such as: using technology in the classroom, literacy and numeracy, mental health and addictions, safe schools, First Nation, Métis and Inuit education and special education.
Ministry of Energy
Working with other ministries and agencies to ensure that First Nation and Métis communities are consulted on any energy activity that could adversely affect their Aboriginal or treaty rights. Our government has recognized that Aboriginal participation in the energy sector is one of the keys to the economic development of First Nation and Métis communities.
Continuing to support and encourage participation by First Nation and Métis communities in new generation and transmission projects — and in conservation initiatives. You will do so through programs such as the Aboriginal Energy Partnerships Program.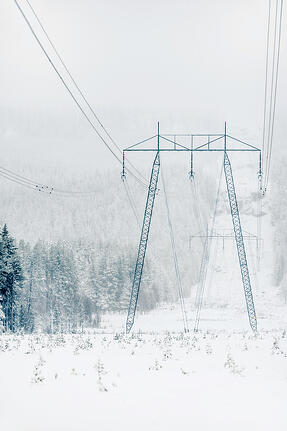 Connecting remote communities [to the transmission grid] is a priority for Ontario. Success in connecting remote communities will depend on contributions from all of the parties that will benefit from it, which includes the federal government. The province looks forward to a fair cost-sharing agreement with its federal counterparts to make sure this project becomes a reality for First Nation communities.
Working with the Minister of Aboriginal Affairs, the federal government, and other agencies and ministries as needed to ensure communities are positioned to benefit from grid connection or a reduction in their dependence on diesel. This will support stronger, healthier northern remote communities by reducing barriers to growth, increasing economic development opportunities, ensuring access to clean energy, and improving social and living conditions for residents. For those communities where connection to the provincial grid is not viable, you will promote local options, such as renewable energy generation, to help reduce reliance on diesel fuel.
Encouraging municipalities and Aboriginal communities to develop their own community-level energy plans — and identify conservation opportunities and infrastructure priorities — as part of our commitment in the LTEP. You will support these efforts through the Municipal Energy Plan Program and the Aboriginal Community Energy Plans Program.
Ministry of Finance
Ensuring taxes are collected efficiently and that minimal revenue is lost because of non-compliance or the underground economy. You will implement the raw-leaf tobacco reforms and take action on illegal tobacco sales, while working with partner ministers and First Nations to support First Nation economic development goals.
Ministry of Health and Long-Term Care
Working with the Minister of Aboriginal Affairs on ongoing work related to Aboriginal health and wellness.
Ministry of Natural Resources and Forestry
Continuing to work with forestry companies, environmental organizations, First Nations and community representatives to ensure that Crown forest resources are being put to their best use — and in an economically, socially and environmentally sustainable fashion.
Engaging with stakeholders, Aboriginal communities and other concerned ministers to address the recommendations of the Standing Committee on General Government's Report on the Review of the Aggregate Resources Act. You will also bring forward recommended regulatory and legislative changes to improve the Aggregate Resources Act.
Ministry of Northern Development and Mines
Continuing to encourage and enhance the capacity for Aboriginal communities to participate in — and take advantage of — mineral resources and other economic development opportunities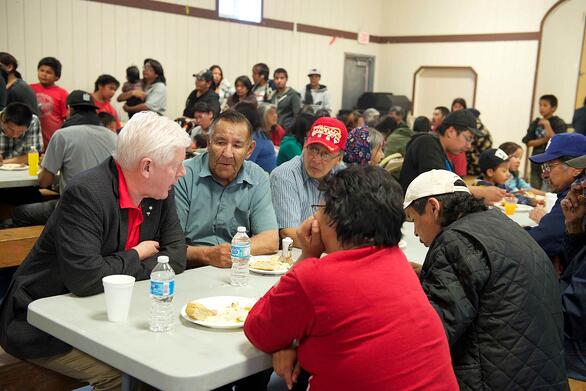 Bob Rae, Lead Negotiator for the Matawa Chiefs Council speakes with First Nation community members about their interests in the Ring of Fire
Continuing to collaborate directly with other ministers, First Nations and key stakeholders to develop the Ring of Fire. You will establish a Ring of Fire development corporation within 60 days of the Speech from the Throne. The development corporation will be responsible for constructing, financing, operating and maintaining infrastructure to support access to strategic resources in the Ring of Fire. I ask that the corporation bring together private and public partners — including key mining companies and First Nations
Working with the Minister of Aboriginal Affairs, Matawa First Nation communities and other ministers on the next phase of negotiations under the Ring of Fire Regional Framework Agreement, which our government signed earlier this year.
Pan/Parapan American Games Secretariat
Working in partnership with Aboriginal communities and leaders to ensure they are successfully connected to the Games.
Ministry of Tourism, Culture and Sport
Continuing to build partnerships and engage communities across the province, including Aboriginal communities. You will continue to support the conservation of built heritage and archaeological resources, strong public libraries, a vibrant arts sector, sport, para-sport and recreation, Aboriginal community recreation, and economic opportunities including Aboriginal tourism.
Ministry of Training, Colleges and Universities
Collaborating with the Minister Responsible for the Poverty Reduction Strategy and other relevant ministers to focus resources on those who need them most — including persons receiving social assistance, persons with disabilities, the long-term unemployed, Aboriginal Peoples, newcomers and at-risk youth — as part of the government's Poverty Reduction Strategy. You will continue to engage a broad range of stakeholders and partners, including municipalities and service delivery agents, throughout this work.
Continuing to work in partnership with Aboriginal communities on the development of flexible policies, programs and services that respect and respond to the diversity within Aboriginal communities.
Women's Directorate
Continuing to address the particularly devastating consequences of violence for Aboriginal women, their families and communities. You will continue to support the National Aboriginal Organizations' call to the federal government to hold a national public inquiry on missing and murdered Aboriginal women.
About Shared Value Solutions Ltd.
Shared Value Solutions Ltd. is one of the first 100 B Corporations in Canada. We bring the best environmental peer review, strategic advice, community engagement and traditional knowledge, land use, and socio-economic research expertise to address your challenges and opportunities. Working with leading companies, civil society, Aboriginal communities and government organizations, we drive shared value solutions.
We believe that Aboriginal Traditional Knowledge Matters to protect and enhance aboriginal community wellbeing, aboriginal interests and aboriginal economic development: traditional ecological knowledge (TEK), traditional land use studies, combining scientific and traditional knowledge, having aboriginal environmental monitors and BEAHR training, traditional ecological knowledge and environmental change, aboriginal land use planning, and integration of aboriginal traditional knowledge in environmental assessments.