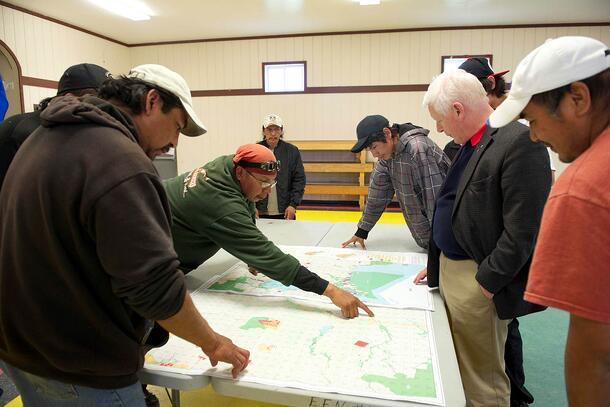 Matawa member First Nation community members discussing land use planning and infrastructue development in the Ring of Fire with their lead negotiator, Bob Rae
On September 25th, 2014, Ontario Premier Kathleen Wynne released 30 mandate letters she has written her ministers – these letters provide priorities and action items that Premier Wynne expects each minister to work on during their tenure. Since the early 1990s, Ontario premiers have used such mandate letters, but this is the first time a premier has released the letters publicly.
We took some time to review the mandate letters in relation to some of the key interest areas of our clients – businesses, Aboriginal communities, municipalities with interests - see our summary blog post and click on the links below for discussion around topics from the mandate letters:
mining and the Ring of Fire.
Given that we have a strategic focus on Aboriginal interests and the Ring of Fire, we are especially interested in the significant attention the Premier gives to these topics. Several of our First Nation and power sector clients are working on a variety of initiatives in the Ring of Fire area, including transmission line projects, power generation projects, water management projects, traditional knowledge studies and traditional land use studies, and community planning initiatives.
We've come to understand that the Ring of Fire will only move forward once First Nations are firmly in the drivers's seat for moving commercial infrastructure and mining ventures forward - on their own or in partnership with private sector and government players that understand this reality. Seeing the Ring of Fire and Aboriginal interests together is key - the Ring of Fire and First Nations are inseparable.
The Premier's mandate items for the Ring of Fire and mining include:
Ministry of Northern Development and Mines
Developing the Ring of Fire
Co-ordinating and leading the development of the Ring of Fire to create opportunities in Northern Ontario's resource and mineral sector. Your goal is to maximize economic and social opportunities for Ontario, First Nations and Canada.
Continuing to collaborate directly with other ministers, First Nations and key stakeholders to develop the Ring of Fire. You will establish a Ring of Fire development corporation within 60 days of the Speech from the Throne. The development corporation will be responsible for constructing, financing, operating and maintaining infrastructure to support access to strategic resources in the Ring of Fire. I ask that the corporation bring together private and public partners — including key mining companies and First Nations.
Working with the Minister of Aboriginal Affairs, Matawa First Nation communities and other ministers on the next phase of negotiations under the Ring of Fire Regional Framework Agreement, which our government signed earlier this year.
Promoting Ontario's Mining Sector
Continuing to work with the Minister of Economic Development, Employment and Infrastructure to promote Ontario's mining sector, including the development of international opportunities.
Continuing to encourage and enhance the capacity for Aboriginal communities to participate in — and take advantage of — mineral resources and other economic development opportunities.
About Shared Value Solutions Ltd.
Shared Value Solutions Ltd. is one of the first 100 B Corporations in Canada. We bring the best environmental peer review, strategic advice, community engagement and traditional knowledge, land use, and socio-economic research expertise to address your challenges and opportunities. Working with leading companies, civil society, Aboriginal communities and government organizations, we drive shared value solutions.