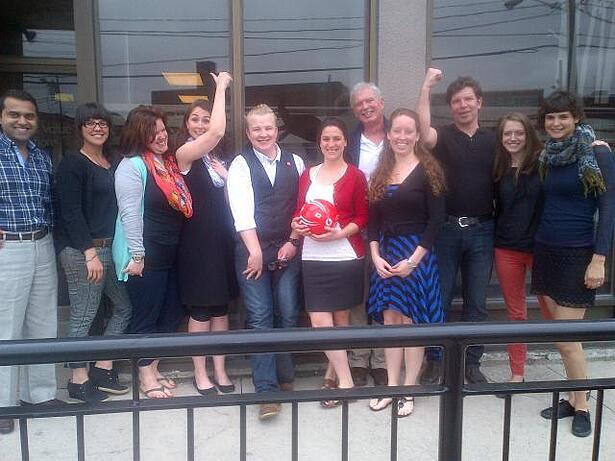 Aaron Emery, B Corporation Lead at MaRS Discovery District (wearing vest) joins Shared Value Solutions Ltd. team members in celebrating our official designation as a B Corporation in May 2014
On September 25th, 2014, Ontario Premier Kathleen Wynne released 30 mandate letters she has written her ministers – these letters provide priorities and action items that Premier Wynne expects each minister to work on during their tenure.
We took some time to review the mandate letters in relation to some of the key interest areas of our clients (see our summary assessment post) – businesses, Aboriginal communities, municipalities with interests in (click on the links for summaries from the mandate letters for each topic):
In this post we focus on Social Entrepreneurship - which, as a B Corporation, is close to our hearts! As one of the first 100 B Corporations in Canada, and one of less than 70 in Ontario, we are pleased to be playing a small role in advancing social entrepreneurship in Ontario - linked closely to several of Premier Wynne's other priorities.
We see social entrepreneurship, and especially the B Corporation approach, as being an important way to harness private sector ingenuity, innovation and efficiencies to move many environmental, climate change social, economic and Aboriginal community well-being agendas forward. We discuss our thoughts in the other topic areas listed above.
The Premier's social entrepreneurship mandate items include:
Ministry of Research and Innovation
Continuing to encourage a dynamic culture of entrepreneurism — including social entrepreneurship — throughout the education sector via the Ontario Network of Entrepreneurs.
Ministry of Economic Development, Employment and Infrastructure
Working in partnership with business and entrepreneurs to build on our existing commitment to create a strong social enterprise market in Ontario.
About Shared Value Solutions Ltd.
Shared Value Solutions Ltd. is one of the first 100 B Corporations in Canada. We bring the best environmental peer review, strategic advice, community engagement and traditional knowledge, land use, and socio-economic research expertise to address your challenges and opportunities. Working with leading companies, civil society, Aboriginal communities and government organizations, we drive shared value solutions.