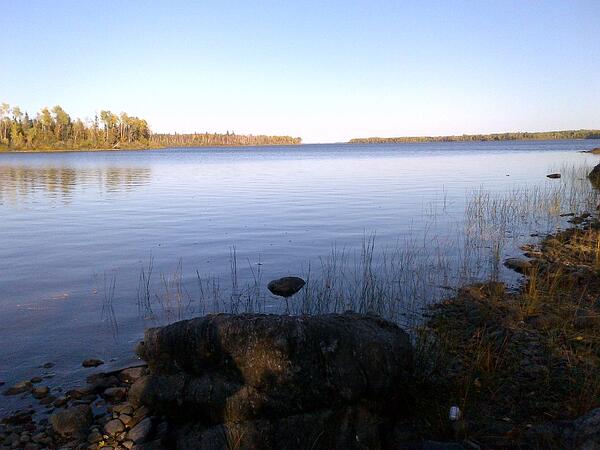 Attawapiskat Lake, Neskantaga First Nation, Northwestern Ontario - water everywhere, but not safe to drink from the tap - community has been on a boil water advisory for 20 years
On September 25th, 2014, Ontario Premier Kathleen Wynne released 30 mandate letters she has written her ministers – these letters provide priorities and action items that Premier Wynne expects each minister to work on during their tenure.
We took some time to review the mandate letters in relation to some of the key interest areas of our clients (see our summary assessment post) – businesses, Aboriginal communities, municipalities with interests in (click on the links for summaries from the mandate letters for each topic):
In this post we focus on Water and the Environment - our B Corporation has a core water & environment focus. We are pleased to see the importance Premier Wynne places on our core interests, especially her focus on First Nations approaches to water management.
We have had very good experiences with the Ministry of Environment and Climate Change's "Water Innovation" program. Through that program we were able to assist Constance Lake First Nation to get off a long-term boil water advisory, and begin to address water quality issues caused by toxic blue green algae. We've since expanded those efforts to host a conference on Groundwater Innovation with multiple Ontario partners, and helped advance First Nation source water protection initiatives. We are also now working with several other parties to assist Neskantaga First Nation to get off a 20-year First Nation boil water advisory. We see the opportunity to leverage all of these innovations in the direction of improving drinking water and source water in First Nation communities across Ontario and to enhance Aboriginal community wellbeing.
The Premier's Water and Environment mandate items include:
Ministry of the Environment and Climate Change
Re-introducing a strengthened Great Lakes Protection Act, which recognizes the importance of the Great Lakes to Ontario's environment, economy and the health of our citizens.
Further protecting the Great Lakes, including making Great Lakes shorelines and beaches cleaner and safer, through steps outlined below.
Negotiating the renewal of, and implementing, the Canada-Ontario Agreement respecting the Great Lakes Basin Ecosystem. This will include developing a nutrient target by 2016 to address algal blooms in the Great Lakes and bringing forward recommendations to meet that target.
Continuing to engage local communities in clean-up and restoration efforts, including through the Great Lakes Guardian Fund.
Working with Great Lakes states to ensure the sustainability of the Great Lakes. This will include fully implementing the Great Lakes – St. Lawrence River Basin Sustainable Water Resources Agreement by regulating intra-basin transfers.
Reviewing the legislative framework to ensure there is a comprehensive approach to holding polluters responsible for decisions that affect the environment. Your ministry will put greater emphasis on prevention and on the "polluter pays" principle, focusing initially on contaminated site
Developing and implementing improved approaches to waste diversion. Your ministry will do so by building on the release of the Waste Reduction Strategy and working with industry, municipalities and other stakeholders toward the objective of re-introducing waste reduction legislation. The goal for your ministry is to ensure the ongoing sustainability and appropriate governance of waste diversion programs. This is critical to protecting the environment, recovering economic value in the waste stream and reaping GHG reduction benefits by using resources more efficiently.
Improving drinking water on reserves, with a focus on remote communities: the number of First Nation reserves without access to safe drinking water is unacceptable. You will work with the Minister of Aboriginal Affairs, me — in my capacity as Minister of Intergovernmental Affairs — and the federal government, who are primarily responsible for the provision of safe drinking water on reserves, to make substantive progress in this area. We will develop measurable, achievable targets to monitor progress.
Ministry of Natural Resources and Forestry
Continuing to work with forestry companies, environmental organizations, First Nations and community representatives to ensure that Crown forest resources are being put to their best use — and in an economically, socially and environmentally sustainable fashion.
Working with municipalities and other partners to promote urban forestry. Your goal is to work with these partners to plant one million trees in urban areas as part of our commitment to plant 50 million trees provincewide.
Preparing the Invasive Species Act for re-introduction. You will continue to address concerns surrounding the prevention, early detection and eradication of — and rapid response to — invasive species in Ontario's natural environment.
Advocating and collaborating with other jurisdictions to address the threat of invasive species. You will present Ontario's concerns at the bi-national and federal level.
Supporting the Biodiversity Strategy. You will continue to work with other ministers and partners to advance measures aimed at further strengthening and protecting Ontario's biodiversity.
Working with other ministers, municipalities and partners to conduct a review of Ontario's broader wetland strategy. Your goal is to strengthen wetland policies and stop the net loss of wetlands.
Implementing the Endangered Species Act. I ask that you continue to implement the act in a way that protects and promotes the recovery of species at risk in Ontario.
Ministry of Agriculture, Food and Rural Affairs
Strengthening pollinator health. You will work with other ministers and stakeholders to develop a Pollinator Health Strategy for Ontario that includes sustainable, long-term initiatives aimed at improving the health of bees and other pollinators.
Working with the Minister of the Environment and Climate Change, other ministers, industry partners and stakeholders, develop an action plan to meaningfully reduce neonicotinoid use for the 2015 growing season, including measurable targets. I also ask that you develop a system that requires a reduction in the use of seeds treated with neonicotinoid insecticides for the 2016 growing season through regulatory mechanisms, permitting or further measures as needed.
Continuing to work with partner ministers and the agricultural sector to decrease nutrient run-off, reduce greenhouse-gas emissions and make our agricultural sector as resilient as possible to climate change.
About Shared Value Solutions Ltd.
Shared Value Solutions Ltd. is one of the first 100 B Corporations in Canada. We bring the best environmental peer review, strategic advice, community engagement and traditional knowledge, land use, and socio-economic research expertise to address your challenges and opportunities. Working with leading companies, civil society, Aboriginal communities and government organizations, we drive shared value solutions.