Are you signed up for the highest-profile event of the virtual conference circuit?
On March 18 and 19, 2021, the First Nations Major Project Coalition is hosting The Indigenous Sustainable Investment Virtual Conference - of which Shared Value Solutions is a proud sponsor. The FNMPC is a national-level collective of more than 70 Indigenous Nations working toward enhancing the economic well-being of its members. Details of the star-studded speaker line-up and the conference agenda are available HERE.
Conference Primer "Coles Notes"
Mark Podlasly, Max Lindley-Peart and Suzanne von der Porten have written a conference discussion primer gives an overview of environmental, social, and governance (ESG) investment standards. In particular, it highlights the emerging Indigenous approach to ESG and summarizes the issues, risks, and rewards of meaningful engagement of Indigenous Peoples in the development of ESG investment standards in Canada. Download it HERE. Until you have time to read the whole thing, we've put together a summary for you here (tell me we're not the only ones who remember Coles Notes?).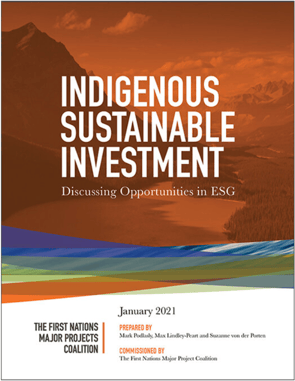 Introduction to ESG
E: Environmental impact, including climate change, water quality, and land use
S: Social issues, including human rights, community consent, and consumer relations
G: Governance issues, including company management and board representation
There is a growing awareness that reflecting ESG standards in business practices is important for a company's overall performance. ESG is increasing in importance as corporations are often required to demonstrate their actual commitment to social responsibility. ESG is being incorporated in business practices worldwide and has become an important way for investors to understand corporate purpose, strategy, management quality, and success.
Leading ESG Standards
There is a push to develop common ESG metrics across the board — "One ESG Standard to Rule Them All." While a single standard is an important driver for corporate improvement, existing ESG standards do not include the rights and interests of Indigenous Peoples and were developed without their input. What's missing is consideration of Indigenous territories; lands and waters; Indigenous inherent, constitutional, or treaty rights; Indigenous Knowledge; and cultural heritage, principles, or traditions.
"Without an inclusive all-Canadian and Indigenous-informed interpretation of what qualifies as a 'sustainable' investment standard, any Canadian project or company that impacts Indigenous lands and rights will be hard-pressed to attract funds from institutional investors who are required to comply with global ESG criteria or Canadian legal standards for that matter."
What is needed is a Canadian interpretation of ESG that incorporates the interests of Indigenous Peoples, Canadian investors, and governments.
Emerging Indigenous-led Initiatives
Indigenous Rights are becoming involved in nearly every major development project in Canada, especially those impacting land or natural resources. Generally, Indigenous interests are only considered as important for the financial bottom line after legal solutions are sought. However, better outcomes are achievable for Indigenous Peoples, corporations, and investors when Indigenous voices are heard outside of the high-stakes and high-conflict setting of a court room. Moving forward, "ESG frameworks need to discuss how to put the "I" (Indigenous) into ESG." But don't neglect the "E", "S," and "G" — Indigenous input remains lacking in governance, environmental, and social spheres as well.
The current practice of defining company and investment impacts on Indigenous interests without input from Indigenous Peoples increases investment risk. The FNMPC Indigenous Investment Conference will bring together investors, ESG framework organizations, company leads, and Indigenous Peoples to discuss how to reduce this risk.
"As Indigenous people we are the multi-generational stewards of the lands, waters, and resources that are now known as Canada. We are a vital part of, and have a vested interest in, building an environmentally and socially responsible future that will benefit all Canadians, Indigenous and non-Indigenous alike. The inclusion of Indigenous standards, knowledge, values and aspirations at all levels in both corporate decision-making, and in ESG frameworks, data collection and evaluation, will improve company performance, investment stability and social outcomes."
Read the full CONFERENCE PRIMER for more information and for the questions that will guide discussion on how ESG frameworks can better incorporate Indigenous information into risk analyses.
We are an Canadian B Corp, and we assist Indigenous communities with support throughout regulatory processes surrounding major development projects like mines, hydroelectric facilities, transmission lines, highway expansions, oil and gas pipelines, natural resource transport applications and nuclear power.
We have deep context and experience behind the recommendations we provide, having worked for our clients on almost every major project in Canada over the last 10 years. For us, it's all about building long-term relationships with our clients. We want to get to know you and what you want to do so we can help you move your plans forward.
Impact Benefit Agreement Negotiation Support

Technical Reviews and Regulatory Process Support

Community and Economic Development Planning

Indigenous Knowledge and Land Use Studies

Environmental Monitoring

Guardians Program Development

Climate Change Readiness

GIS and Mapping