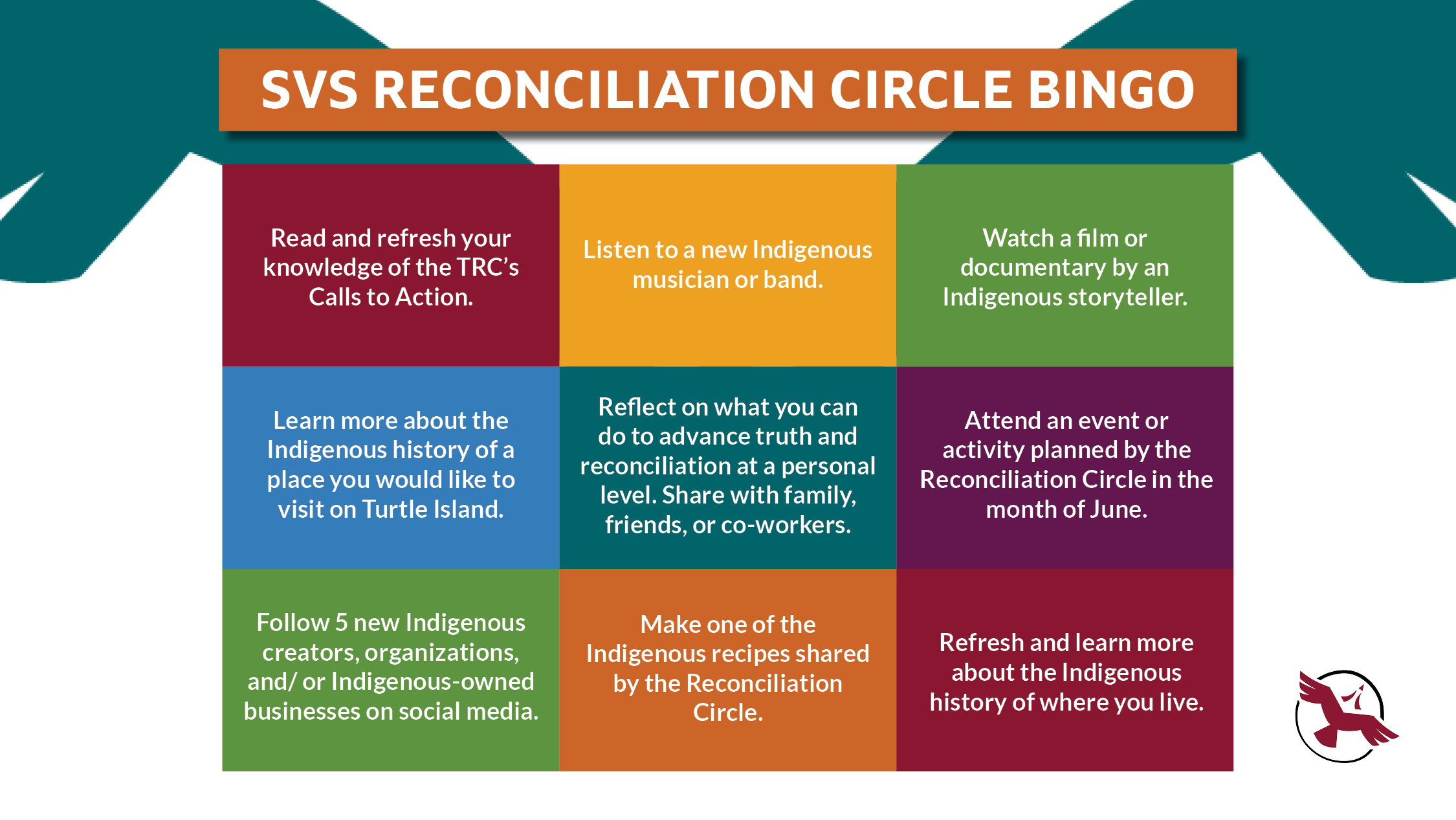 INSPIRATION!
In June, in recognition of National Indigenous History Month, SVS's Reconciliation Circle created a BINGO card as inspiration for engaging in activities at the corporate, school, or community level. Our staff engaged in some friendly competition to fill their cards.
Learn more about SVS's Reconciliation BINGO game here and see how it inspires you!
While National Indigenous History Month and the BINGO competition may be over, the interest and momentum created by the game lives on. Our team members are making it a priority to engage in our communities through hands-on volunteer activities.
At SVS, we take pride in our commitment to our clients and our community. So much so that we have built opportunities for volunteer work into our company operations and encourage active participation in our communities as part of our company culture.
We are so thrilled about the great work being done by SVS team members that we will be showcasing their volunteer activities over social media. Keep an eye out for these posts as well as all the other thought-provoking and engaging posts that come from our ongoing commitment to reconciliation.
With team members spread across the country, we are excited to see the difference that we can make!
ACTION!
Our first volunteer is Katie Turriff.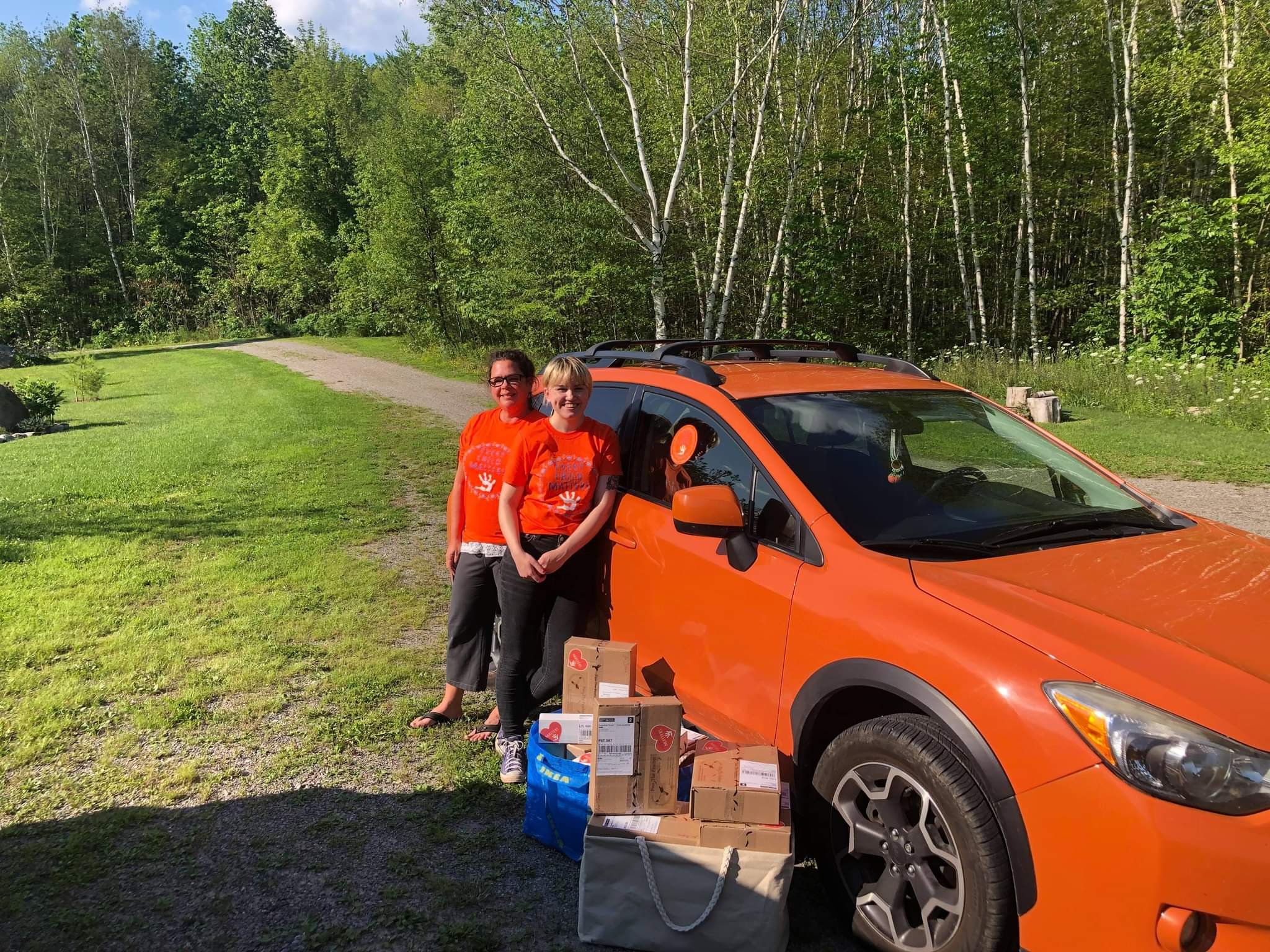 Katie and Dawn stand next to a pile of packages ready to ship to customers.
Katie spent some time volunteering with her cousin Dawn Iehstoseranón:ha. Dawn is the volunteer president and founder of the Indigenous Arts Collective of Canada. Through IndigenARTSY, a sister organization, Dawn is selling a collection of orange shirts, and other items, to create awareness for the Every Child Matters movement and to raise funds. The proceeds from shirt sales go toward the National Day of Remembrance activities that Dawn is planning on Parliament Hill in the form of the Remember Me: A National Day of Remembrance initiative that came to be following the news of the 215 unmarked graves of Indigenous children at the Kamloops Residential School in British Columbia.
Katie spent her time helping Dawn package and ship the almost overwhelming number of orders that have come in.
Great work Katie!
Leave a comment below and tell us about how you participate in your community!
---
We are an Canadian B Corp, and we assist Indigenous communities with support throughout regulatory processes surrounding major development projects like mines, hydroelectric facilities, transmission lines, highway expansions, oil and gas pipelines, natural resource transport applications and nuclear power.
We have deep context and experience behind the recommendations we provide, having worked for our clients on almost every major project in Canada over the last 10 years. For us, it's all about building long-term relationships with our clients. We want to get to know you and what you want to do so we can help you move your plans forward.
Impact Benefit Agreement Negotiation Support

Technical Reviews and Regulatory Process Support

Community and Economic Development Planning

Indigenous Knowledge and Land Use Studies

Environmental Monitoring

Guardians Program Development

Climate Change Readiness

GIS and Mapping
And so much more:

www.sharedvaluesolutions.com