The 25th Canadian Aboriginal Minerals Association Conference was held on November 12th-14th and was a resounding success with well over 500 people gathered to engage with Mining industries, Environmental consultants and First Nations. To me, these conferences are the best as they are community based. Local to Ontario and many people are finding ways to support each other in this industry.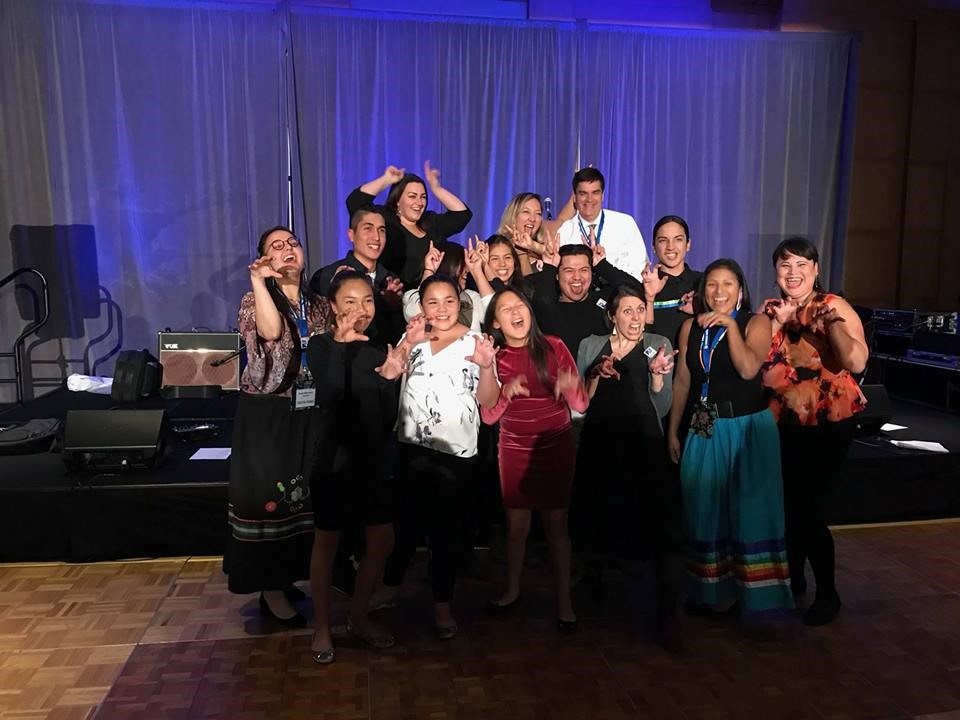 A great experience from the conference was the performance put on by SVS's own Zoe Barret-Wood and Zara Contin. The show included strong performances of improv inspired by the youth in attendance that included mining, community, collaboration and heart. These youth in attendance were from all around Ontario the participants acknowledged are as follows: Shyaya Shawanda, Robert Assinewe, Kaella Earle, Keegan Esquimaux-Osawamick, Maria Van Den Brand, Brett Recollect, Arrianna Ominika, Autumn Peltier, Chantelle Henderson, Fred Cheezo and Ciara Peltier
The individuals performed in 3 groups, each depicting their own stories that brought them together based on one important word that connected them "Water" "Life" "Our Mother" the innovation they offered including the humor that keeps us alive as Indigenous peoples and our ways of living had everyone in the audience feeling connected to the stories being told.
The story told was based on one word that connected everyone together "Despair" with 5 youth each played a role, an Elder wanting change, a youth, the corporation, Young women looking for her voice" and a young man who felt isolated from everything. It displayed heartache yet dedication to the land and a community that comes together to form relationships based on mutual understanding that we are all humans that come from the land with heart when we are born.
Some memorable moments as we moved through the evening. Youth shared their wisdom on valuing and respecting the water, resources and land as that's what keeps us connected. The youth expressed how they felt about the resources being extracted from the land. "There are times I feel disheartened as an Indigenous person." I think, doesn't anyone listen long enough to uphold our values and knowledge? Doesn't anyone care that our rights are being trampled on? That our grandchildren won't know what clean water is and that the world we live in now will no longer have clean water and they will only know the stories of how the territories used to be.
This role play that was performed by the youth sends out that message of hope. The corporations who seemingly don't care about pristine lands, waters and a healthy environment for all Canadians. Even as disheartening as it may seem now, when we reach down deep within ourselves, we can all allow ourselves to call on the strength of the ancestors, the ones who began the battle when the first colonizer arrived. We will always remember our responsibilities to look after Mother Earth.
Those who value the land, water and resources will continue to defend them for future generations.
If you haven't been to one of these events, I encourage you to attend next year's 26th Annual CAMA conference and be inspired and empowered. If you have been already. Keep coming. Every year is different, fun and well worth the time.
Shared Value Solutions (SVS) has an unshakable commitment to a land where all peoples can reach their full potential, share prosperity, and uphold their rights. We believe all of this begins and ends with healthy lands and waters.
SVS is a small, rapidly growing 30-person environmental and community development consulting firm located in Guelph, Ontario, Canada, that works primarily for and with Indigenous clients.
We assist Indigenous and non-Indigenous communities and private sector companies in coming together to create shared value for all parties involved. Our values are to "have fun, make money, do good, and do good work".
We are a B Corp and we bring the best engineering, design, environment, architecture and other technical discipline expertise to address your challenges and opportunities:
Strategic Environmental Assessment guidance, coordination and support
Collaborative land and resource use planning and management- process design and delivery
Design and delivery of programs promoting/supporting positive behaviour change- environmental stewardship, community-based social marketing, health/environmental health promotion
Contributing human environment considerations to technical assessments and management plans in sectors such as water resources, remediation, land use, mining, oil & gas, linear corridor development, forestry, renewable energy, nuclear waste, contaminated sites, brownfield redevelopment, watershed planning, drought planning, water use planning, waste management and waste diversion
Aboriginal and Industry Partnerships working with First Nation, Inuit and Métis communities
Value Engineering & Value Analysis: we facilitate project teams to optimize a project by understanding functions, objectives, costs and social, cultural and environmental considerations.