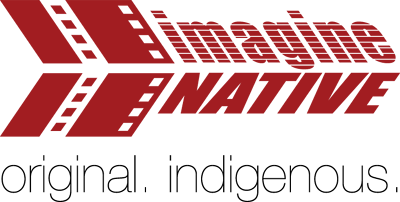 Hi everyone!
Zoe here, reporting on the world's largest all-indigenous film and multimedia festival. I've volunteered at ImagineNative for the past three years, and every year I am blown away by the talent. I just finished my first volunteer shift, helping out with the short documentary pitch competition and the short drama pitch competition.
Much of my time was spent signing in the jury, welcoming attendees, and signing people up for "micro-meetings" (where new and aspiring filmmakers get to chat one-on-one with established film producers, buyers, and other industry professionals). However, I also sat in on segments of the competitions where I heard pitches about films ranging from a documentary making connections between the holocaust and the oppression and abuse of indigenous people in Canada, to a sci-fi drama set in a future of depleted environmental resources, to a mockumentary about a washed up child actor.
I was lucky enough to get to hear the drama pitch of Sonya Ballantyne, a young female writer, director, and producer from Misipawistik First Nation. Sonya pitched a fantastical film that explores the power of the pow-wow, featuring young female pow-wow dancers who have superpowers. When asked what the message of her film would be, Sonya said that although the characters in her films are native, the focus is on the people. She said that she wants to make films where indigenous girls and women are the heroes of their own stories, where they don't need to be saved. I can't wait to see her newest film Crash Site, showing during the Femme Totale program on Saturday.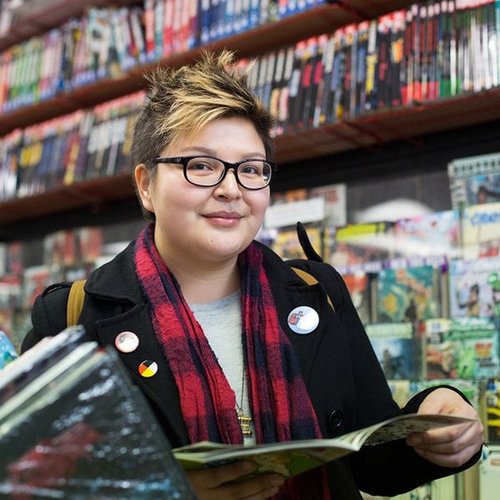 The air is full of excitement here! There are film screenings, art shows, and workshops going on from early morning until late at night every day of the festival. So many opportunities to be informed, inspired, and moved by indigenous filmmakers from around the world! Click here for the full festival schedule.
I posted some of my anticipated highlights for the festival yesterday, but there were so many that I saved some of them for today. For my suggestions on what to check out between today and Friday click here, and for my suggestions for the weekend see below.
If you're like me and love checking out what up-and-coming female artists are up to, you won't want to miss this program of 9 short documentaries and dramas by indigenous women from across Canada and the U.S. I'm especially looking forward to seeing "Stolen", a powerful commentary on missing indigenous women and the directorial debut of Kawennáhere Devery Jacobs. Jacobs, a young Mohawk woman, shone at ImagineNative three years ago as the lead actress in Rhymes for Young Ghouls, and now she's made her own film. A must-see.
Chanie Wenjack died 50 years ago when he ran away from residential school, and on this night a group of indigenous artists and leaders will honour him and all former residential school students with their music, images, and words. Featuring: Joseph Boyden, Kent Monkman, Senator Murray Sinclar, Digging Roots & Special Guests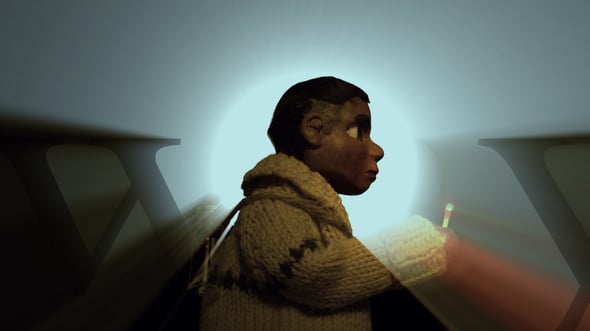 If you feel like dancing, this is the event for you! Three incredible First Nation acts all based out of Toronto – Shawnee, DJ Ariel, and Wolf Saga – will make you move to their beat.
If you haven't heard of comedian Ryan McMahon and his podcast Red Man Laughing, here's a great introduction. Michelle St. John's documentary follows McMahon as he travels through Ontario interviewing people and sharing his own views on reconciliation and decolonization, all with a healthy dose of humour.
Businesses and organizations are made up of people. So are communities. Imagine a world where people in industry and government, and people from towns of all sizes, get together to make amazing things happen – things they couldn't have dreamed up alone. A world where people from corporations get together with people in government or NGOs to explore innovative ways to do business while enhancing the natural and social environment.
At Shared Value Solutions, we speak your language. And we know that the impossible is possible – with the right people in the circle.
We are an Ontario B Corp and we bring the best engineering, design, environment, architecture and other technical discipline expertise to address your challenges and opportunities:
Oral History, Traditional Knowledge, Land Use and Occupancy Studies
Strategic Regulatory and Environmental Assessment Process Support
Multimedia Storytelling
Community Consultation and Engagement
Indigenous Private Sector Business Partnerships