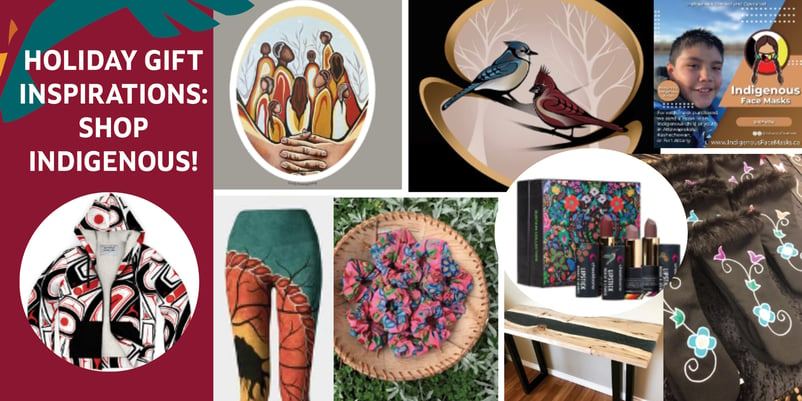 Raise your hand if you're done your holiday shopping! Anyone? No? We aren't either. Lately, the virtual watercooler chat among SVS staff has been about our favourite places to shop, in particular, our favourite Indigenous businesses.
As we enter a holiday season that looks different from what we're used to, online shopping is becoming more popular than ever. When you shop for gifts this year…and who are we kidding, as you buy yourself a little something too…be sure to browse the sites of all these amazing businesses and artists! But be warned, you will fall in love over and over again with the skill, beauty, and creativity that shines through when you shop Indigenous!
The businesses featured in this blog were recommended by our staff members but represent only the smallest sample of the Indigenous businesses offering amazing and unique products. We want to hear from you! Help us grow our list by adding your favourite Indigenous businesses to the comments.
Happy shopping!
These Indigenous Businesses From Across Canada Have Your Perfect 2020 Holiday Gifts
Home Office
Are your loved ones working from home for the foreseeable future? Help them get comfortable in their home office with furniture from Algonquin Business Interiors, led by controlling partner and CEO Michael Jacobs from Curve Lake First Nation in Ontario.
Or get a custom desk made for your family by Truth North Woodworks located in Dryden, Ontario. Owner Matt Oversby sources local wood as much as possible for his gorgeous one-of-a-kind creations like the one featured here.
Recommended by Alison Gamble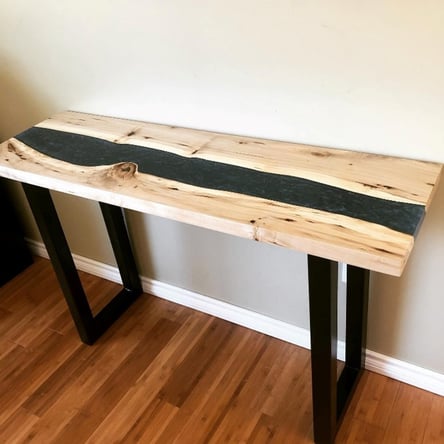 No home office is complete without some inspiring art on the walls. With hundreds of amazing Indigenous artists across Canada, it's worth spending some time searching the web for art that suits your style. We'll make it easy for you though with this recommendation from a former SVS-staff person who said, "Emily Kewageshig is a brilliant young artist from Saugeen First Nation whose prints are available online." The poignant and beautiful prints featured here are called Protect BIPOC and Balance and Harmony.
Recommended by Kathleen Ryan (former SVS staff)

Lounge Wear
We're certain the women in your life would love to snuggle in at home this winter with a pair of Mother Earth yoga pants. Mi'kmaq artist, Loretta Gould from Cape Breton has recently opened an online clothing store featuring her art on leggings, as well as shirts, bags, and much more.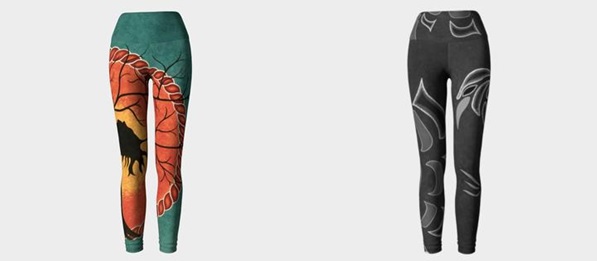 Finawear (pronounced fee-nah-wear) also has a wide variety of funky loungewear for men and women from under layers to outerwear. The clothes are custom made in British Columbia by Gitxsan artist, Shar Wilson. Shar's website talks about the important distinction between cultural appreciation – or being stewards of an Indigenous artist's story by wearing their product - and cultural appropriation – when a non-Indigenous person benefits financially from the sale of a product or the artist is not compensated fairly.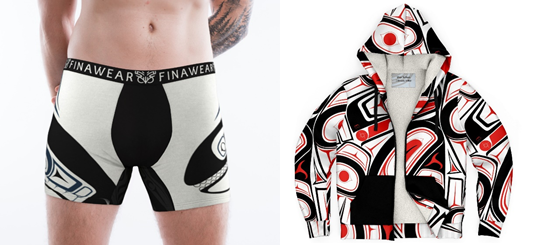 Craving connection? Does social distancing make you want to find new ways to reach out and connect? The Kwe' line of clothing, designed by Mi'kmaq artist Melissa Peter-Paul is meant to spark conversation between Indigenous and non-Indigenous people (Kwe' means "hello" in the Francis Smith Mi'kmaq dialect.) By having this word on your shirt, you can be a part of bridging the gap and generating some new conversations. Mi'kmaq Printing and Design, located in Prince Edward Island, features a variety of other cool designs for the people on your shopping list.
Recommended by Alex Levi (former SVS staff - now of Kopit Lodge).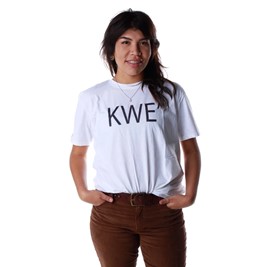 Beauty Products
Does someone on your list have a lot of zoom video-conference calls they want to spruce themselves up for? A few of the staff members at our office swear by the products at Cheekbone, a cosmetics company out of Niagara, Ontario started by Jennifer Harper. One SVS staffer said, "I love their make-up products and would love to receive them as gifts." This company is environmentally friendly to boot. Inspired by her Anishinaabe background, Jenn Harper is committed to sustainable practices and is moving toward being waste free by 2023. Why not grab one of their gift cards for someone on your list? Or purchase the limited edition Christi Belcourt Gift Box pictured here.
Recommended by Kaitlin Littlechild, Alison Gamble, and Joanne Shantz.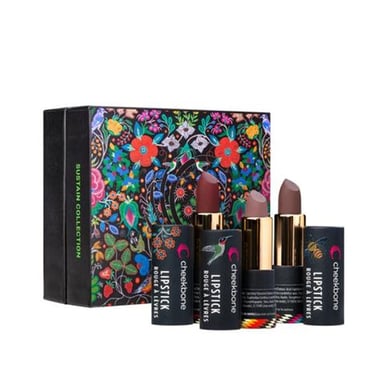 Face Masks
No 2020 Christmas stocking will be complete without a fresh new re-usable face mask. Here are a few companies to check out:
IndigenousFaceMasks.ca features 15 different styles of Indigenous art prints on their masks. Tyson Wesley, originally from Kashechewan First Nation, started the online business to help support youth living in fly-in First Nation communities who have limited access to reusable masks. For each mask purchased, another is sent to a young person from Attawapiskat, Kashechewan, or Fort Albany.

Anne Mulaire masks are made of silky-smooth bamboo and cotton and come in a variety of gorgeous prints. Anne Mulaire is a Metis woman from Manitoba whose designer fashion label is committed to environmental sustainability. Her online store also features an option to donate masks to people in need.
Recommended by Nichole Fraser
Other Stocking Stuffers
Kokom Scrunchies was created by talented Mya, an Algonquin First Nation 9-year-old from Kitigan Zibi Anishinabeg who lives in Gatineau, Quebec. She's made sure that all Kokom Scrunchies are hand made with love – and she's had even more time to focus on her creations since COVID began. What started off as an idea, has taken Mya on a path of bringing Kokom Scrunchies to everyone, young and old. Each Sunday, Kokom Scrunchies releases a limited edition Scrunchie, which is named after Indigenous women who are role models and inspire others.
Recommended by Joanne Shantz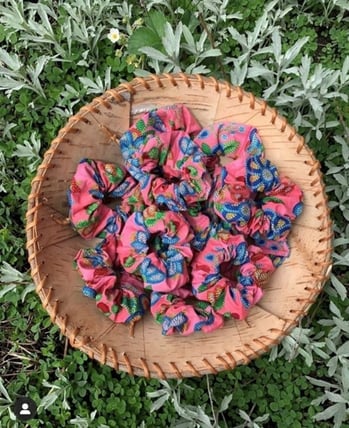 Super Warm & Stylish Mittens
With many of the usual indoor activities closed due to COVID this winter, we are guessing your friends and family might be spending more time than usual outdoors. Swirling Winds has a variety of mittens to keep your fingers warm. Swirling Winds owner, Tracy Toulouse is an Anishnawbek kwe and proud member of Sagamok Anishnawbek on the north shores of Lake Huron. Tracy infuses applique, bead, antler bone, fur, leather, birchbark and ribbon work. Tracy's designs reinforce the Indigenous spirit and its connection to the land, showcasing this spirit in a wearable voice to be heard and felt by all. Each design carries the tradition and spirit of the Woodland people.
P.S. if you're looking for other gift ideas, Tracy Toulouse also designs clothing and accessories. Find Swirling Winds on Instagram: @tracytoulouse or on Facebook
Recommended by Jeremy Shute and Laura Taylor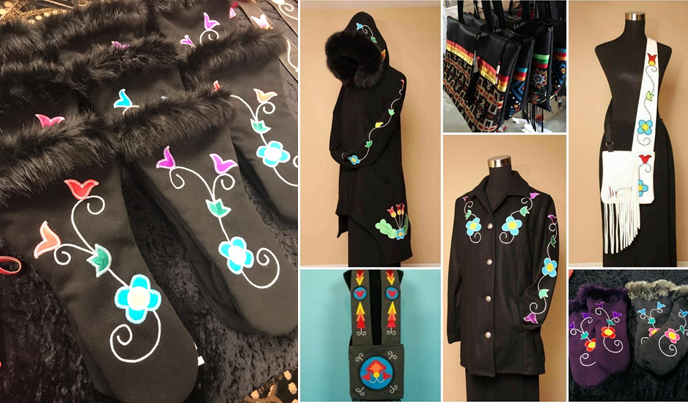 Coffee
Whether you are fueling up for your next Shop Indigenous online shopping spree or warming up after a day outside enjoying the changing seasons, Birch Bark Coffee Company offers the perfect blend to suit your tastes. And, if you can resist the temptation to curl up with a hot cup of fresh roasted, Certified Organic, Fair-Trade, and SPP (Small Producers) Certified coffee when it arrives in the mail, Birch Bark Coffee would make the perfect gift for the coffee lover in your life!
Recommended by Mitchell Avis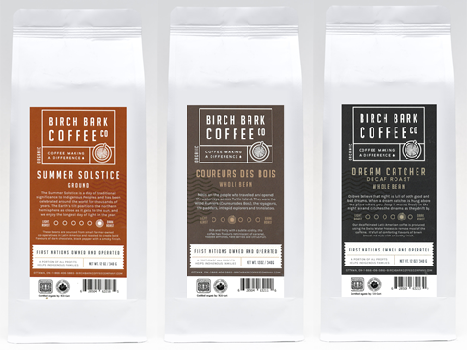 Your turn! Leave a comment with your favourite place to Shop Indigenous!
We are an Canadian B Corp, and we assist Indigenous communities with support throughout regulatory processes surrounding major development projects like mines, hydroelectric facilities, transmission lines, highway expansions, oil and gas pipelines, natural resource transport applications and nuclear power.
We have deep context and experience behind the recommendations we provide, having worked for our clients on almost every major project in Canada over the last 10 years. For us, it's all about building long-term relationships with our clients. We want to get to know you and what you want to do so we can help you move your plans forward.
Impact Benefit Agreement Negotiation Support

Technical Reviews and Regulatory Process Support

Community and Economic Development Planning

Indigenous Knowledge Studies

Environmental Monitoring

Guardians Program Development

Climate Change Readiness