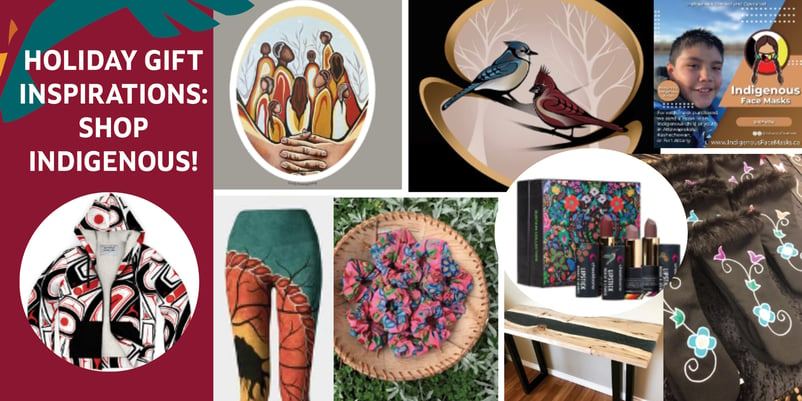 Welcome back to what has become an annual SVS holiday tradition - our Shop Indigenous Gift Giving Guide. We love supporting Indigenous businesses as much as possible and how can we resist when the products are beautiful, unique, functional, and even delicious!
When you shop for gifts this year…and who are we kidding, as you buy yourself a little something too…be sure to browse the sites of all these amazing businesses and artists! But be warned, you will fall in love over and over again with the skill, beauty, and creativity that shines through when you shop Indigenous!
The businesses featured in this blog were recommended by our staff members but represent only the smallest sample of the Indigenous businesses offering amazing and unique products. We want to hear from you! Help us grow our list by adding your favourite Indigenous businesses to the comments.
Happy shopping!
These Indigenous Businesses From Across Canada Have Your Perfect 2021 Holiday Gifts
Apparel
Are you looking for stylish, comfortable clothing and breathtaking handbags and accessories that do double duty addressing the systemic barriers and challenges faced by Indigenous women? If so, SheNative is the place to shop. Two percent of the revenues from these statement pieces go toward causes that positively impact the lives of Indigenous women. One SVS staff member treated herself to a sweatshirt last holiday season and can say that it is beautifully made, durable, and perfectly cozy!
Recommended by Wendy McDonnell and Kaitlin Littlechild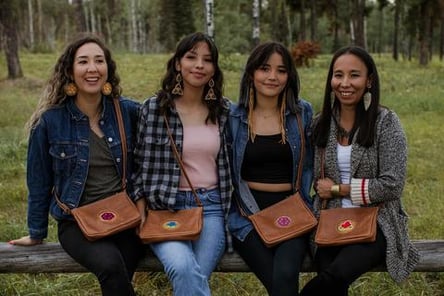 Art & Decor
With hundreds of amazing Indigenous artists across Canada, it's worth spending some time searching the web for art that suits your style. We'll make it easy for you though with this recommendation from a former SVS-staff person who said, "Emily Kewageshig is a brilliant young artist from Saugeen First Nation whose prints are available online." The poignant and beautiful prints featured here are called Protect BIPOC and Balance and Harmony.
Recommended by Kathleen Ryan (former SVS staff) and Wendy McDonnell

Another option for adding beautiful art to your home is Three Trees Art from Lion's Head, ON.
Artist Mark Nadjiwan uses pen and ink to bring his unique style, a fusion of Woodland and Northwest Coast Native art traditions, to life.
'Meraki'...to do something with soul,
creativity, or love, to put something of your own essence into your work.
Recommended by Wendy McDonnell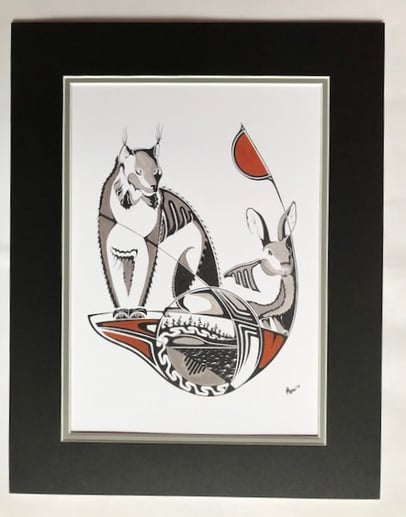 Be sure to check out Patrick Hunter Art & Design for all your gift-giving needs. Give the gift of cozy comfort with artfully created candles, mugs, and serving boards. Or purchase original art that is sure to be loved by the recipient. Even better, combine these items with others in this blog to create the ultimate Indigenous gift basket.
Recommended by Wendy McDonnell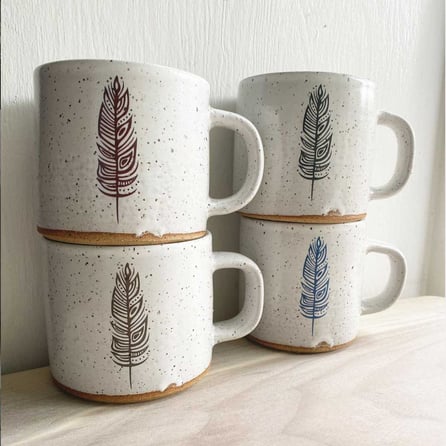 Subscription Boxes
Give the gift that keeps on giving! A Raven Reads subscription box will surprise and delight your gift recipient with "a beautifully curated collection of quality, award-winning Indigenous content." Choose from a single box, two boxes, or four boxes. Raven Reads also has a junior box option for the young readers in your life.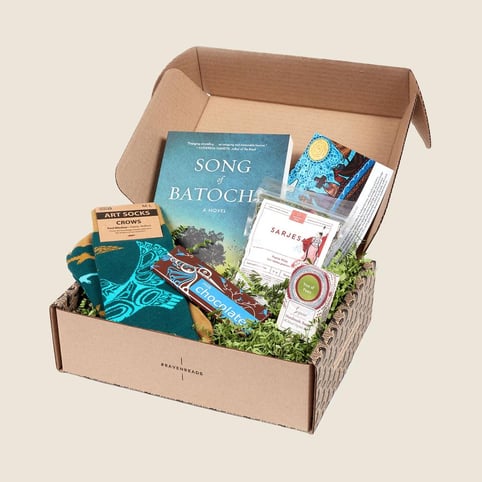 Recommended by Wendy McDonnell and Olivia Shotyk
Looking for a gift that is unique and showcases multiple Indigenous businesses? If so, be sure to check out Indigenous Box for your gift-giving needs. These customizable gift boxes promote diversity and inclusivity, while supporting Indigenous entrepreneurship. Boxes are available as a stand-alone item or as part of a seasonal subscription.
Recommended by Joanne Shantz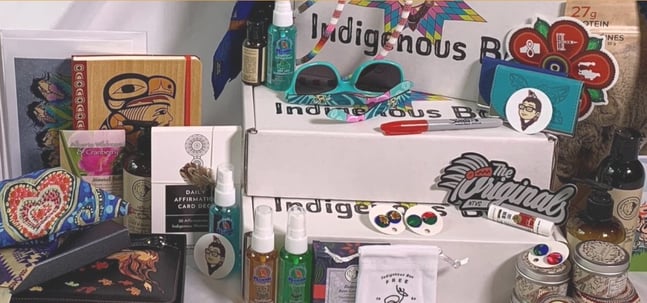 Beauty Products
A few of the staff members at our office swear by the products at Cheekbone, a cosmetics company out of Niagara, Ontario started by Jennifer Harper. One SVS staffer said, "I love their make-up products and would love to receive them as gifts." This company is environmentally friendly to boot. Inspired by her Anishinaabe background, Jenn Harper is committed to sustainable practices and is moving toward being waste free by 2023. Why not grab one of their gift cards for someone on your list?
Recommended by Kaitlin Littlechild, Alison Gamble, and Joanne Shantz.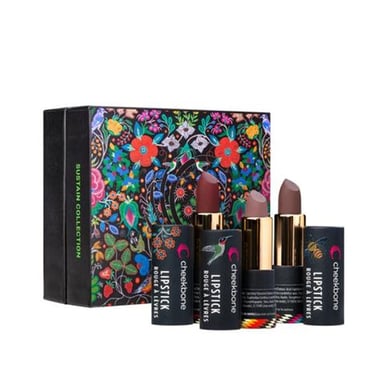 Coffee
Whether you are fueling up for your next Shop Indigenous online shopping spree or warming up after a day outside enjoying the changing seasons, Birch Bark Coffee Company offers the perfect blend to suit your tastes. And, if you can resist the temptation to curl up with a hot cup of fresh roasted, Certified Organic, Fair-Trade, and SPP (Small Producers) Certified coffee when it arrives in the mail, Birch Bark Coffee would make the perfect gift for the coffee lover in your life!
Recommended by Mitchell Avis and Kaitlin Littlechild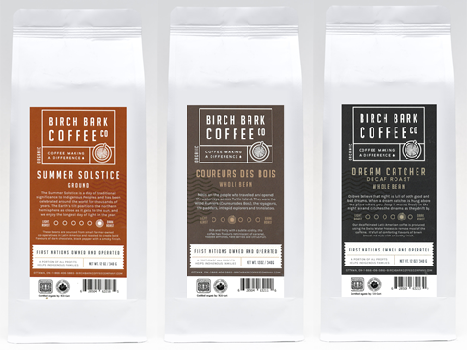 Hot Sauce
Life is better with a little spice! All of Siracha Revolver's hot sauces are inspired by flavours or ingredients from founder Jordan Hocking's travels or her desire to create something that didn't exist anywhere else. Bottles of these craft-sized batches of hot sauce would make excellent stocking stuffers for the spice lover in your life.
Recommended by Kaitlin Littlechild

Chocolate
Chocolate! Who doesn't love chocolate? If you are wanting to treat someone special (or yourself because honestly these are hard to resist), look no further than the beautiful edible creations made by Raven Rising Global Indigenous Chocolates. This Ontario-based company offers artfully designed chocolates individually, by the box, and by monthly subscription.
Recommended by Laura Taylor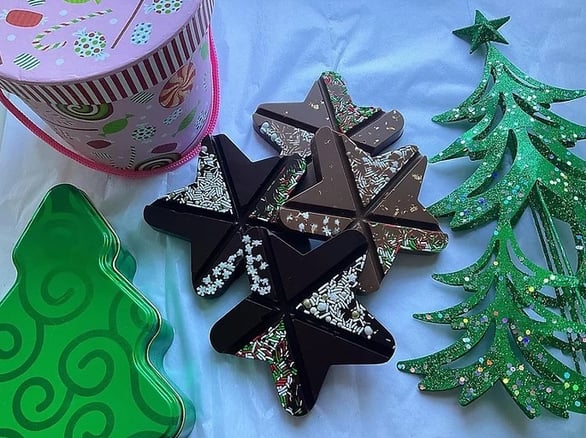 Self-Care
The holiday season is hectic, and sometimes even stressful, but have no fear, Mother Earth Essentials has the perfect product for a little relaxation. You may even want to double up your order and keep some for yourself as a reward for all your hard work shopping for others. Mother Earth Essentials is the go-to for bath and beauty products based on sacred teachings and natural ingredients.
Recommended by Olivia Shotyk and Kaitlin Littlechild
Jewelry
There is something special about beautiful, hand-crafted jewelry and anyone would be thrilled to receive something this unique as a gift. The exquisite beadwork and clay work of Assinewe Jewelry will be sure to delight everyone on your gift-giving list!
Recommended by Olivia Shotyk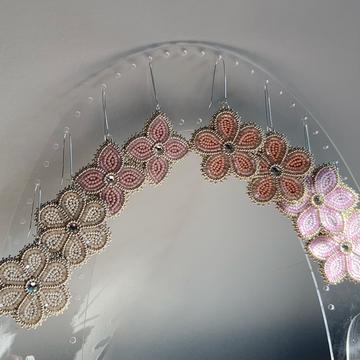 Make a statement with Inner Wolf Jewelry's collection of pieces, inspired by the creator's deep connection with crystals, minerals, and animals. Each piece is as distinctive as it is stunning. Not only would a piece from Inner Wolf Jewelry make the perfect gift this holiday season, you may want to slip your favourite piece into your own stocking as well!
Recommended by Kaitlin Littlechild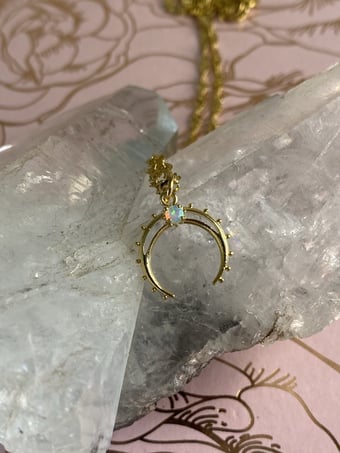 Your turn! Leave a comment with your favourite place to Shop Indigenous!
We are an Canadian B Corp, and we assist Indigenous communities with support throughout regulatory processes surrounding major development projects like mines, hydroelectric facilities, transmission lines, highway expansions, oil and gas pipelines, natural resource transport applications and nuclear power.
We have deep context and experience behind the recommendations we provide, having worked for our clients on almost every major project in Canada over the last 10 years. For us, it's all about building long-term relationships with our clients. We want to get to know you and what you want to do so we can help you move your plans forward.
Impact Benefit Agreement Negotiation Support

Technical Reviews and Regulatory Process Support

Community and Economic Development Planning

Indigenous Knowledge Studies

Environmental Monitoring

Guardians Program Development

Climate Change Readiness