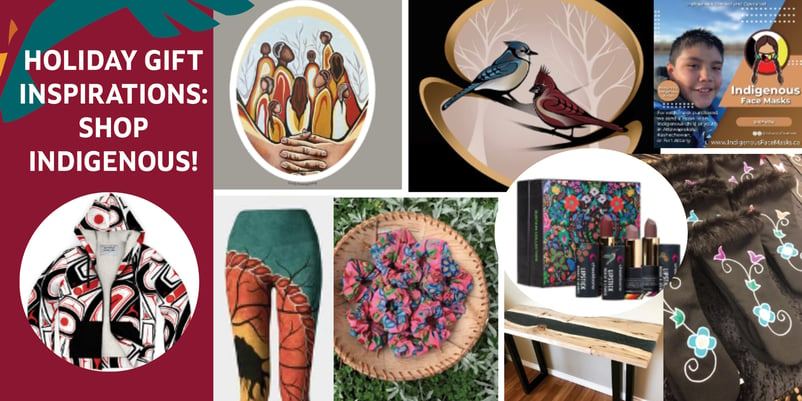 Welcome back to an annual SVS holiday tradition - our Shop Indigenous Gift Giving Guide!
We love supporting Indigenous businesses and it's easy when the products are local, hand crafted, beautiful, unique, and even delicious!
The businesses featured in this blog were recommended by our staff members but represent only the smallest sample of the Indigenous businesses offering amazing and unique products. We want to hear from you! Help us grow our list by adding your favourite Indigenous businesses to the comments.
Happy shopping!
APPAREL
Tracy Toulouse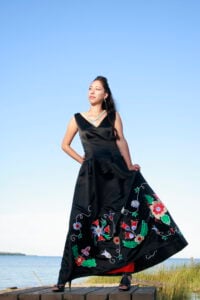 "The impact and legacy of our clothing is to identify us as a nation"
Tracy Toulouse is from the North Shores of Lake Huron, a proud member of Sagamok Anishnawbek. Tracy is an apparel and a traditional craft artisan; incorporating Woodland storytelling motifs with modern wearable design. Tracy infuses appliqué, bead, quill, antler bone, fur and ribbon into her work. Tracy's designs reenforce the Indigenous spirit and its connection to the land, showcasing this spirit in a wearable voice to be heard and felt by all. Each design cares the tradition and spirit of the woodland people.
@tracytoulouse
FB: Swirling Wind
SheNative
Leather handbags and apparel by SheNative, which "exists to instill inner strength and unwavering confidence in all women: https://www.shenative.com/
Two percent of the revenues from their pieces go toward causes that positively impact the lives of Indigenous women.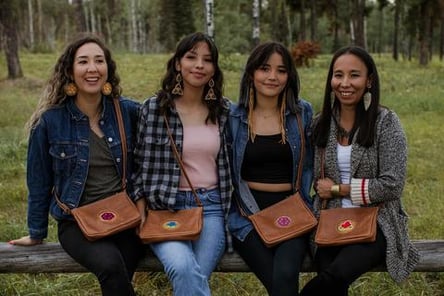 Indigenous Face Masks
This business is Indigenous owned and operated, based in Ottawa, Ontario. Indigenous Face Masks is an initiative to bring face masks to Indigenous children and youth in our Indigenous communities across Canada. They also carry beautifully printed scarves, shawls among other items to peruse on their website!
https://indigenousfacemasks.ca/

ART AND DECOR
Emily Kewageshig
Emily Kewageshig is an Anishnaabe artist and visual storyteller from Saugeen First Nation No. 29. Her work captures the interconnection of life forms using both traditional and contemporary materials. The prints featured below are called Protect BIPOC and Balance and Harmony. Check out the link below for more of Emily Kewgeshig's colourful and distinct artwork.
https://www.emily-kewageshig.com/shop/prints

Morningstar Designs
The talent and beauty of these pieces is stunning. Alanah Astehtsi Otsistohkwa (Morningstar) Jewell (she/her) is a mixed French-First Nations artist. She is the illustrator, painter and muralist who creates the beautiful pieces of art. Stay tuned and keep checking the site for restock because the items sell fast! https://morningstardesigns.ca/

Land of Daughters
Feast your eyes on the gorgeous, simple packaging and feast your nose on unique scent combinations from this company run by two Metis sisters out of Calgary.
Treat someone in your life to a beautiful hand crafted good which will make their home feel more cozy, welcoming and relaxing. Check out Land of Daughters!

Three Trees Art
Add beautiful custom artwork to your home by Three Trees Art from Lion's Head, ON.
Artist Mark Nadjiwan uses pen and ink to bring his unique style, a fusion of Woodland and Northwest Coast Native art traditions, to life.
'Meraki'...to do something with soul,
creativity, or love, to put something of your own essence into your work.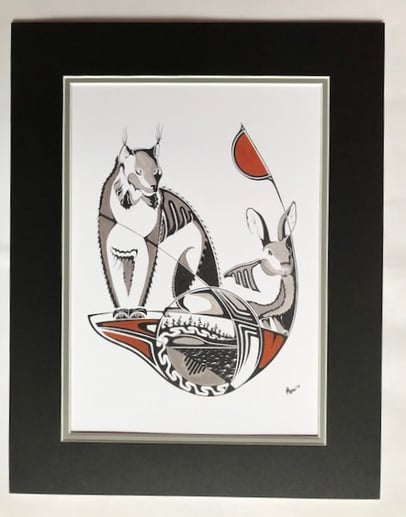 Patrick Hunter Art and Design
Be sure to check out Patrick Hunter Art & Design. Give the gift of cozy comfort with artfully created candles, mugs, and serving boards. Or purchase beautiful and thought-provoking original art.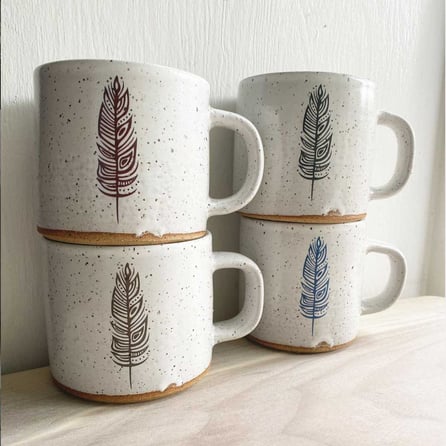 Mini Tipi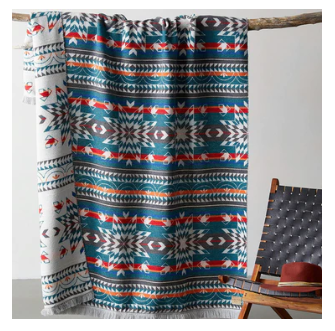 A blanket that is both beautiful AND cozy, is a winner in our books. The blankets and mitts from this Canadian, women-owned company, are sure to please anyone on your list! All our products are designed, cut and sewn in Quebec, Canada.
SUBSCRIPTION BOXES
Give the gift that keeps on giving! A Raven Reads subscription box will surprise and delight your gift recipient with "a beautifully curated collection of quality, award-winning Indigenous content." Choose from a single box, two boxes, or four boxes. Raven Reads also has a junior box option for the young readers in your life.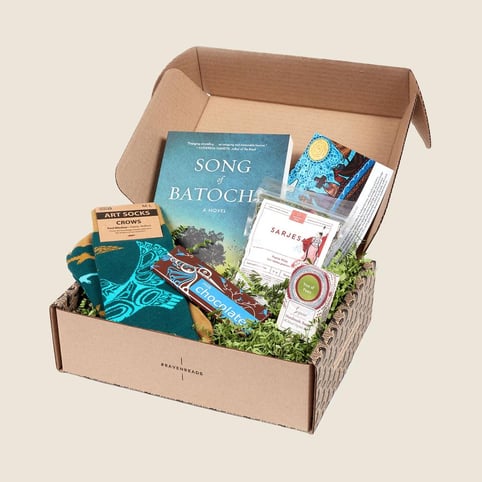 Looking for a gift that is unique and showcases multiple Indigenous businesses? If so, be sure to check out Indigenous Box for your gift-giving needs. These customizable gift boxes promote diversity and inclusivity, while supporting Indigenous entrepreneurship. Boxes are available as a stand-alone item or as part of a seasonal subscription.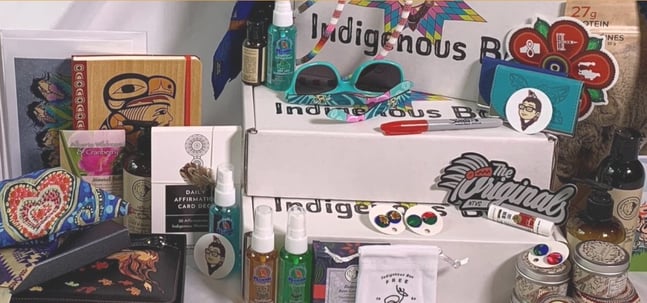 BEAUTY PRODUCTS
Cheekbone Beauty
A few of the staff members at our office swear by the products at Cheekbone, a cosmetics company out of Niagara, Ontario started by Jennifer Harper. Inspired by her Anishinaabe background, Jenn Harper is committed to sustainable practices and is moving toward being waste free by 2023. Why not grab one of their gift cards for someone on your list?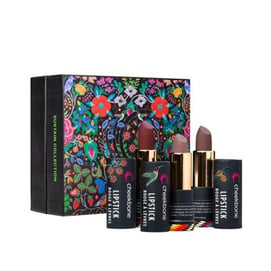 Coffee
Whether you are fueling up for your next Shop Indigenous online shopping spree or warming up after a day outside enjoying the changing seasons, Birch Bark Coffee Company offers the perfect blend to suit your tastes. And, if you can resist the temptation to curl up with a hot cup of fresh roasted, Certified Organic, Fair-Trade, and SPP (Small Producers) Certified coffee when it arrives in the mail, Birch Bark Coffee would make the perfect gift for the coffee lover in your life!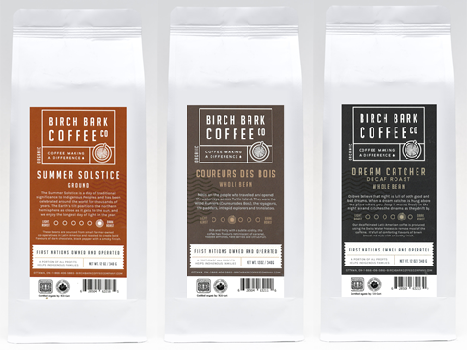 Hot Sauce
Life is better with a little spice! All of Siracha Revolver's hot sauces are inspired by flavours or ingredients from founder Jordan Hocking's travels or her desire to create something that didn't exist anywhere else. Bottles of these craft-sized batches of hot sauce would make excellent stocking stuffers for the spice lover in your life.

Chocolate
Chocolate! Who doesn't love chocolate? If you are wanting to treat someone special (or yourself because honestly these are hard to resist), look no further than the beautiful edible creations made by Raven Rising Global Indigenous Chocolates. This Ontario-based company offers artfully designed chocolates individually, by the box, and by monthly subscription.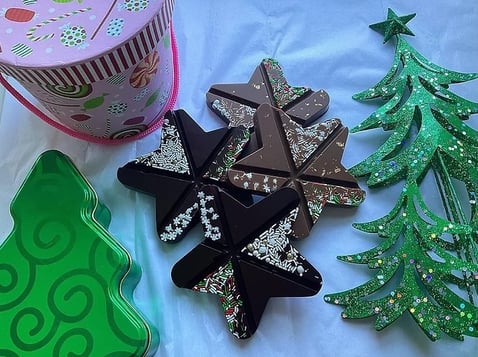 SELF CARE
Mother Earth Essentials
The holiday season is hectic, and sometimes even stressful, but have no fear, Mother Earth Essentials has the perfect product for a little relaxation. You may even want to double up your order and keep some for yourself as a reward for all your hard work shopping for others!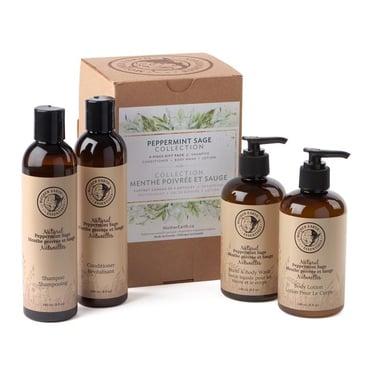 Sḵwálwen Botanicals
Founded by ethnobotanist Leigh Joseph of Squamish First Nation, Sḵwálwen (squall-win) offers skincare experiences grounded in the natural world. Honouring cultural knowledge, Indigenous plant science and self-care, we unite ancestral traditions with modern beauty rituals. Sḵwálwen is a luxury Indigenous brand creating botanical skin care products. Honouring traditional Skwxwú7mesh (Squamish) plant knowledge, they incorporate sustainably harvested and sourced plants and organic, high-quality ingredients. Each product has a Squamish name to honour the place where the plant knowledge comes from. https://skwalwen.com/

JEWELRY
Bruno Henry (@brunohenry25)
Artist, Jeweler, Designer, Photographer. Beautiful beaded and leather goods!

Two Embers Beading (@twoembersbeading)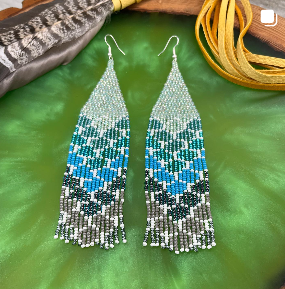 Gorgeous beaded earrings from this artist based out of Toronto!
Western Sky Designs
An Anishinaabek and Two-Spirit owned business based in Kitchener, Ontario, proudly dedicated to creating wearable acts of Indigenous resilience. Very fun and playful collection of earrings, rings and other accessories. Great ideas for stocking stuffers and secret santa gifts!
There is something special about beautiful, hand-crafted jewelry and anyone would be thrilled to receive something this unique as a gift. From delicate beadwork to statement clay pieces, there are lots of options to choose from here! https://assinewejewelry.ca/
Inner Wolf Jewelry
Make a statement with Inner Wolf Jewelry's collection of pieces, inspired by the creator's deep connection with crystals, minerals, and animals. Each piece is as distinctive as it is stunning. https://innerwolfjewelry.com/
Your turn! Leave a comment with your favourite place to Shop Indigenous!
We are an Canadian B Corp, and we assist Indigenous communities with support throughout regulatory processes surrounding major development projects like mines, hydroelectric facilities, transmission lines, highway expansions, oil and gas pipelines, natural resource transport applications and nuclear power.
We have deep context and experience behind the recommendations we provide, having worked for our clients on almost every major project in Canada over the last 10 years. For us, it's all about building long-term relationships with our clients. We want to get to know you and what you want to do so we can help you move your plans forward.
Impact Benefit Agreement Negotiation Support

Technical Reviews and Regulatory Process Support

Community and Economic Development Planning

Indigenous Knowledge Studies

Environmental Monitoring

Guardians Program Development

Climate Change Readiness