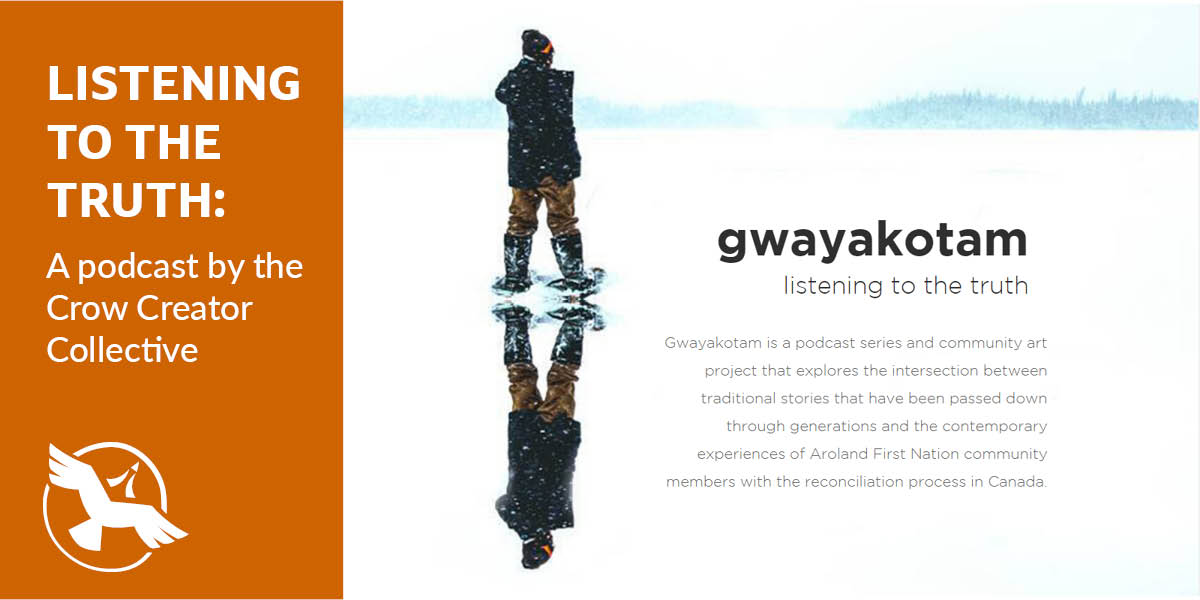 "I never dreamed of learning to listen in such a powerful way. Storytelling, despite all the struggles, enabled me to respect and honour the Ancestors and the storytellers while at the same time sharing tragic, traumatic, inhumanely unbelievable truths that our people had lived. When we make personal what we teach…we touch people in a different and more profound way."
Qwul'sih'yah'maht (Robina Anne Thomas) Final Report of the Truth and Reconciliation Commission of Canada
In this Indigenous History Month rocked by the discoveries in Kamloops and Saskatchewan, we are visiting the fraught concepts of Truth and Reconciliation from many angles at SVS.
A couple of years ago, we were honoured to be part of creating a podcast with two brilliant artists, Damien Bouchard and Rene Meshake, that explores these very topics. Gwayakotam (listening to the truth), is a podcast series and community art project that explores the intersection between traditional stories that have been passed down through generations and the contemporary experiences of Aroland First Nation community members with the reconciliation process in Canada. This podcast was generously supported by Canada Council for the Arts.
Episode 1: Reconciliation and the Self
Episode 1 explores the concept of reconciliation starting with the individual.
About the Crow Creator Collective
Gwayakotam is produced by the Crow Creator Colective, a collaboration of four artists who work personally and professionally towards reconciliation: Damien Bouchard, Rene Meshake, SVS's Jeremy Shute and Laura Taylor. Along with Jeremy and Laura, SVS's Trieneke Gastmeier and Mike VanEgmond helped put this show together.
Damien Bouchard
The leader of the Crow Collective, Damien Bouchard is from Geraldton, Ontario and a member of the Aroland First Nation band. He achieved a Diploma in Broadcasting at Confederation College in Thunder Bay, and when on to Capilano University where he graduated with a Diploma in Film. Damien is an audio-visual artist experienced with writing, producing, directing and camera operating/editing. His work consists of documentary projects, image capture and editing and audio recording and engineering. He has worked with Scored Media as a digital media team member for the TV series 100 Years Cafe on APTN. He worked at NBC Universal as an intern on the television series Eureka. He has produced videos for the Cuystwi: Indigenous Youth Wellness project. Damien found the passion for art at the age of 24 when he was trying to understand his heritage as well as form of self expression. He is skilled at using creative media to shed light on social and economic issues and bridge the gap between languages and culture, and to shed light on tough topics within First Nation communities. He has used his skills in many of those areas and has found growth and wellness through it. Damien continues to strive to share the stories of individuals within Indigenous communities. This is his first podcast.
Learn more about Damien: https://www.facebook.com/Crowcreator/
Rene Meshake
An Ojibwe funky elder, visual and performing artist, award-winning author, storyteller, flute player, new media artist and a Recipient of Queen Elizabeth II's Diamond Jubilee Medal. He works to fuse Ojibwe and English words into his stories, poetry and spoken word performances, Rene communicates his Ojibwe spiritual heritage to the contemporary world. He was born in the railway town of Nakina in Northwestern Ontario and was raised by his Okomissan grandmother. His education includes: Anishinaabe oral tradition, language, arts and culture. Rene has a diploma in Graphic Design from Sheridan College and a certificate in Creative Writing from the Humber School for Writers. Rene's body of artwork, stories and his flute improvisations create a strong, expressive, and entertaining presentation for an ever-increasing audience. He also has an active on-line and performing presence as a Funky-Elder and his 'virtual' band, The Firebolt Ensemble.
Learn more about Rene: http://www3.sympatico.ca/renemeshake/index.html#
Want to hear about upcoming episodes?
We are an Canadian B Corp, and we assist Indigenous communities with support throughout regulatory processes surrounding major development projects like mines, hydroelectric facilities, transmission lines, highway expansions, oil and gas pipelines, natural resource transport applications and nuclear power.
We have deep context and experience behind the recommendations we provide, having worked for our clients on almost every major project in Canada over the last 10 years. For us, it's all about building long-term relationships with our clients. We want to get to know you and what you want to do so we can help you move your plans forward.
Impact Benefit Agreement Negotiation Support

Technical Reviews and Regulatory Process Support

Community and Economic Development Planning

Indigenous Knowledge and Land Use Studies

Environmental Monitoring

Guardians Program Development

Climate Change Readiness

GIS and Mapping
And so much more:

www.sharedvaluesolutions.com