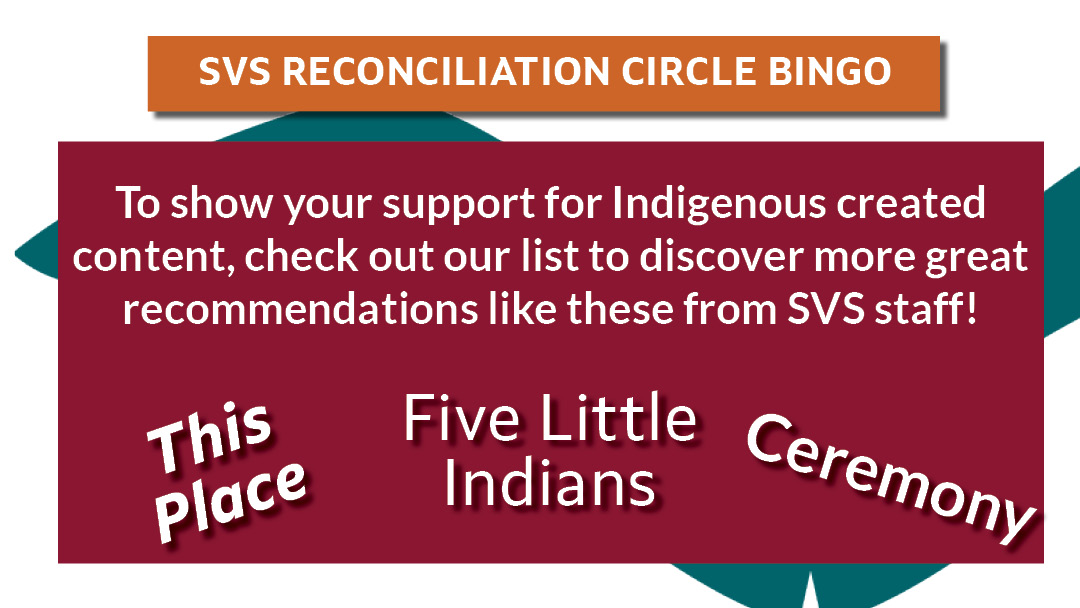 Check off another square on your Reconciliation Bingo card by checking out these great recommendations from our SVS staff! Today we're focusing on podcasts and books to keep you entertained and enlightened this summer.

From Laura:

Unreconciled by Jesse Wente

From Jessica:

Seven Fallen Feathers by Tanya Talaga

The Reconciliation Manifesto, Arthur Manuel & Grand Chief Ronald Derrickson

From Noelle:

Five Little Indians, Michelle Good

From Shazad:

Taken the Podcast, takenthepodcast.com

This Place, CBC Podcasts

From Jess:

Telling Our Twisted Histories – CBC Podcast hosted by Kaniehti:io

The Secret Life of Canada – CBC Podcast cohosted by Falen Johnson and Leah-Simone Bowen


Braiding Sweetgrass – Robin Wall Kimmerer

Gathering Moss – Robin Wall Kimmerer
Indian Horse - Richard Wagamese
Ceremony – Leslie Marmon Silko


25 books that highlight the beauty of Indigenous literature:

Check out this list curated by Tłı̨chǫ Dene writer Richard Van Camp

Happy reading and listening everyone!