Will Ontario's new Climate Change Solutions Deployment Corporation help Indigenous communities?
Ontario created the Ontario Climate Change Solutions Deployment Corporation - CCSDC - on February 17, 2017 through a new regulation under the Development Corporations Act. The CCSDC has a focus on low-income households in Ontario, however for First Nation and Métis communities, it's important to note that the new regulation forming the corporation does not mention Indigenous communities, or address the greenhouse gas reduction needs and related energy poverty realities of Indigenous communities.
The CCSDC does hold some promise for Indigenous communities in Ontario, but much will depend on how its Board of Directors will interpret its mandate and scope of work in relation to Indigenous community needs.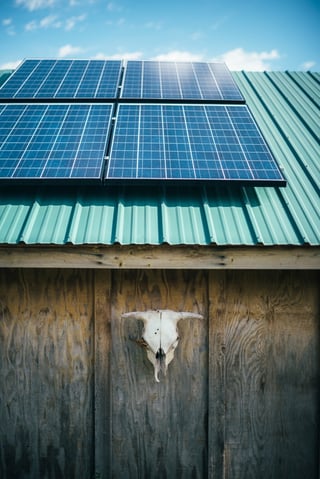 What will the Ontario Climate Change Solutions Deployment Corporation do?
The CCSDC will "stimulate the development of industry, trades and business undertakings in Ontario that further the deployment in Ontario of commercially available technology that reduces greenhouse gas emissions from buildings or from the production of goods, by,
(a) providing information;
(b) engaging in marketing;
(c) providing services and arranging for others to be provided with services;
(d) providing incentives and engaging in financing activities, including providing incentives to individuals;
(e) stimulating private sector financing; and
(f) researching market barriers inhibiting the deployment of that technology and addressing those market barriers."
The CCSDC will support the climate change action plan prepared under the Climate Change Mitigation and Low-carbon Economy Act, 2016. It will develop programs focused on greenhouse gas emissions from existing and new residential buildings, together with greenhouse gas emissions from the production of goods by stimulating switching from using fossil fuel energy to using other sources of energy, while also stimulating:
energy storage and related "peak-shaving"activities

using renewable energy for generating electricity, for heating or for cooling

retrofitting existing buildings or facilities to reduce or eliminate greenhouse gas emissions
CCSDC programs will look to stimulate economies of scale and private sector financing for the above activities, and stimulate the construction of new buildings that significantly exceed current Ontario energy efficiency requirements.
How Could the CCSDC Address the Needs of

First Nation and Métis Communities

?
Of specific interest to Indigenous communities, the CCSDC programs will stimulate the use of energy storage and peak-shaving technologies, renewable energy technologies, and building retrofits to address the specific needs of "low-income households".
One challenge for the CCSDC is that the regulation that created the corporation does not specifically reference Indigenous energy poverty, the specific greenhouse gas reduction challenges of Indigenous communities, or the knowledge and experience available from Indigenous peoples to support appropriate program rollouts. Linking Indigenous knowledge and climate change is important. In her 2016 Mandate Letter to the Minister of the Environment and Climate Change, the Premier of Ontario explicitly instructed the Minister to continue "engagement to develop greenhouse gas reduction initiatives with Indigenous partners through working tables that allow for consideration of unique regional challenges and circumstances."
Ontario has supported a large Aboriginal Energy Partnerships Program through the Independent Electricity System Operator (IESO), including an extensive Aboriginal Community Energy Plan program, and Aboriginal Renewable Energy Fund, and Aboriginal Conservation Program, and an Education and Capacity Building Program. The province has also supported an Ontario Aboriginal Procurement Program to help Indigenous business owners sell products and services to the Ontario government and help them secure future contracts and clients while also helping to create partnerships between Aboriginal and non-Aboriginal businesses by encouraging joint ventures for large contracts. The knowledge gained through both of these programs would be helpful to the Climate Change Solutions Deployment Corporation.
Hopefully the Board of the CCSDC will include Indigenous representation to make sure that Indigenous communities, and the knowledge gained through the Aboriginal Energy Partnerships Program and the Aboriginal Procurement Program are not forgotten in the rollout of its important programs.
We strongly believe that the CCSDC would benefit from programs that include:
Indigenous knowledge related to providing information specific to Indigenous greenhouse gas reduction needs and realities,

services that can effectively target energy poverty and greenhouse gas reduction within existing and new residential buildings in Indigenous communities,

incentive programs and private sector finance mechanisms that will work for Indigenous communities and supporting Indigenous businesses, and, in particular,

research on market barriers inhibiting the use of the above technologies for Indigenous communities.
We look forward to learning more about how the Ontario Climate Change Solutions Deployment Corporation will address greenhouse gas reduction in the context of Indigenous energy poverty in Ontario. Stay tuned!
What's Our Role?
We represent two organizations dedicated to helping Indigenous communities make sense of regulatory processes and decisions in the energy and resource extraction sectors. Anwaatin's mission is to ensure Indigenous communities are front and center in fighting climate change and taking climate change action, including stewardship activities for actively selling Indigenous Carbon Offsets in Cap and Trade markets. Shared Value Solutions provides environmental technical and regulatory support for Indigenous clients from Saskatchewan to Nova Scotia, with experience in dozens of renewable and low-carbon energy projects, and natural resource management and infrastructure projects in the context of climate change. For both organizations, traditional knowledge matters to protect and enhance Aboriginal community wellbeing, Aboriginal interests and Aboriginal economic development: traditional ecological knowledge (TEK), traditional knowledge studies, traditional land use studies, combining scientific and traditional knowledge, having Aboriginal environmental monitors and BEAHR training,traditional ecological knowledge and environmental change, Aboriginal land use planning, andintegration of Aboriginal traditional knowledge in Environmental Assessments.
Stay in Touch
Anwaatin - www.anwaatin.com - follow us on Twitter at @AnwaatinClimate. Follow us on Facebook https://www.facebook.com/anwaatin/ Follow us on LinkedIn - https://www.linkedin.com/company/anwaatin
Shared Value Solutions - www.sharedvaluesolutions.com - follow us on Twitter at @SharedValueCA, follow us on Facebook at www.facebook.com/SharedValueSolutions and follow us on LinkedIN - https://www.linkedin.com/company/shared-value-solutions-ltd-
Businesses and organizations are made up of people. So are communities. Imagine a world where people in industry and government, and people from towns of all sizes, get together to make amazing things happen – things they couldn't have dreamed up alone. A world where people from corporations get together with people in government or NGOs to explore innovative ways to do business while enhancing the natural and social environment.
At Shared Value Solutions, we speak your language. And we know that the impossible is possible – with the right people in the circle.
We are a B Corp and we bring the best engineering, design, environment, architecture and other technical discipline expertise to address your challenges and opportunities:
Strategic Environmental Assessment guidance, coordination and support

Collaborative land and resource use planning and management- process design and delivery

Traditional Ecological Knowledge Studies & Traditional Knowledge Studies

Traditional Land Use Studies (TLUS)/ Traditional Land Use and Occupancy Mapping

Design and delivery of programs promoting/supporting positive behaviour change- environmental stewardship, community-based social marketing, health/environmental health promotion, Indigenous community energy plan initiatives

Contributing human environment considerations to collaborative technical assessments and management plans in sectors such as water resources, climate change, remediation, land use, mining, oil & gas, linear corridor development, forestry, renewable energy, nuclear waste, contaminated sites, brownfield redevelopment, watershed planning, drought planning, water use planning, waste management and waste diversion

Indigenous and Industry Partnerships working with First Nation, Inuit and Métis communities

Value Engineering & Value Analysis: we facilitate project teams to optimize a project by understanding functions, objectives, costs and social, cultural and environmental considerations.
Shared Value Solutions ® is a trademark registered by Shared Value Solutions Ltd.