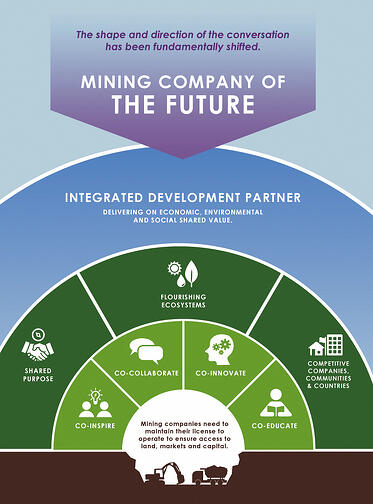 Mining:
the shape and direction of the conversation has been fundamentally shifted.
Imagine...
Communities seeking to initiate mining projects because of the prosperity they bring

Mining towns becoming diverse economic centers with sustainable connected regions

Government, NGO, indigenous and religious leaders working with miners in harmony

The mining industry attracting the best talent

Innovation in mining that includes collaborative and co-innovation processes, as well as sustainable technical advances

This is part of a new vision for mining - the Mining Company of the Future. If you work in and around the resource extraction sector, you may not have heard about this initiative... but you will.
The Mining Company of the Future emerged at a 2012 conference in Brazil via the Kellogg Innovation Network and a range of "outside the box" thinkers - the KIN Catalyst. The innovators included Mark Cutifani (CEO of Anglo American), Ray Offenheiser (President of Oxfam America), and Peter Bryant (Senior Fellow, Kellogg Innovation Network) co-chairing discussions with representatives from organizations such as Vale, AngloGold Ashanti, The Ford Foundation, Harvard University, Global Indigenous Solutions, Resource Capital Fund, Schlumberger, Schneider Electictric, and many others.

Through the KIN Catalyst, a group of key innovators created a Development Partner Framework - a new approach for resource companies to build sustainable, long-term value by repositioning mining companies from isolated actors to regional development partners. The Development Partner Framework is illustrated in the infographic below.
---
"Society's expectations of the mining industry continue to increase and there is a growing recognition in the industry that incremental improvements to how we run our business are not enough," said . "Our aspiration is to fundamentally change the extractive business model of the mining industry from insular and reactive, to an integrated and proactive development partner, delivering on economic, environmental and social shared purpose."
~ Mark Cutifani, Chief Executive of Anglo American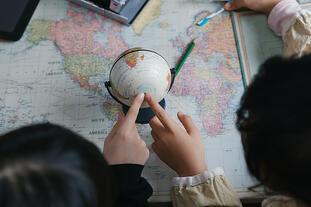 ---
5 Canadian Drivers for the Mining Company of the Future:
1. Mark Podlasly. Mark Podlasly is an integral participant in the inititiative and one of the architects of the Development Partner Framework. Podlasly is Senior Advisor to the B.C. First Nation Energy and Mining Council on extractive industries and their impact on indigenous lands and communities, Senior Associate with the Harvard Kennedy School, and member of the Nlaka'pamux Nation in South Centra British Columbia. Podlasly is also the co-founder and CEO of North Pacific Energy Ltd., a Canadian wood biomass energy company servicing Japan and Korea's electricity and industrial power sectors. Starting in 2015, North Pacific will be providing up to 600,000 tons/year of carbon-neutral wood biomass from Northern Canada to Asian customers. Podlasly serves his First Nation as Lead Trustee for the Nlaka'pamux Legacy Trust, a mining revenue sharing fund dedicated to community and skills building for eight band communities in central BC. To the Mining Company of the Future initiative, Podlasly brings a practical, yet visionary, perspective from the point of view of North American indigenous communities. According to Podlasly, the vision for the initiative comes "from a deep sense of shared purpose to promote healthy relationships with local communities, flourishing ecosystems and sustainable economic growth. We believe this can be a catalyst for economic sustainability and promote a healthy planet for all." (Bloomberg Business, 2014)
2. Mark Cutifani. Mark Cutifani is the mining company co-chair for the initiative. Cutifani understands Canadian mining - he was COO of INCO where in Sudbury he chaired succsessful fundraising campaigns for the United Way and Dynamic Earth, one of Canada's first geoscience centres, and lent his support to Laurentian University's Living Lakes Centre in Sudbury. Northern Life president Michael Atkins, in a column he wrote in July 2006, called Cutifani, "the most talented, charismatic, straightforward, community-minded, hard-driving executive" to occupy Inco's top job in the over 33 years he has been in business in Sudbury. Cutifani's time at INCO also coincided with two important Canadian mining developments - the Sudbury Soils Study and the Voisey's Bay Nickel Mine. These two developments foreshadow the orientation of the Mining Company of the Future initiative (see below).
3. Steve Wood. Steve Wood is President and CEO at ArcelorMittal Mining Canada and is another key innovator for the initiative. Wood is member of the Canadian Institute of Mining, a professional engineer who holds his bachelor's degree in engineering (mining) from Laurentian University, Canada. With Wood's leadership, ArcelorMittal Mining Canada is strong advocate of Towards Sustainable Mining (TSM), a Mining Association of Canada (MAC) initiative. TSM's objective is to enable mining companies to meet society's needs for minerals, metals and energy products in the most socially, economically and environmentally responsible way.
4. The Sudbury Soils Study. Mark Cutifani (above) was on deck with INCO from 2003 to 2007, during the Sudbury Soils Study - a multi-year $5 million community partnership to examine the risks to human health and the environment from metals in soils from smelter emissions, focusing on arsenic, cobalt, copper, nickel, lead and selenium. Cutifani gained first-hand experience of the benefits of collaborative partnerships between mining companies and communities. This groundbreaking program in risk assessment was manage by a diverse technical committee made up of representatives from INCO, Falconbridge, the Ontario Ministry of the Environment, the Sudbury & District Health Unit, the City of Greater Sudbury, and the First Nations & Inuit Health Branch of Health Canada. In addition to actions to protect human health and the environment, the Study contributed to international knowledge about how metals in soils interact with the environment. Along with thousand of soil samples, the scientists conducted a vegetable garden survey, an air monitoring program, a drinking water survey, a food consumption survey, livestock and fish tissue surveys, detailed ecological studies and soil toxicity tests [Shared Value Solutions partners Laura Taylor and Don Richardson worked extensively on the Sudbury Soils Study].
5. Voisey's Bay Nickel Mine and Impact Benefit Agreements. Mark Cutifani was also on deck with INCO to experience the negotiations and results of two separate Impacts and Benefits Agreements (IBAs): with the Labrador Inuit Association (LIA) and the Innu Nation. The Voisey's Bay deposit is located within areas that were subject to land claims by Innu and Inuit. Rights to these traditional lands belong to two Aboriginal groups – the Innu and Inuit of Labrador who are represented by Innu Nation and the Nunatsiavut Government, respectively. The results of challenging negotiation processes emerged with a separate Environmental Management Agreement (EMA), between the two aboriginal groups, the Government of Canada, and the Government of Newfoundland and Labrador. Voisey's Bay achieved commercial production in December 2005, six months ahead of schedul. Thanks to Voisey's Bay, and with Cutifani at the helm, half of the workforce of about 300 was aboriginal, making Inco one of Canada's largest private sector employers of First Nations people. Cutifani has seen first hand that long-term community relationships are needed for a mining company's success, company reputation and risk management.

The infographic below captures the outcomes envisioned by KIN Catalyst participants. At Shared Value Solutions, it has captured our imaginations... it fits very well with so much of our work with mining companies and Aboriginal communities. We're starting to use this infographic, courtesy of the Visual Capitalist - http://www.visualcapitalist.com and the KIN Catalyst report behind it, to shape our approaches to new projects - especially for Aboriginal and indsutry partnerships. Want to see what we do with it? Then sign-up for our newsletter or keep tabs on our blog site.
What do you think? Find out more at
Businesses and organizations are made up of people. So are communities. Imagine a world where people in industry and government, and people from towns of all sizes, get together to make amazing things happen – things they couldn't have dreamed up alone. A world where people from corporations get together with people in government or NGOs to explore innovative ways to do business while enhancing the natural and social environment. Join us in Creating Shared Value!
At Shared Value Solutions, we speak your language. And we know that the impossible is possible – with the right people in the circle.
We are an Ontario B Corp and we bring the best engineering, design, environment, architecture and other technical discipline expertise to address your challenges and opportunities:
Strategic Environmental Assessment guidance, coordination and support

Collaborative land and resource use planning and management- process design and delivery

Traditional Ecological Knowledge Studies & Traditional Knowledge Studies

Traditional Land Use Studies (TLUS)/ Traditional Land Use and Occupancy Mapping

Design and delivery of programs promoting/supporting positive behaviour change- environmental stewardship, community-based social marketing, health/environmental health promotion

Contributing human environment considerations to technical assessments and management plans in sectors such as water resources, remediation, land use, mining, oil & gas, linear corridor development, forestry, renewable energy, nuclear waste, contaminated sites, brownfield redevelopment, watershed planning, drought planning, water use planning, waste management and waste diversion

Aboriginal and Industry Partnerships working with First Nation, Inuit and Métis communities

Value Engineering & Value Analysis: we facilitate project teams to optimize a project by understanding functions, objectives, costs and social, cultural and environmental considerations.