"Canada is a vast nation with a diverse energy mix. A better understanding of what energy is produced, as well as how, when and where it's transported will lead to a more informed energy dialogue across the country."
– Peter Watson, Chair and Chief Executive Officer, National Energy Board
Tired of NEB Pipeline Whack-a-Mole?
National Energy Board (NEB) regulated pipelines transport millions of litres of oil and gas under our feet every day. The network of pipelines is vast. In 2016, pipelines regulated by the NEB moved over a billion barrels of liquid products alone. We spend a lot of time with pipeline maps, in relation to pipelines and Indigenous jurisdiction, Indigenous land use planning, Indigenous knowledge, Indigenous environmental monitoring and Indigenous Guardians programs or related BEAHR training. A good pipeline mapping app would be nice.
If you've ever tried to figure out where a NEB regulated pipeline is located and what's flowing through it, you know it can be difficult. But your days of playing pipeline whack-a-mole on Google may soon be over. The National Energy Board (NEB) recently launched a new interactive online tool providing information on what products are moving through NEB-regulated pipelines.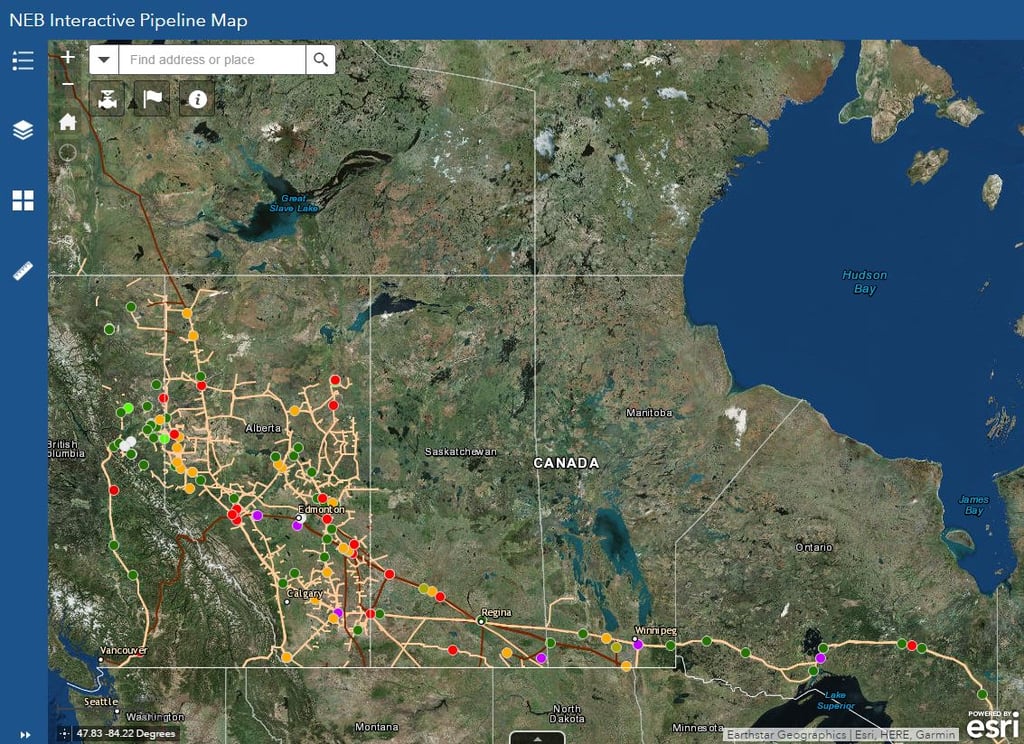 Map image from the NEB's Interactive Pipeline Map, including dots with reported incidents
The NEB Pipeline Portal provides information on what has been shipped on most large NEB-pipelines since 2006. Where available, data is provided at key points, including every international export/import point. Some companies are exempt from filing pipeline traffic data - so if you're looking for where the Enbridge Line 9 oil pipeline connects to the the Enbridge Line 10 oil pipeline to carry western oil across the Niagara River just upstream from Niagara Falls, you'll have to look elsewhere, for now. However, the NEB is currently reviewing all the exemptions to these filing requirements and we may see all pipelines and traffic data at some point in the future.
Mind the Gaps
The application does not show provincially regulated pipelines or connections to vast U.S. pipeline networks. This leaves some mysterious blank spaces on the portal maps. So, you may still need to do some Google work to find, for example, the connections between the NEB regulated TransCanada natural gas pipeline network in Ontario and the extensive Union Gas system. Some companies, like Union Gas, have their own portals for maps of pipelines regulated by a variety of regulators. We like the Union Gas interactive map tool, along with the fascinating northeast North American natural gas pipeline map Union provides to illustrate the networks connecting to the massive Dawn Hub storage facility in southwestern Ontario.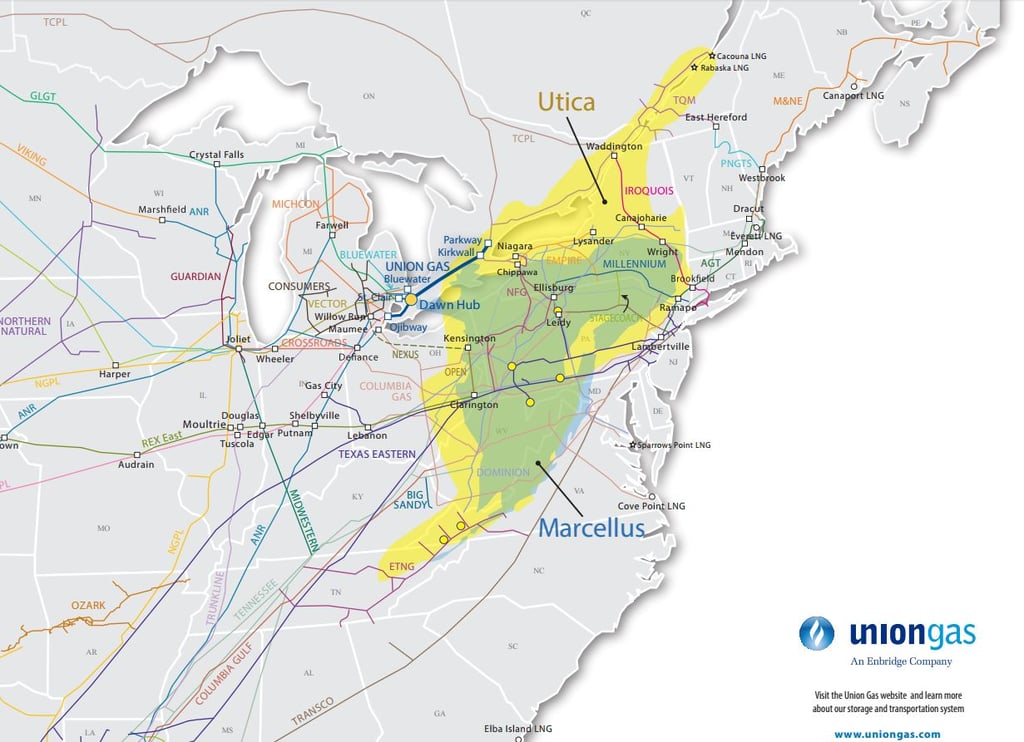 Image from the Union Gas Interactive Map Tool
Links and Bugs
The NEB Pipeline Portal includes links to:
There are a few bugs in the Interactive Pipeline map:
Finding the operational layer to see available pipeline incidents is not intuitive

If you zoom into 200 metre resolution, the pipelines disappear

The map doesn't link directly to incident reports - you have to do a separate search to find those

In many cases, data on volume of oil, gas or refined products is not provided

In many cases, incident causes are not provided
But ONLY "Reportable Spills"
A key limitation for the pipeline incident data for spills is the current NEB definition of a reportable spill as being greater than 1.5 m³, (1,500 litres or a little over 9 barrels of oil) or having a significant adverse effect on the environment regardless of size such as any release of hydrocarbons into a water body. There may be a lot of spills under 9 barrels that are considered not to have a significant adverse effect by the NEB and pipeline operators that go unreported.
Overall, this is a good start, and helpful to those conducting First Nation environmental assessments, traditional land use studies, and applying traditional ecological knowledge to pipeline construction and operation issues.
Shared Value Solutions (SVS) has an unshakable commitment to a land where all peoples can reach their full potential, share prosperity, and uphold their rights. We believe all of this begins and ends with healthy lands and waters.
SVS is a small, rapidly growing 20-person environmental and community development consulting firm located in Guelph, Ontario, Canada, that works primarily for and with Indigenous clients. The position will involve some travel across Canada and to northern communities.
We assist Indigenous and non-Indigenous communities and private sector companies in coming together to create shared value for all parties involved. Our values are to "have fun, make money, do good, and do good work".
We are a B Corp and we bring the best engineering, design, environment, architecture and other technical discipline expertise to address your challenges and opportunities:
Strategic Environmental Assessment guidance, coordination and support

Collaborative land and resource use planning and management- process design and delivery

Design and delivery of programs promoting/supporting positive behaviour change- environmental stewardship, community-based social marketing, health/environmental health promotion

Contributing human environment considerations to technical assessments and management plans in sectors such as water resources, remediation, land use, mining, oil & gas, linear corridor development, forestry, renewable energy, nuclear waste, contaminated sites, brownfield redevelopment, watershed planning, drought planning, water use planning, waste management and waste diversion

Aboriginal and Industry Partnerships working with First Nation, Inuit and Métis communities

Value Engineering & Value Analysis: we facilitate project teams to optimize a project by understanding functions, objectives, costs and social, cultural and environmental considerations.