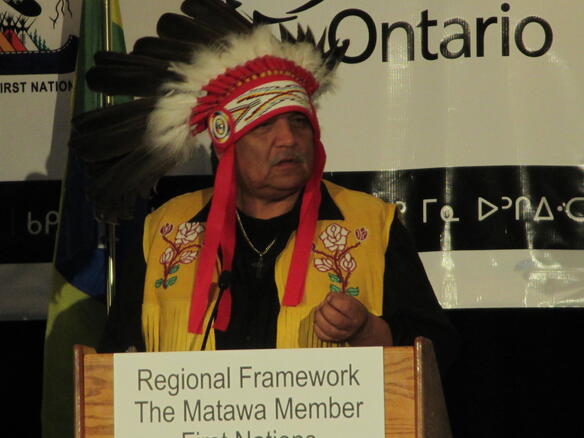 Chief Sonny Gagnon, Aroland First Nation - a community that will be impacted by the proposed pipeline project - speaks at the signing of the historic Regional Framework Agreement signed by Matawa-member First Nations and the Province of Ontario
What are First Nation & Métis Communities Saying About TransCanada's Energy East Project?
Note: This is one of a series of posts we're providing on the TransCanada Energy East Project and related oil & gas pipeline infastructure and Aboriginal interests. Other posts include:
The Ontario Energy Board conducted community discussions in the spring of 2014, inviting sixty First Nation and Métis communities and organizations to participate in Community Discussion meetings and/or provide written comments to assist the Province of Ontario to formulate the province's position as an Intervenor in the National Energy Board's regulatory process for Energy East. The resulting Ontario Energy Board report on First Nation and Métis discussions is illuminating. Some excerpts from that report:
"At every Community Discussion we heard about long-standing frustrations with the lack of consultation, accommodation and benefit to First Nation and Métis communities arising from several previous infrastructure projects. Many participants cited the duty to consult requirement in Canadian Law, as developed by the Supreme Court of Canada, which requires that any government must consult with Aboriginal communities, particularly when making a decision that may adversely impact potential or established Aboriginal or Treaty rights."

"One of the most difficult things to do is to take the long view… to plan for seven generations… and sadly governments and industry don't do that. How much do short-term economic issues really matter? The impact on our territory is paramount: if the environment is ruined, we are ruined." ~ (Ontario Energy Board Community Discussion Participant, Kanata)
"Repeatedly, we heard concerns that little to no consultation took place with First Nations and Métis when TCPL's Mainline System was first constructed, and that little to no benefit from that endeavour has accrued to First Nation and Métis people. At the same time, these same communities have borne significant risks. It was made clear that this will not be acceptable in the case of this Project."
In the written submissions to the Ontario Energy Board, Aroland, Constance Lake and Ginoogaming First Nations, the communities described "the importance of watersheds within their traditional territories and the far reaching impacts of any pipeline spill. Not only would a spill damage waterfowl staging areas for numerous species of ducks, and key spawning grounds for walleye and perch, it would threaten First Nations' use of the land and water for hunting, trapping, fishing, recreation, trade, transportation and economic, social and spiritual purposes."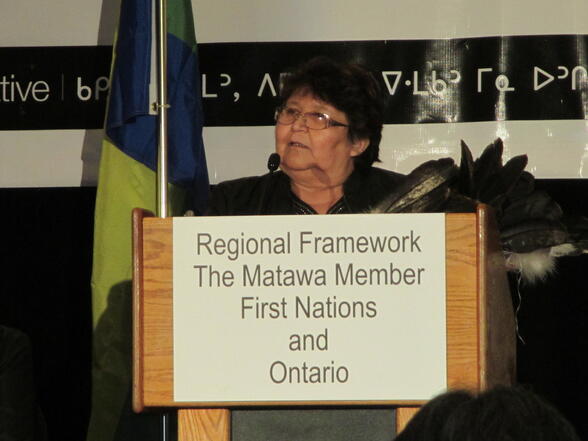 Chief Celia Echum, Ginoogaming First Nation- a community that will be impacted by the proposed pipeline project - speaks at the signing of the historic Regional Framework Agreement signed by Matawa-member First Nations and the Province of Ontario
"Ontario has a very clear stake in all of this.… The province stands to benefit directly from this project through taxes, revenues, etc. These considerations place the province in a position of significant power and risk if concerns are not adequately addressed." (Participant, Kanata)
"Participants from Nishnabe Aski Nation were particularly adamant that environmental concerns must be first and foremost in any discussion and review of the Project. They stated that the rivers in this part of Ontario flow to the north, and that environmental damage from a pipeline incident will have longer-lasting effects, including an impact on the harvesting of plants, animals and fish for food. Participants stated that while there may be a limited number of Aboriginal communities located directly on the pipeline route, the impact of any spill or incident that damages the environment would impact all Treaty 9 communities, given the risk of contamination of their water supply."
"Representatives from the Treaty 3 territory in Northwestern Ontario started the Kenora Community Discussion with a pointed discussion of the Treaty and the concepts of mutuality and respect. Whereas the Treaty implies mutual respect and equal benefit, it is felt that in most instances the benefit from lands and territories has, in practice, flowed in only one direction: away from First Nations. During the discussion, notice was given that there must be clear and tangible benefit to the First Nation signatories of Treaty 3. Such benefits may include training, jobs, and revenue sharing with First Nation and Métis communities along the route."
"There is a lack of understanding of the real economic benefits/ opportunities linked to this proposal. Any potential economic benefits appear to be short-term in nature related to the construction of the pump stations." (Participant, Timmins)
"In the territory around Akwesasne, the discussion focused on the environmental degradation that has already occurred to the St. Lawrence River. First Nation leaders are very concerned that further environmental impacts may irrevocably damage their land and waters. Their Treaty speaks of "living with the newcomers in a way that respects each other and the land upon which we all must live." It is felt that this has not happened to date in any meaningful way."
"There was the suggestion that some communities might benefit from compensation in exchange for granting access to traditional and treaty territory for any of the following purposes: building pump stations; building electricity generation and transmission facilities for pump stations; integrity testing; any reinforcement required in the converted section of the pipeline and for the planned new portions of the pipeline."
"Participants from Temagami First Nation told us of their ongoing land claim negotiations with the Crown. They wanted to know whether there would be compensation for the fact that traditional land was taken up by the existing pipeline in the absence of any consultation with them. They were also concerned that proposed settlement lands in the vicinity of the pipeline would be threatened by a spill or leak that affected the Sturgeon River Watershed."
"Some participants suggested that in order to demonstrate respect for the Treaty relationship there should be First Nation and Métis representation at the NEB, and further that any process to fulfil the duty to consult and accommodate must be jointly defined by the Crown (or its delegate) and First Nations and Métis to fulfil the concept of mutuality."
"It's time we took a serious look at some ongoing revenue, like tolls and levies, that will continue to provide some benefit to First Nation communities. For the amount of risk we are taking, we need to get some benefit." (Participant, North Bay)
"Ontario was encouraged to focus its efforts on enabling economic and business development opportunities for the First Nations most directly impacted by the pipeline – including, but not limited to, opportunities involving power generation and transmission line infrastructure."
Stay in Touch
Keep watching our blog posts on TransCanada Energy East. We'll continue to post about key Aboriginal interests, including traditional land use studies, indigenous knowledge, aboriginal economic development, traditional land use and occupancy mapping, environmental assessment peer review, aboriginal-private sector business partnerships, and other topics related to oil and gas pipeline projects: follow us on Twitter at @SharedValueCA, follow us on Facebook at www.facebook.com/SharedValueSolutions and follow us on LinkedIN - https://www.linkedin.com/company/shared-value-solutions-ltd-
Shared Value Solutions Ltd. is one of the first 100 B Corporations in Canada. We bring the best environmental peer review, strategic advice, community engagement and traditional knowledge, land use, and socio-economic research expertise to address your challenges and opportunities. Working with leading companies, civil society, Aboriginal communities and government organizations, we drive shared value solutions.