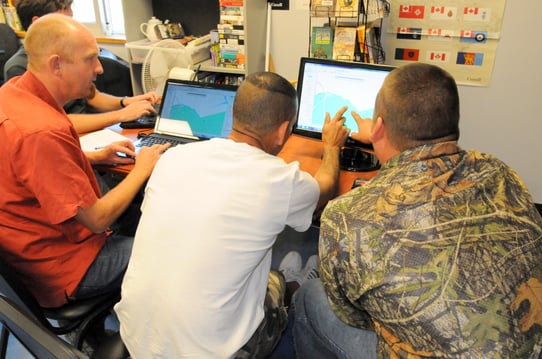 Magnetawan First Nation Knowledge Holders work with Shared Value Solutions' Jeremy Shute (left) on a traditional land use and occupancy study
In March, 2015, the Canadian Environmental Assessment Agency updated its Reference Guide: Considering Aboriginal Traditional Knowledge Conducted Under the Canadian Environmental Assessment Act, 2012 (CEAA 2012). We recently produced five very popular posts on "Traditional Knowledge Matters" on the topic of Aboriginal traditional knowledge in environmental assessments, and we're pleased to see that many of our insights on Aboriginal interests are reflected in the new Reference Guide.
The New Reference Guide says that, generally, Aboriginal Traditional Knowledge (ATK) is "considered as a body of knowledge built up by a group of people through generations of living in close contact with nature. ATK is cumulative and dynamic. It builds upon the historic experiences of a people and adapts to social, economic, environmental, spiritual and political change... it must be understood to form a part of a larger body of knowledge which encompasses knowledge about cultural, environmental, economic, political and spiritual inter-relationships."
We highlight 9 key guidance points included in the new Reference Guide, that make the Guide essential reading for leaders within First Nation, Inuit and Métis communities, for Environmental Assessment (EA) practitioners and for ATK researchers:
1) No two EAs are the same; therefore, a one-size-fits-all approach to considering ATK in EA is not possible
2) ATK research should be planned and conducted with communities, who are the holders of the traditional knowledge
3) Seek prior informed consent: Only the community, and Aboriginal knowledge holders, can decide if they are willing to provide access to their ATK
4) Access to ATK is a privilege and must be respected
5) Respect intellectual property rights: Conventional intellectual property rights laws "offer very limited protection of ATK... communities are likely to seek some kind of protection for their ATK when it is provided during an EA. This is especially true for sensitive information, such as information about sacred or spiritual sites."
6) All ATK research must respect the privacy, dignity, cultures, and traditions of Aboriginal people
7) Make sure the community has "the opportunity to review how ATK has been used in the EA, such as in the determination of environmental effects and any proposed mitigation, follow-up and monitoring that is proposed"
8) Bring Aboriginal traditional knowledge and Western knowledge together: combining scientific and traditional knowledge makes good sense
9) Ensure that any ATK collected also stays in the community so that the community can also benefit from the ATK research
Check out our Traditional Knowledge Matters series of blog posts for further insights:

Businesses and organizations are made up of people. So are communities. Imagine a world where people in industry and government, and people from towns of all sizes, get together to make amazing things happen – things they couldn't have dreamed up alone. A world where people from corporations get together with people in government or NGOs to explore innovative ways to do business while enhancing the natural and social environment. Join us in Creating Shared Value!
At Shared Value Solutions, we speak your language. And we know that the impossible is possible – with the right people in the circle.
We are an Ontario B Corp and we bring the best engineering, design, environment, architecture and other technical discipline expertise to address your challenges and opportunities:
Strategic Environmental Assessment guidance, coordination and support

Collaborative land and resource use planning and management- process design and delivery

Traditional Ecological Knowledge Studies & Traditional Knowledge Studies

Traditional Land Use Studies (TLUS)/ Traditional Land Use and Occupancy Mapping

Design and delivery of programs promoting/supporting positive behaviour change- environmental stewardship, community-based social marketing, health/environmental health promotion

Contributing human environment considerations to technical assessments and management plans in sectors such as water resources, remediation, land use, mining, oil & gas, linear corridor development, forestry, renewable energy, nuclear waste, contaminated sites, brownfield redevelopment, watershed planning, drought planning, water use planning, waste management and waste diversion

Aboriginal and Industry Partnerships working with First Nation, Inuit and Métis communities