By: Meaghan Langille, Environmental Management and Communications Intern
"We cannot solve our problems with the same thinking used when we created them." –Albert Einstein
As limitations are being reached with respect to the availability of fresh water it is incredibly vital to implement strong resource management practices and strategies to ensure a sustainable and resilient future for communities around the world.
One particular innovation that is making waves within businesses and communities is a new measuring and management technique known as water footprinting.
What is a water footprint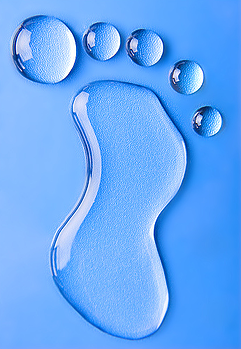 Similar to its predecessor, the carbon footprint, a water footprint is a measurement of water resources consumed either via a process, in manufacturing a product or total consumption by a population of people such as the citizens of a town up to consumption of water on global scale.
Furthermore, the Water Footprint Network defines it as, "an indicator of freshwater use that looks at both direct and indirect water use of a consumer or producer. The water footprint of an individual, community or business is defined as the total volume of freshwater used to produce the goods and services consumed by the individual or community or produced by the business. Water use is measured in terms of water volumes consumed (evaporated or incorporated into a product) and/or polluted per unit of time."
Now if you're wondering, why should I complete a water footprint? Or is this an adventure my organization should pursue?
Remember that the power the water footprint provides will allow you to save money, benefit the planet and ultimately contribute to a resilient future for businesses and communities that rely on water around the world. If those sound like ideas you and your organization can get behind the next step to develop a strong indication of freshwater use by undertaking an assessment process that consists of four distinct phases.
The Water Footprint Assessment Process
The four phases within the assessment process are:
Setting goals and defining the assessment scope
Conducting water footprint accounting and inventorying
Water Footprint Sustainability Assessment
Response and Recommendation Formulation
The diagram below provides a summary of the assessment process and identifies how the four phases work together in conducting a water footprint assessment.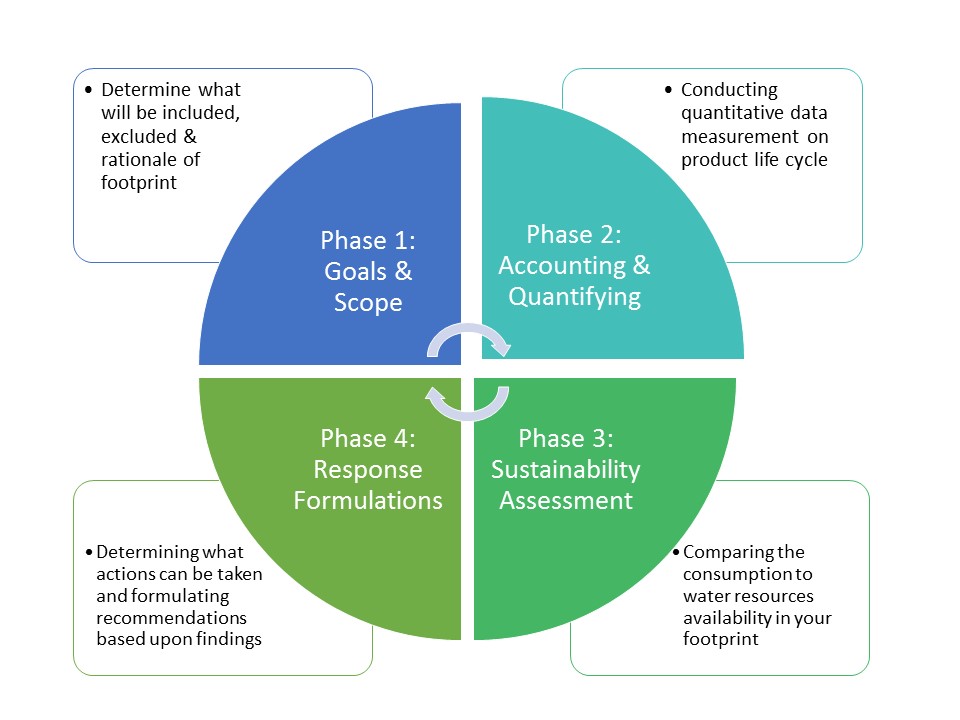 As the assessment process is conducted it enables a comprehensive understanding of your water consumption both from a direct and indirect consumptive perspective by delineating water resources into the following characterizations.
Blue Water: fresh surface and groundwater found within lakes, rivers, and aquifers
Green Water: precipitation on land that is sequestered in soil and aggregates that does not runoff or recharge aquifers
Grey Water: water that is polluted or contaminated through anthropocentric processes such as manufacturing, personal hygiene, and facility operation.
Challenges and Opportunities in Water Footprints
Given the complex nature of the assessment process and the wide variety of potential stakeholders that can be engaged ranging from businesses to governments to farmers to investors to consumers the process can seem confusing at times.
However, developing a water footprint demonstrates that data is power. And the power the water footprint provides will allow you to save money, benefit the planet and ultimately contribute to a resilient future for businesses and communities that rely on water around the world.
Interested in diving into water footprints even more?
Join us at the GroundSwell Conference on Groundwater Innovation for "The Value of Water: Industry and Water Footprinitng." Walker Industries' Becky Oehler and Matthew McMahon will be sharing their water footprint journey and Shared Value Solutions' Jeremy Shute and Leah Culver will take us on a deep dive into the water footprint process.
Find out more: On June 16th, 17th and 18th, 2014, a variety of watershed stewards and people with source water protection technical and governance interests will gather at the University of Guelph for GroundSwell: Conference on Groundwater Innovation. Global water advocate Alexandra Cousteau will deliver the conference's keynote address the evening of June 16th on the topic of knowing your watershed, accompanied by Lake Ontario Waterkeeper Founder and President, Mark Mattson.
Register for the conference, or buy a ticket for Cousteau's keynote address here: http://groundswellconference.com/register/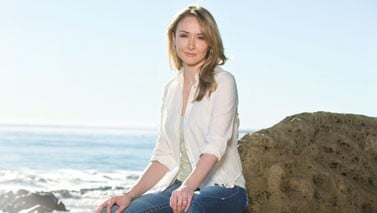 Alexandra Cousteau – National Geographic Explorer, RBC Blue Water Ambassador, founder of Blue Legacy and granddaughter of Jacques Cousteau: Keynote Speaker, Evening of June 16, 2014, University of Guelph
Click here for more information on GroundSwell: Conference on Groundwater Innovation:
Aim: to create shared value for groundwater communities, researchers and technical innovators.
Goal: to encourage learning, collaboration, and identification of new opportunities for groundwater innovation across sectors.
Participants: groundwater experts, accomplished scientists, researchers, practitioners, private sector suppliers, students, policy-makers from all levels of government and representatives from indigenous and rural communities.
Conference themes:
1. Social and Governance Innovations – including ways that people have been innovative in cross-community collaboration for water management, policies, and regulations, and lessons from First Nations and rural communities
2. Technological Innovations – showcasing innovative technology and processes both large and small
3. Ecosystem Resilience Innovations – understanding surface water, ground water interactions, sources and movement of contaminants and adapting to the uncertainty of climate change with limited resources require innovative approaches and are critical to long term resilience of communities
About Shared Value Solutions Ltd.
At Shared Value Solutions Ltd. we bring the best environmental peer review, strategic advice, community engagement and traditional knowledge, land use, and socio-economic research expertise to address your challenges and opportunities.