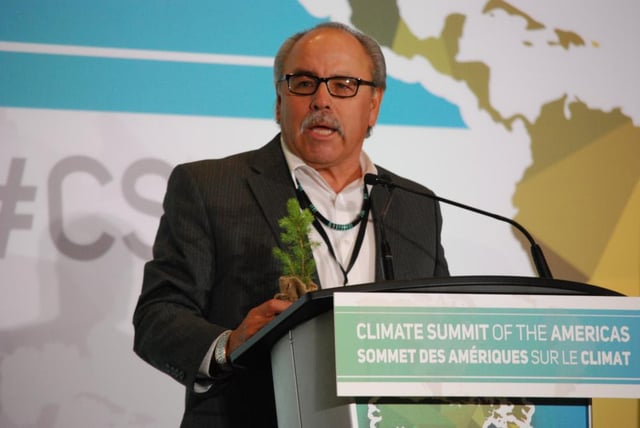 On July 8, 2015, we had the opportunity to assist Larry Sault, former Councillor and Chief of the Mississaugas of the New Credit and former Grand Chief of the Iroquois and Allied Indians - and now CEO of Anwaatin, for his address to the Climate Summit of the Americas. Following his speech, there were many requests to have access to a copy. Here, with Councillor Sault's direction, is the text of his address.
---
We are Stewardship Warriors
Speech to the Climate Change Summit of the Americas, Royal York Hotel, Toronto, Ontario, Canada
July 8, 2015
YOU ARE WELCOME
I'll begin by thanking Premier Wynne; Ontario's Environment Minister: Glen Murray and the rest of the Summit Organizers. Our First Nation ancestors have always reminded us about our spiritual connection to the natural world. It's my privilege to be invited to talk here this morning.
200 years ago, this was the original homelands of the Mississaugas of New Credit First Nation and one of the largest fur trade routes on the great lakes. This was our home. So on behalf of our membership we welcome other Tribal and First Nation Leaders, dignitaries from the 41 countries from the Americas, Mr. Felipe Calderón, Chair of the The Global Commission on the Economy and Climate, former United States Vice Presicent Al Gore, California Governor Jerry Brown, Premier of Quebec Philippe Couillard and you - our guests.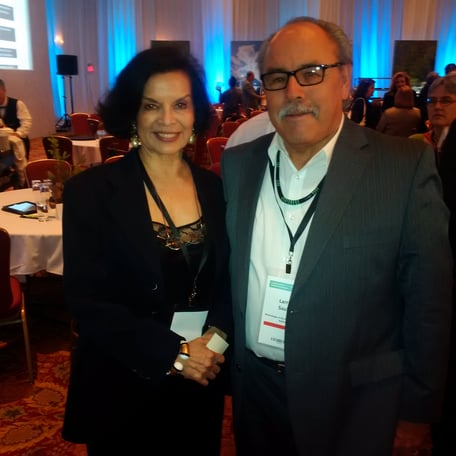 Bianca Jagger, Centre for International Governance Innovation (CIGI) Senior Fellow with the International Law Research Program (ILRP), with Larry Sault at the Climate Change Summit of the Americas
ACKNOWLEDGEMENT - ONTARIO CLIMATE ACTION
It's easy to get discouraged when you think about the enormous challenges of climate change. So let's acknowledge the things that Ontario is getting right.
Ontario has made important commitments to fighting climate change.
Ontario has phased out coal-fired electricity. Phasing out coal-fired electricity is especially a big deal for my community. For over 40 years - we had to live right next door to Ontario Power Generation's heavily polluting 4,000 Megawatt coal-burning Nanticoke Generating station. When Ontario closed Nanticoke in 2013 it was a big deal for our health and well-being AND for fighting climate change.
Nanticoke Generating Station - a short distance from the Mississaugas of the New Credit community
Ontario has provided significant incentives for investments in alternative energy sources such as wind and solar. This has created opportunities for First Nations across the Province!
Ontario is demonstrating strong leadership in bringing subnational governments together in this important fight. Canada needs leadership, because our own National Government is failing us.
Ontario is a global leader in developing economic policies and programs, including the proposed Cap and Trade system that are required to battle climate change.
Ontario has also made a clear promise that First Nations will share in the benefits of natural resources and that we are partners in natural resource management.
We hope that we will share with Ontario the benefits and revenues that will be generated by all of the Province's initiatives to battle climate change.
First Nations and Ontario have made progress in revitalizing treaty relationships to help improve socio-economic outcomes for First Nations.
WE ARE STEWARDSHIP WARRIORS
These two pathways – fighting climate change and revitalizing treaty relationships – are now coming together. And that's a good thing for everybody.
When you're battling climate change, you need warriors.
We are those warriors. Our weapons are not guns. We're armed with wisdom and love for the natural world. We are Stewardship Warriors.
For thousands of years, our communities have been stewards of the complex ecological systems that support our wellbeing. We had a thriving culture and a sophisticated, sustainable economy with trade routes that reached as far as Mexico.
In our recent history (the last 200 years or so) people have tried to take that role of Stewardship away from us.
Let me be clear – we will never stop being the stewards of our traditional territory
In fact, we are working harder than ever as Stewardship Warriors to protect and enhance ecosystems.
Mississaugas of the New Credit First Nation
We're on the frontlines of the war on climate change. Not by choice. We were moved from this prime shoreline here on Lake Ontario, to marginal lands and flood plains – right next to marginal land at Nanticoke that Ontario zoned for major carbon emitting heavy industry. Instead of the Lake Ontario waterfront, we've had to live next to some of Ontario's biggest carbon emission sources- an oil refinery – oil and gas pipelines – a coal burning steel mill – and one of the largest coal-burning power plants in North America. And basically, we were told to just deal with it.
Living on this marginalized land means that floods, drought and other events brought on by climactic change, hit First Nations communities extra hard.
And when these climate emergencies do strike, our poor infrastructure is inadequate to deal with them.
We depend more directly on our ecosystems for food. Climate change means our food supply is no longer secure.
Water, the lifeblood of our communities, is also not secure. It would be foolish to think that the severe drought in California could not happen here. Climate change is impacting our drinking water, and the lakes, rivers, creeks and wetlands that secure our livelihoods.
Our community economies are tied to natural resource management. Fish, agriculture, forestry, wild foods and ecotourism: climate change threatens all of these.
We are Stewardship Warriors, fighting for our livelihood and our lives.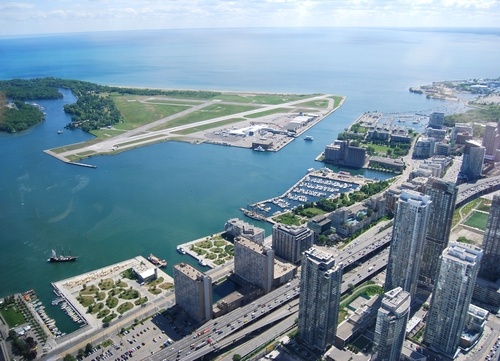 Toronto Island Airport and Toronto Waterfront
OUR TERRITORY
So let's talk about the particular battles that we're engaged in.
We are fighting to protect major ecological regions and carbon sinks across our territory. This land reaches far beyond the Greater Toronto and Hamilton Area.
We are fighting to protect all the river systems – the Rouge River, the Don River, the Humber River, the Credit River, the Grand River, the Thames River and all the inland lakes, creeks and wetlands in between.
We're fighting to protect the two Great Lakes in our territory – Lake Ontario and Lake Erie
We're fighting to protect the islands, coastlines and the riparian (riparian meaning rivers edge) ecosystems supported by the waters in our territory.
When you combine these rivers and lakes, the entire system stretched from the Scarborough Bluffs to Burlington, Hamilton all the way to Niagara Falls and beyond. The headwaters of these rivers reach far to the North.
These waterways are central to our traditional way of life. They once served as our zero emissions transportation system. They supported our extensive trade networks and medicine networks. We probably had a few traffic jams too, but I promise they were not as bad as the QEW!
HOW WE'LL FIGHT
Our battles are not always easy. When we have to, we will arm ourselves with lawyers and take the fight to the courts. And we will win.
We've just won an important stewardship battle over the settlement of the Toronto Purchase. We're winning battles for ownership and stewardship in major power generation projects. We are now embarking on a major treaty claim around the Rouge River and its watershed.
And we are just launching one of our most important treaty claims ever. We call it the Riparian Claim for all the waters, land under the waters, and the riverside corridors across our Traditional Territory. These lands and waters were never subject to treaties.
The Riparian Claim has major implications for us as Stewardship Warriors. It's important to note that much of downtown Toronto didn't exist until the Harbour Commission hatched a plan to dump landfill into the harbour. All the land south of Front Street, more than half a kilometre, was not there when we signed the original treaty.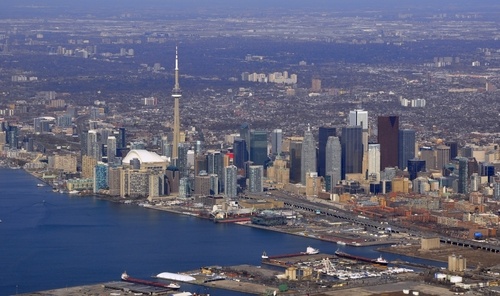 LEADERS IN THE FIGHT
We are deeply committed to being leaders in the fight against climate change.
Often - that means fighting against the establishment. But we're also willing to fight alongside worthy initiatives.
Cap and Trade is a prime example. The Mississaugas of the New Credit First Nation will be fully engaged in developing Cap and Trade. AND we expect to use our share of the revenues generated to support initiatives and economic development by and for our people.
Our plans for land and water ecosystem stewardship will be based on appropriate carbon management and offset strategies.
We'll make sure we're fully compensated for our work protecting, repairing and managing ecosystems: historically, today and looking into the next seven generations. We all know that proper financial incentive is one of the most powerful drivers of positive change.
We'll ensure that our people have the tools and training to deal with potentially disastrous weather related events and to deal with the long-term ecosystem impacts of climate change.
None of us can do this alone. Effectively combating climate change and managing ecosystems will take firm agreements with our First Nation and other Tribal Nations throughout North America.
THE POPE – AN INSPIRATION FOR BATTLING CLIMATE CHANGE
Speaking of allegiances, I'd like to close my talk with some words from one of my favourite new Climate Change Warriors – The New Pope: Pope Francis. What an inspiration for battling climate change he's been.
The Pope recently released his Encyclical on Climate Change, and he rightly placed indigenous people front and centre. Here's a direct quote from this Climate Change Warrior…
"...it is essential to show special care for indigenous communities and their cultural traditions. They are not merely one minority among others, but should be the principal dialogue partners... For them, land is not a commodity but rather a gift from God and from their ancestors who rest there, a sacred space with which they need to interact if they are to maintain their identity and values. When they remain on their land, they themselves care for it best."
MIIGWETCH / THANK YOU
Once again, I welcome you all to the Traditional Territory of the Mississaugas of the New Credit First Nation. I wish everyone a productive and collaborative Climate Change Summit of the Americas. Don't be shy - come speak with our team and my fellow First Nation members.
We're even throwing a party. You can join us for the Opening Ceremonies of the PanAm and ParaPanAm Games. We're the proud Host First Nation for the Games. This is a really important and exciting time for the Mississaugas of New Credit First Nation.
Miigwetch and Thank You
[End]
About Us - Shared Value Solutions Ltd.:
Businesses and organizations are made up of people. So are communities. Imagine a world where people in industry and government, and people from towns of all sizes, get together to make amazing things happen – things they couldn't have dreamed up alone. A world where people from corporations get together with people in government or NGOs to explore innovative ways to do business while enhancing the natural and social environment. Join us in Creating Shared Value!
At Shared Value Solutions, we speak your language. And we know that the impossible is possible – with the right people in the circle.
We are an Ontario B Corp and we bring the best engineering, design, environment, architecture and other technical discipline expertise to address your challenges and opportunities:
Strategic Environmental Assessment guidance, coordination and support

Collaborative land and resource use planning and management- process design and delivery

Traditional Ecological Knowledge Studies & Traditional Knowledge Studies

Traditional Land Use Studies (TLUS)/ Traditional Land Use and Occupancy Mapping

Design and delivery of programs promoting/supporting positive behaviour change- environmental stewardship, community-based social marketing, health/environmental health promotion, Aboriginal community energy plan initiatives

Contributing human environment considerations to technical assessments and management plans in sectors such as water resources, remediation, land use, mining, oil & gas, linear corridor development, forestry, renewable energy, nuclear waste, contaminated sites, brownfield redevelopment, watershed planning, drought planning, water use planning, waste management and waste diversion

Aboriginal and Industry Partnerships working with First Nation, Inuit and Métis communities

Value Engineering & Value Analysis: we facilitate project teams to optimize a project by understanding functions, objectives, costs and social, cultural and environmental considerations.
Shared Value Solutions team members take a break during a Traditional Ecological Knowledge project in Northern Ontario