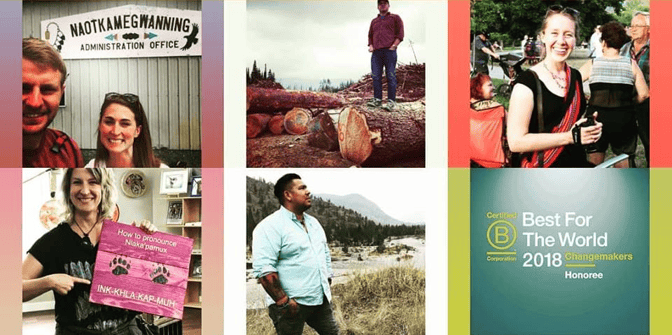 From coast to coast to coast, our team at Shared Value Solutions is busy working with our First Nations, Métis and Inuit clients - and we need more support! We are looking to fill the following positions:
Senior Regulatory and Planning Specialist
Are you an experienced regulatory and planning specialist who is looking for an opportunity to make a difference with your work? This might be the job for you! The person we are seeking will have at least 10 years of relevant professional experience in project management and working on Land Use and Community Planning and/or Social and Environmental Impact Assessments at the federal, provincial and/or territorial level.
Application Deadline: October 4th, 2021
Intermediate Regulatory Specialist/Project Manager
We are looking for an Intermediate Regulatory Specialist / Project Manager to fill a full-time permanent position. The person we are seeking will have a B.Sc., Masters or PhD in Natural Resource Management, Environmental Planning, Indigenous Studies, Environmental Studies, Political Science or similar equivalent, as well as 5+ years of professional experience in project management and working on the Social and Environmental Impact Assessments at the federal, provincial and/or territorial level.
Application Deadline: Monday, October 4th, 2021
Are you Indigenous?
In the spirit of reconciliation and diversity, we are committed to increasing our number of Indigenous employees. Please let us know in your application if you are First Nations, Métis or Inuit. And please let us know if you speak French, Cree, Ojibway, Oji-Cree, Innu, or other languages that might be useful for this position! Please share these posts widely with your networks.
Why join the SVS team?
We are a growing consulting firm based in Guelph, Ontario that offers its employees flexibility, excellent learning opportunities, and the ability to work with amazing people on a daily basis. We offer flexible working arrangements, and options for employees to work beyond our main office in communities in and around our client communities from coast, to coast, to coast.
SVS staff have the autonomy and support to grow their careers in the direction they choose to help meet our collective mission of a land where all peoples can reach their full potential, share prosperity and uphold their rights. We are aligned in our commitment to doing good work in both our local and client communities, and we are known for our fun company culture and our commitment to providing excellent client service.
Please watch the Join Our Team page for upcoming job listings. We are always looking for people who are dynamic, entrepreneurial, exhibit strong leadership, take responsibility for their actions, have good judgement, are hard workers, love collaborating with a team, and care deeply about the environment and the wellbeing of society.
Unsolicited Applications
Don't see the perfect post but you know you'd like to work with us? We encourage people with confirmed access to funding opportunities that would help fund your role at SVS to send unsolicited applications. The intention is to allow you to express interest in joining SVS in the near term (within roughly the next two years) and pitch us on the business case – from the standpoint of how you'd contribute to the growth and vision of SVS and how your role would be funded – without having to wait and hope for the right specific role posting.
Contact
Please send your resume via email to:
Erin Knight, HR Manager
SVS's head office is located in Guelph, Ontario, Canada. Salary and benefits are competitive and negotiable.
We are an Canadian B Corp, and we assist Indigenous communities with support throughout regulatory processes surrounding major development projects like mines, hydroelectric facilities, transmission lines, highway expansions, oil and gas pipelines, natural resource transport applications and nuclear power.
We have deep context and experience behind the recommendations we provide, having worked for our clients on almost every major project in Canada over the last 10 years. For us, it's all about building long-term relationships with our clients. We want to get to know you and what you want to do so we can help you move your plans forward.
Impact Benefit Agreement Negotiation Support

Technical Reviews and Regulatory Process Support

Community and Economic Development Planning

Indigenous Knowledge and Land Use Studies

Environmental Monitoring

Guardians Program Development

Climate Change Readiness

GIS and Mapping
And so much more: www.sharedvaluesolutions.com