We're on a fun walk to go carbon neutral! For the second year in a row, we accepted Walker Industries' challenge to participate in the World Wildlife Fund of Canada's National Sweater Day - for climate change awareness by putting on sweaters and turning down the heat by two degrees in our office . This is a fun, light-hearted way to reduce greenhouse gases and increase awareness about climate change and the need for action. Hashtag: #DialDownPullOn
Walker Industries' initiatives, like Sweater Day, are driven by its EARTH 1st program - www.earth1st.ca. Walker is a 5th generation, family-owned, Canadian company that has operated from a base in the Niagara Region for 125 years. In addition to its diverse range of services, Walker Industries has offered renewable energy, biogas, green building expertise, carbon footprint assessments, and local carbon offsets projects for over 12 years to many customers.
Making Strides to Going Carbon Neutral
Building on the ideas and successes of EARTH 1st, and based on Walker's renewable energy business, the company has developed a service to assist organizations in measuring, reducing and offsetting their carbon footprint. Through this carbon service Walker is assisting other local businesses like Shared Value Solutions, to become carbon neutral. With help from Walker Industries we are making great strides toward our carbon neutral goal.
We are also hoping to encourage other businesses in the Guelph-Kitchener-Waterloo-Cambridge area – our "SuperCluster" – to take the same path to going carbon neutral with us. In this journey we also have some great support from our friends at Project Neutral, and some great Polar Bears!
On Thursday, February 6th, 2014 for Sweater Day, we worked with our friends at the Downtown Guelph Business Association, Quebec Street Shoppes and Coco Latte to organize a Crazy Sweater Coffee Break to encourage our downtown community to participate in National Sweater Day by wearing crazy sweaters and to #dialdownpullon to raise awareness of climate change and encourage action. Everyone was welcome to join in for some fun, crazy sweater photos, and free coffee and hot chocolate courtesy of Coco Latte. Donations of coffee money will be passed on to the World Wildlife Fund of Canada.
The event was also a chance to learn more about some innovative climate change actions in the Guelph area, including the City of Guelph's Community Energy Initiative and North America's first city-wide district energy network, Walker Environmental Group's Carbon Neutral Services providing "buy-local" carbon offsets and carbon reduction services for businesses and organizations, and Project Neutral, a non-profit coming to Guelph to transition neighbourhoods to carbon neutrality, one neighbourhood at a time.
Having Project Neutral help us out with Polar Bears helped ensure this community initiative got the attention it deserved! And thanks to all the team at Shared Value Solutions for joining in for the fun on our walk to go carbon neutral!
Check out some more photos on our Facebook Page and below: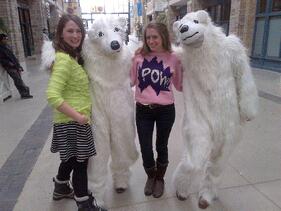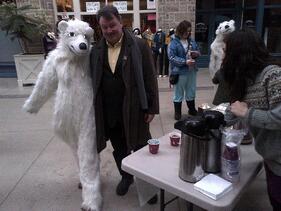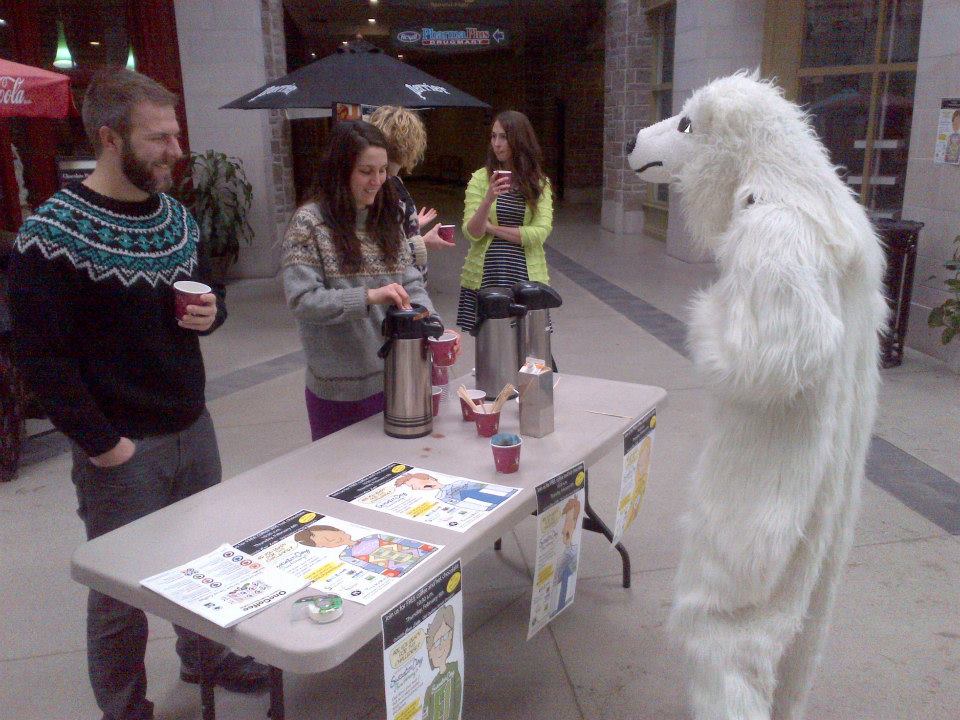 About Shared Value Solutions Ltd.
We bring the best engineering, design, environment, architecture and other technical discipline expertise to address your challenges and opportunities:
■Strategic Environmental Assessment guidance, coordination and support
■Collaborative land and resource use planning and management- process design and delivery
■Traditional Ecological Knowledge Studies
■Traditional Land Use Studies (TLUS)/Land-Use and Occupancy Mapping
■Design and delivery of programs promoting/supporting positive behaviour change- environmental stewardship, community-based social marketing, health/environmental health promotion
■Contributing human environment considerations to technical assessments and management plans in sectors such as water resources, remediation, land use, mining, oil & gas, linear corridor development, forestry, renewable energy, nuclear waste, contaminated sites, brownfield redevelopment, watershed planning, drought planning, water use planning, waste management and waste diversion
■Value Engineering & Value Analysis: we facilitate project teams to optimize a project by understanding functions, objectives, costs and social, cultural and environmental considerations.
(c) Shared Value Solutions Ltd., 2014