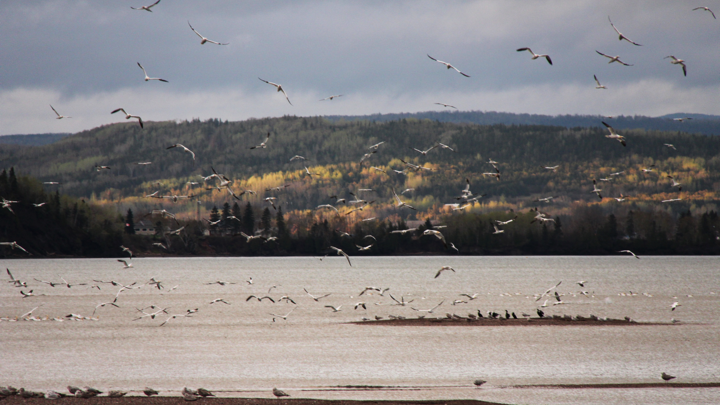 Last week the Trudeau government tabled its second budget of its 4-year term with large emphasis being placed on skills and innovation that strengthen the middle class, investments that improve infrastructure (including infrastructure on reserves and in rural and Northern) communities, and strengthening Canada at home and abroad. In this blog post we provide a round-up of funding that has been committed, what's missing, and where to go from here.
Overall, the federal budget commits to providing $3.4 billion in new money over the next five years for First Nations, Inuit and Metis peoples and communities. This money is in addition to the $8.4 billion announced in last year's federal budget which was also spread over five years. (Source: APTN)
The two figures would bring total new federal investments targeting Indigenous peoples and communities to $14 billion by 2021-2022—two years after the next federal election. (Source: APTN)
What's Committed
The 2017 Federal Budget makes investment commitments to Indigenous communities in 7 key areas, namely:
Infrastructure
Education
Health Care
Environmental Stewardship
Indigenous Languages & Cultural Revitalization
Justice
Governance
Infrastructure
$400-million to the Arctic Energy Fund - funding set aside to provide energy security and alleviate energy poverty for communities north of the 60th parallel - including Indigenous communities
$4-billion investment over 10 years to improve Indigenous community infrastructure including housing, water treatment systems, health facilities. and other unspecified community infrastructure
A commitment to end 60 percent of long-term First Nations boil water advisories in 3-years and eliminate all boil-water advisories by March 2021
Government investment in the Aboriginal Skills and Employment Training Strategy with a focus on infrastructure management and maintenance
$225-million spent over 11 years in financial support to housing providers servicing Indigenous people living off-reserve
$300-million for Northern housing with about $240-million of that allocated to Nunavut, $36-million to the Northwest Territories, and $24-million to the Yukon
Education & Training
$90-million investment over 2-years for the Indigenous Post-Secondary Student Support Program
$5-million per year over the next 5 years to Indspire, an Indigenous-led organization that assists Indigenous students with attending post-secondary education and acquiring employment in their field
Amending the Canada Student Financial Assistance Act so that students registered under the Indian Act but do not have Canadian citizenship can access the Canada Student Loans Program
Investing $50-million in 2017-18 in the Aboriginal Skills and Employment Training Strategy (ASETS)
$39.2-million investment in 2017-18 to provide case management services to youth living on-reserve specific to pre-employment training, access to education and training, and overcoming barriers to employment
$14.7-million investment over 3 years to extend and enhance the Northern Adult Basic Education Program
Health Care
$828.2-million investment over five years to improve First Nations and Inuit health outcomes
The above funding amount includes the following:

$15-million dedicated to harm reduction measures as part of the Canadian Drugs and Substances Strategy
$50.2-million towards combatting chronic and infectious diseases
$83.2-million towards maternal, newborn, and child health
$72.1-million towards primary care
$118.2-million towards mental health and wellness
$184.6-million towards home and pallative care
$305-million towards Non-Insured Health Benefits Program
Environmental Stewardship
$83.8-million investment over 5 years to integrate traditional knowledge in understanding climate change and influence the development of measures to adapt to shifts in the environment
$18-million over 5 years in the budget to address potential health impacts in Indigenous communities connected to climate change
$21.4-million over 4 years to develop renewable energy projects in Indigenous and Northern communities
$25-million over 5 years to develop a pilot Indigenous Guardians Program
$250 million over five years, and $62.2 million ongoing, to Fisheries and Oceans Canada to renew and expand the successful Pacific and Atlantic integrated commercial fisheries initiatives and to augment Indigenous collaborative management programming
Indigenous Languages & Cultural Revitalization
$89.9 million over the next 3 years to support Indigenous languages and cultures. This includes:

$69 million to enhance the Aboriginal Languages Initiative. This new funding will support a range of activities such as developing learning materials, funding language classes and culture camps, and archiving Indigenous languages.
$14.9 million for Library and Archives Canada to support the digitization of existing Indigenous language and cultural materials. Funding would also support the development of an Aboriginal Oral Testimonies Project to document Indigenous heritage.
$6 million for the National Research Council Canada to develop, in collaboration with Indigenous stakeholders, information technology to preserve oral histories by converting speech to text, and creating other interactive educational materials
Justice
$55.5 million over 5 years to provide long-term investment in an Indigenous Restorative Justice Program
$65.2-million over 5 years to help reverse the trend of Indigenous overrepresentation in Canada's criminal justice system, and to help previously incarcerated Indigenous Peoples heal, rehabilitate and find good jobs
$102-million over 5 years towards the First Nations Policing Program
Governance
It is noted in the budget that all funding will be allocated and determined in partnership and with input by Indigenous Peoples. To support this process, the budget has allocated $3.1 million over 3 years for establishing a secretariat intended to support the Working Group on the Review of Laws and Policies Related to Indigenous Peoples.
Additional governance funding allocation includes:
$84.9-million over the next 5 years to build the governance capacity of the Métis National Council
$28.3-million per year ongoing to the 5 provincial governing members of the Métis National Council

$24-million per year ongoing to support the timely resolution of specific claims, in order to address past grievances related to historic treaties and other obligations
What's Missing
Indigenous Suicide Prevention Program
Although there is funding set aside for increased services for Inidgenous Peoples facing mental health and substance abuse challenges a key piece that is missing is designated funding for an Indigenous Suicide Prevention Program. This was particularly concerning for Indigenous health advocates as communities such as Attawapiskat have experienced a surge in youth suicides in recent years and require adequate programs and services to address these challenges.
Children welfare funding
While the budget pledges to "further its relationship with Indigenous people" there is no new money for the First Nations child and family services program. The 2016 budget did set aside $634.8 million over five years for that, the Liberalsreceived criticism for being too slow to get money out the door to help children and families in need.
Last year, a Canadian Human Rights Tribunal ruled Canada discriminates against First Nations children compared with what other children receive under provincial programs. That tribunal is holding a hearing this week to examine why Ottawa has yet to abide by its decision. (Source: CBC)
Missing & Murdered Indigenous Women and Girls (MMIWG)
In the 2016 Budget the government committed an investment of $40-million over 2 years for completing an inquiry into the Missing and Murdered Indigenous Women and Girls. However, this year's budget has no mention of MMIWG nor funding support for the Native Women Association of Canada (NWAC). NWAC is concerned by this as they are an organization providing oversight on the MMIWG inquiry and require adequate funding and resources to provide that oversight.
What's Next
Now that the Budget has been released the next steps mean seeing these commitments be put into action!
Have any questions about what the federal budget or other federal funding or policy initiatives mean for you and your community? At Shared Value Solutions we're paying close attention to these matters and are happy to field any questions or support you in any of your regulatory, policy, or funding needs.
Please don't hesitate to contact us at 226-706-8888 or info@sharedvaluesolutions.com
We have an unshakable commitment to a land where all peoples can reach their full potential, share prosperity, and uphold their rights. All of this begins and ends with healthy lands and waters. In the spirit of collaboration, respect and friendship, we work alongside visionary leaders and their communities to fulfill these commitments.
SVS is a consulting firm whose core business is in regulatory and Environmental Assessment support and strategy; land use and occupancy (aka "traditional knowledge") and archaeology studies; Indigenous and private sector business partnerships; and community consultation and engagement. SVS offers BEAHR certified training in Environmental Site Assessment, Environmental Monitoring, and Land Use Planning, but for the most part this job will be desk based.
Our mission is to "have fun, make money, do good, and do good work".
We are a B Corp and we bring the best engineering, design, environment, architecture and other technical discipline expertise to address your challenges and opportunities:
Strategic Environmental Assessment guidance, coordination and support

Collaborative land and resource use planning and management- process design and delivery

Traditional Ecological Knowledge Studies & Traditional Knowledge Studies

Traditional Land Use Studies (TLUS)/ Traditional Land Use and Occupancy Mapping

Design and delivery of programs promoting/supporting positive behaviour change- environmental stewardship, community-based social marketing, health/environmental health promotion, Indigenous community energy plan initiatives

Indigenous Fisheries

Contributing human environment considerations to collaborative technical assessments and management plans in sectors such as water resources, climate change, remediation, land use, mining, oil & gas, linear corridor development, forestry, renewable energy, nuclear waste, contaminated sites, brownfield redevelopment, watershed planning, drought planning, water use planning, waste management and waste diversion

Indigenous and Industry Partnerships working with First Nation, Inuit and Métis communities
Shared Value Solutions ® is a trademark registered by Shared Value Solutions Ltd.