Will You Embrace New Aboriginal Realities or Simply Muddle Through?
12 Key Elements for Progressive Aboriginal Relations Policies - Tips for Companies & Municipal Governments
Don Richardson, Nichole Fraser-MacDonald, Scott Mackay, Jeremy Shute and Laura Taylor: Managing Partners, Shared Value Solutions Ltd – www.sharedvaluesolutions.com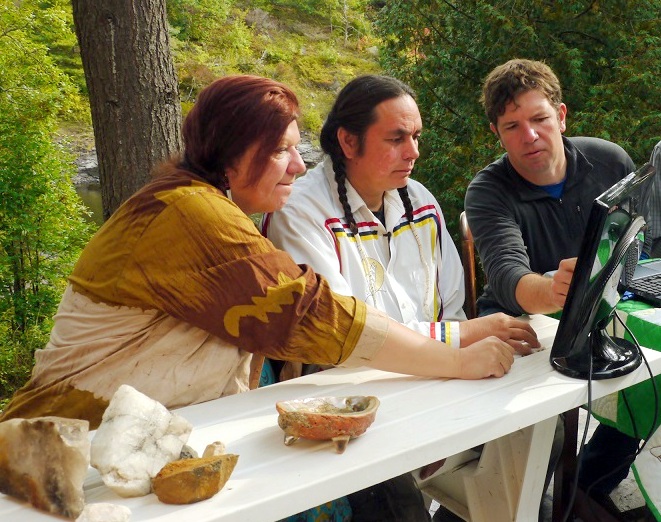 It can be challenging for business people and municipal government leaders to chart an appropriate course for Aboriginal relations. The context is dynamic and includes on-going court decisions that shape regulatory decisions and government policies. Aboriginal engagement is now firmly part of mainstream business and municipal government practice in Canada, but the rules, procedures and paths forward are not always clear.
Today, when it comes to Aboriginal relations we have two choices: we can choose to muddle through and react as issues present themselves, or we can choose to manage strategically. Creating an Aboriginal relations policy is one way to embrace the new Aboriginal realities and chart a course. In this article we provide twelve key elements for progressive Aboriginal relations policies. In a forthcoming article we provide twelve ideas to enhance existing policies.
For business and municipal government leaders still considering if a they need to develop a more formal approach and strategies for Aboriginal relations, consider this: Aboriginal Peoples across Canada understand that they are involved in a social movement to improve livelihoods and community well-being, a movement – "Idle No More" - that includes economic, social and environmental interests in resource development where Aboriginal rights and interests are factor. And there are few, if any, parts of Canada where Aboriginal rights and interests are not factors. The lengthy string of judicial decisions supporting Aboriginal rights and interests in relation to the environment and natural resources is real.
As lawyer and strategist Bill Gallagher notes, it is "the longest running, most impressive legal winning streak over resource access in Canadian history… By achieving 150 legal wins [Aboriginal peoples have] radically transformed the corporate/government/native relationship"[i]
A participant at a workshop we recently delivered for the Canadian Institute remarked that policy is a powerful tool for "making sure that everyone from the truck driver to the CEO 'gets it' that good Aboriginal relations is key to the success of the business".
In the course of our consulting work for corporate and municipal clients we have reviewed the Aboriginal relations policies of dozens of Canadian and global corporations. We are pleased to share our insights here.
12 Key Elements Common to Progressive Aboriginal Relations Policies
Formal recognition that company operations or municipal jurisdictions are located in the traditional territories of Aboriginal communities
Recognition of the unique legal and constitutional rights of Aboriginal Peoples
Where appropriate, recognition of the importance of Aboriginal customers, neighbours and communities that benefit directly from a company's goods and services or from municipal community infrastructure and resources
Acknowledgement that responsible operations, project development and planning decisions take into account Aboriginal interests, rights and traditional and current uses of lands and resources
Restatement of existing corporate values and how those values apply to Aboriginal relations
Commitment to mutually beneficial relationships with Aboriginal communities, including supporting business, employment and economic opportunities for Aboriginal Peoples
Orientation to long-term Aboriginal relationships and evidence of a corporate objective to understand and respect history, culture, customs, land uses, harvesting practices, beliefs and traditions
Corporate support for enabling management and all employees to understand the unique legal, historical and cultural significance of Aboriginal Peoples to promote organization-wide understanding of the importance and benefits of effective relationships with Aboriginal
Commitment to early consultation on new project and planning initiatives, transparency and regular information sharing
Demonstration of an understanding of the primary importance that Aboriginal peoples place on the environment, lands and waters, and orientation to seeking opportunities to collaborate with Aboriginal Peoples for environmental protection and environmental enhancement efforts
Support for efforts among Aboriginal Peoples and communities to enhance community well-being, which might include corporate support for current or emerging Aboriginal educational initiatives, youth and elder programs, cultural heritage and traditional knowledge projects, mentorship and training initiatives, health projects, local environmental initiatives and capacity building
Commitments to Aboriginal employment accessibility and inclusion and commitment to Aboriginal contracting approaches in relation to supply chains, construction, facility maintenance and/or environmental monitoring and environmental enhancement programs
In our next article we look more closely at how some of these policy elements can be operationalized and how existing Aboriginal relations policies can be enhanced.
---
[i] Gallagher, Bill (2012). Resource Rulers: Fortune and Folly on Canada's Road to Resources. P. 1. www.billgallagher.ca
About Shared Value Solutions Ltd.
Shared Value Solutions Ltd. is one of the first 100 B Corporations in Canada. We bring the best environmental peer review, strategic advice, community engagement and traditional knowledge, land use, and socio-economic research expertise to address your challenges and opportunities. Working with leading companies, civil society, Aboriginal communities and government organizations, we drive shared value solutions.