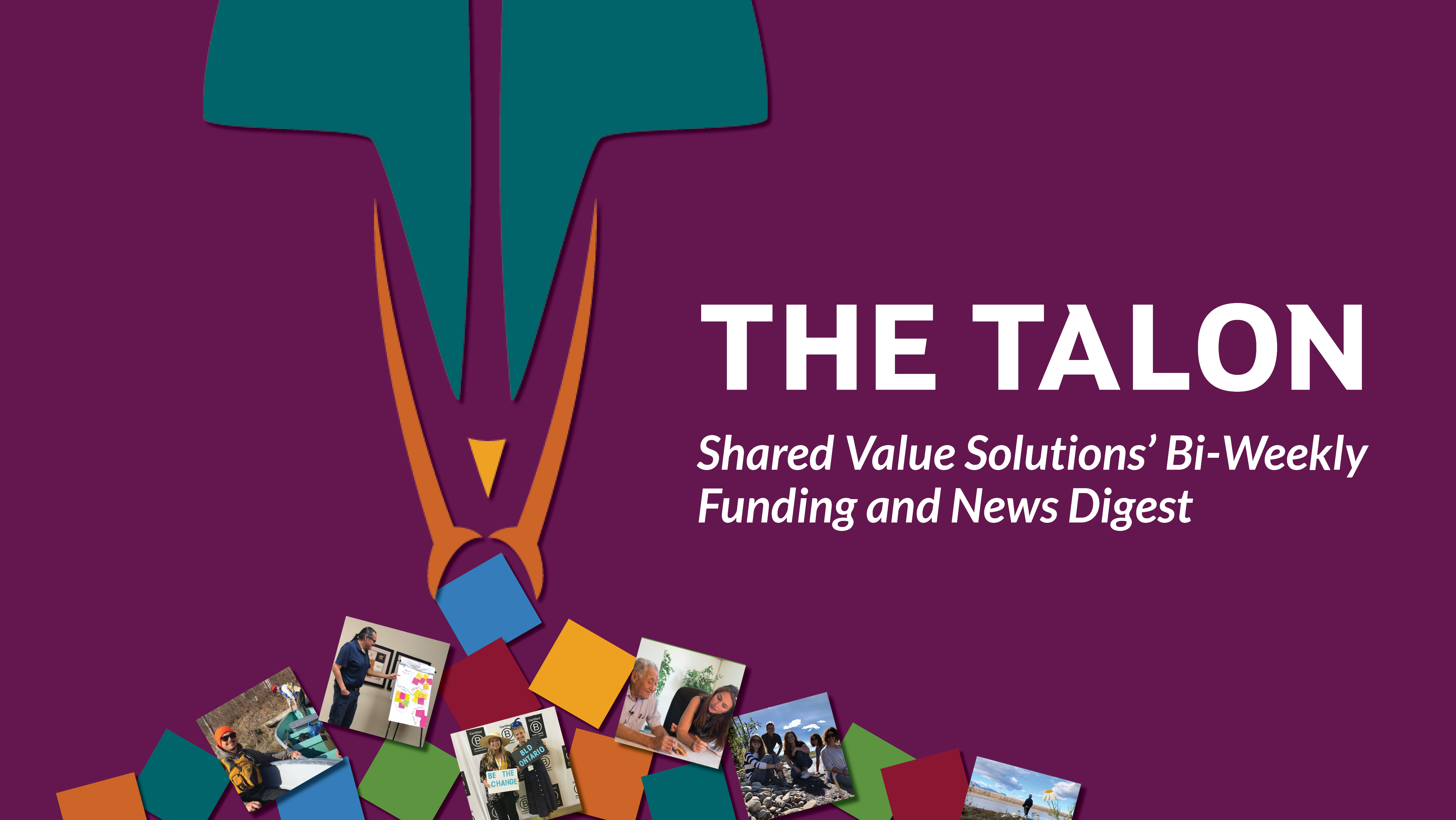 Welcome to Shared Value Solutions funding and news digest. We hope it finds you well.
In this issue, we bring you the second blog in our Lands and Consultation Department eBook series. Also in this issue is information on an opportunity to have your voice heard as part of a national needs assessment on cumulative effects through the Indigenous Centre for Cumulative Effects (ICCE) initiative. We also share inspiring stories from across Turtle Island, as well as our usual round up of funding opportunities for you to check out. Stay well, everyone!
---
In Our Blog
How to Structure an Effective Lands and Consultation Department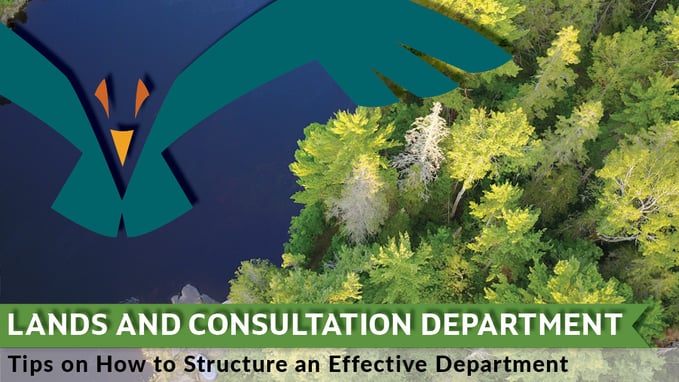 In the first post of our Lands and Consultation Department series, we talked about how having a dedicated department—however small—makes it easier to engage with proponents, the Crown, and your community to understand how a proposed project will impact your Rights and interests, and to respond effectively to further your Nation's goals. In today's post, we look more closely at how a strong department can be structured—based on clear definitions of the roles and responsibilities of the team.
"The roles within the Lands Office should reflect the priorities of the communities." —Mark MacDougall, Regulatory and Research Consultant, SVS
This is just the second post in our exciting new eBook - Built to Last A Lands and Consultation Department Guidebook. Download the full eBook below!
Special Announcement
The Indigenous Centre for Cumulative Effects (ICCE) is continuing the National Needs Assessment and the next phase is the Regional Dialogue sessions!
What is the National Needs Assessment?
The objectives of the Needs Assessment are to:
Support Indigenous communities nation-wide in understanding and addressing cumulative effects within their jurisdictions and territories; and,
Improve the ability of ICCE to provide tools and supports to help address the needs of Indigenous communities nation-wide as it relates to cumulative effects considerations.
What are the Regional Dialogue sessions?
The Regional Dialogue sessions are the second phase of the Needs Assessment.
The goal of the Regional Dialogue sessions are to bring together Indigenous communities and organizations to discuss cumulative effects and the supports they need to address them.
The sessions will take place in person, in locations across the country.
Are you interested in participating? Fill out our survey of interest! Please note, spots are limited. Compensation for travel will be available: https://www.surveymonkey.com/r/7WKJRYZ
Indigenous Funding Programs
Here are some opportunities to check out:
Indigenous Community-Based Climate Monitoring Program - south of 60
The Indigenous Community-Based Climate Monitoring Program at Crown-Indigenous Relations and Northern Affairs Canada (CIRNAC) is now accepting Expression of Interest applications from First Nations:
Who:

First Nation band councils, tribal councils and associations, and governments of self-governing First Nation communities in Canada are eligible to apply.
What:

The Indigenous Community-Based Climate Monitoring Program at CIRNAC is currently accepting Expressions of Interest for community-based climate monitoring projects:

The program has $2.3 million in funding available for April 1, 2021 to March 31, 2022 for First Nations projects and $2.6 million in subsequent years.
We anticipate funding approximately 20 First Nations projects per year.
Applicants can apply for up to three years of funding.
There are two streams of funding, "Emerging" and "Experienced", so that applicants with a range of experience levels have the opportunity to receive funding.

When:

Applications are for projects that would begin in the 2021 to 2022 fiscal year (April 1, 2021 to March 31, 2022). The deadline to apply is

Friday, September 23, 2022 at 11:59 pm Pacific Time.
CCAB Indigenous Business Grant 2022
The application deadline for the Indigenous Business Grant 2022 has been extended to July 29, 2022.
Applicants can apply to one of two levels:
Level 1: $2,500 grant + CCAB membership – 50 grants are awarded in a live draw.
Level 2: $10,000 grant ($5,000 per year for two years) + CCAB membership – a commitment to be on an advisory panel for the duration of the grant. Completed applications are reviewed by a jury and 25 grants are awarded.
10-Year Grant Eligibility Pathways | First Nations Financial Management Board
This grant aims to provide First Nations with more flexible and predictable funding, as well as a reduce amount of reporting.
First Nations Drinking Water Settlement Open for Claims From Communities and Individuals
After a years-long fight for clean drinking water, Indigenous communities and individuals in Canada are a step closer to receiving money from a class-action lawsuit that was settled with the federal government for $8 billion last year. The claims process under the settlement opened up to submissions on Monday. Indigenous communities now have until Dec. 22 to file their claims, while individuals have until March 7, 2023.
Opportun

ities Round-up:
The Canadian Nuclear Safety Commission (CNSC) is offering participant funding to Indigenous Nations and communities, members of the public, and stakeholders. The funding is to assist in reviewing CNSC staff's update on the discovery of elevated hydrogen equivalent concentration (Heq) in the pressure tubes of reactors in extended operation – and in submitting comments in writing to the Commission. Deadline is July 29, 2022.
AFN Climate Gathering call for sessions. Submit a session presentation proposal for the Assembly of First Nations (AFN) National Climate Gathering, taking place at the Fredericton Convention Centre September 27 to 29, 2022 in Fredericton,
New Brunswick. Deadline is July 29, 2022.

Grants available for Emergency Response and Recovery for small Indigenous businesses and entrepreneurs in Central Interior BC. The program is to provide a monetary contribution to assist clients, Indigenous owned businesses, entrepreneurs, and First Nation Communities who have experienced business disruption and financial loss due to the 2021 BC Floods. Applications will be accepted until the BC Emergent Response and Recovery Grant fund is fully allocated.

AB government grant call for Indigenous businesses. Eligible businesses can apply for up to $500,000 in capital funding for ventures that improve socio-economic outcomes for their communities. ABIF supports projects that increase employment opportunities and local revenue streams for Indigenous communities. Communities must own and control 51 per cent or more of the proposed business or joint venture to be eligible. Eligible projects should be close to starting operations or breaking ground within the fiscal year following funding.

The closing date for applications is September 30.

Indigenous Services Canada's First Nations Environmental Contaminants Program (FNECP) is helping First Nations improve their health and wellbeing by supporting their capacity to identify, investigate and characterize the potential impact of exposure to environmental hazards on their health and environment through community-based research, monitoring, risk assessment and risk communication.

Proposals must be submitted by October 21, 2022

Participant funding for CNSC staff update on the discovery of elevated hydrogen equivalent concentration in the pressure tubes of reactors in extended operation - Canadian Nuclear Safety Commission. The Government of Canada is seeking comments from the public and Indigenous groups on proposed amendments to Schedule 2 of the Metal and Diamond Mining Effluent Regulations and the potential application of the Streamlining the Approvals Process for Metal Mines with Tailings Impoundment Areas for the West Detour Project. Consultations start on June 22, 2022 and will end on August 03, 2022.

The Blue Mountains resort is putting out a call or artist submissions as part of an installation to elevate Indigenous voices. The resort has set aside a large, open area at the top of the mountain where the work will be visible year-round.

All submissions will be reviewed by a panel including people from Blue Mountain leadership and employees, residents, and people from the Indigenous community.

Lovell says the selected artist or artist group will be given $5,000 and commission for the work, and infrastructure will be built in collaboration with the artist to ensure people can view the work all year.

CRTC Public Consultation – Telecommunications in the North. The CRTC is seeking public comment from stakeholders in Northwest Territories, Nunavut and Yukon, communities in northern British Columbia, and Fort Fitzgerald, Alberta, regarding possible improvements to connectivity. The CRTC is welcoming comment until October 6th 2022.

Clean energy in Indigenous, rural and remote communities. Environment and Climate Change Canada has announced an additional $300 million for clean energy projects. This funding supports projects that help advance Indigenous-led climate action, support local economic development and create skilled jobs while reducing pollution and improving air quality.

Pathways to Safe Indigenous Communities. The Government of Canada is providing $103.8 million over 5 years to assist First Nations, Métis, and Inuit communities with implementing and developing Indigenous-designed community safety projects. There are several activities eligible for this funding, including initiatives that recognize the importance of traditional knowledge and practices in community safety and well-being.
---
In The News
Countdown on to North American Indigenous Games in Halifax|CBC
The year-long countdown is on for Halifax to host the North American Indigenous Games, and while it is one of the biggest multi-sport events in Atlantic Canada, organizers also see it as another step toward reconciliation.
Saskatoon group formed to address Cree language crisis|Eagle Feather News
Milton Tootoosis has a very clear and direct impression on the state of Cree language in Saskatchewan. "We are in a crisis," he said. Tootoosis, member of Poundmaker Cree Nation and the Chief Economic Reconciliation Officer at the Saskatoon Regional Economic Development Authority (SREDA), decided to do something about it and applied for a project grant through Heritage Canada. To his surprise, in December, Tootoosis was notified his proposal had been approved.
B.C. and First Nation reach first 'consent-based' agreement on mining project|Vancouver Sun
The deal is the first in Canada made according to the UN Declaration on the Rights of Indigenous Peoples, said B.C.'s minister of Indigenous relations and reconciliation.
---
SVS eBooks for Download: Collect them all!
Check out our collection of informative eBooks that are available for free download:
Protecting What Matters: Environmental Monitoring Ideas Bundle for Indigenous Nations

Channeling the Wisdom of Indigenous Knowledge

Pandemic-Inspired Research Innovations

I

ndigenous Planning Cheat Sheet

Indigenous Business and the Resource Sector

Indigenous Planning Starter Kit

Indigenous Guardians and Development
---
SVS News
Meet Jessica Keeshig-Martin
Introducing on of our newest team members, Jessica Keeshig-Martin, who joins SVS as a senior regulatory specialist and project director. Jessica is motivated by the Indigenous Peoples' movement toward self-determination. Her goal is to make contributions to this journey through the roles she takes on in her personal and professional ventures. She is deeply connected to the Nation, lands, and waters of her Anishnaabe ancestry and is always mindful of those that are yet to come.
Reconciliation Circle Update
SVS's Reconciliation Circle was born out of our commitment to the TRC Calls to Action. As a company, Call to Action #92 is a place we can directly put our efforts. We see it as a place we can influence the culture and operations within our company and hopefully influence other companies with our examples. We are a team of Indigenous and non-Indigenous professionals who have seen and learned much on our journeys – and acknowledge that we have so much more to learn and to know.

Reconciliation BINGO
This summer, we urge everyone to join us on the path to reconciliation by attempting to fill this year's edition of Reconciliation BINGO. If you're looking to check off a square on your Reconciliation Bingo card, we've got you covered!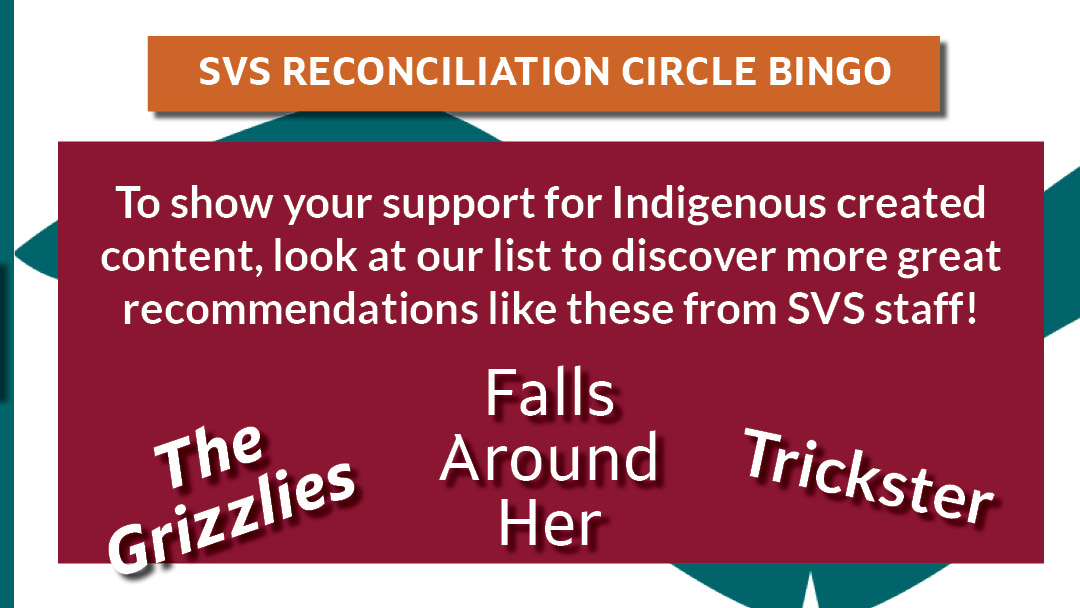 Here's a list of TV series, movies, documentaries, (and one video game) recommended by our amazing and knowledgeable SVS Staff!

JASON: Atanarjuat The Fast Runner, Rhymes for Young Ghouls, Falls Around Her, and Before Tomorrow. Movies available on Netflix.

JESSICA: The Grizzlies. Great movie available on Netflix. Documentaries directed by Alanis Obomasawin, found here: https://www.nfb.ca/directors/alanis-obomsawin/

KATIE: Mohawk Girls, available on the APTN website and Clearcut, a movie available here: https://www.youtube.com/watch?v=K6I47uznvvs

WENDY: Trickster, and Moosemeat & Marmalade. Both available on CBC.https://www.cbc.ca/trickster/ http://moosemeatandmarmalade.com/

SHAZAD: Assassin's Creed III by Ubisoft (Mohawk language and culture is well researched and integrated into the game!) The movie Rumble: The Indians Who Rocked the World. Available on Prime video.
Like what you're reading? Want to receive it in your inbox every two weeks?
---
We are a Canadian B Corp, and we assist Indigenous Nations with support throughout regulatory processes surrounding major development projects like mines, hydroelectric facilities, transmission lines, highway expansions, oil and gas pipelines, natural resource transport applications and nuclear power.
We have deep context and experience behind the recommendations we provide, having worked for our clients on almost every major project in Canada over the last 10 years. For us, it's all about building long-term relationships with our clients. We want to get to know you and what you want to do so we can help you move your plans forward.
Core Services:

Impact Benefit Agreement Negotiation Support

Technical Reviews and Regulatory Process Support

Community and Economic Development Planning

Indigenous Knowledge and Land Use Studies

Environmental Monitoring

Guardians Program Development

Climate Change Readiness

GIS and Mapping

and a whole lot more...www.sharedvaluesolutions.com