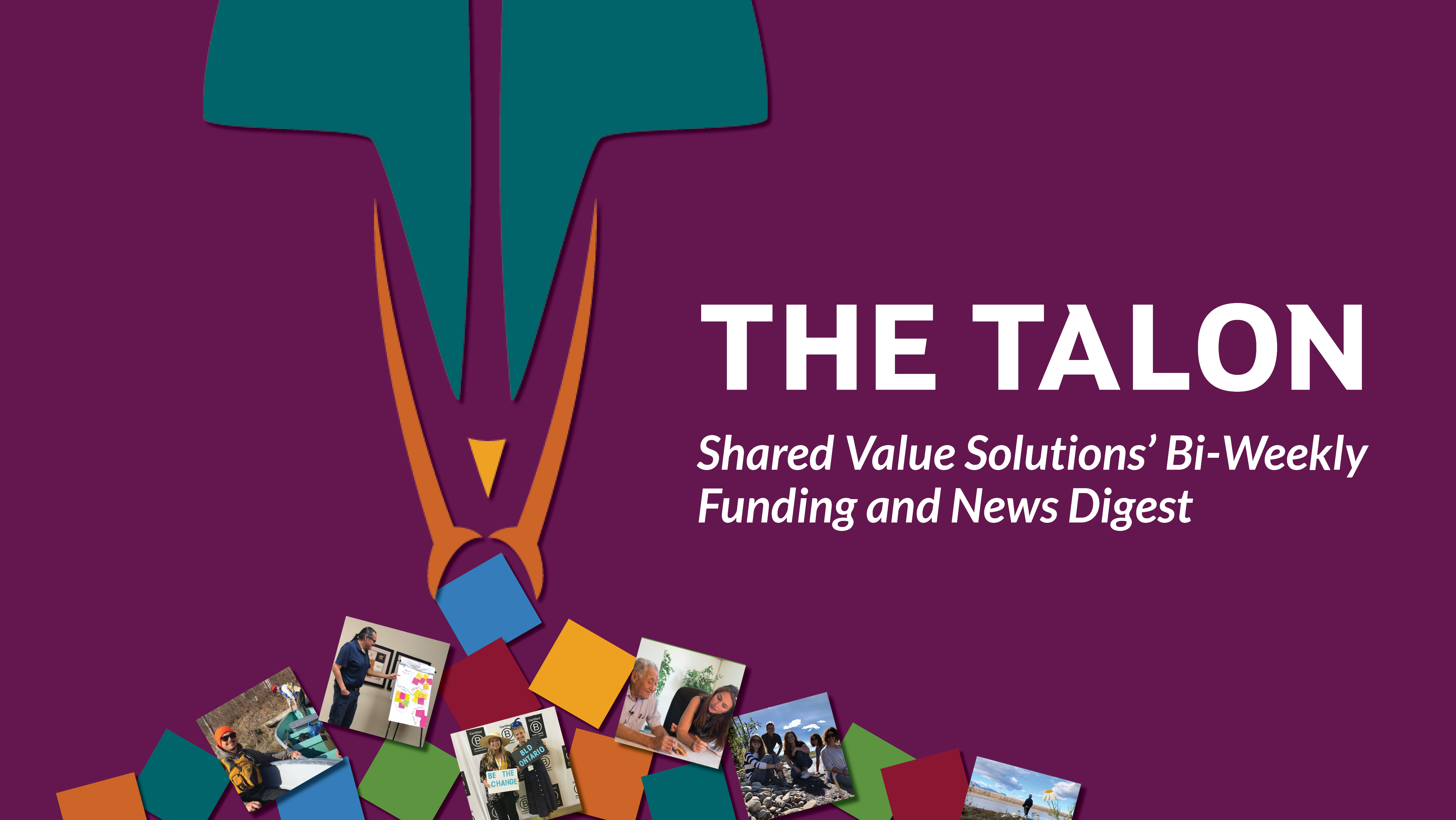 Welcome to Shared Value Solutions funding and news digest. We hope it finds you well.
In this issue, we bring you an interview with the inspiring Chief Christine Minnabarriet of Cook's Ferry Indian Band for the final post in our Lands and Consultation Department series, as well as the link to the free eBook on the topic. Also included is an article by SVS's Mitchell Avis about the Indigenous Hockey Equipment Drive, which supports Indigenous youth through sport. As always, we share inspiring stories from across Turtle Island, as well as our usual round up of current funding opportunities for you to check out. Stay well, everyone!
---
In Our Blog
Outsourcing Your Lands and Consultation Department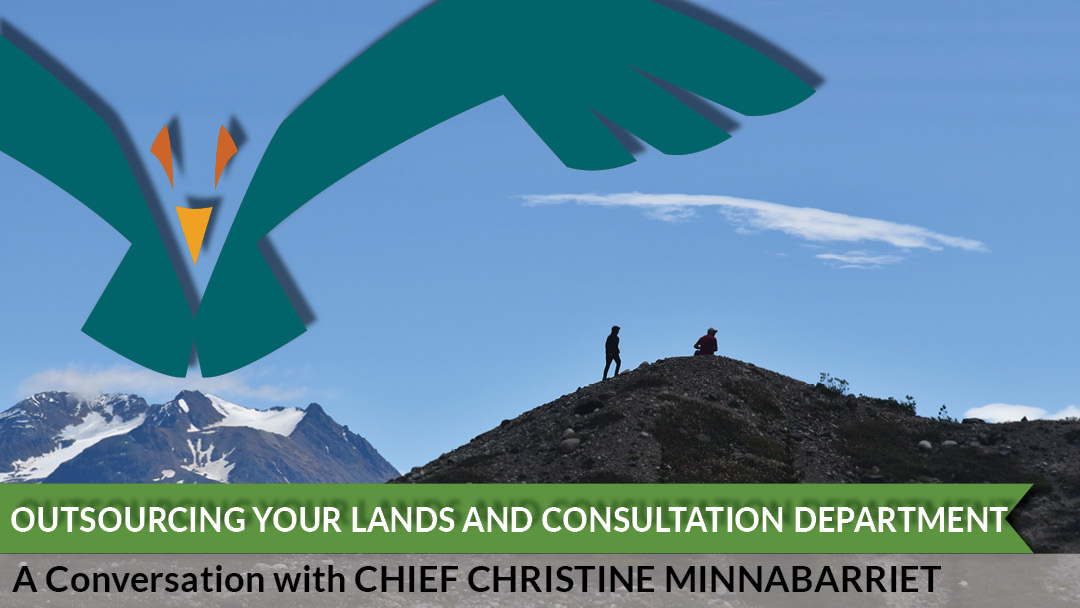 In this last blog post from our Lands and Consultation Department series, we feature an in depth conversation with the inspiring Chief Christine Minnabarriet from the Cook's Ferry Indian Band. Chief Minnabarriet speaks of what led to the decision to outsource their Lands Department, the benefits of that choice, and her vision for the future.


"We now have a voice. We're starting to be heard again, whereas we were really kind of silenced. We were overwhelmed by the volume of referrals and frustrated that everything was happening around us.… Even though we're using a consultant, we've got a member employed as the Lands Office Coordinator who is very knowledgeable as well." — Chief Christine Minnabarriet, The Cook's Ferry Indian Band

The above post is included in our FREE info packed eBook - Built to Last: A Lands and Consultation Department Guidebook. Download below!
Do you love hockey? Do you believe in the power of sport?
Here's a fun way to support Indigenous youth's involvement in hockey, along with SVS's own Mitch Avis who recently participated in a bike ride for the cause. This campaign is near and dear to Mitch's heart as he explains in our blog post.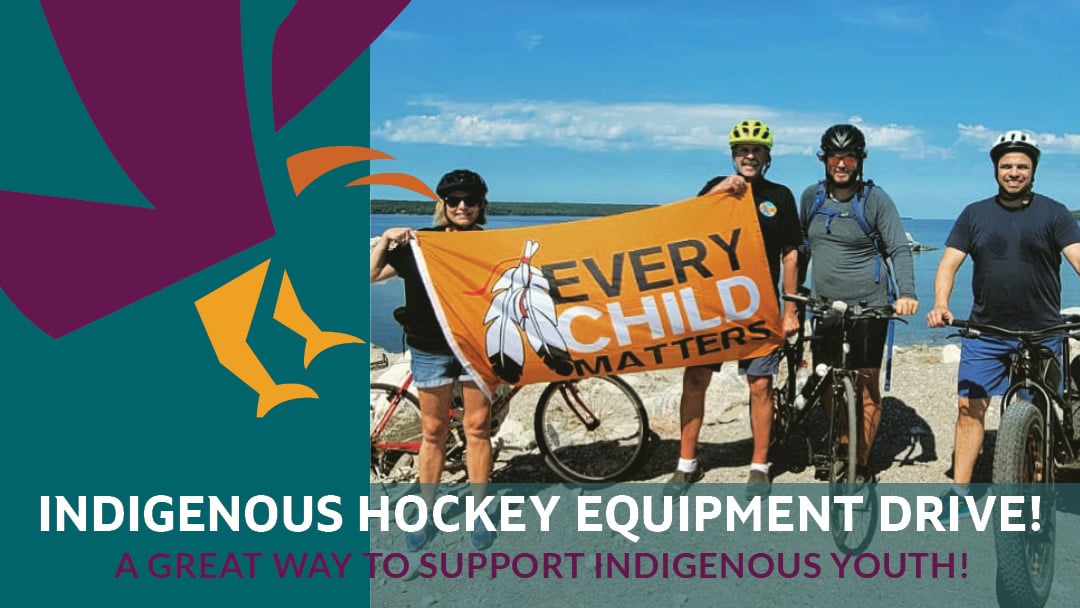 ---
Special Announcement
CLIMATE CHANGE FUNDING AVAILABLE- APPLICATIONS DUE!
Funding is available to address the impacts of Climate Change in your Community and Nation. See the list below and please reach out to Jessica Ward or Gregory John with questions or if you need any assistance!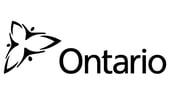 ICYMI: On September 7th and 8th we hosted free Climate Change Funding webinars.
INDIGENOUS NATIONS in Ontario: Click here for access to our presentation which includes the funding information.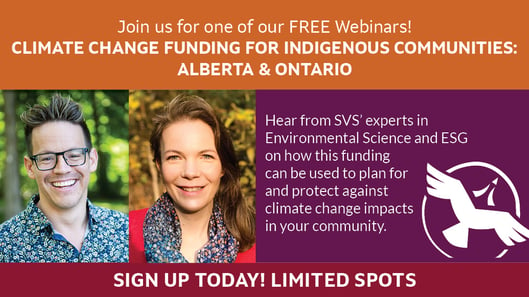 Indigenous Funding Programs
Yukoners affected by 2022 flooding can apply for flood relief
The Government of Yukon launched the 2022 Flood Relief program to help residents pay for damages to their property and possessions caused by this year's flooding. Residents from the following locations can apply to the 2022 Flood Relief Program: Carmacks, Cowley Creek, Dawson, Fox Lake, Ibex Valley, Lake Laberge, Liard, McConnell Lake, Old Crow, Pelly Crossing, Ross River, Tagish and Teslin.
Eligible Yukoners can access funding through three streams:
Stream one: grant funding to help repair a principal residence. An eligible household can access up to a maximum of $35,000.
Stream two: a loan to repair your existing principal and secondary residence, outbuildings and some flood mitigation measures related to building structure systems. An eligible residence can access up to a maximum of $50,000.
Stream three: grant funding to replace personal possessions for principal resident owners and tenants. An eligible household can access up to a maximum of $6,000.
The application form and program information are available at local Yukon Housing Corporation offices and at Yukon.ca.
The deadline for applications is November 25, 2022, at 4:30 pm.
Indigenous Community-Based Climate Monitoring Program - South of 60
The Indigenous Community-Based Climate Monitoring Program at Crown-Indigenous Relations and Northern Affairs Canada (CIRNAC) is now accepting Expression of Interest applications from First Nations:
Who:

First Nation band councils, tribal councils and associations, and governments of self-governing First Nation communities in Canada are eligible to apply.
What:

The Indigenous Community-Based Climate Monitoring Program at CIRNAC is currently accepting Expressions of Interest for community-based climate monitoring projects:

The program has $2.3 million in funding available for April 1, 2021 to March 31, 2022 for First Nations projects and $2.6 million in subsequent years.
We anticipate funding approximately 20 First Nations projects per year.
Applicants can apply for up to three years of funding.
There are two streams of funding, "Emerging" and "Experienced", so that applicants with a range of experience levels have the opportunity to receive funding.

When:

Applications are for projects that would begin in the 2021 to 2022 fiscal year (April 1, 2021 to March 31, 2022). The deadline to apply is

Friday, September 23, 2022 at 11:59 pm Pacific Time.
10-Year Grant Eligibility Pathways | First Nations Financial Management Board
This grant aims to provide First Nations with more flexible and predictable funding, as well as a reduce amount of reporting.
First Nations Drinking Water Settlement Open for Claims From Communities and Individuals
After a years-long fight for clean drinking water, Indigenous communities and individuals in Canada are a step closer to receiving money from a class-action lawsuit that was settled with the federal government for $8 billion last year. The claims process under the settlement opened up to submissions on Monday. Indigenous communities now have until Dec. 22 to file their claims, while individuals have until March 7, 2023.
Manitoba Community Festivals and Events Program
The Community Festivals and Events program provides rural and northern communities with operating grants towards organizing a festival that takes place over a minimum of two days. These festivals must be recognized as the community's signature annual event and promote the understanding, awareness and appreciation of their heritage, culture and identity. The program supports events that encourage youth participation and leadership; reflect, celebrate, and profile the unique character of the community; foster a sense of identity and pride; and contribute to local tourism and economic activity.
---

Opportun

ities Round-up:
Grants available for Emergency Response and Recovery for small Indigenous businesses and entrepreneurs in Central Interior BC. The program is to provide a monetary contribution to assist clients, Indigenous owned businesses, entrepreneurs, and First Nation Communities who have experienced business disruption and financial loss due to the 2021 BC Floods. Applications will be accepted until the BC Emergent Response and Recovery Grant fund is fully allocated.

AB government grant call for Indigenous businesses. Eligible businesses can apply for up to $500,000 in capital funding for ventures that improve socio-economic outcomes for their communities. ABIF supports projects that increase employment opportunities and local revenue streams for Indigenous communities. Communities must own and control 51 per cent or more of the proposed business or joint venture to be eligible. Eligible projects should be close to starting operations or breaking ground within the fiscal year following funding.

The closing date for applications is September 30.

Indigenous Services Canada's First Nations Environmental Contaminants Program (FNECP) is helping First Nations improve their health and wellbeing by supporting their capacity to identify, investigate and characterize the potential impact of exposure to environmental hazards on their health and environment through community-based research, monitoring, risk assessment and risk communication.

Proposals must be submitted by October 21, 2022
CRTC Public Consultation – Telecommunications in the North. The CRTC is seeking public comment from stakeholders in Northwest Territories, Nunavut and Yukon, communities in northern British Columbia, and Fort Fitzgerald, Alberta, regarding possible improvements to connectivity. The CRTC is welcoming comment until October 6th 2022.

Clean energy in Indigenous, rural and remote communities. Environment and Climate Change Canada has announced an additional $300 million for clean energy projects. This funding supports projects that help advance Indigenous-led climate action, support local economic development and create skilled jobs while reducing pollution and improving air quality. There is no deadline to apply.

Pathways to Safe Indigenous Communities. The Government of Canada is providing $103.8 million over 5 years to assist First Nations, Métis, and Inuit communities with implementing and developing Indigenous-designed community safety projects. There are several activities eligible for this funding, including initiatives that recognize the importance of traditional knowledge and practices in community safety and well-being. There is no deadline for this funding.

Final Site Closure Allocation Includes $10 Million for Work in First Nations Communities (nationtalk.ca)

The Government of Saskatchewan is making an additional $10 million available under the First Nations Stewardship Fund within the Accelerated Site Closure Program (ASCP). This new funding builds on the $20M already committed in January of 2021 and will result in additional abandonment and reclamation activities at inactive oil and gas sites in First Nations communities. Now totaling $30 million, the commitment to the Stewardship Fund will address a significant portion of all inactive oil and gas sites on Reserve lands across the province.

In addition to the $10 million announced today for the Stewardship Fund, the ASCP has made $3.3 million available by application to eligible oil and gas producers. As a result, all $400 million in program funding is now available for allocation.

For more information, contact:

Jill Stroeder

Energy and Resources

Phone: 306-787-6315

Email: Jill.stroeder@gov.sk.ca

Assistance to be Offered to Residents of Mud Lake for Relocation (nationtalk.ca)

Assistance is being extended as a result of previous and potential flooding events which have been an ongoing concern for some residents. The decision to relocate or remain in the community will be up to each household. The amount of financial assistance payable to Permanent Residential Property Owners will be determined by the number of Permanent Residents living in the household.

Residents who wish to avail of relocation assistance, can contact Jacob Kimball, Manager of Legislation, at jacobkimball@gov.nl.ca or 709-729-5473 for further information.
---
In The News
In this issue of the Talon, we have chosen to leave the News section empty other than to acknowledge the deaths that occurred in James Smith Cree Nation and Weldon, Saskatchewan on September 4th. Our hearts go out to all the families and loved ones impacted by this immense tragedy.
---
SVS eBooks for Download: Collect them all!
Check out our collection of informative eBooks that are available for free download:
Protecting What Matters: Environmental Monitoring Ideas Bundle for Indigenous Nations

Channeling the Wisdom of Indigenous Knowledge

Pandemic-Inspired Research Innovations

I

ndigenous Planning Cheat Sheet

Indigenous Business and the Resource Sector

Indigenous Planning Starter Kit

Indigenous Guardians and Development

GIS Intro Guide: Harnessing the Power of Maps

A Lands and Consultation Department Guidebook

Planning Starter Kit
---
SVS News
Indigenous Centre for Cumulative Effects (ICCE) National Needs Assessment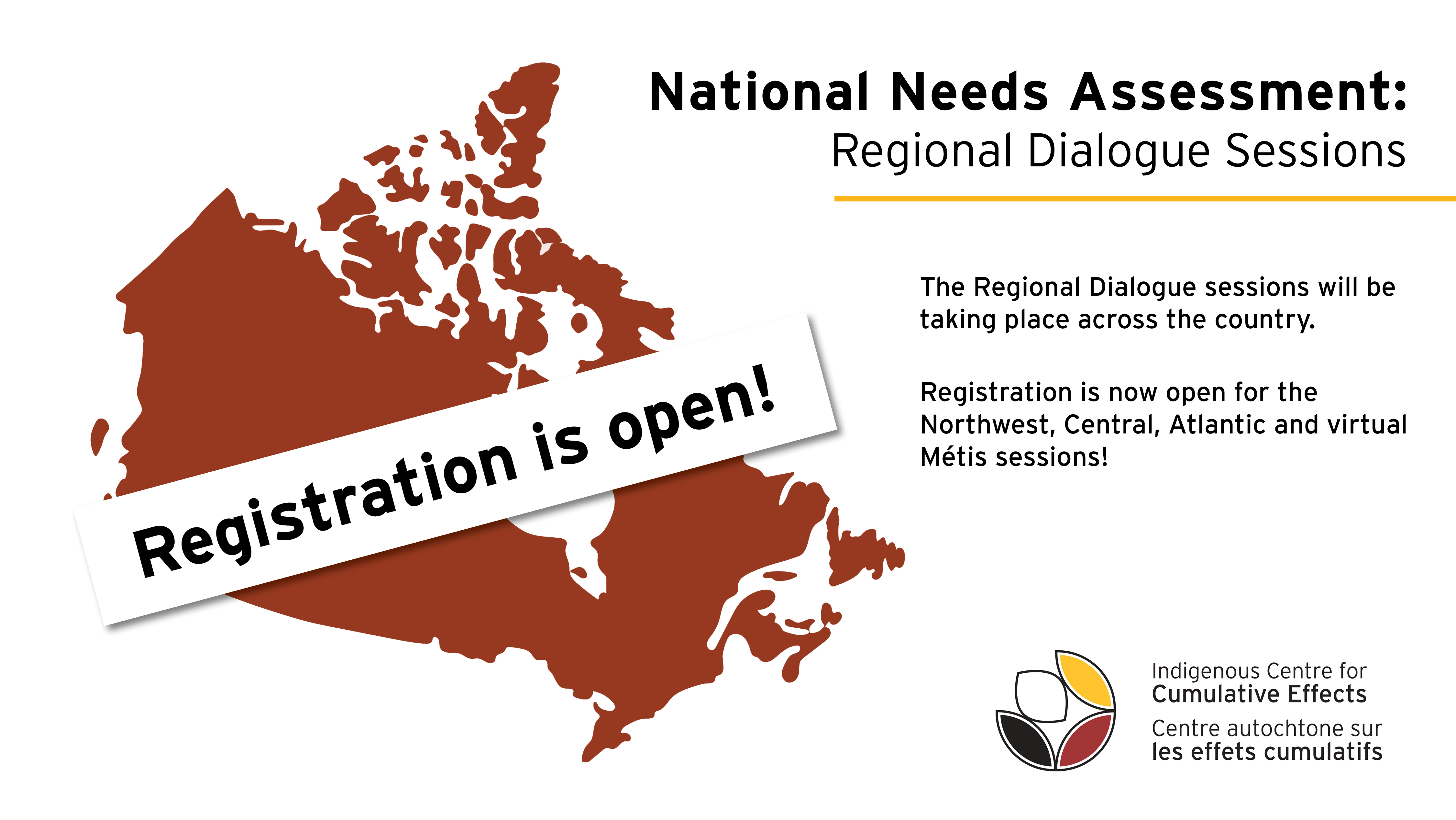 Open to Indigenous community members or those who work with Indigenous Nations, these sessions are a great opportunity to network and share ideas across organizations, and build relationships with other communities engaged in cumulative effects work. Your participation will also help guide the ICCE's future mandate to better suit your needs.
ICCE is reimbursing travel and accommodation costs for one person per Nation/community and spots are limited.
What is ICCE?
The Indigenous Centre for Cumulative Effects, or ICCE, is a non-political organization that supports Indigenous communities to do cumulative effects work. The ICCE mission is to create networks, and develop and share knowledge to empower community-based approaches to culturally-relevant cumulative effects assessment, monitoring and management to support Indigenous well-being and decision-making. ICCE is independently operated by Indigenous people.
What is the National Needs Assessment?
The goals of the Needs Assessment are to better understand the current state of cumulative effects assessment, management and monitoring in Indigenous communities. Learn more about the Needs Assessment here: https://www.icce-caec.ca/regional-dialogue-sessions-are-open-for-registration/
What is a Regional Dialogue session?
Each session is discussion-based. The facilitators will pose questions to delegates about their experience and work in and around cumulative effects. Delegates will be broken up into small table groups and discuss amongst their group, and then share with the whole room. The discussion will be broken down into different themes, such as resources needed to engage in cumulative effects work. Groups will be organized by geography to stimulate conversation specific to the territory you know.
The Regional Dialogue sessions will take place in the following locations:
Please note, interested participants can register for any of the above sessions. Métis citizens may also register for an in-person session. We recommend participating in the session that most reflects your geography.
ICCE has retained the services of Shared Value Solutions to conduct the needs assessment on its behalf.
Frequently Asked Questions:
What if more than one person from my Nation/community wants to attend the session?
Multiple people from a Nation/community are allowed to register for the sessions. However, at this time, ICCE can only reimburse travel and accommodations costs for one person. If, at a time closer to the session, our registration capacity has not been met, additional delegates may be considered for reimbursement. Please email info@icce-caec.ca with any enquiries.
Can anyone attend a session?
These sessions are intended for Indigenous community members or those who work with Indigenous Nations and are engaging in cumulative effects work. These sessions will provide ICCE with information on how to better support Indigenous communities with their cumulative effects work and in facing cumulative effects. If you do not belong in either of these categories but wish to register, please email info@icce-caec.ca.
How do I register?
Click on the Eventbrite link corresponding to the session you wish to attend or visit the events page on ICCE's website: https://www.icce-caec.ca/events/
---
Ontario First Nations Economic Developers Association (OFNEDA) Conference
Our team had a fantastic time at the OFNEDA conference in Rama, Ontario. Our team loved connecting with clients & friends, and representing SVS!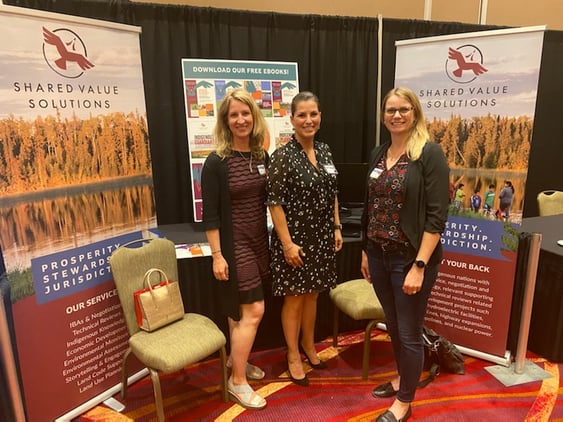 SVS's Laura Sayers and Laura Taylor pictured here with Karen Bird of RBC.
Another inspiring #womencrushwednesday article featuring SVS's own Robin Heavens!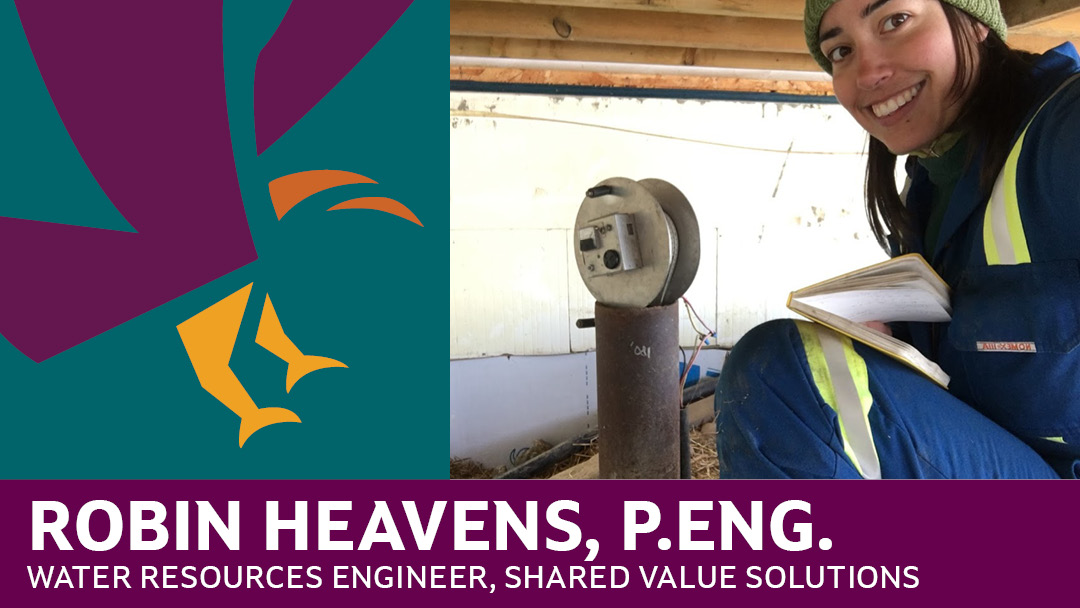 "When I was a child, my Mother and I would spend hours together making regalia. I grew up dancing at powwows in the fancy dancer's regalia we made together. She instilled on me from a young age that water is living and traditionally spoken for by women. I have always felt a deep responsibility to protect our water and ancestral lands."
For August's #womencrushwednesday article, we revisited a post from our archives about SVS's own Robin Heavens. We profiled the wonderful Robin back in May 2021, since then, Robin has successfully obtained her Professional Engineering designation which has added a whole new set of services that we are able to offer here at SVS. Robin's specialty is in environmental fluid mechanics-contaminant hydrology. She is ready to help out with any water quality concerns you may have!
Click here to hear her whole story!
We're Hiring!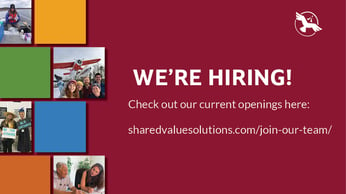 We are always looking for people who are dynamic, entrepreneurial, exhibit strong leadership, take responsibility for their actions, have good judgement, are hard workers, love collaborating with a team, care deeply about the environment and the wellbeing of society, fill a niche related to environmental and regulatory processes, and, of course, know how to have fun!
---
Like what you're reading? Want to receive it in your inbox every two weeks?
---
We are a Canadian B Corp, and we assist Indigenous Nations with support throughout regulatory processes surrounding major development projects like mines, hydroelectric facilities, transmission lines, highway expansions, oil and gas pipelines, natural resource transport applications and nuclear power.
We have deep context and experience behind the recommendations we provide, having worked for our clients on almost every major project in Canada over the last 10 years. For us, it's all about building long-term relationships with our clients. We want to get to know you and what you want to do so we can help you move your plans forward.
Core Services:

Impact Benefit Agreement Negotiation Support

Technical Reviews and Regulatory Process Support

Community and Economic Development Planning

Indigenous Knowledge and Land Use Studies

Environmental Monitoring

Guardians Program Development

Climate Change Readiness

GIS and Mapping

and a whole lot more...www.sharedvaluesolutions.com