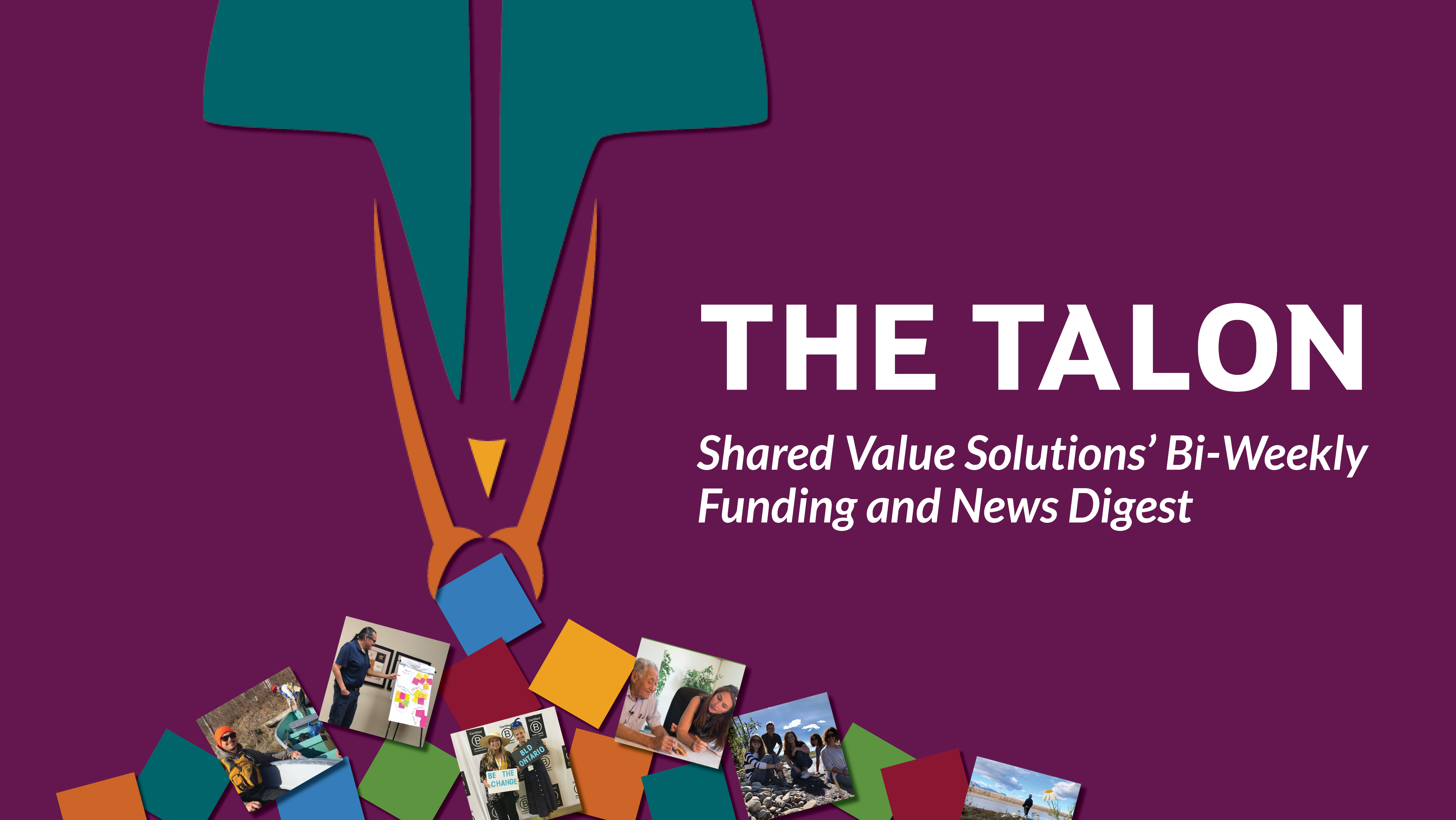 Welcome to Shared Value Solutions funding and news digest. We hope it finds you well.
Happy fall everyone! LAST CHANCE to sign up for an all-expenses paid trip to participate in a Regional Dialogue session, hosted along with the ICCE (Indigenous Centre for Cumulative Effects). These sessions give participants the opportunity to participate in networking groups and facilitated conversations to better understand the current state of cumulative effects assessment, management and monitoring in Indigenous communities. See below for more information- only 2 sessions left.
Also in this issue, we present 2 new funding streams available to Indigenous Communities and Nations for Indigenous-Led Area-Based Conservation and the Aboriginal Fund for Species at Risk- see below for more information! As always, we share inspiring stories from across Turtle Island, as well as our usual round up of current funding opportunities for you to check out. Stay well, everyone!
---
Last chance to sign up!
Indigenous Centre for Cumulative Effects (ICCE) National Needs Assessment  
The following are the remaining sessions available to attend:
Open to Indigenous community members or those who work with Indigenous Nations, these sessions are a great opportunity to network and share ideas across organizations and build relationships with other communities engaged in cumulative effects work. Your participation will also help guide the ICCE's future mandate to better suit your needs.
ICCE is reimbursing travel and accommodation costs for one person per Nation/community and spots are limited.
What is the National Needs Assessment?
The goals of the Needs Assessment are to better understand the current state of cumulative effects assessment, management and monitoring in Indigenous communities. Learn more about the Needs Assessment here: https://www.icce-caec.ca/regional-dialogue-sessions-are-open-for-registration/
What is a Regional Dialogue session?
Each session is discussion-based. The facilitators will pose questions to delegates about their experience and work in and around cumulative effects. Delegates will be broken up into small table groups and discuss amongst their group, and then share with the whole room. The discussion will be broken down into different themes, such as resources needed to engage in cumulative effects work. Groups will be organized by geography to stimulate conversation specific to the territory you know.

---
Indigenous Funding Programs
Indigenous Services Canada supporting First Nations recovery from Hurricane Fiona as part of federal government response
$4 million has been made immediately available through the Emergency Management Assistance Program (EMAP) to address recovery efforts and various needs and expenses identified by First Nations communities.
Read more.
Call for Expression of Interest for Indigenous-Led Area-Based Conservation funding in September 2022 for 2023-2024 to 2024-2026
Environment and Climate Change Canada is excited to announce the launch of a call for Expressions of Interest for Indigenous-Led Area-Based Conservation.
Funding will support the establishment of Indigenous-Led protected areas and recognition of Indigenous-Led other effective area-based conservation measures. Projects will contribute to the conservation of Canada's lands and inland waters for future generations.
Funds will be available starting in late summer/early fall of 2023. Indigenous Peoples are invited to submit their proposal for consideration.
The open call for Expression of Interest launches on Thursday September 22nd, 2022 and will close on November 14th, 2022. This will be the only opportunity to submit proposals to an open call for Indigenous-Led Area-Based conservation projects, under Enhanced Nature Legacy.

Funding will be available starting in late summer/early fall of 2023 and must be spent by March 31, 2026.

Information on the funding and application process can be found in the Applicant Guide and the Frequently Asked Questions. As well, ECCC will host information sessions on the available funding and application process in October 2022.

ECCC anticipates a high volume of applications and a competitive selection process.
How to submit an expression of interest
The expression of interest package will be available as of September 22nd, and can be requested by email to CZMA-ILABC@ec.gc.ca.
The completed Expression of Interest application form and supporting documents must be submitted no later than Monday, November 14th, 2022 (23:59 PST) by email to CZMA-ILABC@ec.gc.ca. Late submissions will not be accepted.
Questions? Need more information?
Aboriginal Participation Fund:
The Aboriginal Participation Fund was developed to help support Indigenous communities and organizations participate in:
regulatory processes under the

Mining Act
economic development activities associated with mineral exploration and development
https://www.ontario.ca/page/available-funding-opportunities-ontario-government#section-1

Nation Rebuilding:
Indigenous groups are seeking to rebuild their nations in a manner that responds to their priorities and the unique needs of their communities.
Through Budget 2018, funding has been made available for 5 years starting in fiscal year 2018 to 2019, to support activities that would facilitate Indigenous communities' own path to reconstituting their nations.
https://www.rcaanc-cirnac.gc.ca/eng/1530880050808/1530880135933

BC Capacity Initiative:
The BC Capacity Initiative (BCCI) funds projects that enhance First Nations capacities and readiness to negotiate treaties, agreements and other constructive arrangements relating to Section 35 rights. Applicants must show how the proposed activities align with their overall plan for self-determination.
To be eligible for funding you must represent a First Nations group such as a band, tribal council, or an incorporated organization representing First Nations.
http://www.bccapacity.org/default.aspx
2023-2024 Aboriginal Fund for Species at Risk (AFSAR) and 2023-2024 Habitat Stewardship Program (HSP) Call for Proposals.
The application period for projects commencing in 2023-2024 is now open and will close on November 15th, 2022 at noon Pacific Standard Time.
AFSAR provides funding to support projects that increase the capacity of Indigenous organizations and communities to participate in the recovery of species at risk and in the protection of their habitat, and in preventing other species from becoming a conservation concern. For information on AFSAR, visit https://www.canada.ca/en/environment-climate-change/services/environmental-funding/programs/aboriginal-fund-species-risk.html
HSP provides funding to help Canadians contribute directly to the recovery objectives and population goals of species at risk listed on Schedule 1 of the Species at Risk Act (SARA) and to prevent others from becoming a conservation concern. For information on HSP, visit https://www.canada.ca/en/environment-climate-change/services/environmental-funding/programs/habitat-stewardship-species-at-risk.html
Hydro One Indigenous Entrepreneurship Grant in partnership with Canadian Council for Aboriginal Business
Hydro One and Canadian Council for Aboriginal Business (CCAB) opened applications for the Hydro One Indigenous Entrepreneurship Grant in support of Indigenous-owned businesses across Ontario that are energizing life in their communities. Read more.
Yukoners affected by 2022 flooding can apply for flood relief
The Government of Yukon launched the 2022 Flood Relief program to help residents pay for damages to their property and possessions caused by this year's flooding. Residents from the following locations can apply to the 2022 Flood Relief Program: Carmacks, Cowley Creek, Dawson, Fox Lake, Ibex Valley, Lake Laberge, Liard, McConnell Lake, Old Crow, Pelly Crossing, Ross River, Tagish and Teslin.
Eligible Yukoners can access funding through three streams:
Stream one: grant funding to help repair a principal residence. An eligible household can access up to a maximum of $35,000.
Stream two: a loan to repair your existing principal and secondary residence, outbuildings and some flood mitigation measures related to building structure systems. An eligible residence can access up to a maximum of $50,000.
Stream three: grant funding to replace personal possessions for principal resident owners and tenants. An eligible household can access up to a maximum of $6,000.
The application form and program information are available at local Yukon Housing Corporation offices and at Yukon.ca.
The deadline for applications is November 25, 2022, at 4:30 pm.
First Nations Drinking Water Settlement Open for Claims from Communities and Individuals
After a years-long fight for clean drinking water, Indigenous communities and individuals in Canada are a step closer to receiving money from a class-action lawsuit that was settled with the federal government for $8 billion last year. The claims process under the settlement opened up to submissions on Monday. Indigenous communities now have until Dec. 22 to file their claims, while individuals have until March 7, 2023.
---

Opportun

ities Round-up:
Grants available for Emergency Response and Recovery for small Indigenous businesses and entrepreneurs in Central Interior BC. The program is to provide a monetary contribution to assist clients, Indigenous owned businesses, entrepreneurs, and First Nation Communities who have experienced business disruption and financial loss due to the 2021 BC Floods. Applications will be accepted until the BC Emergent Response and Recovery Grant fund is fully allocated.

Indigenous Services Canada's First Nations Environmental Contaminants Program (FNECP) is helping First Nations improve their health and wellbeing by supporting their capacity to identify, investigate and characterize the potential impact of exposure to environmental hazards on their health and environment through community-based research, monitoring, risk assessment and risk communication.

Proposals must be submitted by October 21, 2022
Clean energy in Indigenous, rural and remote communities. Environment and Climate Change Canada has announced an additional $300 million for clean energy projects. This funding supports projects that help advance Indigenous-led climate action, support local economic development and create skilled jobs while reducing pollution and improving air quality. There is no deadline to apply.

Pathways to Safe Indigenous Communities. The Government of Canada is providing $103.8 million over 5 years to assist First Nations, Métis, and Inuit communities with implementing and developing Indigenous-designed community safety projects. There are several activities eligible for this funding, including initiatives that recognize the importance of traditional knowledge and practices in community safety and well-being. There is no deadline for this funding.

Assistance to be Offered to Residents of Mud Lake for Relocation (nationtalk.ca)

Assistance is being extended as a result of previous and potential flooding events which have been an ongoing concern for some residents. The decision to relocate or remain in the community will be up to each household. The amount of financial assistance payable to Permanent Residential Property Owners will be determined by the number of Permanent Residents living in the household.

Residents who wish to avail of relocation assistance, can contact Jacob Kimball, Manager of Legislation, at jacobkimball@gov.nl.ca or 709-729-5473 for further information.

Manitoba Community Festivals and Events Program

The Community Festivals and Events program provides rural and northern communities with operating grants towards organizing a festival that takes place over a minimum of two days. These festivals must be recognized as the community's signature annual event and promote the understanding, awareness and appreciation of their heritage, culture and identity. The program supports events that encourage youth participation and leadership; reflect, celebrate, and profile the unique character of the community; foster a sense of identity and pride; and contribute to local tourism and economic activity.
---
Reconciliation Circle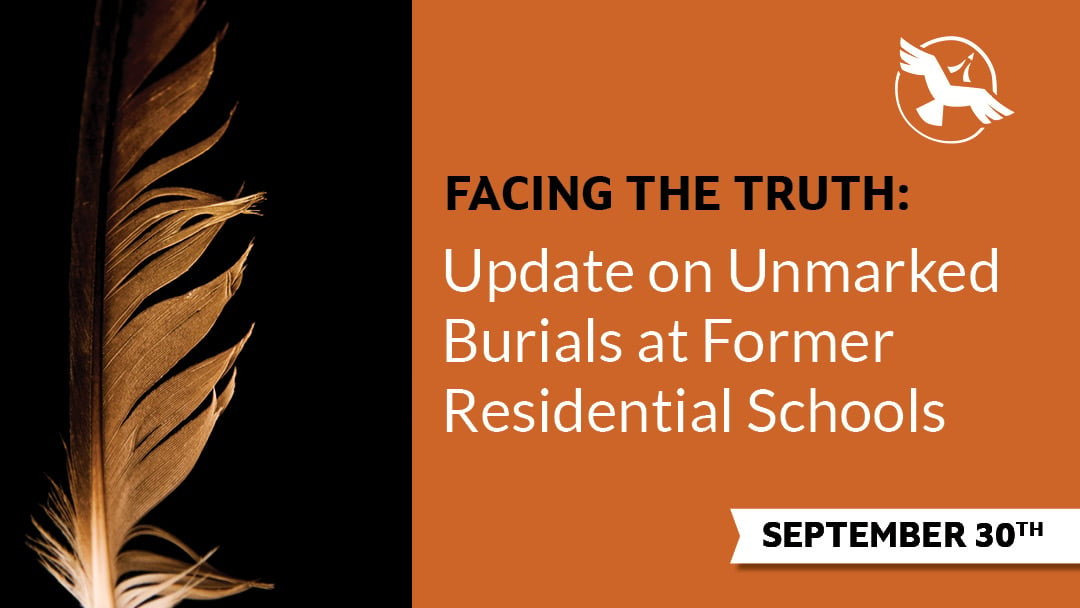 As a way to honour National Day of Truth and Reconciliation, we decided to look at the work being carried out by Kimberley Murray, who was appointed the Independent Special Interlocutor for Missing Children and Unmarked Graves and Burial Sites associated with Residential Schools. We had heard so much about the initial discovery of an unmarked grave in Kamloops but wanted to know, what is happening now?
"My role is to protect the children and their burial grounds, so I'm advocating for the children. ... I'm not advocating for the government; I'm not advocating for our First Nation – I'm advocating for the children. So, if I think there's a burial and something needs to be done, then I will do whatever I can within my mandate to do." - Kimberley Murray, Independent Special Interlocutor for Missing Children and Unmarked Graves and Burial Sites associated with Residential Schools
Click here to learn more about the work that Ms. Murray is doing and to hear about a recent gathering in Edmonton to address the search for Unmarked Graves.
Reconciliation in Action
SVS closed its offices in order to have the opportunity to participate in one of the many events and activities available as a way to mark this day of Truth and Reconciliation. We will gather as a group next week to share all that we learned on that day.
Words from our CEO, Karen Restoule, on September 30th
"Reconciliation requires the sharing of truth, apology, and commemoration—all of which acknowledge and redress past harms. It requires, like a marriage, an ongoing commitment to continuing to learn about and respect one another, an ongoing commitment to renewing that relationship every year, and a willingness to want to make it work—not only for the betterment of Indigenous peoples but for the benefit of the country as a whole."
Members of the Musqueam First Nation perform a welcome dance before Musqueam Coast Salish artists and siblings Chrystal Sparrow and Chris Sparrow unveil a spindle whorl carving they created as a gift to the school from the 2019 graduating class, at Magee Secondary School in Vancouver, on Friday, September 23, 2022. The carving was unveiled ahead of Truth and Reconciliation Week and Orange Shirt Day as part of an art and film project in collaboration with the Musqueam First Nation, the school and local businesses. Darryl Dyck/The Canadian Press.
Read more of Karen's article here.
---
In The News
Indigenous entrepreneurship: Making a business case for reconciliation
Jenn Harper, the CEO of Cheekbone Beauty, holds some of her cosmetic products at the company headquarters in St. Catharines, Ont. Harper's brand is carried by Sephora Canada and will soon be sold in the United States.© James Dunne/CBC
Read more about Jenn's inspiring story here.
Simon Fraser University Beedie's Indigenous Business Leadership EMBA weaves Indigenous teachings into contemporary business knowledge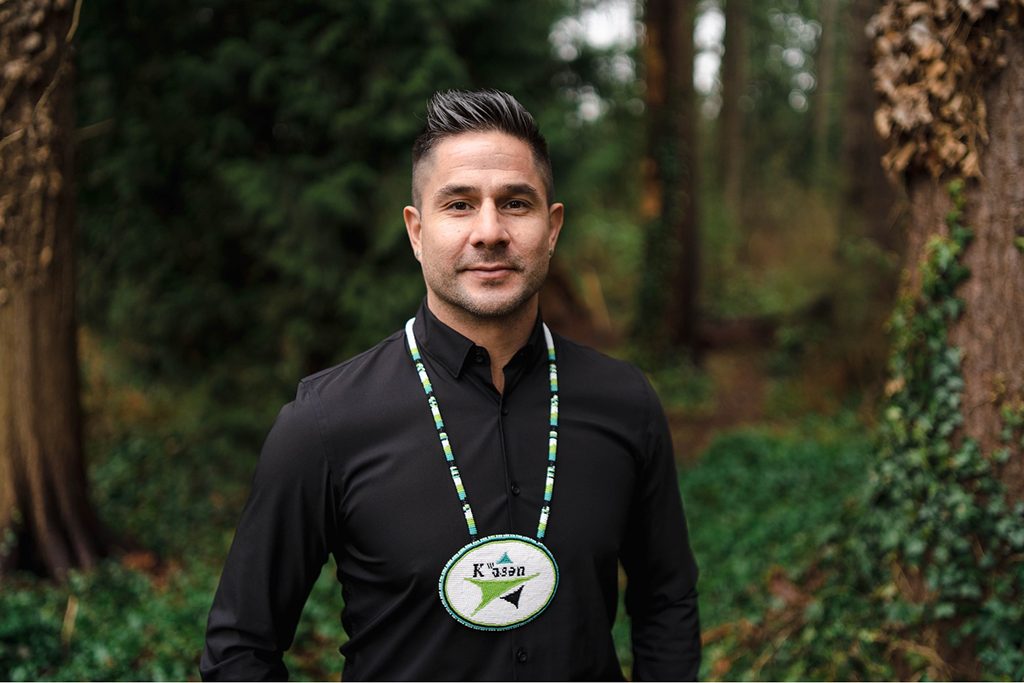 Dennis Thomas will graduate this October from the Indigenous Business Leadership Executive MBA program at SFU's Beedie School of Business
Read more here.
Inside a 50-year journey to reopen the 'lungs' of the Squamish River
"...the Squamish Nation is co-leading an effort to restore the estuary with the Squamish River Watershed Society and Fisheries and Oceans Canada in a coalition called Restore the Shore, which seeks to "save this vital ecosystem and right historical wrongs."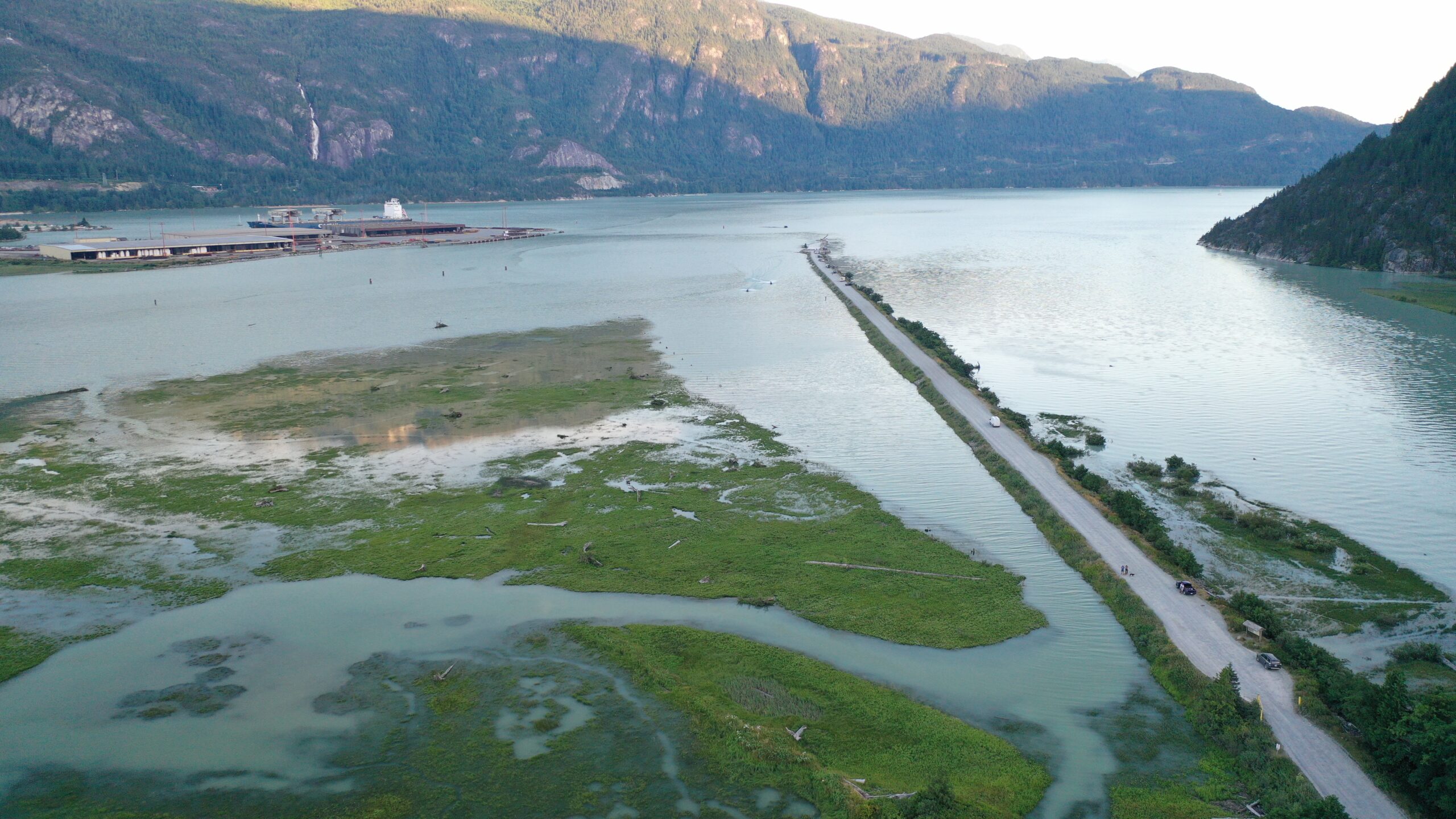 The Squamish spit juts out between the Squamish River on the right and the estuary on the left, blocking juvenile salmon from accessing the estuary as a space to rest, grow and feed. The spit has been partially dismantled since this photo was taken. Photo: Squamish River Watershed Society
https://thenarwhal.ca/squamish-nation-estuary-restoration/
---
SVS eBooks for Download: Collect them all!
Check out our collection of informative eBooks that are available for free download:
Protecting What Matters: Environmental Monitoring Ideas Bundle for Indigenous Nations

Channeling the Wisdom of Indigenous Knowledge

Pandemic-Inspired Research Innovations

I

ndigenous Planning Cheat Sheet

Indigenous Business and the Resource Sector

Indigenous Planning Starter Kit

Indigenous Guardians and Development

GIS Intro Guide: Harnessing the Power of Maps

A Lands and Consultation Department Guidebook

Planning Starter Kit
---
SVS Fun!
We can't help but share some fun photos from SVS in the field. Our favourite part of the work we do is the opportunity to be out on the Land with the Communities and Nations we work with! Always so much to learn and appreciate.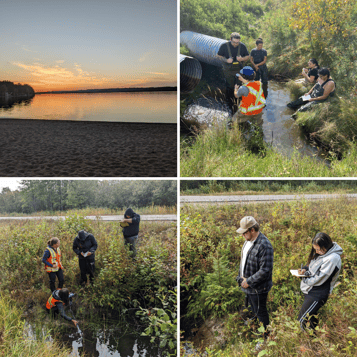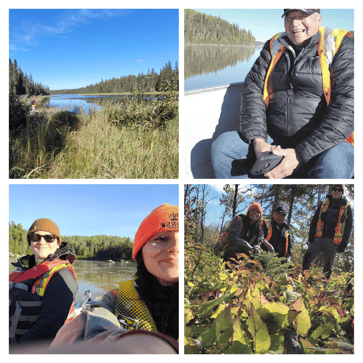 ---
We're Hiring!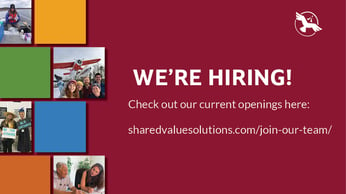 We are always looking for people who are dynamic, entrepreneurial, exhibit strong leadership, take responsibility for their actions, have good judgement, are hard workers, love collaborating with a team, care deeply about the environment and the wellbeing of society, fill a niche related to environmental and regulatory processes, and, of course, know how to have fun!
---
Like what you're reading? Want to receive it in your inbox every two weeks?
---
We are a Canadian B Corp, and we assist Indigenous Nations with support throughout regulatory processes surrounding major development projects like mines, hydroelectric facilities, transmission lines, highway expansions, oil and gas pipelines, natural resource transport applications and nuclear power.
We have deep context and experience behind the recommendations we provide, having worked for our clients on almost every major project in Canada over the last 10 years. For us, it's all about building long-term relationships with our clients. We want to get to know you and what you want to do so we can help you move your plans forward.
Core Services:

Impact Benefit Agreement Negotiation Support

Technical Reviews and Regulatory Process Support

Community and Economic Development Planning

Indigenous Knowledge and Land Use Studies

Environmental Monitoring

Guardians Program Development

Climate Change Readiness

GIS and Mapping

and a whole lot more...www.sharedvaluesolutions.com