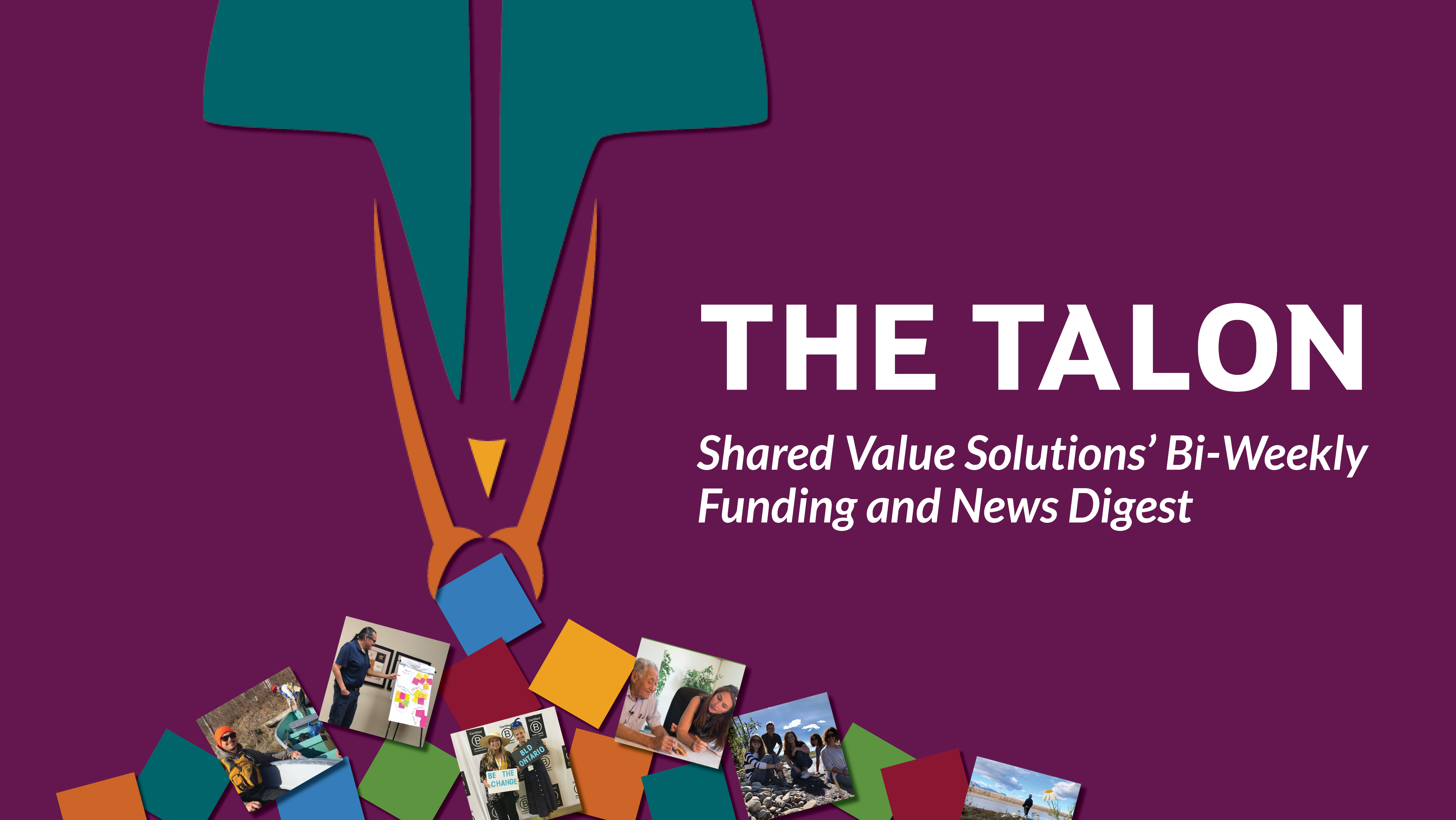 Welcome to Shared Value Solutions funding and news digest. We hope it finds you well.
In this issue, we bring you lots of new funding opportunities available across Turtle Island, our opportunities round up and our current job postings. We also share our most recent #notesfromthefield blog post, an account of our archaeology team's journey to support Taykwa Tagamou Nation in protecting cultural heritage from the pressures of development. Also included is a post from our popular eBook, Channeling the Wisdom of Indigenous Knowledge, which explores how best to leverage your Indigenous Knowledge for the most impact on your negotiations with proponents.
Enjoy!
---
Indigenous Funding Programs
NATION WIDE HIGHLIGHTED PROGRAMS:
First Nations Indigenous-led Natural Climate Solutions
Through the Indigenous-led Natural Climate Solutions stream, funding supports First Nations, Inuit and Métis Nations, communities and organizations to build capacity and to undertake on-the-ground activities for ecological restoration, improved land management, and conservation. These activities aim to effectively sequester carbon and maximize co-benefits for biodiversity, climate resiliency, and human well-being.
The Indigenous Guardians Secretariat is delivering funding for the Indigenous-led Natural Climate Solutions stream collaboratively with First Nations, Inuit and Métis using the existing distinctions-based governance structures in place for Indigenous Guardians.
Governance structures for First Nations, Inuit and Métis
The Indigenous-led Natural Climate Solutions stream is being implemented jointly with First Nations, Inuit, and Métis using a distinctions-based approach that respects and recognizes the unique perspectives, rights, responsibilities and needs of Indigenous peoples.
Eligible organizations
Indigenous Nations, communities, governments, and representative organizations are eligible for funding under the Indigenous-led Natural Climate Solutions stream.
An application process for First Nations Indigenous-led Natural Climate Solutions initiatives in 2023–2024 will be open from Wednesday, October 19, 2022 until Wednesday, December 7, 2022
Learn more here.
First Nations Environmental Contaminants Program
Indigenous Services Canada provides funding through the FNECP to help First Nations communities improve their health. The program supports these communities in identifying, investigating and characterizing the impact of exposure to environmental hazards. Its activities include community-based:
research
monitoring
risk assessment
risk communication
knowledge integration
For more information, read here.
Hydro One Indigenous Entrepreneurship Grant in partnership with Canadian Council for Aboriginal Business
Hydro One and Canadian Council for Aboriginal Business (CCAB) opened applications for the Hydro One Indigenous Entrepreneurship Grant in support of Indigenous-owned businesses across Ontario that are energizing life in their communities. Read more.

Nation Rebuilding:
Indigenous groups are seeking to rebuild their nations in a manner that responds to their priorities and the unique needs of their communities.
Through Budget 2018, funding has been made available for 5 years starting in fiscal year 2018 to 2019, to support activities that would facilitate Indigenous communities' own path to reconstituting their nations.
https://www.rcaanc-cirnac.gc.ca/eng/1530880050808/1530880135933
First Nations Drinking Water Settlement Open for Claims from Communities and Individuals
After a years-long fight for clean drinking water, Indigenous communities and individuals in Canada are a step closer to receiving money from a class-action lawsuit that was settled with the federal government for $8 billion last year. The claims process under the settlement opened up to submissions on Monday. Indigenous communities now have until Dec. 22 to file their claims, while individuals have until March 7, 2023.
Call For Applications for the Second Cohort of the Indigenous Off-Diesel Initiative
Individuals and teams from remote Indigenous communities in Canada who want to become Clean Energy Champions in their community are encouraged to apply.
Ten spots are available in the second cohort. Those who are selected have the opportunity to participate in all three phases of IODI and are eligible for up to $1,525,000 in funding.
Alternative Response Measures Participant Funding Program – Pipelines
The Alternative Response Measures Participant Funding Program – Pipelines (ARMs PFP) provides Indigenous communities and organizations with funding to take part in developing and improving Canada's response measures on federally regulated pipelines to address potential oil spills across Canada's oil supply chain.
All communities within 50 km of a federally regulated pipeline are eligible for 10k of funding, for expenses incurred before November 30, 2022, to participate in improving the federal response measures for pipeline spills.
WESTERN CANADA FUNDING:
BC Capacity Initiative:
The BC Capacity Initiative (BCCI) funds projects that enhance First Nations capacities and readiness to negotiate treaties, agreements and other constructive arrangements relating to Section 35 rights. Applicants must show how the proposed activities align with their overall plan for self-determination.
To be eligible for funding you must represent a First Nations group such as a band, tribal council, or an incorporated organization representing First Nations.
http://www.bccapacity.org/default.aspx
Participant funding for the Cameco Corporation's Rabbit Lake Operation License Renewal
https://nuclearsafety.gc.ca/eng/the-commission/participant-funding-program/opportunities/pfp-cameco-corporation-rabbit-lake.cfm
Participant funding for the Cameco Corporation's Key Lake Operation and McArthur River Operation License Renewals
https://nuclearsafety.gc.ca/eng/the-commission/participant-funding-program/opportunities/pfp-key-lake-mcarthur-river.cfm
NORTHERN CANADA FUNDING
Yukoners affected by 2022 flooding can apply for flood relief
The Government of Yukon launched the 2022 Flood Relief program to help residents pay for damages to their property and possessions caused by this year's flooding. Residents from the following locations can apply to the 2022 Flood Relief Program: Carmacks, Cowley Creek, Dawson, Fox Lake, Ibex Valley, Lake Laberge, Liard, McConnell Lake, Old Crow, Pelly Crossing, Ross River, Tagish and Teslin.
Eligible Yukoners can access funding through three streams:
Stream one: grant funding to help repair a principal residence. An eligible household can access up to a maximum of $35,000.
Stream two: a loan to repair your existing principal and secondary residence, outbuildings and some flood mitigation measures related to building structure systems. An eligible residence can access up to a maximum of $50,000.
Stream three: grant funding to replace personal possessions for principal resident owners and tenants. An eligible household can access up to a maximum of $6,000.
The application form and program information are available at local Yukon Housing Corporation offices and at Yukon.ca.
The deadline for applications is November 25, 2022, at 4:30 pm.
EASTERN CANADA FUNDING
Indigenous Services Canada supporting First Nations recovery from Hurricane Fiona as part of federal government response
$4 million has been made immediately available through the Emergency Management Assistance Program (EMAP) to address recovery efforts and various needs and expenses identified by First Nations communities.
Read more.
Regional Assessment of Offshore Wind Development in Newfoundland and Labrador and Nova Scotia
The Regional Assessment will be conducted for areas offshore Newfoundland and Labrador and Nova Scotia. The Impact Assessment Agency of Canada will work with the Governments of Newfoundland and Labrador and Nova Scotia, Indigenous groups, federal authorities, non-government organizations and the public to plan the Regional Assessment, including defining its goal, objectives, geographic boundaries, activities, outcomes and governance structure. The Regional Assessment will help inform future project-specific federal impact assessments and decisions for offshore wind projects in these areas. Comments should be submitted by 11:59 p.m. on November 26, 2022.

https://iaac-aeic.gc.ca/050/evaluations/proj/83514?culture=en-CA
---

Opportun

ities Round-up:
Grants available for Emergency Response and Recovery for small Indigenous businesses and entrepreneurs in Central Interior BC. The program is to provide a monetary contribution to assist clients, Indigenous owned businesses, entrepreneurs, and First Nation Communities who have experienced business disruption and financial loss due to the 2021 BC Floods. Applications will be accepted until the BC Emergent Response and Recovery Grant fund is fully allocated.

Micro-Loan Fund Available for Indigenous Women Entrepreneurs
The National Aboriginal Capital Corporations Association (NACCA) and participating Aboriginal Financial Institutions (AFIs) are pleased to announce the establishment of a new $5 million Women Entrepreneurship Loan Fund.
AFIs across the country are now delivering the Women Entrepreneurship Loan Fund on behalf of Innovation, Science, and Economic Development Canada (ISED). First Nations, Inuit, and Métis women entrepreneurs from across the nation are now able to access loans up to $50,000 dollars to start or grow their business.



NS Government: Make an Impact by Joining an Agency, Board or Commission (nationtalk.ca)

Applications are now open for government agencies, boards and commissions, offering Nova Scotians an opportunity to make an impact in areas including healthcare, education, the environment, policing and culture.

The application deadline for some opportunities is November 22

. Applications for many other positions are accepted year-round.
Clean energy in Indigenous, rural and remote communities. Environment and Climate Change Canada has announced an additional $300 million for clean energy projects. This funding supports projects that help advance Indigenous-led climate action, support local economic development and create skilled jobs while reducing pollution and improving air quality. There is no deadline to apply.




Pathways to Safe Indigenous Communities. The Government of Canada is providing $103.8 million over 5 years to assist First Nations, Métis, and Inuit communities with implementing and developing Indigenous-designed community safety projects. There are several activities eligible for this funding, including initiatives that recognize the importance of traditional knowledge and practices in community safety and well-being. There is no deadline for this funding.

Assistance to be Offered to Residents of Mud Lake for Relocation (nationtalk.ca)

Assistance is being extended as a result of previous and potential flooding events which have been an ongoing concern for some residents. The decision to relocate or remain in the community will be up to each household. The amount of financial assistance payable to Permanent Residential Property Owners will be determined by the number of Permanent Residents living in the household.

Residents who wish to avail of relocation assistance, can contact Jacob Kimball, Manager of Legislation, at jacobkimball@gov.nl.ca or 709-729-5473 for further information.
---
In our Blog

When SVS archaeologists Jason Stephenson and Cristina McCoy went into the field with historian and Knowledge Holder Stan Sutherland and Pat Edwards of Taykwa Tagamou Nation to document heritage routes, the team blended western scientific thought with Traditional Knowledge in a prime example of two-eyed seeing in action – with some astonishing results.
Read Jason's account of their journey to protect Taykwa Tagamou's heritage from the pressures of development in this installment of #notesfromthefield.
https://info.sharedvaluesolutions.com/blog/two-eyed-seeing-archaeology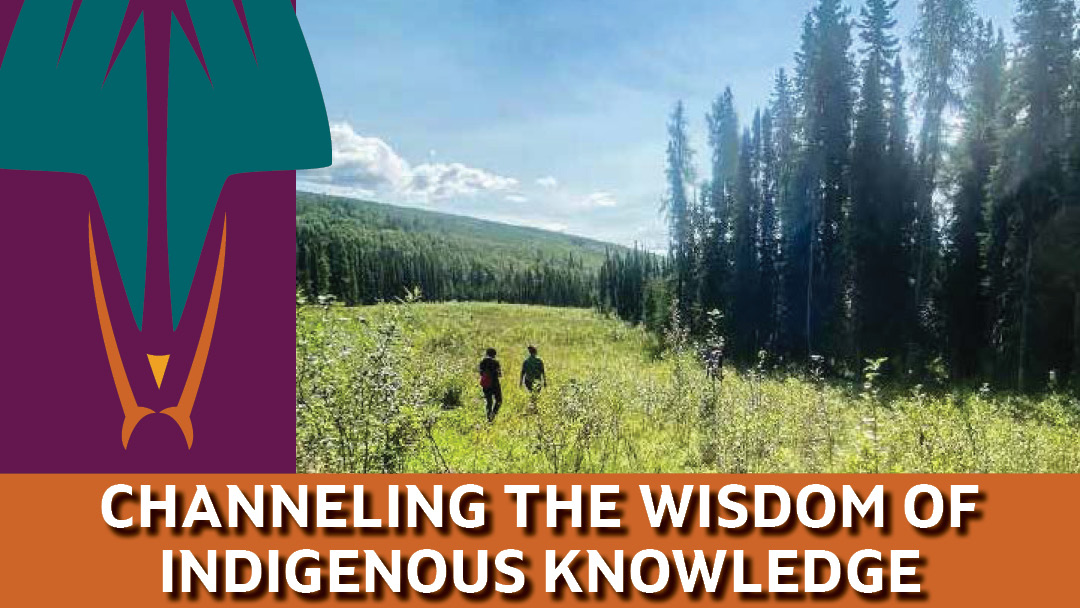 Welcome to this first post from our popular eBook, "Channeling the Wisdom of Indigenous Knowledge- Ideas Bundle for Indigenous Knowledge and Land Use Studies". This series explores the ways Indigenous Nations have used Indigenous Knowledge Studies (also called Traditional Knowledge, Land Use and Occupancy Studies and Traditional Ecological Knowledge) to:

• Assert jurisdiction
• Leverage influence in regulatory processes and Impact Benefit
Agreement (IBA) negotiations,
• Further stewardship and cultural revitalization efforts, and
• Build capacity

This series is a celebration of the extraordinary Nations and visionary leaders we have had the privilege of working with on Indigenous Knowledge studies from coast to coast, to coast - with some resources and ideas for you to use in your own journeys.
Our first post, called MAXIMIZING THE IMPACT OF FIRST NATION AND MÉTIS KNOWLEDGE IN IMPACT ASSESSMENTS, explores how best to leverage your Indigenous Knowledge for the most impact on your private negotiations with proponents. Read more here: https://info.sharedvaluesolutions.com/blog/maximizing-the-impact
---
SVS eBooks for Download: Collect them all!
Check out our collection of informative eBooks that are available for free download:
Protecting What Matters: Environmental Monitoring Ideas Bundle for Indigenous Nations

Channeling the Wisdom of Indigenous Knowledge

Pandemic-Inspired Research Innovations

I

ndigenous Planning Cheat Sheet

Indigenous Business and the Resource Sector

Indigenous Planning Starter Kit

Indigenous Guardians and Development

GIS Intro Guide: Harnessing the Power of Maps

A Lands and Consultation Department Guidebook

Planning Starter Kit
---
We're Hiring!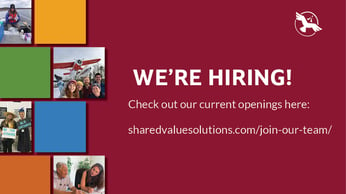 We are always looking for people who are dynamic, entrepreneurial, exhibit strong leadership, take responsibility for their actions, have good judgement, are hard workers, love collaborating with a team, care deeply about the environment and the wellbeing of society, fill a niche related to environmental and regulatory processes, and, of course, know how to have fun!
---
Like what you're reading? Want to receive it in your inbox every two weeks?
---
We are a Canadian B Corp, and we assist Indigenous Nations with support throughout regulatory processes surrounding major development projects like mines, hydroelectric facilities, transmission lines, highway expansions, oil and gas pipelines, natural resource transport applications and nuclear power.
We have deep context and experience behind the recommendations we provide, having worked for our clients on almost every major project in Canada over the last 10 years. For us, it's all about building long-term relationships with our clients. We want to get to know you and what you want to do so we can help you move your plans forward.
Core Services:

Impact Benefit Agreement Negotiation Support

Technical Reviews and Regulatory Process Support

Community and Economic Development Planning

Indigenous Knowledge and Land Use Studies

Environmental Monitoring

Guardians Program Development

Climate Change Readiness

GIS and Mapping

and a whole lot more...www.sharedvaluesolutions.com