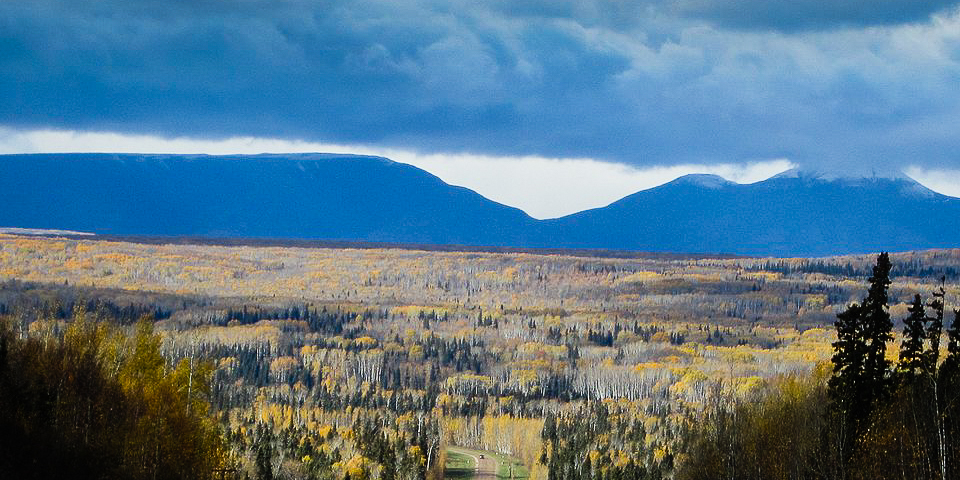 Acho Dene Koe Territory, Fort Laird, NWT*
There is no time like the middle of a global pandemic to begin a new relationship! Effective April 1st, 2020, Acho Dene Koe First Nation's Lands and Resources Office is being managed by Shared Value Solutions. No April Fool's prank, this unique arrangement was carefully forged in the months before the world turned upside down. Now, as we begin our work together, this collaboration provides an interesting lens to look at what is possible in this new reality of remote work. Welcome to the second instalment of our series that explores the opportunities and obstacles to furthering the rights and interests of our Indigenous clients during COVID-19.
Acho Dene Koe Outsources Lands and Resources Department to Bridge Capacity Gap
Acho Dene Koe First Nation, commonly known as ADKFN in the North, has a massive traditional territory that spans three jurisdictions – the Northwest Territories, the Yukon territory and the Province of British Columbia, all within the mighty Liard River watershed. With a significant land claim and self-government negotiations in process, the Nation has a very clear and unique plan for its future, which includes maintaining a careful balance between the pressures and opportunities of development in their traditional territory.
The plan also includes seeking outside support to bridge the capacity gap that will close over the next five years or so. The mounting pressure on the lands office, faced with the complexities of dealing with four governments (Federal, two territorial, and one provincial) and facing exponentially increasing levels of development in their traditionary territory precipitated the bold decision to outsource the whole department approximately four years ago.
This new role for SVS comes with a lot of responsibility: "SVS will support ADKFN to build relationships between the Nation and its industry and government partners while at the same supporting the negotiations teams in British Columbia, Yukon, and Northwest Territories," comments Boyd Clark, Advisor (Acting Band Manager). "We hope SVS will bring new eyes and experience to our prosperity goals and is committed to helping instill our Indigenous values into the heart of resource development decisions for the Nation."
"The new relationship between Acho Dene Koe First Nation and Shared Value Solutions will create the potential to change the story for our people now and for generations to come," Chief Eugene Hope says.
Lands Department-in-a-box Solution
In what is essentially a "Lands Department-in-a-box" solution, ADKFN has asked us to take care of everything from the first whiff of a new project in their territories to the final outcome – whatever that may look like to best support their rights and interests.
"It's such an honour to be trusted with this role, and we take it very seriously," says Scott Mackay, SVS's CEO and lead on the project.
Scott and our team at SVS are not new to supporting lands and resources departments, having assisted in the creation of consultation protocols and even consultation department development and strategic planning at First Nations across Canada over the years. But the scope of this assignment is all-encompassing, including everything from consultation request intake, dispositioning, scanning and intelligence-gathering, tracking and scheduling, documentation, templating, response, and internal communication, to developing systems and protocols to represent the Nation's interests.
Specifically, SVS is tasked with handling all communications on behalf of ADKFN with industry consultation and government referrals for the Nation's three jurisdictions and upholding the Nation's reporting responsibilities with the Mackenzie Valley Land and Water Board, the Yukon Environmental and Socio-economic Assessment Board, British Columbia's Oil and Gas Commission, and British Columbia's Department of Forests, Lands and Natural Resource Operations, as well as the British Columbia Archaeological Branch. We will also provide support in managing archaeological permitting and species-at-risk value protection within all three jurisdictions, among many other things.
A close remote working relationship (!)
None of this can happen without working very closely with staff on the ground in Northwest Territories. The nearest SVS staff to Fort Liard, Northwest Territories, where the main community resides, are in Calgary and Victoria. But with everything on lock-down across Canada now, having the main team operate out of Guelph has not yet posed a problem for communication or efficiency.
Primarily, SVS has been working with ADKFN's Advisor (Acting Band Manager), the Nation's economic development corporation (ADK Holdings Ltd), the Chief, and several external advisors, such as lawyers and negotiators, across Canada. The complexity of the ADKFN operations and governance has presented new and unique challenges for SVS. Having responsibilities in three jurisdictions, especially with development of oil, gas, mining and forestry presents challenges for this small First Nation with the need to have both technical and legal experts in Vancouver/Victoria, Calgary, Yellowknife, and Whitehorse. While the pandemic situation has kept us away from the community, it is a high priority for us to get to the community as soon as things open up to get to know ADKFN members and the beauty and resources of their territory.
"To run a Lands Office like this effectively, you've got to get up there and get to know the people who know the lands and waters in the Territory, and experience it first hand for yourself," says Scott, who is itching to visit.
"The first time I brought ADKFN's views forward in a media interview and saw the Director of Lands and Resources title attributed to me in the article, I really felt the responsibility in that role," says Scott. Last week's interview with Cabin Radio, a Yellowknife-based NWT news outlet, on the topic of orphan gas well abandonment activities in their territory, came after Scott and Boyd had hammered out talking points for the interview.
Scott was relieved to see ADKFN's views accurately reflected in the final article. "It's important to see the world from this perspective, really walking in the shoes of our clients and being very careful how we represent them and their interests," Scott reflects.
Consultation tracker software system
One of the most exciting pieces of our work to set up a fully-functioning remote lands and resources office has been the creation of a custom software solution that provides an overview and tracking system for all the active files the department is managing. The user-friendly, at-a-glance dashboard allows everyone at SVS and ADKFN to quickly see what needs to be done, and what is stuck.
Because it is accessible through a secure online portal, it will allow for collaboration and communication no matter where people are - from ADKFN or SVS. It makes the work SVS is doing transparent and open to scrutiny and verification, just like it should be. The system includes a digital file repository, so all the Lands Office files are kept in secure storage for easy retrieval. Everything will be easy to transfer to ADKFN when they are ready to take on the Lands Office when their land claim is settled.
Stay tuned – we will be profiling the specifics of this software solution in a future blog once we have thoroughly tested it out.
Fulfilling our mission to work with visionary leaders
Our mission at SVS is to work with visionary leaders within our First Nation, Métis and Inuit client communities to assist in their efforts to protect their territories, ensuring the recognition of their Nation's sovereignty and jurisdiction, and furthering their prosperity and community well-being. When it comes to visionary leaders, Acho Dene Koe First Nation is no exception.
"Working with Chief and Council and with staff, we're focused on making their vision a reality - even when that means working ourselves out of a job," says Scott. "Whether it is in making sure we understand ADKFN'S vision through getting to know the Nation's Comprehensive Community Plan (or the economic development corporation's recently adopted Strategic Plan), or whether it's about making sure we weave capacity building for a future Lands Office run by ADKFN members into every accommodation measure and benefit we pursue now with government and industry, we are laser focused on moving ADKFN's roadmap for a sustainable and independent future forward."
*Photo credit: Brad Carrier Hamlet park. CC BY-SA 3.0. https://commons.wikimedia.org/wiki/Category:Fort_Liard#/media/File:Hamlet
_Park_-_panoramio.jpg
Remote Work Blog Series:
Protecting Rights and Interests During COVID-19
During the pandemic, pretty much everything about how we live and work has been turned on its head. Social distancing, isolation and community shut downs to protect the most vulnerable - including the Elders whose wisdom usual guides decision-making - mean that business as usual is impossible. However, regulatory processes for development projects such as mines and power projects are marching on in the name of economic recovery. Many of us have been left wondering how to continue our research in the age of social distancing – and if indeed it is possible at all. The larger question we have set out to answer in this blog series: How can we best address the needs of our clients using remote tools?
Read other posts in this series:
Remote Research Adventures with the Algonquins of Ontario
A Field Guide to Research During COVID-19 (coming next week)
Like what you're reading?
We are a Canadian B Corp, and we assist Indigenous communities with support throughout regulatory processes surrounding major development projects like mines, hydroelectric facilities, transmission lines, highway expansions, oil and gas pipelines, natural resource transport applications and nuclear power.
We have deep context and experience behind the recommendations we provide, having worked for our clients on almost every major project in Canada over the last 10 years. For us, it's all about building long-term relationships with our clients. We want to get to know you and what you want to do so we can help you move your plans forward.