Mighty Bubble, Hand-washing super hero, rides again...see video below
At SVS, our key priorities are the health and well-being of our clients and our staff!
The novel coronavirus (COVID-19) was declared a pandemic by the World Health Organization this week and poses an evolving challenge for the global community. We recognize that the many Indigenous Nations we serve face unique challenges and that this may be a particularly stressful time for you. We wanted to share Shared Value Solutions' efforts to ensure the safety of our staff and clients, and our commitment to providing you with consistent service. We also totally get that your priorities may shift rapidly over the coming weeks. In terms of work we are doing together, we will take our lead from you on how best to support your goals.
SVS's management team is meeting daily to ensure the continuous monitoring of breaking developments. All of our offices are presently open for business. Should the situation escalate, we are prepared to enact the firm's Business Continuity Plan in order to be responsive to our clients' needs should there be a potential closure of any of our offices.
For Our Clients:
Much of our work involves travel and visits in your communities. In order to continue to support you, and the projects important to you, we will be reaching out to discuss any upcoming travel to your communities. We fully understand the concern about protecting Elders and other vulnerable members and we will always take direction from you on how you want to proceed. In general, although we continue to be advised by public health agencies that the risk of the novel Coronavirus to Canadians remains low, in the interest of health and safety we are recommending that meetings be conducted electronically where possible.
When we are unable to travel to you, we will offer alternative meeting arrangements, including using video conferencing for meetings, to ensure that we continue to provide the excellent service you're used to.
For Our Staff:
To help protect our staff and their families, we have instituted several preventative measures:
Additional cleaning and disinfecting in the office
Providing staff with up-to-date information and reminders on preventative measures, including hand washing and sanitizing workspaces
The addition of preventative supplies to the travel kits that staff take on work trips
Health and safety plans for travel that include a review of local public health information from areas where staff members will be working
Our supportive and flexible work culture allows staff to work from home as needed so that we can continue to provide our clients with excellent service while ensuring the health and well-being of everyone involved.
Advice from the Public Health Agency of Canada
The Public Health Agency of Canada, the World Health Organization and your local Health Department are excellent sources for reliable, up-to-date information on COVID-19. Information on preventive measures, travel advisories, and symptoms to watch for, including important information on how individuals, communities, schools, daycares, and workplaces can prepare themselves to stay healthy and prevent the spread of the illness, is readily available and easy to find.
Read more on preventative measures here.
Health and Wellness Planning Resources
There are many resources available that can help communities plan and prepare for not only emerging issues, like COVID-19, but also for other health issues that can impact community well-being.
Shawanaga First Nation Covid-19 Community Handbook
Shawanaga First Nation has put out a helpful COVID-19 Community Handbook, full of useful graphic and information suitable for posting. Sharing with permission.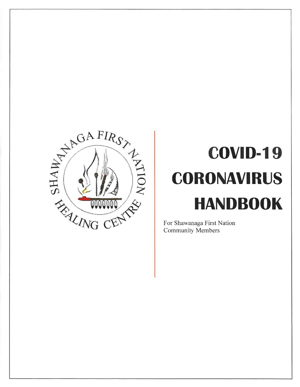 For Kids: Mighty Bubble, the hand washing hero
We also know from community health work we've done that getting kids to get excited about handwashing is important for stopping viruses and germs. Here's a link to a fun and catchy YouTube video some of us put together a few years ago for communities around Flin Flon, Manitoba - a kid's super hero named Mighty Bubble who shows kids how and when to wash their hands - developed with help from health and learning experts:
Communicable Disease Emergency Plan Template
The First Nations Health Authority in BC has produced an informative guide on developing a Health and Wellness Plan, which is a community-specific strategy that addresses health and well-being in a way that is grounded in their own values, culture, and traditions This tool kit includes a table of helpful activities to be used to develop or update a Communicable Disease Emergency Plan.
Lessons Learned from H1N1
The National Collaborating Centre for Aboriginal Health issued recommendations for pandemic planning, response, and communication in Indigenous communities based on lessons learned from the 2009 H1N1 influenza pandemic.
Our Management Team and Occupational Health and Safety Team are staying on top of the latest information and we will continue to have your back through these challenging days and any others to come. We are committed to helping our staff take the necessary steps and precautions to keep themselves, their families, and you, our clients, safe and healthy.
Be well, everyone!
Like what you're reading?
We are an Canadian B Corp, and we assist Indigenous communities with support throughout regulatory processes surrounding major development projects like mines, hydroelectric facilities, transmission lines, highway expansions, oil and gas pipelines, natural resource transport applications and nuclear power.
We have deep context and experience behind the recommendations we provide, having worked for our clients on almost every major project in Canada over the last 10 years. For us, it's all about building long-term relationships with our clients. We want to get to know you and what you want to do so we can help you move your plans forward.