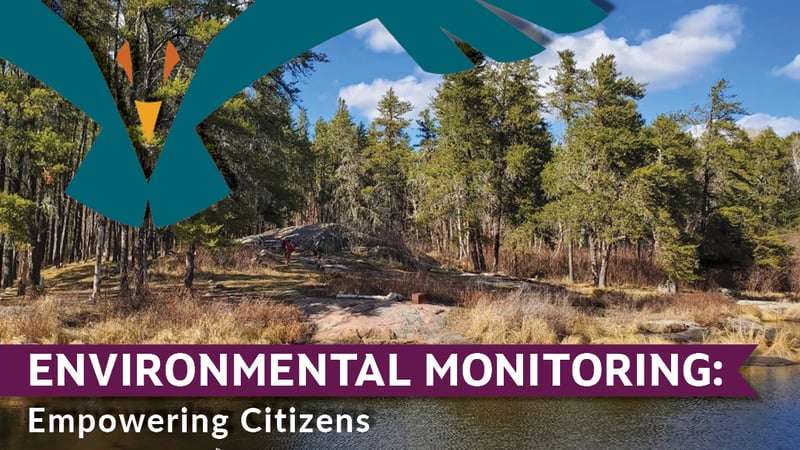 Wetland Monitoring and Training Program Empowers Red River Métis Citizens and Harvesters to Monitor What Matters
Looking out over the frozen wetlands and lakes in the deep of winter, field season can seem far away. But in the blink of an eye, you'll be dusting off the old hip waders and heading out on the lands and waters — so what better use of the cold winter months than to plan your next environmental monitoring plan?
New Series: Environmental Monitoring: What, why, where, how, and with what!
Welcome to our new blog series that delves into the exciting world of environmental monitoring programs we've helped support over the years in the hopes that you find inspiration and new ideas as you develop your own plans. Over the coming months, we'll cover everything from deciding what to monitor, why, and how to do it, as well as lessons learned around specific monitoring situations, such as mines, pipelines, and linear corridors.
We'll also share thoughts on how your Nation's Indigenous Knowledge can work with western scientific approaches for the best possible results. Perhaps most critically, we'll explore unexpected ways to fund and build up your program now and into the future so that environmental monitors and Guardians can approach their role not as a job, but as a career.
Today's post highlights a robust and ambitious monitoring and training program created by the Manitoba Métis Federation (MMF) that assesses the health of wetlands and waterways traditionally used by Métis Harvesters. What's more, it began during the pandemic!
Indigenous Oversight of Line 3 Project That Crossed 400 Water Bodies
First, the backstory. In a 2018 blog, Indigenous Environmental Oversight of Pipelines: A Tale of Two Pipelines, we shared stories of Indigenous oversight during the Line 3 Replacement Project in Alberta, Saskatchewan, and Manitoba. Enbridge's massive $5.3-billion oil pipeline replacement project crossed over 400 bodies of water — an issue of particular concern to the Indigenous Rights holders who cherish those rivers and streams as the lifeblood of Mother Earth.
What Success Looks Like During Pipeline Construction
Based on Indigenous Knowledge data, as well as technical reviews of the company's environmental studies, our clients were able to advocate for changes during pipeline construction, such as reroutes around sensitive ecological areas, choices of less invasive water crossing methods, the level of monitoring required, and Indigenous involvement in that monitoring. Our clients saw their recommendations included in regulatory conditions of approval and, in some cases, made part of Impact Benefit Agreements (commonly called IBAs).
Post-Construction Monitoring Plan
Fast forward a few years, and construction of the 1,070-km project is now complete. However, concerns about the health of the lands and waters of the pipeline corridor continues as crude and other oil products flow across many Indigenous territories.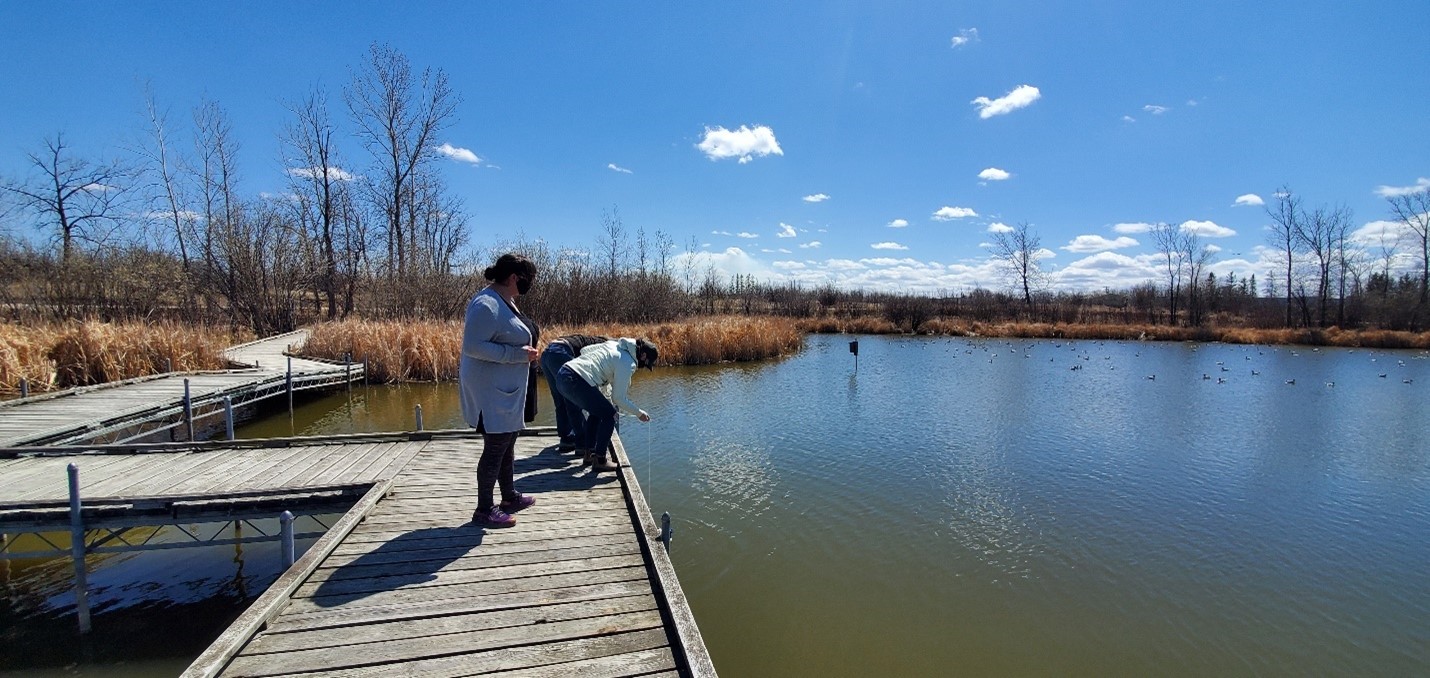 The MMF monitoring a wetland as part of the Wetland and Waterways Monitoring Program
Photo credit: Bryanna Sherbo
Through their involvement in the Line 3 Indigenous Advisory and Monitoring Committee, the MMF secured funding to create a monitoring plan to assesses the health of wetlands and waterways traditionally used by Métis Harvesters. As the democratically elected government of the Manitoba Métis, also known as the Red River Métis, the MMF's objective for the monitoring program was to braid Traditional Knowledge and land use with western science to provide details on the health of wetlands and their ecosystems, with a focus on the Line 3 Replacement Project corridor. To inform the selection of wetlands and waterways for monitoring, the MMF interviewed Métis Harvesters who traditionally harvest in wetlands around the corridor.
Community-Based Monitoring Program
Our team at SVS worked closely with the MMF's Fish and Fish Habitat Specialist and Coordinator of the community-based monitoring program, to design the wetland and waterway monitoring program and to deliver training to over 50 Red River Métis in the spring of 2021.
According to Jenny Petrynko, "The idea for this webinar series was sparked through community engagement discussions and information gathered through Traditional Knowledge interviews. Through this engagement with the [Manitoba Métis], we learned how important freshwater and wetlands are to our Citizens."
Andrea Clarke, one of the training participants, makes that importance clear: "Our waterways and wetlands are invaluable to the entire ecosystem and to be able to be part of something that could maybe help protect some of these areas is very important to me."
Monitoring Protocols to Protect What Matters
Together with the MMF, we developed a series of monitoring protocols and related training modules for the program. The monitoring program was designed to assess the components of wetlands and waterways that are of importance to Manitoba Métis Citizens.
"The Red River Métis hold a historical and contemporary connection to the waters across the National Homeland, whether it be for drinking, commercial and recreational fishing, for transport routes and so much more."

Jenny Petrynko, MMF
Here is a list of the protocols we developed:
Wetland Vegetation & Disturbance

Water Quality

Contaminants

Water Levels

Soil and Sediment

Invasive Plants

Wetland Birds

Breeding Amphibians

Benthic Invertebrates

Fish Community

Other Wildlife Including Species at Risk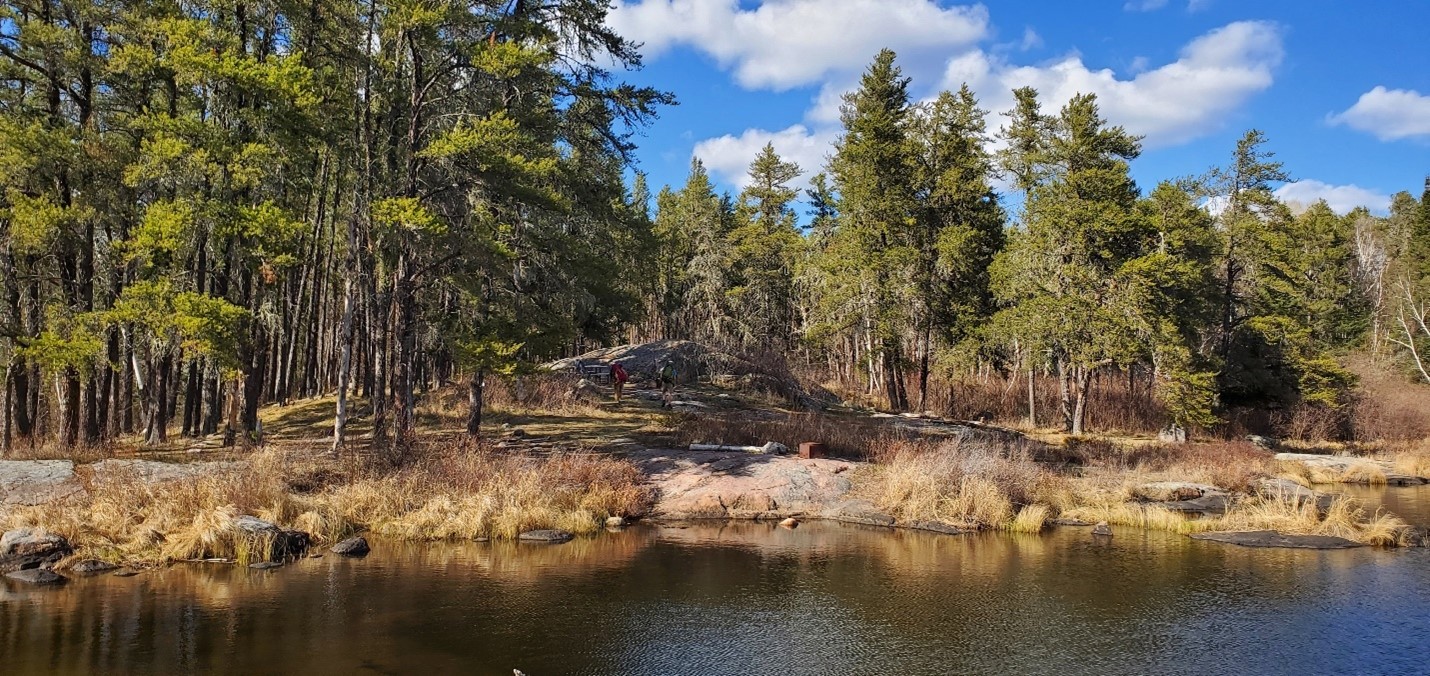 The MMF monitoring a wetland as part of the Wetland and Waterways Monitoring Program
Photo credit: Bryanna Sherbo
Online Modules for Covid-Friendly Training
Through a series of online live training modules, our trainers demonstrated monitoring methods and procedures to collect information about wetlands and waterways to 50 training participants. The participants also learned how to recognize species of interest through the sounds made by different frogs and birds. We kept participants engaged with pop quizzes and question and answer periods. "How engaged people were, that was pretty surprising for us," says Jenny Petrynko. "You could tell that they were engaged based on the amount of feedback that we got throughout every module, that was super surprising and also incredible."
Braiding Science and Traditional Knowledge into the Framework
The monitoring program and associated training modules combined current scientific field assessment techniques and interpretation of collected environmental data, while focusing on values and species of interest to Métis Citizens. For example, it included recording observations of harvested wetland species and incorporating the collection of Traditional Knowledge during monitoring events. Braiding science and Traditional Knowledge into the framework of the Wetland and Waterway Monitoring Program ensures that Citizens' concerns and long-term goals for the health of the wetlands are meaningfully incorporated.
We also supported the MMF by conducting land use and occupancy interviews to document the perspectives of Métis Harvesters on where and how they use and interact with the wetlands and waterways within the Line 3 Replacement Project corridor, and where they feel monitoring needs to occur during operation of Line 3.
Everyone interviewed contributed valuable thoughts to the planning process. "The Manitoba Métis have always been very connected to water for drinking, commercial and recreational fishing and using rivers for transport and so much more," comments the Fish and Fish Habitat Coordinator. Incorporating the views, suggestions, and ideas from these interviews ensured that the monitoring program fully aligned with the rights, interests, and values of Red River Métis. We also used Métis land use and occupancy data from past studies to identify areas of importance. The results informed the selection of wetlands for inclusion in the monitoring program, as well as the identification of monitoring components.
Training Plus Equipment is the Winning Capacity Building Combo
As part of this project, we identified the field equipment needed for the monitoring program and purchased any equipment that the MMF did not already have. According to Jenny Petrynko, this was key to MMF increasing capacity: "The combination of the webinars and workshops as well as the equipment really helped a lot for us, for creating capacity within our department, but then also for our Citizen scientists who we have relied on for other water monitoring programs. And so now we've kind of helped expand their knowledge for them to do other types of water monitoring programs."
"How engaged people were, that was pretty surprising for us… You could tell that they were engaged based on the amount of feedback that we got throughout every module, that was super surprising and also incredible."

Jenny Petrynko, MMF
Long-Term Monitoring Across Manitoba
Although it started with the Line 3 project, the MMF's Wetland and Waterway Monitoring Program is designed to be used to monitor the health of wetlands and waterways throughout Manitoba. According to Jenny Petrynko, "This program will allow for long-term monitoring of water, sediment, aquatic and terrestrial life in wetlands and waterways that are traditionally used by Métis Harvesters and are of importance to Métis Citizens."
Monitoring these components will enable the MMF to better understand current environmental conditions and track changes in wetland or waterway health over time. This is of utmost importance to the MMF given the potential impacts to wetlands and waterways from numerous development projects, as well as impacts of climate change and other land use activities.
We're looking forward to the 2022 field season to check in with the Red River Métis Citizen scientists and to cheer them on!
Are You Looking for Help With Your Environmental Monitoring or Guardians Program?
Please give us a shout. Our team would love to chat through all your options. Or just chat about environmental everything. We are a self-declared group of science nerds who always have time for everything from bats and turtles to caribou and eels and all the systems that nurture and sustain what matters on our planet!
ENVIRONMENTAL MONITORING AND ADVISORY SERVICES at SVS:
Rights and Interests-based Technical Reviews

Scientific Advisory Support

Environmental Monitoring

Guardians Program Development

Source Water Protection

Flood Mapping

Climate Change Adaptation

Nature Based Solutions to Climate Change
No matter what stage of a project you are dealing with, we've got you covered. Our services integrate to help you reach your goals.
PROTECTING WHAT MATTERS
Protecting your lands and waters is a crucial part of upholding your rights and supporting community well-being. Our team strives to understand your Nation's values so we can walk alongside you in protecting what matters most.
Whether you need to conduct baseline studies of your waterways, establish a Guardians program, or are looking for strategic scientific advice on the risks of a proposed development, we are here to help in the ways that will be most effective and meaningful.
Our advice and recommendations rest on deep and wide experience and knowledge across many scientific disciplines:
Aquatic and terrestrial ecology

Environmental planning

Wildlife biology

Endangered species

Contaminated sites

Geological sciences

Water resources management

Waste management

Hydrogeology

Stream restoration

Fish biology

Environmental chemistry and toxicology

Climate change adaptation planning

Nature based solutions to climate change
Read Our Full 2021 Services Brochure Here To Find Out What Other Great Services We Offer
Get more posts like this directly to your inbox! Sign up for our bi-weekly funding, news and information digest:
We are an Canadian B Corp, and we assist Indigenous communities with support throughout regulatory processes surrounding major development projects like mines, hydroelectric facilities, transmission lines, highway expansions, oil and gas pipelines, natural resource transport applications and nuclear power.
We have deep context and experience behind the recommendations we provide, having worked for our clients on almost every major project in Canada over the last 10 years. For us, it's all about building long-term relationships with our clients. We want to get to know you and what you want to do so we can help you move your plans forward.
Impact Benefit Agreement Negotiation Support

Technical Reviews and Regulatory Process Support

Community and Economic Development Planning

Indigenous Knowledge and Land Use Studies

Environmental Monitoring

Guardians Program Development

Climate Change Readiness

GIS and Mapping
And so much more:

www.sharedvaluesolutions.com