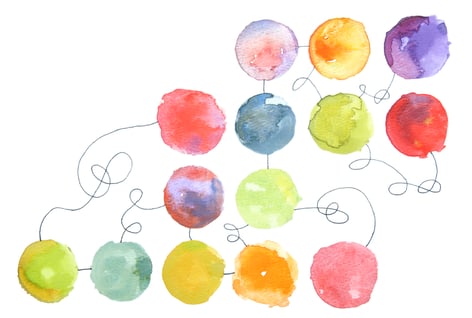 We've have been having some incredible conversations with our clients, industry representatives and partners advancing Indigenous interests in ESG since the release of our 'Putting the 'I' in ESG primer overview blog, our Indigenomics Book Review, and the First Nations Major Project Coalition's Sustainable Investment Conference. The speed at which the corporate world is factoring these concepts into how they run their businesses is increasing exponentially. At the same time, SVS has been diving deep into an evaluation of our own commitment to Truth and Reconciliation Calls to Action. We offer this contribution to the conversation as part of our commitment to furthering economic reconciliation, and hope you find it useful.
Why are ESG standards important for Indigenous Nations and the Canadian economy?
ESG (Environmental, Social and Governance) based corporate performance and investing, or "socially responsible investing," is receiving a lot of media attention these days, but what exactly are ESG performance standards and ESG investing and why are they important for Indigenous Nations and the Canadian economy?
This post aims to amplify the voices of Indigenous champions leading the ESG movement in Canada as well as act as a "one stop shop" for….
Links to the "who's who" of the Canadian ESG+I conversation
Links to existing resources
An overview of the problem with existing framework, and
An overview of trends, opportunities and solutions
Historically, large corporations have prioritized financial considerations, sometimes leaving social and environmental considerations as afterthoughts. However, there is growing pressure globally for publicly traded corporations to address the overall environmental and social impacts their businesses create, and in response to this pressure, many investors are now adopting ESG investing strategies. The First Nation Major Project Coalition (FNMPC), in their ESG primer entitled 'Indigenous Sustainable Investment', highlight the rapid adoption of ESG strategies in publicly traded companies that presents a wide variety of issues and opportunities for Indigenous communities across Canada.
The Opportunities in 'Triple Bottom Line' Business Performance
ESG is a term which refers to the assessment and prioritization of environmental (E), social (S) and, governance (G) considerations in conjunction with financial and economic considerations. Taking each of these factors into consideration when assessing business performance has also been referred to a 'triple bottom line approach' to business. Comprehensive and detailed ESG standards are now being assessed, alongside conventional financial and operational analyses of many publicly companies by investors. ESG analysis reveals both risks and opportunities that might be missed by only analyzing financial statements. With accurate and verified ESG disclosures, investors can align their investments with their overall societal values, priorities, and objectives.
ESG investing provides Indigenous communities an unprecedented opportunity to have their input and perspectives included as key factors in corporate decision making and strategies. There are several organizations making significant contributions to advocating for the inclusion of Indigenous considerations in ESG investing.
Here's a handy list:
Many organizations have mobilized efforts through partnerships. For example, Mark Sevestre, a founding member and senior advisor of NATOA, now leads the work of the Reconciliation and Responsible Investment Initiative.
Mark explains that the initiative "… focuses on two goals. Firstly, helping Indigenous Investors (Trust funds and Nations) understand the linkage between their own Cultural and Traditional Values, which have directed decision making for millennia, with their formal Investment Policy Statements. Secondly, working with Non-Indigenous Canadians to invest their portfolios with the concept of Reconciliation with Indigenous Peoples included in their own strategies."
Indigenous Rights and ESG Performance
While businesses appear to be shifting towards better environmental, social and governance performance, there is a big elephant in the ESG room: International entities developing ESG frameworks are missing relevancy to the Canadian economy and markets – particularly in terms of Canadian Indigenous participation and perspectives in strategic decision making.
Right now, there are four major and mainstream consolidated ESG guideline frameworks that commercial investors and companies use to assess their ESG performance:
the Global Reporting Initiative (GRI)
the Sustainability Accounting Standards Board (SASB)
the Financial Stability Board's Task Force on Climate-related Financial Disclosures (TFCD)
the Climate Disclosure Standards Board (CDSB)
Lack of relevance for Canadian and Indigenous Economy: Risk and Missed Opportunities
The issue is that existing ESG metrics do not reflect the relevant elements of Indigenous Rights and interests that they purport to. And they have not been developed in consultation with Indigenous Nations and communities that directly experience the impacts of industry, especially those within the natural resources sectors.
For instance, the GRI framework has one single metric for the topic of Indigenous Peoples: GRI 411.
The reporting requirements for this metric are as follows:
The total number of identified "incidents" of violations involving the rights of indigenous peoples during the reporting period.
Status of the incidents and actions taken with reference to the following:
i. Incident reviewed by the organization;
ii. Remediation plans being implemented;
iii. Remediation plans that have been implemented, with results reviewed through routine internal management review processes;
iv. Incident no longer subject to action
"Incidents" in this context refers "..to a legal action or complaint registered with the reporting organization or competent authorities through a formal process, or an instance of non-compliance identified by the organization through established procedures. Established procedures to identify instances of noncompliance can include management system audits, formal monitoring programs, or grievance mechanisms" (GRI, 2016)
This means Indigenous issues are therefore only considered of importance (i.e., material) when Indigenous people have initiated court action against a company!
As the First Nations Major Projects Coalition clearly outlines in their publication "Indigenous Sustainable Investment – Discussing Opportunities in ESG: Current ESG standards were essentially created by the private sector and for the private sector, and as a result, these standards have little to do with Indigenous peoples' territories, lands and waters, Indigenous knowledge, or cultural heritage, laws, principles, or traditions; Indigenous economies; health and wellbeing; let alone Indigenous inherent, constitutional or treaty rights – all these values, and in turn, ESG metrics are missing in this story (FNMPC, 2021).
Moreover, as Sevestre points out, we need to "understand that up until now, Indigenous Peoples, First Nations or Rights, have been seen as the Social (S) in the ESG measurement. We are seeking to have the I (Indigenous) added to the ESG measure but as a partner in development, that would be included in the Ethical or Governance of the ESG."

Given Canadian Indigenous case law, combined with the fact that Canada is in the process of adopting the United Nations Declaration on the Rights of Indigenous Peoples (UNDRIP) into legislation - this misguided and adversarial approach to Indigenous rights and interests in ESG performance standards creates a senseless risk to investors, industry, Indigenous Peoples and the Canadian economy in general. As the FNMPC authors and Sevestre suggest, it would be better for not only Indigenous people, but also corporations and investors, if Indigenous voices were heard in a more positive and mutually beneficial setting than the high-stakes, high-conflict setting of court rooms (FNMPC, 2021).
Transcending the status quo: Indigenous Nations as economic partners
Indigenous Peoples and Indigenous-led companies and organizations in Canada are actively developing and deploying policies and practices that reflect a truly all-inclusive ESG framework relevant to a Canadian context - one that places Indigenous Rights, interests and self-governance and economic prosperity at the centre of the economy.
In response to the question "How will change in the ESG space directly and/or indirectly benefit Indigenous communities?" Sevestre answers: "Seeing Indigenous Peoples as equals/partners, not as a 'social component' of economic development, will serve to drive increases in the overall Canadian economy. We are working with companies to include Indigenous Policy and actually follow it, including to the UNDRIP framework standard. It is law in British Columbia and now Canada is considering including into federal law with Bill C15. Companies that embrace the UNDRIP standards in relationship to Indigenous Peoples will thrive and those companies that resist will struggle with the Colonialized and Paternalistic methods that negatively impacted Indigenous Peoples and the overall Canadian Economy. The Indigenous marketplace is younger and very willing to engage in economic activities that will strengthen the Canadian economy for all. They are seeking the level playing field and engagement with the Corporate sector."
Key to the shift in ESG and Sustainability Considerations in investment and the economy are partnerships:
The Reconciliation and Responsible Investment Initiative (RRII) for example, is a partnership between the National Aboriginal Trust Officers Association (NATOA) and the Shareholder Association for Research and Education (SHARE). RRII works with Canadian institutional investors to promote responsible investment policies and practices that include reconciliation goals.
These companies and organizations are moving the needle in impactful ways to reconcile Indigenous economics in Canada. And key to this is mobilization of partnerships and advocacy. For example, just last May, TMX Group Ltd. shareholders voted to support a resolution on Indigenous inclusion and reconciliation at the company's annual and special meeting of shareholders. This vote came to fruition due to the joint efforts of the RRII, NATOA and SHARE. Sevestre further explained that "…the CEO of the Atkinson Foundation, Colette Murphy, was the one who formally brought the Shareholder Proposal forward which wanted the TMX Board to commit to including report on and include policies on Indigenous factors in their organization from Employment, Access to training and procurement from Indigenous businesses. Initially the TMX Board recommended voting against the proposal but after further meetings with our group and really detailing what the request looked like, they were not resistant to undertaking the work now and reporting back to the shareholders on the results. We introduced them to the Canadian Council for Aboriginal Business (CCAB) which operates the Progressive Aboriginal Relations program which helps companies undertake a third party audit of their Indigenous understanding and policies that include employment, training, outreach and procurement from Indigenous Peoples and businesses. The TMX Group case is a huge win for our group and will hopefully lead the way for more, many more and hopefully all Canadian Companies to address the core concept laid out in the TRC Call to Action 92."
A deep shift is happening both globally and locally, and it is one that requires collective reflection and action….
ESG, capitalism, money and beyond

What's exciting about the ESG movement is that it is the first step in a long walk towards economic reconciliation and can enable prosperity for Indigenous Peoples. What can this look like? Where can reconciliation happen in capital markets and how can a Western measure of wealth empower Indigenous Peoples? A key to exploring this may be found by first comparing Western and Indigenous perspectives of wealth.
Let's approach this with a simple question: what is money, and why was it created? A common answer is that it was created to be a centralized asset with a standardized value for efficient trading. As Carol Anne Hilton writes in her book, Indigenomics: Taking A Seat At The Economic Table: "Money is a creation of our imagination but is fundamentally disconnected from real (natural) assets" (pg. 43). Recognizing this, money is a resource that demands responsibility like our natural assets, and when looked at from a community lens it can be used to benefit a group like food or medicine. The capitalistic use of money is when it is hoarded by an individual, which is what leads to power, corruption, and greed – these are all eliminated by a community driven use of money. The Indigenous worldview, therefore, measures wealth as the ability to give and is based on the amount that is shared to support the community, while a Western worldview measures wealth by the amount that an individual has amassed for their own gain.
Another reason money was created was to easily evaluate an enterprise's success: measuring its ability to earn and retain one centralized asset, money. This measurement of wealth and success that decides which companies receive investment can change under an Indigenous-driven ESG model. As Carol Anne Hilton notes, the Indigenous worldview measures wealth by the ability to give, not to hoard (pg. 17). She also notes the economy is circular in nature, wealth is given out and returned, not collected and held (pg. 19).
As Sevestre and others point out, reconciling Indigenous and non-Indigenous economic worldviews and values ties into the Call to Action 92 from the Truth and Reconciliation Commission's 94 Calls to Actions, which seeks to include Corporate Canada in doing their part to further Reconciliation with Indigenous Peoples in Canada. Call to Action 92 asks Companies to use the United Nations Declaration on the Rights of Indigenous Peoples as a framework to follow in their interactions with Indigenous Peoples.
Call to Action 92: Business and Reconciliation
"We call upon the corporate sector in Canada to adopt the United Nations Declaration of the Rights of Indigenous Peoples as a reconciliation framework and to apply its principles, norms and standards to corporate policy and core operational activities involving Indigenous peoples and their lands and resources. This would include, but not limited to, the following:
Commit to meaningful consultation, building respectful relationships and obtaining the free, prior and informed consent of Indigenous peoples before proceeding with economic development projects.
Ensure that Aboriginal peoples have equitable access to jobs, training and education opportunities in the corporate sector and that Aboriginal communities gain long-term sustainable benefits from economic development projects.
Provide education for management and staff on the history of Aboriginal peoples, including the history and legacy of residential schools, the United Nations Declaration on the Rights of Indigenous Peoples, Treaties and Aboriginal rights, indigenous law and Aboriginal-Crown relations. This will require skills based training in intercultural competency, conflict resolution, human rights and anti-racism.

Source: Truth and Reconciliation Commission of Canada: Calls To Action
By including Indigenous perspectives, values, interests and partnerships, ESG scoring can be more than a superfluous measurement of "socially responsible investing" and truly contribute to the movement for Indigenous economic reconciliation and a more socially conscious capitalism.
What does economic reconciliation mean to you? Is this something that can actually be achieved? Where have you witnessed economic reconciliation? What spaces do you engage with that provide opportunities for reconciliation and that could benefit from Indigenous worldviews?
For us at Shared Value Solutions, we look to the TRC's Calls to Action, and in particular Call to Action #92 to guide our business practices and culture. We've come a long way, and are on a long journey ahead…
If you would like to learn more about this topic or would like support to advance your community's economic interests related to natural resource development in your Territories, drop us a line!
Like what you're reading? Get the latest blog posts, Indigenous funding announcements and stories of resilience from across Turtle Island in your inbox every two weeks in our newsletter, the Talon!
We are an Canadian B Corp, and we assist Indigenous communities with support throughout regulatory processes surrounding major development projects like mines, hydroelectric facilities, transmission lines, highway expansions, oil and gas pipelines, natural resource transport applications and nuclear power.
We have deep context and experience behind the recommendations we provide, having worked for our clients on almost every major project in Canada over the last 10 years. For us, it's all about building long-term relationships with our clients. We want to get to know you and what you want to do so we can help you move your plans forward.
Impact Benefit Agreement Negotiation Support

Technical Reviews and Regulatory Process Support

Community and Economic Development Planning

Indigenous Knowledge and Land Use Studies

Environmental Monitoring

Guardians Program Development

Climate Change Readiness

GIS and Mapping
And so much more: www.sharedvaluesolutions.com