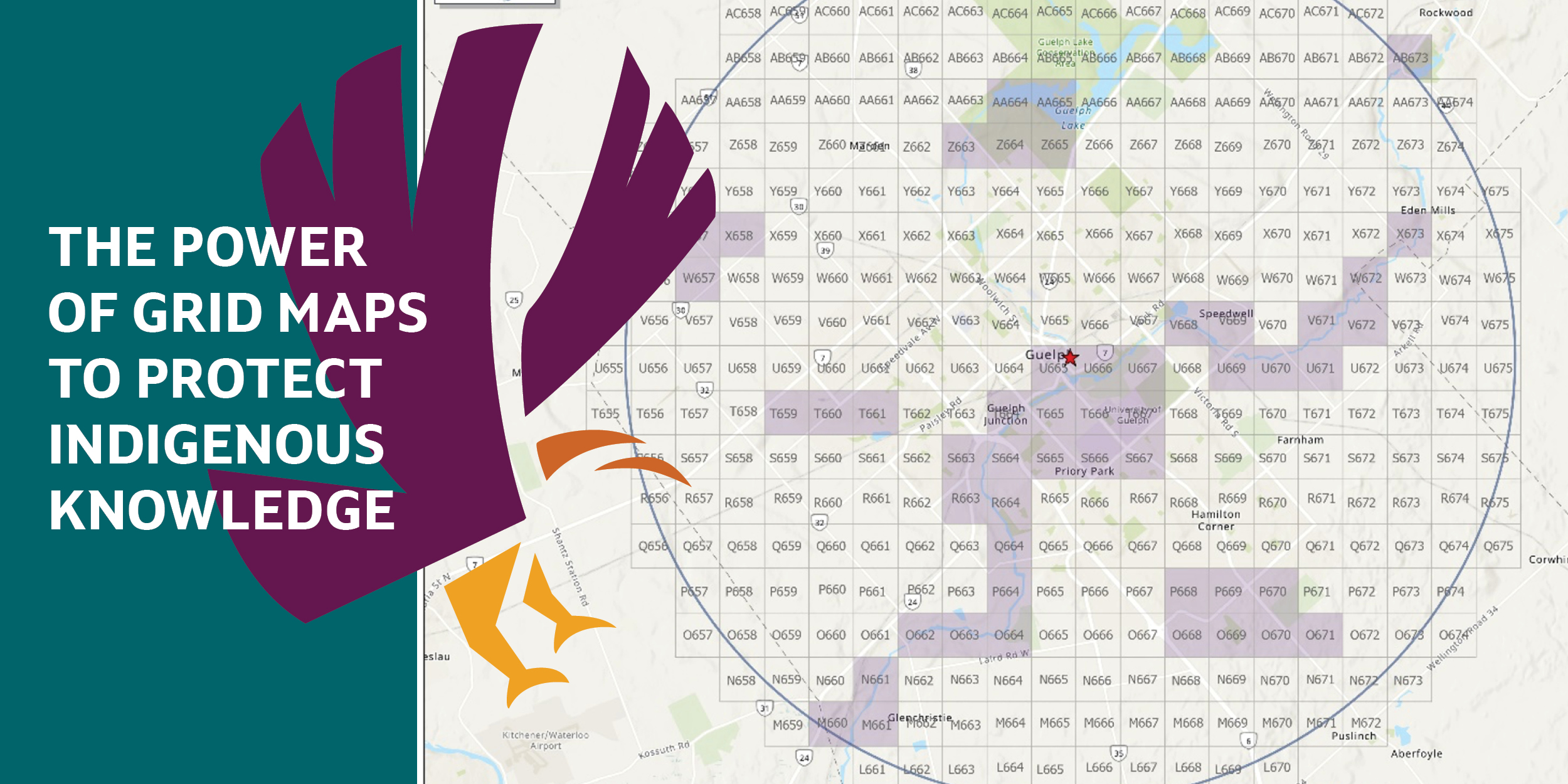 Any Indigenous Nation who has worked on an Indigenous Knowledge study has faced this conundrum: How do we protect the knowledge that's sacred and precious while at the same time using it to protect our rights and interests?
Your Traditional Knowledge is one of your most powerful tools for influencing a regulatory process or negotiation such as an impact benefit agreement (IBA). Overlaying your community's mapped data with the footprint of a proposed project, such as a mine or transmission line, can show where and how your current land use – hunting, fishing and gathering, for example - may be affected by that project, and can be used to develop specific avoidance, mitigation, accommodation, or compensation measures.
Does the thought of sharing make your hair stand on end?
At the same time, whether you're interviewing an avid fisher or hunter who doesn't want their best harvesting spots to be public knowledge, or are asking Elders about the locations of sacred sites, all of your Indigenous Nation's data is highly sensitive information that you likely don't want to share freely.
If the thought of revealing this powerful, specific evidence to a proponent or regulator makes your hair stand on end, you're not alone. Deciding how much is too much to share is a point of deliberation in every study we are part of. Depending on where you intend to share your data, you may also have concerns about it becoming part of the public record or being shared with other Nations – Indigenous or otherwise. There are times you might have very little concern about sharing – and have collected the data with that express purpose. It's typically a good idea to have sound legal council, or an information sharing agreement in place before you choose how and with whom to share your data.
The question becomes this: How do you share the information that will have the most impact with a proponent or regulator without revealing too much?
Welcome to our latest post in our series, Indigenous Knowledge Matters. In it, we share one innovative approach for protecting the exact locations of your Traditional Knowledge values while still telling a compelling story with your land use maps: Grid maps.
What is a grid map?
You can think of a grid map as a map of your community's information that is shared at a lower "resolution," which lets proponents and regulators know where important features are without revealing their exact location.
In the example below, you can see that each grid is a one kilometre by one kilometre (1 x 1 km) square, and is labelled with a letter and a number. The presence of data within any of these grids is signalled using a colour, where the grids without any data are left empty. Make sure to point out to a regulator or proponent that, because each Indigenous Knowledge study is a snapshot in time and only reflects the information collected during this particular study, the absence of data does not mean that no one is using that land.
The grid map approach allows you to share general information about where features are located and can be compared to a project footprint in the same way as a conventional map, without having to pinpoint geographic locations of features. Exactly where that fishing spot is located within that two square kilometres remains unclear. You can also play with the grid size. Depending on your goals, it may make sense to "zoom out" to 5x5 km squares or larger, or "zoom in" to 1x1 km squares.
Example grid map: We used our home base of Guelph, Ontario, to mock up an example for you to get the idea.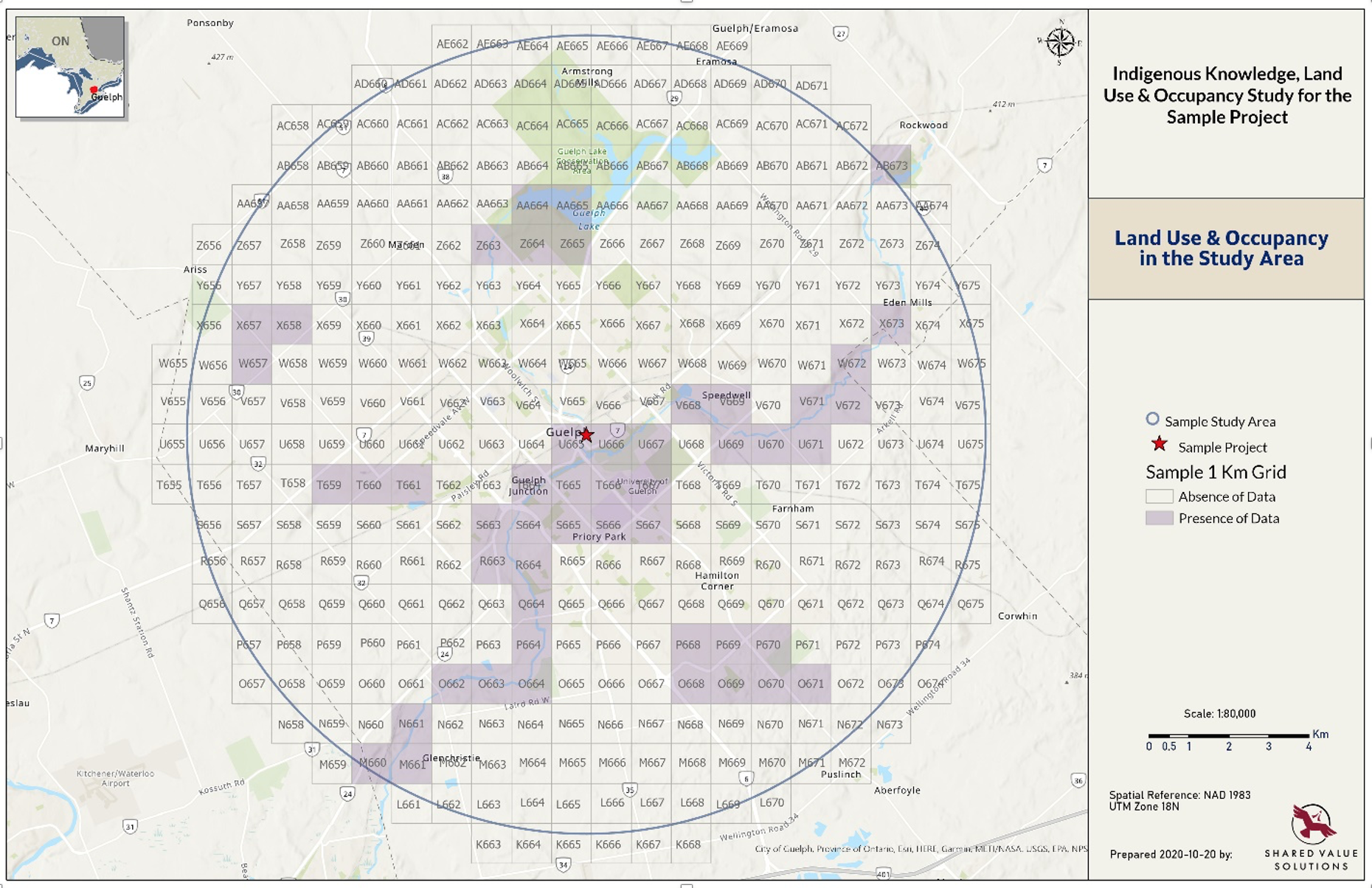 Add a table to reveal the next layer of detail
If it serves your purposes, you can include a table along with the map that shows what types of features are found in each square. The level of detail is up to you. You can choose to create categories that are more specific, such as "moose hunting site," or "burial site," or use more general terms like "hunting area" or "cultural site" to describe what is present in a grid square.
Here is a mocked-up example of a table that goes with the map and explains what values are present in each coloured grid square:
| | | | |
| --- | --- | --- | --- |
| Grid Name | Category | Type | SubType |
| Q664 | Personal Harvesting | Fishing | Pickerel, Trout |
| Q664 | Ecological Knowledge | Species at Risk | Bald Eagle |
| R663 | Personal Harvesting | Hunting Area | Moose, Deer |
| R664 | Personal Harvesting | Fishing | Pickerel, Trout |
| S663 | Access Route | Water Route | NA |
| S664 | Personal Harvesting | Fishing | Pickerel, Trout |
| T664 | Ecological Knowledge | Mammal Habitat | Moose |
| T664 | Cultural | Historical Family Village Site | |
| T665 | Personal Harvesting | Gathering | Raspberries |
| T668 | Overnight Location | Cabin | Grandfather's cabin |
How to create a grid map
To create a grid map, collect the data in the same way as you would for a conventional map (See Gathering IK During a Pandemic for ideas). Interview participants pinpoint the locations of important features and areas, and then once you have all of the data you want, create the grids using GIS mapping software. This means that any previously collected GIS data you have can also be incorporated into a grid map – it doesn't have to be collected differently! You can also access and use the data in its original form if you want more detailed maps to use for your community internally, for example.
Collecting data and OCAP
In addition to protecting your data at the end of the process when you want to deliver it to a proponent or regulator, you might also be wondering how your data is protected as it's collected. At SVS, the tool we use most often is ArcGIS Online, along with associated applications like Survey123.
These tools are adaptable, available on demand, managed by Esri, and accessed by clients running on a wide range of platforms from cell phones to tablets and laptops. They offer security benefits that are closely aligned with the principles of OCAP, and here's how:
Ownership: You retain the intellectual property rights for data you create or collect. Each organization has its own separate database, providing isolation of stored features.
Control: Your content is only accessible by users and groups that you explicitly share the content with. By default, items are private and only available to the person adding content. The data owner controls when and what to delete. Deleted information is not left in a recycle bin; once the owner deletes it, it's gone.
Access: Each data record is stamped with the ID of the owning subscription to safeguard that organization data is accessible only by the organization's users.
Possession: First Nations are best able to assert ownership, control ,and obtain access to their own collective information if the information is in their possession, or in the possession of a trusted organization. This is possible by either having their own account, or having their data stored by Shared Value Solutions.
This is an example of the level of data security possible in collecting information using a common tool (ArcGIS). If your community is looking at using something besides Survey123/ArcGIS, it would be important to investigate the data security features offered by that system and ensuring your community's comfort level.
Looking for some more information on data protection and storage?
At SVS, we are always happy to work with our clients to tailor each process and deliverable to suit their specific needs and comfort level for each project we undertake. It is important to us that your information is protected while also serving your interests, whatever they may be. If you're wondering about other ways to ensure your community's data is protected and secured in Indigenous Knowledge studies and beyond, we can help you think through your options and find the right balance for you. We've got your back!
Blog Series: Indigenous Knowledge Matters
Welcome to our blog series that explores ways Indigenous Nations have used Indigenous Knowledge Studies (also called Traditional Knowledge or Land Use and Occupancy Studies) to assert jurisdiction, leverage influence in regulatory processes and Impact Benefit Agreement (IBA) negotiations, further stewardship and cultural revitalization efforts, and to build capacity.
This series is a celebration of the extraordinary Nations and visionary leaders we have had the privilege of working with on Indigenous Knowledge studies from coast, to coast, to coast - with some resources and ideas for you to use in your own journeys. We hope you join us for the rest of the ride. And please get in touch if there's a topic you'd like us to explore.
Read other posts in this series:
Looking for help with an Indigenous Knowledge study?
If you know you need help with any aspect of your study, or are trying to figure out how to get started, do give us a shout. We'd be happy to discuss your options and help you weigh the pros and cons of your approach. We're a team of social researchers who love to talk about this stuff, so don't hesitate to get in touch.
We are an Canadian B Corp, and we assist Indigenous communities with support throughout regulatory processes surrounding major development projects like mines, hydroelectric facilities, transmission lines, highway expansions, oil and gas pipelines, natural resource transport applications and nuclear power.
We have deep context and experience behind the recommendations we provide, having worked for our clients on almost every major project in Canada over the last 10 years. For us, it's all about building long-term relationships with our clients. We want to get to know you and what you want to do so we can help you move your plans forward.