Welcome to the next post in our series that celebrates Indigenous professionals with careers in STEAM! SVS is committed to supporting Indigenous youth who are pursuing careers in STEAM (science, technology, engineering, math, and the arts, architecture and agriculture - all areas that Indigenous peoples have been innovators in for thousands of years, as described by IndigeSTEAM. We support through our scholarship program (with Indspire as well as others), but also through the mentorship and inspiration of our staff members.
In this series, we share the personal essays of our talented team members about their very individual journeys to their current careers. Today's contributor is Matthew Watson.
Meet
Matthew Watson, M.Sc.
Biologist & Terrestrial Ecologist
Growing up as a member of Caldwell First Nation, a healthy respect for the natural world was always a focal point of the education I received from the community. This respect and love for the natural world was a key motivation for the years of school and work that would follow.
From a young age I always had a passion for science and wildlife. Much of my time growing up was spent outdoors gaining an appreciation for the complex nature of natural ecosystems.
My first real professional experience working in the field of science and environmental management came through a collaboration with my First Nation community and Point Pelee National Park. Working with the Resource Conservation team I was able to gain a wide range of experience working on a variety of projects focused on restoring natural habitats, monitoring wildlife populations, and removing invasive plant species. Working as part of a diverse team with varying skills, knowledge and experiences introduced me to the professional world of science and biology in action and set me on my educational path.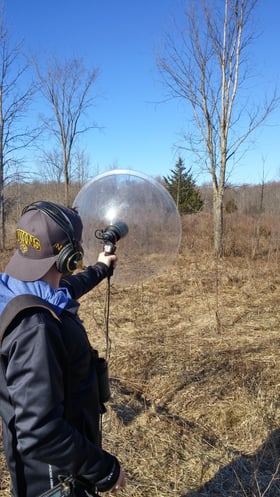 Building on my experience working at Point Pelee National Park I enrolled at the University of Windsor in the Biological Sciences program. Here I gained a formal education in the field of ecology and environmental science, while also volunteering in an animal communication research lab. My education and volunteer experience culminated in a year long research project focused on how light sources affect migratory birds.
After completing my undergraduate education, I was recruited by a professor at the University of Windsor to lead a field team conducting surveys of wetlands in the Alberta Oilsands. This position came with a variety of challenges, mainly that I was working in an environment very different from what I was used to and navigating the complexities of conducting research while under the supervision of mining companies.
Taking on a leadership role was a new experience that I had to learn how to navigate while also conducing research in novel and sometimes dangerous environments.
Despite its challenges this role helped me grow professionally and helped me develop important skills I would carry through my education and career. My most valuable take away from this experience was that when opportunity to gain new career experiences presents itself, seizing that opportunity can be incredibly valuable.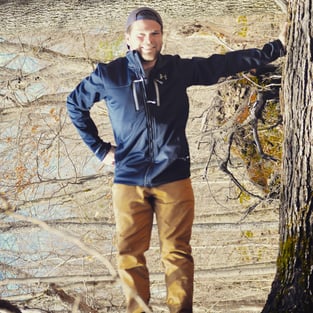 After my time in Alberta, I returned to school to complete my Master of Science degree at the University of Western Ontario. The experiences I gained during my Masters degree has greatly shaped me both professionally and personally, and was an incredibly valuable experience. Following the completion of my degree I joined a non-profit organization focused on conducting environmental monitoring and aquatic studies along the Saint Lawrence River. Working with this organization I participated in various projects, collaborating with government organizations and Indigenous communities, to monitor the health of the St Lawrence and surrounding ecosystems.
Taking the cumulative experience I have gained through my education and professional careers, I made the jump to work with Shared Value Solutions. Here I am able to apply both my Traditional Knowledge and scientific education to help clients achieve goals that are vital to their communities.
This opportunity has offered me the chance to work with a diverse organization of individuals who all bring valuable knowledge and experiences that allow me to continue to learn and grow.
---
Matthew is passionate about birding and wildlife photography. From an early age, he was always outdoors enjoying the sights and sounds of nature — even volunteering as a bird bander, getting to assist in the tracking of wild bird populations. This fondness for birds and other wildlife, along with a sense of responsibility for protecting the environment, guided him on his path to a role where he can apply his knowledge and education in the pursuit of protecting and preserving our natural environment.
Matthew brings a wealth of experience that focuses on combining Traditional Knowledge and Ecological Knowledge with project development and coordination. The goal of addressing a wide range of environmental and ecological concerns has seen Matthew working with government organizations, private industry, and First Nations communities.
Matthew is a member of Caldwell First Nation and has been actively involved with developing and delivering educational programs to the community focused on pressing environmental issues. Matthew has a BSc in biology from the University of Windsor and a MSc in biology from Western University, where he focused on the migratory survivorship of songbirds. In his spare time, Matthew enjoys photography, hiking, snowboarding, music, and hockey.
Like what you're reading? Get the latest blog posts, Indigenous funding announcements and stories of resilience from across Turtle Island in your inbox every two weeks in our newsletter, the Talon!
We are an Canadian B Corp, and we assist Indigenous communities with support throughout regulatory processes surrounding major development projects like mines, hydroelectric facilities, transmission lines, highway expansions, oil and gas pipelines, natural resource transport applications and nuclear power.
We have deep context and experience behind the recommendations we provide, having worked for our clients on almost every major project in Canada over the last 10 years. For us, it's all about building long-term relationships with our clients. We want to get to know you and what you want to do so we can help you move your plans forward.
Impact Benefit Agreement Negotiation Support

Technical Reviews and Regulatory Process Support

Community and Economic Development Planning

Indigenous Knowledge and Land Use Studies

Environmental Monitoring

Guardians Program Development

Climate Change Readiness

GIS and Mapping