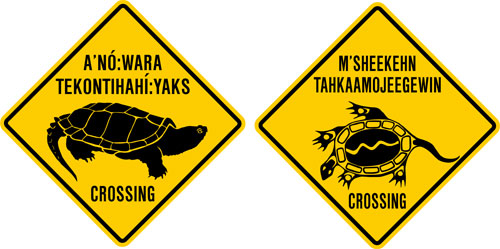 Anishinaabe artist, Peggy Pitawanakwat from Wikwemikong Unceded Reserve, donated the image which was used for the Ojibway sign (right) and the Haudenosaunee Environmental Task Force and the Turtle Island Conservation team collaborated on the Mohawk sign (left).
Welcome to the second installment of our Reconciliation Through Action: SVS in the Community series. This time we are highlighting the work of Beate Schwirtlich who went to Six Nations' Chiefswood Park for a Great Canadian Shoreline Cleanup.
INSPIRATION!
At SVS, we take pride in our commitment to our clients and our community. So much so that we have built opportunities for volunteer work into our company operations and encourage active participation in our communities as part of our company culture.
We are so thrilled about the great work being done by SVS team members that we will be showcasing their volunteer activities over social media. In case you missed our last post, you can read about the good work done by our own Katie Turriff here.
With team members spread across the country, we are excited to see the difference that we can make!
ACTION!
Our second volunteer is Beate Schwirtlich
On July 23, 2021, Beate attended a Great Canadian Shoreline Cleanup:
"Since 1994, there have been 27,800 cleanups that have collected more than 2 million kg of trash across Canada's shorelines.

We thank more than 937,000 volunteers that have led and participated in cleanups throughout the years, cleaning 44,262 km of freshwater and marine shores in Canada. We couldn't do this without you.

The Shoreline Cleanup is now recognized as one of the largest direct action conservation programs in Canada. Ocean Wise and WWF-Canada are committed to growing the program to achieve our mission: to inspire Canadians to keep all shorelines free of litter."
Beate had this to say about her visit to Six Nations' Chiefswood Park for the cleanup:
Walking down the hill at Chiefswood Park in Ohsweken, Ontario, to the shore of the Grand River, I look at the perfect summer scene before me and wonder how much litter a team of volunteers might be able to collect from such a pretty place. That's the main goal of the Great Canadian Shoreline Clean Up I'm taking part in here today. Since 1994, clean up days like this have covered almost fifty thousand kilometres of shoreline and involved almost half a million volunteers. The larger goal? Inspire Canadians to keep all shorelines clear of litter. As I said to other volunteers through the day, the shores of the park did turn out to be pristine in comparison to the river shorelines near my urban home in Guelph, Ontario.

But there was more to the day than enjoying the beauty of this park (it's a cultural heritage site too, visit chiefswoodpark.ca to learn more) and filling our garbage bags. Staff from the Toronto Zoo were there to teach me about their Turtle Island Conservation program, which is similar to what we do at SVS—their stated goal "to integrate traditional ways of knowing with western science to monitor, protect, respect and restore landscapes" is shared with the goals of SVS. Their program includes fun resources — turtle identifier guides, a CD of frog calls, and the turtle crossing signs that you see above — all in Mohawk and Ojibway. For more about the program or to get your turtle crossing signs asap, visit Torontozoo.com/tz/tic.

I also had time to talk with Christie and Crystal from Kayanase, a Six Nations enterprise that's just up the road from Chiefswood Park. Again, I find that their mission involves a mash up between big "s" Science and other ways of knowing: Kayanase is "an ecological restoration and native plant and seed business, dedicated to improving the health of Mother Earth using science-based approaches and Traditional Ecological Knowledge." I heard that their greenhouse has been busy giving tours all summer, on top of the day-to-day work of collecting, propagating, and growing native plants, managing invasive plants, naturalizing habitat, and more.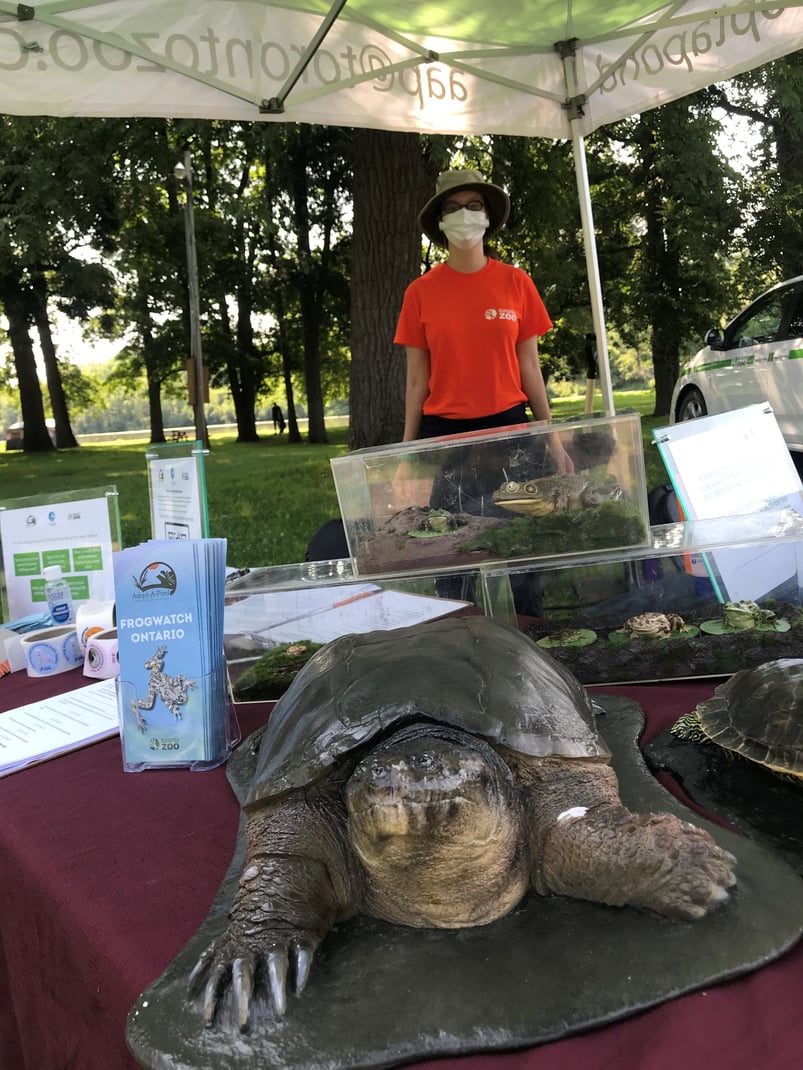 Staff from the Toronto Zoo were there to teach me about their Turtle Island Conservation program
Great work Beate!
Leave a comment below and tell us about how you participate in your community!
---
We are an Canadian B Corp, and we assist Indigenous communities with support throughout regulatory processes surrounding major development projects like mines, hydroelectric facilities, transmission lines, highway expansions, oil and gas pipelines, natural resource transport applications and nuclear power.
We have deep context and experience behind the recommendations we provide, having worked for our clients on almost every major project in Canada over the last 10 years. For us, it's all about building long-term relationships with our clients. We want to get to know you and what you want to do so we can help you move your plans forward.
Impact Benefit Agreement Negotiation Support

Technical Reviews and Regulatory Process Support

Community and Economic Development Planning

Indigenous Knowledge and Land Use Studies

Environmental Monitoring

Guardians Program Development

Climate Change Readiness

GIS and Mapping
And so much more:

www.sharedvaluesolutions.com