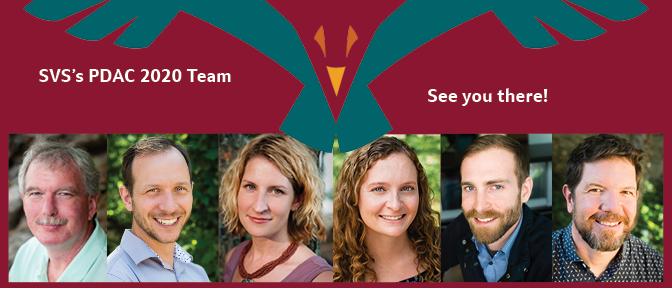 The Prospectors and Developers Association of Canada's (PDAC) annual convention is around the corner from March 1st to March 4th in Toronto. This year's SVS participants include
Don Richardson, Laura Taylor, Andrew Bubar, Meghan Buckham, Keegan McGrath, and Scott Mackay. We're excited to see many of you there - you, our clients, are definitely our favourite part of PDAC!
If we don't meet you on the floor, we hope to see you at one or both sessions that we are hosting this year! Here are the details:
Tuesday, March 3rd, 11 am - 12 pm, Room 217, Metro Toronto Convention Centre:
Is your Indigenous community/government struggling to figure out the full scope of mining projects in your territory lately? Are you having trouble following the many small permits that add up to an approval for those projects to move ahead or expand? The new Impact Assessment Act was passed in August 2019, and with it, fewer mining activities that trigger a "full" federal EA. In its place, Indigenous governments are now often left with a harder-to-follow consultation process about smaller environmental permits which move a mine project ahead in pieces. We call this "spotting the elephant." Our panel will explore the implications of these changes for Indigenous governments and their communities, and ways the mining industry and the Crown can continue to ensure a meaningful consultation process and create the conditions for free, prior, and informed consent.
Panelists:
Dwight Sutherland, Lands Manager, Taykwa Tagamou Nation, Ontario
Ira Provost, Manager of Consultation and Traditional Knowledge Services, Piikani First Nation, Alberta

Daniel Morrisseau , Integrated Climate Change and Mining Advisor, and Lawrence Lefort, Mining Resources Coordinator, Eagle Lake First Nation, Northwestern Ontario

Scott Mackay, CEO and Senior Consultant, Shared Value Solutions
---
Tuesday, March 3rd, 2:45 - 4 pm, Room 217, Metro Toronto Convention Centre:
The number of successful, thriving Indigenous businesses that got their start connected to the resource sector is growing at an exciting rate. If you're looking for ideas on how to take advantage of opportunities both basic and complex, this session is for you! If you're a proponent that's new to establishing agreements and joint ventures with Indigenous businesses and economic development entities, come learn about the intriguing opportunities that exist in the realm of Indigenous procurement.
Representatives from four dynamic businesses will share their journeys and advice. We will also take a deep look into a novel proponent-First Nation business arrangement whose partners have agreed to share their process. Learn about best practices related to contracting and business opportunities, and the increasing use of sole-source rights entitlements. When Indigenous businesses thrive, everyone wins!
#PDAC Blog Series: Sharing Business Success Stories
If you aren't coming to PDAC this year, never fear: In the lead-up to the March 1-4th conference, we are profiling each of these businesses in a blog series. Guest authors from each business have graciously shared their company stories.
Panelists:
Jordan Baptiste, Director, Business Development
Ginny Michano, President, Pawgwasheeng Economic Development Corporation
Robert Starr, Business Project Manager, Supercom Industries
Marsha Smoke, President, Moccasin Trails
Alexandre Meterissian, Vice-President Government Affairs, Blackrock Metals
Chief Curtis Bosum, Ouje-Bougoumou Cree Nation
Facilitators: Laura Taylor, SVS and Harvey Sands, Richter
Don't miss our blog series profiling these businesses - starting next week!
About PDAC
The Prospectors & Developers Association of Canada (PDAC) is the leading voice of the mineral exploration and development community. With over 8,000 members around the world, the PDAC's mission is to promote a globally responsible, vibrant and sustainable minerals industry. As the trusted representative of the sector, PDAC encourages best practices in technical, operational, environmental, safety and social performance.
PDAC's International Convention is the world's leading convention for people, companies and organizations in, or connected with, mining. Over 1000 exhibitors and 25,000 attendees from 135 countries will convene, exchange knowledge regarding a myriad of subjects related to mineral exploration and mining operations around the world. We'll be actively participating in the Aboriginal Affairs and Corporate Social Responsibility programs.
If you or your colleagues are going, please drop us a line so we can connect!
Follow our tweets @SharedValueCA!
About PDAC: http://www.pdac.ca/about-pdac
About the convention: http://www.pdac.ca/convention
About the Aboriginal Affairs program: http://www.pdac.ca/convention/programming/aboriginal-program
About the Corporate Social Responsibility program: http://www.pdac.ca/onvention/programming/csr-event-series
To receive updates about news and other updates from our office directly to your inbox, sign up for our newsletter!
SVS is a Canadian B Corp, and we assist Indigenous communities with support throughout regulatory processes surrounding major development projects like mines, hydroelectric facilities, transmission lines, highway expansions, oil and gas pipelines, natural resource transport applications and nuclear power.
We have deep context and experience behind the recommendations we provide, having worked for our clients on almost every major project in Canada over the last 10 years. For us, it's all about building long-term relationships with our clients. We want to get to know you and what you want to do so we can help you move your plans forward.