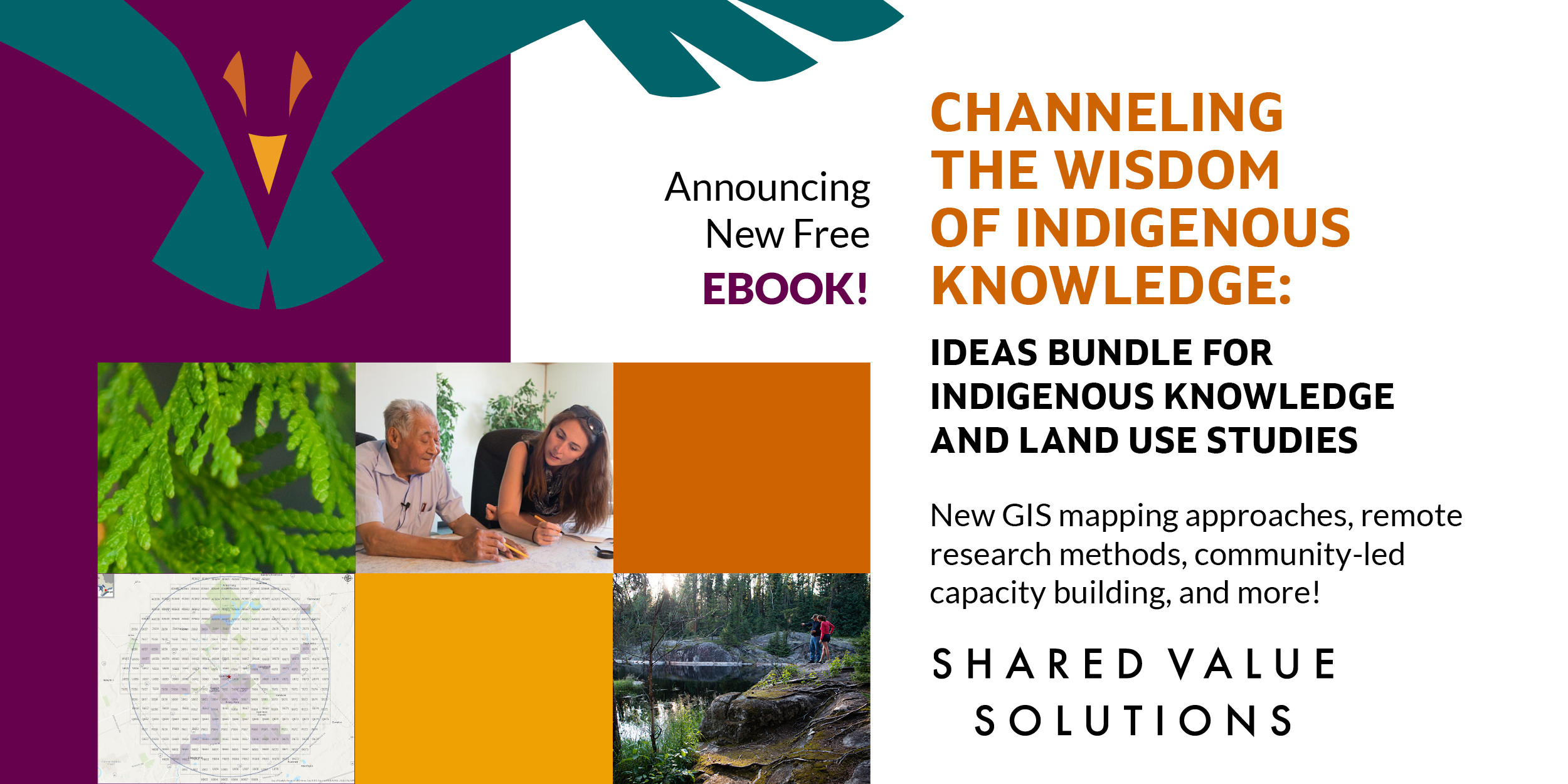 Looking for some holiday reading? Or a gift for someone in your Lands or Consultation departments?

Announcing our new Ideas Bundle for Indigenous Knowledge and Land Use Studies!
Download our latest eBook for free to hear about new GIS mapping approaches, remote research methods, community-led capacity building, and more!
We have bundled a collection of our most popular posts from the blog series, Indigenous Knowledge Matters, into the newest volume in our popular eBook collection. This eBook explores ways Indigenous Nations have used Indigenous Knowledge studies (also called Traditional Knowledge, Land Use and Occupancy Studies and Traditional Ecological Knowledge) to
Assert jurisdiction
Leverage influence in regulatory processes and Impact Benefit Agreement (IBA) negotiations,
Further stewardship and cultural revitalization efforts, and
Build capacity
A celebration of visionary leaders, and helpful resources
The chapters in this series are a celebration of the extraordinary Nations and visionary leaders we have had the privilege of working with on Indigenous Knowledge studies from coast, to coast, to coast - with some resources and ideas for you to use in your own journeys. Their voices fill the chapters with the wisdom and insight of lived experience conducting studies for their Nations.
What's in this eBook?
These posts from 2019-2020 blogs are bundled in our eBook so you can read them at your leisure all in one place:
Maximizing the impact of your studies
A main theme that has emerged is the importance of deeply understanding the regulatory process and context that is often the reason these studies are conducted in the first place. This is not light reading for anyone who doesn't live and breathe this material – we are more than happy to chat through the specifics of the regulatory or negotiation situation you might find yourself in.
The power of story
Another theme that runs through the collection is the power of story, and the many options available to communicate your story for maximum impact. Innovations in GIS mapping highlight how compelling maps can be in making your case. Using video for Oral History interviews can add colour and depth to your mapped data. Taking this story-based approach can also have benefits for your community that long outlast the study itself by preserving knowledge for future generations.
Looking for help with an Indigenous Knowledge and Land Use study?
Whether you are contemplating your first study, looking to run some new ideas by our team, or want to share your approach with other people who get it, do give us a shout. We'd be happy to discuss your options, help you weigh the pros and cons of your approach, and would love to learn from you as well. We're a team of social researchers who love to talk methodology, mapping, research, and communications, so don't hesitate to get in touch.

One final thought: If the research process isn't fun and meaningful for everyone involved, you can do it better! Our social research team has had the great honour of interviewing over a thousand land users, Elders, and Knowledge Holders from coast to coast to coast over the past decade, and the interviews can and do lift everyone up.

One more final thought! Don't let this pandemic get in the way of your next study. It is entirely possible to start right now. COVID-19 has cost our communities so much already – don't let it take away the opportunity to gather your stories and protect what matters.

Happy reading, and stay safe and healthy, everyone!
We are an Canadian B Corp, and we assist Indigenous communities with support throughout regulatory processes surrounding major development projects like mines, hydroelectric facilities, transmission lines, highway expansions, oil and gas pipelines, natural resource transport applications and nuclear power.
We have deep context and experience behind the recommendations we provide, having worked for our clients on almost every major project in Canada over the last 10 years. For us, it's all about building long-term relationships with our clients. We want to get to know you and what you want to do so we can help you move your plans forward.
Impact Benefit Agreement Negotiation Support

Technical Reviews and Regulatory Process Support

Community and Economic Development Planning

Indigenous Knowledge and Land Use Studies

Environmental Monitoring

Guardians Program Development

Climate Change Readiness

GIS and Mapping