"Indigenous Guardians Programs are not just good for the land, they're good for the country." - Valérie Courtois, Director of the Indigenous Leadership Initiative
At SVS, we've noticed that, during the pandemic, awareness of the many benefits of Indigenous Guardians programs seems to be on a serious upswing in Canada. As the Narwhal writes in a recent article, "Indigenous guardians have been on the front lines of the response to the COVID-19 pandemic in their communities: they've been monitoring who is entering their communities, delivering groceries and firewood to Elders and carrying on field research when outside scientists couldn't travel. Now, as the country enters its recovery, some are calling for guardians — who monitor the land and water — to play an even bigger role."
The article goes on to quote Valérie Courtois, Director of the Indigenous Leadership Initiative, speaking of the economic benefits of these programs:
"We know that recovery in this country is going to be oriented toward maintaining and hopefully creating jobs. Well, in many of our Indigenous communities, guardians are major employers. We don't have a GM plant in Łutsel K'e — but we have guardians."
New Federal Funding Announcement
The Canadian federal government has just announced that the 2021-2022 call for proposals for new (Tier 1) First Nations Guardians' Initiatives will be launched on Monday, August 31, 2020. Ten new projects will be selected for $600,000 in total funding for the fiscal year, nationally. More information for this program is available here. Visit: https://www.canada.ca/en/environment-climate-change/services/environmental-funding/indigenous-guardians-pilot-program/first-nations.html
A drop in the bucket
Back in 2017, the federal government made an initial investment of $25 million – a far cry from the $500 million the Indigenous Leadership Initiative initially requested for the development of Guardians programs across the country. Although this recent announcement will be welcome news for Indigenous Nations exploring the idea, it is a drop in the bucket when it comes to building and sustaining an effective program. In contrast, Australia recently announced AUD$700 million (CAD$650 million) to fund their ground-breaking Indigenous rangers programs through 2028. The Australian decision is based on growing evidence that the social return on investment for these programs is significant. But, in the absence of federal government leadership, how can these vital programs be built and sustained?
Industry is stepping up
Enter the role of the natural resource industry. As Val explains in the video above, the fact that Indigenous Nations are the Guardians of all resource development in their territories is a reality many enlightened companies understand. What we are seeing in our work with First Nation, Métis, and Inuit clients from coast to coast to coast is a trend towards leveraging Impact Benefit Agreements (IBAs) and related agreements to help build Guardians programs that then play a crucial role in monitoring the lands and waters industry projects might affect. This type of arrangement where there is joint environmental oversight by industry and affected Indigenous Nations is good for all parties, including Canada as a whole: it facilitates projects moving forward with consent and strong involvement of Indigenous rights holders, and maintains a strong connection for dialogue and issue resolution. It also recognizes and actualizes the sovereignty, jurisdiction and traditional role of keepers of the land, that Indigenous nations have over their territories. There is a very practical, operations-related reason companies are on board: Guardians can save their bacon if something goes wrong. For example, boots on the ground have an ability to detect spills sometimes even before remote detection systems can. Watch Val's video for a concrete example of Guardians in action.
SVS eBook: Indigenous Guardians and Mining & Pipeline Projects: Tools to Protect What Matters
We thought this would be a good time to dust off our 2019 eBook, Indigenous Guardians and Mining & Pipeline Projects: Tools to Protect What Matters, which presents stories, ideas and lessons learned in our work that connect the themes of stewardship and resource development projects, exploring novel ways to protect what matters.
We were delighted to see the Dehcho Guardians program, which we had a role in supporting (see Chapter 3) mentioned in the Narwhal article:
"The Dehcho First Nations' guardians program employs 23 people. The program was started thanks to the need to monitor the construction of Enbridge's Line 21 pipeline as it crossed the Mackenzie River upstream of Fort Simpson. "The only way we could support permits was if they supported our own people to do monitoring," explains Dahti Tsetso, resource management coordinator with Dehcho First Nations.

That first summer of guardians work on Line 21 acted as a proof-of-concept for the Edéhzhíe Dehcho Protected Area/National Wildlife Area. Guardians now co-manage that new protected area as a formal part of the agreement, and are making new investments in infrastructure and equipment to do the job."
The eBook contains the five most popular essays from our Guardians-themed blog series:
Chapter 1: Eight Powerful IBA Strategies for Mining Projects
Chapter 2: Mine Closure: Five Negotiation Strategies
Chapter 4: Indigenous Oversight: A Tale of Two Pipelines
Chapter 5: Are your Technical Reviews Helping or Hurting your IBA Negotiations?
We hope you find this book to be a useful resource in your thinking around creating a Guardians program to monitor projects in your territory.
Indigenous-led Solutions to the Biodiversity and Climate Crises: Video Interview Series
Last May, we had the immense privilege of interviewing Valerie Courtois and other inspiring thought leaders at a Guelph forum that explored various Indigenous-led solutions to the biodiversity and climate crises. You can watch all eight short films we produced at the website for the Conservation Through Reconciliation Partnership site https://conservation-reconciliation.ca/resources, and read the summary report, "Nature-Based Solutions: Indigenous-led Conservation and Carbon Storage in Canada," produced by our good friends Mary-Kate Craig (Anwaatin) and Justine Townsend.
In upcoming weeks, we'll be promoting the rest of the interviews in the series:
Eli Enns, President and Chief Problem Solver, IISAAK OLAM Foundation, and CEO, Cleantech Community Gateway (BC);
Jane Calvert, Land and Resource Manager, Blueberry First Nations (BC);
John Cutfeet, Kitchenuhmaykoosib Inninuwug (ON);
Joseph Pallant, Director of Climate Innovation at Ecotrust Canada (BC);
Marilyn Slett, President, Coastal First Nations, and Chief Councillor, Heiltsuk Nation (BC);
Merritt Turetsky, Associate Professor, and Canada Research Chair, University of Guelph (ON);
Robin Roth, Co-Lead and P.I. of the Conservation through Reconciliation Partnership, and Associate Professor, Department of Geography, Environment and Geomatics, University of Guelph (ON); and
Valérie Courtois, Director, Indigenous Leadership Initiative.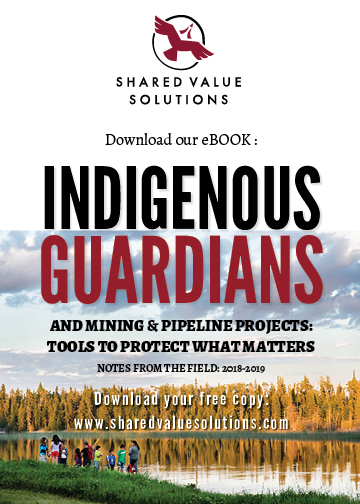 Like what you're reading? Get bi-weekly updates directly to your inbox:
SVS is a Canadian B Corp, and we assist Indigenous communities with support throughout regulatory processes surrounding major development projects like mines, hydroelectric facilities, transmission lines, highway expansions, oil and gas pipelines, natural resource transport applications and nuclear power.
We have deep context and experience behind the recommendations we provide, having worked for our clients on almost every major project in Canada over the last 10 years. For us, it's all about building long-term relationships with our clients. We want to get to know you and what you want to do so we can help you move your plans forward.