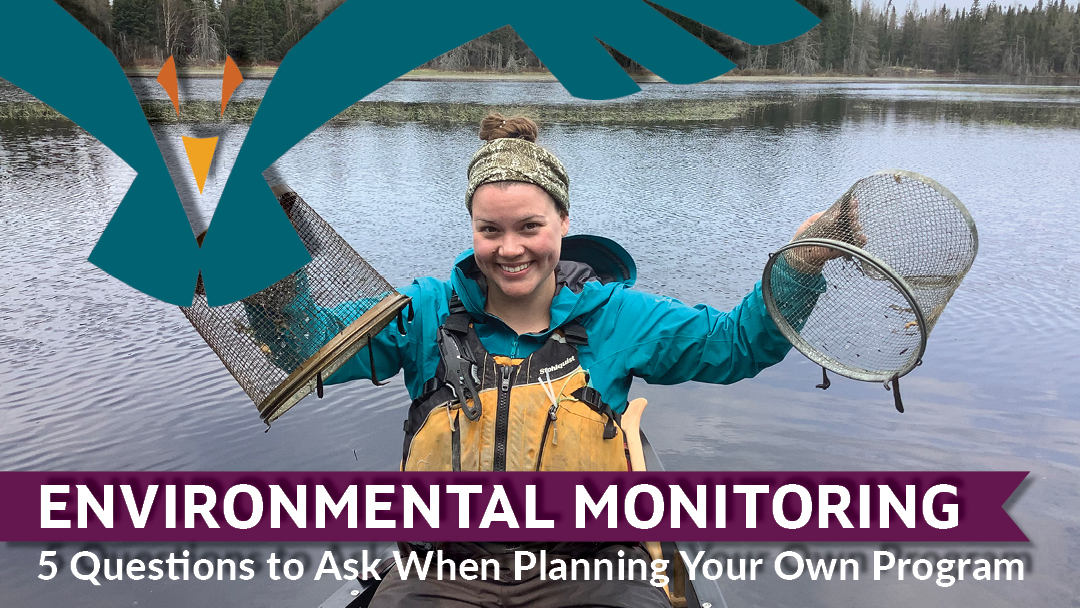 Welcome to the second post in our blog series that delves into the exciting world of environmental monitoring. Exciting, you may ask? Yes! At least our team sure thinks so. What better way to protect your lands and waters than to keep a deliberate, watchful eye on what matters? However, we get that creating an environmental monitoring plan can be daunting. Here are some key questions we often assist our clients in getting clear on:
What should we monitor?

Why should we monitor it?

When should we start?

What skills do we need?

How will we fund our program?
For today's post we sat down with four experts on our science team — Senior Ecologist Jessica Ward, Environmental Scientist Alison Gamble, Aquatic Biologist Jody Duncan, and Aquatic Ecologist Jessica Batson — to answer these questions and more. Read on to find out what they have to say!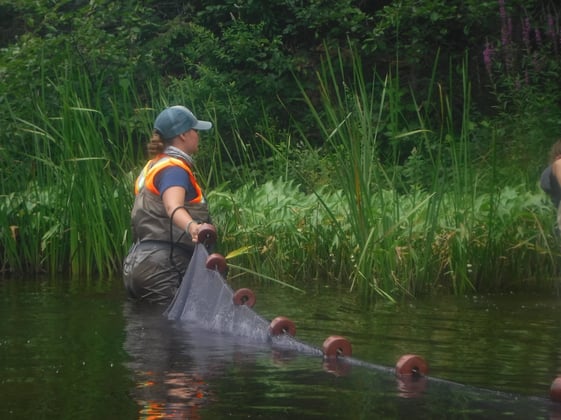 Question #1: What Should We Monitor?
Answer: Begin by Asking Your Community
"Start with the end in mind. Start with what the community values and build the program around that so that you're ultimately monitoring what's most important to the community." – Jessica Ward
Environmental monitoring starts with an idea. "That's the main part, that's the start. And from that idea, the monitoring program becomes more defined," says Jody Duncan. "So whether it's an individual or a community-wide idea, it's doesn't matter where it comes from. It's just that the idea is there."
Turning that idea into a well-defined objective for the monitoring program will make sure you properly address what's of concern to your community. Get clear on what you are really trying to monitor by listening to various voices from your community. Find ways to engage Elders and youth to facilitate knowledge transfer between the generations. Ask your land users and Knowledge Holders for their input. Get people talking about what they're seeing and experiencing out on the land.
Often, community concerns will spark the need for environmental monitoring. Are people concerned about the health of the fish or animals and whether they are safe to eat? Are they concerned about whether the water is safe to drink? Are they noticing changes to rivers or plant populations? Are new species arriving? Do others appear to be in decline?
"It all comes back to being community-led, engaging the community to understand what are the species of importance, what are the concerns of the community," says Jody Duncan.
Jody also points out that having an environmental monitoring program helps to focus other community initiatives. For instance, if a number of water courses in your territory are degraded due to a development project and you have funding available to remediate some of these areas but not all, a community-led monitoring approach helps you to determine where to focus your resources.
Question #2: Why Should We Monitor?
Answers: A Major Development Project on the Horizon? Be Prepared.
"Timelines and long-term vision are important to think about. If you know that a development project will be starting in a few years' time, you can plan ahead so that you have a large, robust program fully up and running by then." – Alison Gamble
Environmental monitoring programs often rise to the top of a lands department agenda when a major development project, such as a mine, transmission line, or pipeline, is announced that poses a threat to the lands and waters. Being prepared for potential future developments, being able to address concerns over cumulative impacts of past, present, and future developments, and understanding the impacts of climate change are key reasons to build a robust monitoring program.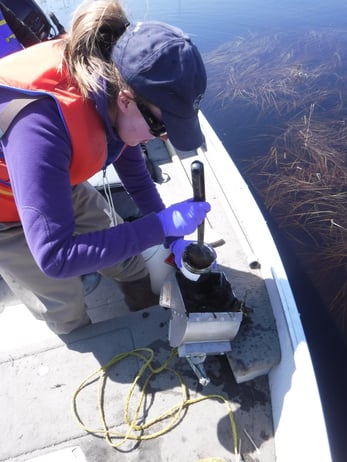 Certain development projects have well-known impacts to lands and waters. For example, we know that linear corridors can affect predators and prey populations, and line maintenance can affect vegetation. Different types of mining have their own unique impacts to consider, as do pipelines or nuclear facilities. Stay tuned for upcoming posts that focus on each of these scenarios and monitoring considerations for each.
More Reasons for a Baseline: Monitor and Plan for Climate Change Impacts
Even if there are no major developments on the horizon, you can create a baseline to have handy when or if a project moves into your area.
Baseline studies also allow you to see how climate change is impacting your territory. You can see how the land and waters are changing by documenting what it's like at this point in time and monitoring changes you see.
Or, perhaps you're already seeing some changes happening in your territory and you want to understand what's happening and what might be the cause. Perhaps you're noticing differences in the size of fish caught in different bodies of water, or there's a decrease or increase in the population of a species that is important to your community.
"Proactive monitoring allows for earlier identification of detrimental changes to populations," says Alison Gamble.
"Looking at the need for environmental monitoring from a Guardians framework, just having people out on the land where changes are happening, being aware the impacts of people using the land, and having a presence and degree of oversight from a stewardship perspective are important," says Jessica Ward.
Having this data over time can help your community plan for the effects of climate change to build resilience and identify specific adaptation actions.
Why Not Just let the Proponent Do the Study? For Many Reasons…
During various impact assessment processes, a proponent proposing a major development will be required to do their own studies, and it might be tempting to just let them do the monitoring work if they offer. However, there are many reasons why this may not the best approach. There can be gaps in terms of what the proponent is required to document under provincial or federal legislation and what is of actual importance to your community. Also, the broad guidelines for health and safety from the government may not be aligned with the community's risk tolerance. Community trust is also a major consideration.
Conducting your own community-led monitoring program means that you are not relying on a third party to collect data. This gives the data a degree of reliability, community members can trust it because they know where it's coming from and that it's not biased. Doing your own monitoring can also allow your community to compare your results with the proponent's, adding an additional level of accountability and trust.
Jessica Ward points out that "another gap that can happen with proponent-led studies is, if there's an impact that wasn't anticipated, there won't be a good record of data. This links back to making sure that the values that are really important to the community are captured."
There is absolutely a place for environmental monitoring to inform remediation plans, funding, and accommodation measures for impacts to the land. Make sure to ask the proponent to fund a parallel, community-led monitoring program. More on that later.
Question #3: When is the Best Time to Start?
Answer: Today!
When asked about the best time to begin environmental monitoring, SVS's Jessica Baton was clear: "The best time is any time, right now is the best time!"
When possible, it's important to have the monitoring occur long before development project activities begin so that you really understand what existed before the project impacted it (those baseline studies we mentioned above).
"For me, I find that understanding what the existing conditions are like and how the project is going to impact those are important. What ecosystem components will be affected?" says Jody Duncan.
So really, it's never too late to begin a program but the best baseline comes from starting before any project activities. Jessica Batson asserts that "it's never too late to get started because the chances of there being a community that hasn't had their rights and interests impacted is almost impossible."
Of course, the timing of your program elements will depend on environmental factors such as the season. We are preparing some overviews of different aquatic and terrestrial monitoring protocols, so stay tuned!

Question #4: What Skills Do We Need?
Answers: It's More About Who You Are Than What You Know
The most important skill for a successful environmental monitoring program likely already exists in your community: a familiarity with and a love for being on the land. As Jody Duncan puts it, "an education in environmental sciences doesn't have to be a prerequisite to be involved in environmental monitoring." The foundations for this type of work rest on three attributes:
a willingness to be out there;

a curiosity about what's going on in your territory; and

an interest in environmental stewardship.
One of our passions at SVS is to provide the training necessary for your communities to oversee and run the programs over the long run. Training community members means there can be environmental monitors on staff, creating jobs and opportunities for meaningful careers.
All of that being said, there are many great programs at the college and university levels to boost your career in environmental monitoring. Our staff have taken varied paths to their current jobs and are happy to share their journeys. Here are some of their stories in our IndigeSTEAM series:
Do You Have a Community Champion? Is it You?
For the success of the program, it's key to have someone to help oversee and drive the program. Your community champion should have the time and skills to make sure that the monitors are enthusiastic about going out and have the tools they need, to plan and enforce a schedule so time and season-sensitive activities happen when they should, and to manage the data and reporting aspects of the program.
One way that SVS can help enhance community capacity is through train-the-trainer programming. We can train a person or group of people from your community to be program managers, giving them the ability, tools, and resources they need to oversee and run the program.
Question #5: How Do You Fund an Environmental Monitoring Program?
Answer: There are More Options Than You'd Think
There are multiple ways that funding can be secured for an environmental monitoring program. Programs can be self-funded from own-source revenue, proponent funded, government funded, or funded by the not-for-profit sector. Private foundations and other organizations can also be a source of financial support. Each type is best suited for different programs, eligibility criteria, and desired outcomes. A major consideration is your long-term vision for your program. Are you planning a focused monitoring project around a particular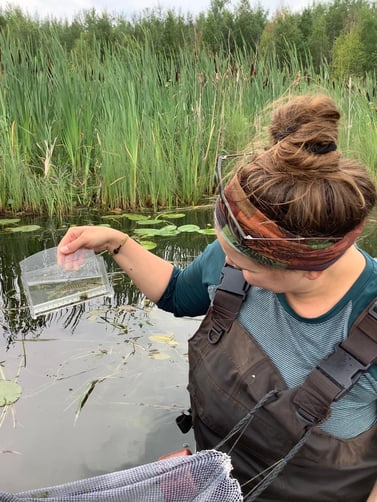 development, or are you building a Guardians-style program to monitor multiple elements across your territory over the long term?
We have seen Indigenous Nations successfully pull together money from multiple sources to fund their programs. We can work with you on a case-by-case basis to help you identify a funding model that is best suited to your needs and objectives. We've seen many possible models work effectively and can connect you to funding sources and ideas as well as to other Nations who could share their experiences with you. An upcoming post in this series will delve deeper into funding models for environmental monitoring projects with some inspiring examples, so stay tuned!
Still Feeling Overwhelmed? We Can Help!
First thing to remember: trust yourself. You very likely know more than you think you do! That being said, we are always happy to talk through your plans with you, or to just lend an ear. We have much experience to lean on and can contribute ideas and ask the questions that will help your program become a success.
Meet Our Experts
Are You Looking for Help With Your Environmental Monitoring or Guardians Program?
Please give us a shout. Our team would love to chat through all your options. Or just chat about environmental everything. We are a self-declared group of science nerds who always have time for everything from bats and turtles to caribou and eels and all the systems that nurture and sustain what matters on our planet!
ENVIRONMENTAL MONITORING AND ADVISORY SERVICES at SVS:
Rights and Interests-based Technical Reviews
Scientific Advisory Support
Environmental Monitoring
Guardians Program Development
Source Water Protection
Flood Mapping
Climate Change Adaptation
Nature Based Solutions to Climate Change
No matter what stage of a project you are dealing with, we've got you covered. Our services integrate to help you reach your goals.
PROTECTING WHAT MATTERS
Protecting your lands and waters is a crucial part of upholding your rights and supporting community well-being. Our team strives to understand your Nation's values so we can walk alongside you in protecting what matters most.
Whether you need to conduct baseline studies of your waterways, establish a Guardians program, or are looking for strategic scientific advice on the risks of a proposed development, we are here to help in the ways that will be most effective and meaningful.
Our advice and recommendations rest on deep and wide experience and knowledge across many scientific disciplines:
Aquatic and terrestrial ecology

Environmental planning

Wildlife biology

Endangered species

Contaminated sites

Geological sciences

Water resources management

Waste management

Hydrogeology

Stream restoration

Fish biology

Environmental chemistry and toxicology

Climate change adaptation planning

Nature based solutions to climate change
Read Our Full 2021 Services Brochure Here To Find Out What Other Great Services We Offer
Get more posts like this directly to your inbox! Sign up for our bi-weekly funding, news and information digest:
We are an Canadian B Corp, and we assist Indigenous communities with support throughout regulatory processes surrounding major development projects like mines, hydroelectric facilities, transmission lines, highway expansions, oil and gas pipelines, natural resource transport applications and nuclear power.
We have deep context and experience behind the recommendations we provide, having worked for our clients on almost every major project in Canada over the last 10 years. For us, it's all about building long-term relationships with our clients. We want to get to know you and what you want to do so we can help you move your plans forward.
Impact Benefit Agreement Negotiation Support

Technical Reviews and Regulatory Process Support

Community and Economic Development Planning

Indigenous Knowledge and Land Use Studies

Environmental Monitoring

Guardians Program Development

Climate Change Readiness

GIS and Mapping
And so much more:

www.sharedvaluesolutions.com